KEARNEY, Neb. — Jacob Beck's story could be a depressing litany of woes.
About how an active, creative, spunky 8-year-old boy suddenly found himself unable to walk, feed himself or play on the playground.
About how he was diagnosed with severe Tourette syndrome, an incurable neurological disorder that causes involuntary motor movements and vocalizations that interfere with daily living and cause social stigma.
But in the last two years, Jacob has bounced back.
Jacob called up YouTube and taught himself to play the ukulele. Even though he has no fine motor skills, he taught himself to sew, to ride his skateboard and to do animation on his iPad.
Last fall, he enrolled in the Creative Arts program at the Kearney Family YMCA and learned about acting and music. "I loved how I could learn stage positions like a real actor does. It was a really good class," Jacob said.
Now COVID-19 could be a death sentence for Jacob. "We went into quarantine a full seven days before everyone else," his mother Mari said. "We appreciate everyone staying home. Even when this is all over, the fear of his getting sick is ever present."
Danger signs
Two years ago, Mari had no idea why Jacob suddenly lost the use of his arms and legs. He fell over when he walked. He developed what's called the "swearing tic," which is common in only a few Tourette syndrome cases. The family stopped going to church. Mari and her husband Steve feared that parents wouldn't accept Jacob as a friend for their children.
His tics, both vocal and motor, went on for at least a year before he was diagnosed. One eye kept blinking, so he went to an eye specialist, then a pediatrician. He got antibiotics. He was told he had allergies. In third grade, he went from doctor to doctor and "wondered why God didn't love him anymore," his mother said.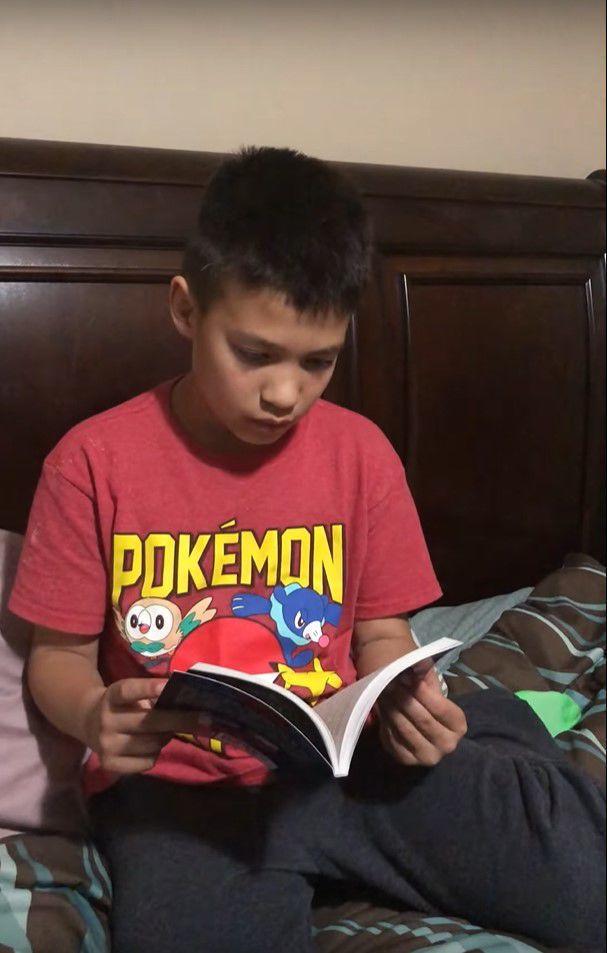 Doctors assumed he had epilepsy or a stroke. Jacob underwent MRIs and spinal taps and "so many tests l need a medical degree just to read the hospital bills," Mari said. "TS can only be diagnosed by a neurologist."
Eventually, Children's Hospital in Aurora, Colorado, diagnosed him with severe TS. When normally optimistic Jacob learned of his diagnosis, and that there was no cure, "my heart shattered into a million pieces, and my sweet boy who had just turned 9 years old sobbed in the back seat of our car and told me he didn't want to live anymore," his mother said.
The right doctor
Things began to turn around when a respected neurologist at Children's Hospital suggested that the creative arts would help Jacob to redirect the energy of TS.
When Jacob began watching professional skateboard champion Tony Hawk's videos on YouTube, he asked for a skateboard, his parents bought him one.
"He especially liked the parts in one documentary where Tony got hurt sometimes but kept getting up and trying again. Tony is teaching my son that it's okay for him to be scared and still go for his dreams," Mari said.
As Mari watches Jacob fly off that little ramp in what he calls "Tony Hawk Style," she remembers how she had to feed him, and how he crawled to the bathroom because he couldn't walk. "I can't begin to tell you what a gift it's been," she said. "He is thriving."
Meadowlark gets an A
She also has praise for the staff at Meadowlark Elementary, where Jacob is a fourth grader. He's the first TS student the Kearney Public Schools has had in at least 30 years, but Mari said the staff worked with her painstakingly to devise an individual education plan.
Mark Stute, the Meadowlark principal, put a stationery bike outside Jacob's classroom that her son could ride for a few minutes to burn off excess energy. Other times, Stute would keep Jacob busy in his office until his seizures subsided.
TS patients often have obsessive compulsive disorder and ADHD. Jacob can't write, and math can be difficult because numbers are jumbled up in his mind.
"The fact that he taught himself to draw is a very big deal," Mari said."Meadowlark and its staff have done an incredible job of helping us navigate. We're so lucky. Seventy to eighty percent of people who deal with this don't get that kind of support. Lots of kids have to try to suppress Tourette, but the acceptance he has found has been so important."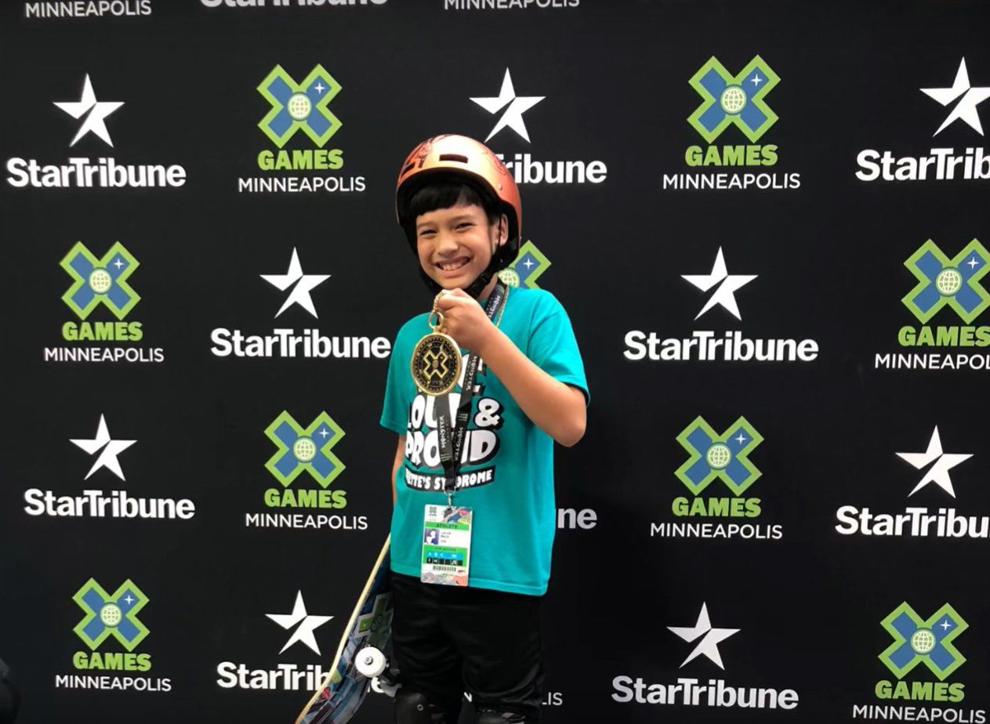 The X-Games
Last summer, Jacob was invited to be the Honorary X Games Skateboarding Athlete and Medal Presenter for the Adaptive Skateboarding Competition, part of ESPN's X-Games in Minneapolis. Someone had forwarded Jacob's Tony Hawk video to the X Games, which extended the invitation.
In Minneapolis, Jacob met Jeremy "Twitch" Stenberg, who also has Tourette. .
Later Jacob stood on the podium and was presented with medals. "It was an incredible opportunity for him. It gave him a lot of confidence, and it's helped us as a family," Mari said.
Those advantages cannot be understated. Four months after Jacob was diagnosed with TS, his older brother Jaxson, 17, a junior at Kearney High School, was diagnosed with multiple sclerosis. He undergoes brain infusions every six months to prevent blindness. Mari also tends to her mother, 70, who has serious vision issues.
Steve is the chief HR officer at Kearney Regional Medical Center. He has quarantined himself in the basement for the last two weeks because of COVID-19.
"I cannot go into stores. Our groceries are delivered, and I have to wipe down everything that is delivered," said Mari, a novelist who leads the Central Nebraska Writers Group. "People are hoping this will be over soon, but for us it will never be over. Families with immune-compromised kids are taking this day by day."
Since she cannot work outside the house because of family responsibilities, she also has an online skincare business to help pay her sons' medical bills.
"We've had wonderful times but very difficult times. Jacob's journey has taught us so much and strengthened our family. Having two children with incurable autoimmune/neurological diseases has taught us a lot about becoming resilient and always having hope," she said.