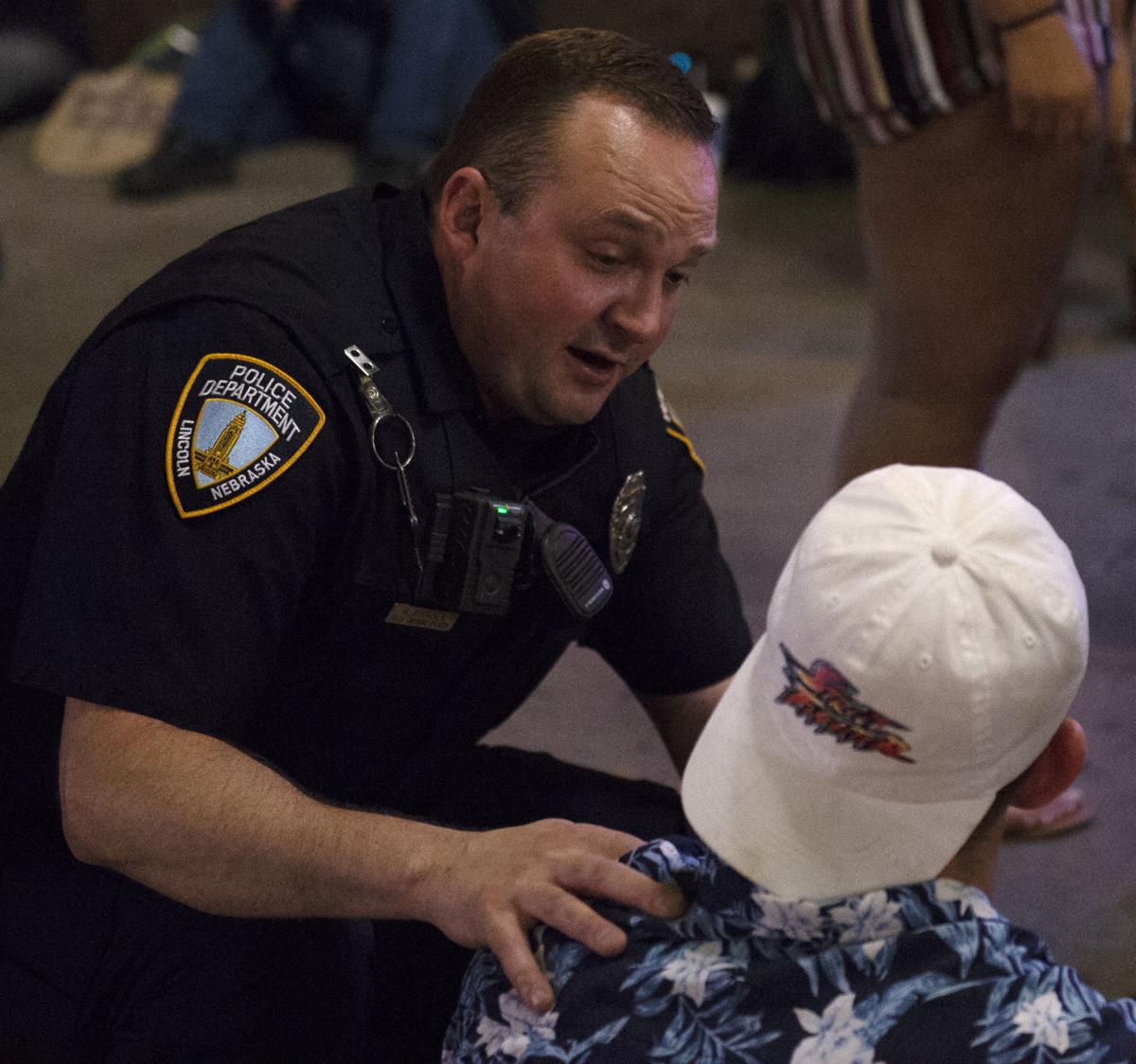 Like other states with large rural populations, Nebraska has a drinking problem.
The percentage of adults in the state who report binge drinking — that's four drinks for a woman and five for a man — has been consistently higher than the country at large.
In 2019, according to the Centers for Disease Control and Prevention's Behavioral Risk Factor Surveillance System, 21.9% of Nebraskans reported binge drinking within the previous 30 days, compared with 18.6% nationally.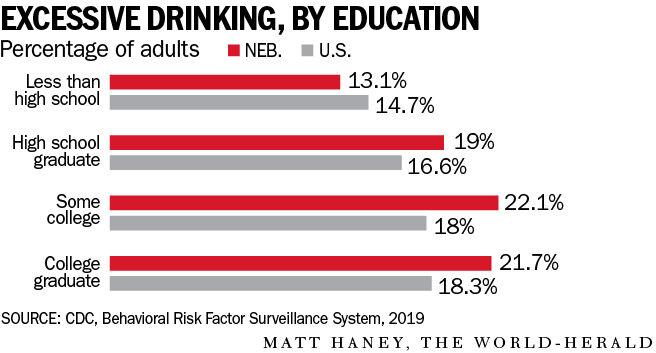 While the Cornhusker State's numbers are down 2% from 2011, the CDC has reported a bounce from the decade low of 20.4% in 2015.
Health experts, law enforcement and education officials in Nebraska say that's cause for concern.
Excessive drinking comes with a host of short-term problems, including a penchant for violence and poor decision-making.
"Driving under the influence, domestic assaults, assaults in general — we respond to more of those type of calls because of a direct correlation between alcohol use and changes in demeanor and poorer choices," said Platte County Sheriff Ed Wemhoff.
Other long-term health problems associated with excessive drinking include hypertension, heart and liver disease, various cancers and addiction.
Before the coronavirus pandemic took hold, the number of people seeking treatment for alcohol addiction at The Bridge Behavioral Health had been increasing greatly, according to Tammy Stevenson, executive director of the Lincoln treatment center.
In 2019, the number of patients seeking a bed increased 150% over the previous year, which she attributed to law enforcement encouraging people to get help.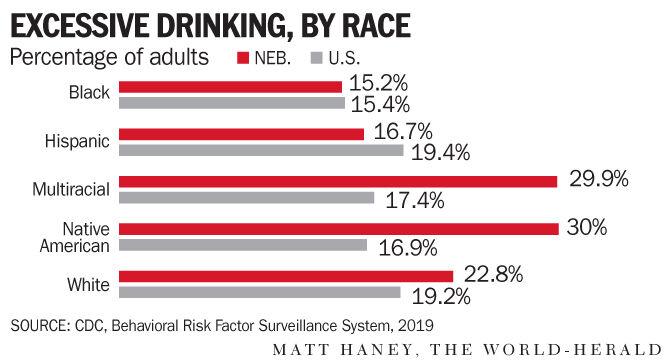 "People are more likely to seek help and treatment if they come in voluntarily," Stevenson said, "and I know (law enforcement) would much rather have them come here than have to take them to jail."
The Bridge, which is one of several alcohol and drug addiction treatment centers in Lincoln, also is the city's "emergency detoxification program" — more commonly known as detox.
Many of the people brought to The Bridge by law enforcement are suffering from chronic alcohol abuse, Stevenson said. They also see "episodic drinkers," those who had a trip to the bars that went too far.
But 90% of the people who come to detox, when surveyed about their drinking habits, say they were binge drinkers before they turned 18.
"These are individuals that have been impacted by alcohol use and drug use for a very long time," Stevenson said.
According to the CDC, almost 31% of Nebraskans ages 18 to 44 had reported binge drinking within the previous 30 days, aligning Nebraska with states like Iowa, South Dakota, North Dakota, Minnesota and Wisconsin.
Nationally, the binge drinking rate among those 18 to 44 was 25.2%.
The University of Nebraska-Lincoln, with 20,000 undergrads, has taken steps to curb drinking among students. UNL has noted some progress over the last few years.
Connie Boehm, UNL's director of student resilience, said binge drinking rates at the state's flagship university are slightly below the national average.
Still, 35% of those who reported drinking in the two weeks before the survey was conducted in 2019 were classified as "high-risk drinkers."
Boehm said UNL students are required to complete alcohol education workshops each year. Recent screenings have asked students to anonymously examine how alcohol may be affecting their lives, with programming designed around their responses.
The university also has scheduled weekend events that "interrupt" student drinking by giving them other things to do. Officials plan to establish a residence hall for students in recovery.
"As you grow these communities, it helps nudge other students along to think about their drinking behaviors and realize there is not a stigma around getting help if you think you're drinking too much," Boehm said.
But binge drinking isn't limited to cities such as Lincoln with a large population of college students.
Social pressures, socioeconomic factors and cultural norms also have contributed to excessive alcohol use in more rural parts of the state like Columbus, a town of 23,000.
Across Nebraska, health officials emphasize building and maintaining a support system and resources for those who need it. Many of the programs are taxpayer-funded.
"The more resources you can get involved for someone who is fighting an addiction, the greater their chances are of recovery," said Dr. Kurt Kapels, clinical director of Inpatient Physician Associates of Columbus. "Whether that be support groups or support lines or rehab facilities or medications, when appropriate."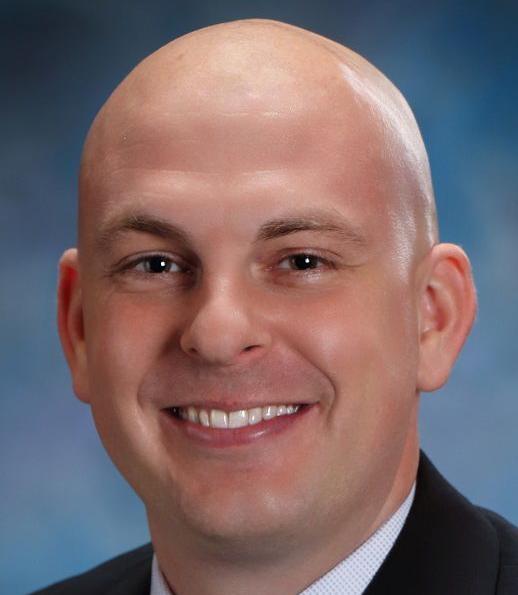 In addition to robust Narcotics Anonymous and Alcoholics Anonymous support systems, Columbus has Seekers of Serenity, which offers a 28-day social detox program, and SMART Recovery, which provides online help.
Goodwill Industries of Nebraska's Behavioral Health Services center in Columbus also offers community support, providing outpatient care before and after treatment.
Kapels encourages those needing help to reach out to their primary care doctor first to learn about what options are available and what might be the best path for them to pursue.
Addiction, including addiction to alcohol, is a real illness, Kapels said, and treating it can be difficult.
"And for some people, it's not successful the first time. That doesn't mean that the next time won't be different," Kapels said. "Continuing to seek help and continuing to build on the gains you've made gives you the best chance of success."
The reasons why people start drinking excessively often are complex, said Stevenson, at The Bridge in Lincoln.
When the public health restrictions put in place to stop the spread of COVID-19 lift, she expects the ongoing public health issues around alcohol use in Nebraska to remain.
"I suspect for some individuals, life will be able to return to normal pretty easily," she said. "For others, there will be lasting impacts from both a mental health and substance abuse perspective, and I think we'll see that for some time to come."