Food poisoning — or any other sort of foodborne illness — is a surefire way to wreck your Thanksgiving holiday.
And you definitely won't be able to enjoy leftovers the next day.
Many of the ways to safely prep your Thanksgiving meal are standard practice. But because they're so simple — and the holiday provides so many distractions — it's easy to slip up and forget a few details, said Phil Rooney, a spokesman for the Douglas County Health Department.
Food safety is "definitely something people need to pay attention to," Rooney said. "Gatherings like this, when you may have other folks bringing food into your home or preparing dishes that aren't routine the rest of the year, are the time to pay attention."
The Nebraska Regional Poison Control Center shared the following tips to avoid any foodborne illnesses this holiday season:
Have all kitchen helpers wash their hands with warm water and soap for 20 seconds before and after handling food.
In addition to washing hands frequently, wash kitchen surfaces, cutting boards and utensils.
Wash produce but not eggs, meat or poultry, which can spread harmful bacteria.
Don't prepare food if you are sick or have a nose or eye infection.
Keep turkey in its original wrapping, refrigerated until ready to cook.
Don't defrost a turkey at room temperature. Bacteria can multiply to unsafe numbers on outer layers before inner layers have defrosted. Instead, defrost by refrigeration or cold, running water.
Allow one day for every 4 to 5 pounds to defrost a turkey in the refrigerator. In a cold-water bath, change the water every 30 minutes. A 24-pound turkey may take up to six days to thaw.
Don't leave an uncooked, thawed turkey out of the fridge for longer than two hours.
Don't refreeze a completely thawed, uncooked turkey.
Don't set your oven lower than 325 degrees.
Use a meat thermometer to check if a turkey is done. The turkey should cook until the internal temperature reaches a safe minimum of 165 degrees.
Don't stuff turkeys. Stuffing makes it difficult for the internal temperature to reach 165 degrees within a safe period of time.
Don't leave leftovers on the counter for more than two hours.
Store the turkey and stuffing separately.
Store leftover turkey in the refrigerator and use within three to four days.
Store leftover stuffing and gravy in the refrigerator and use within one to two days.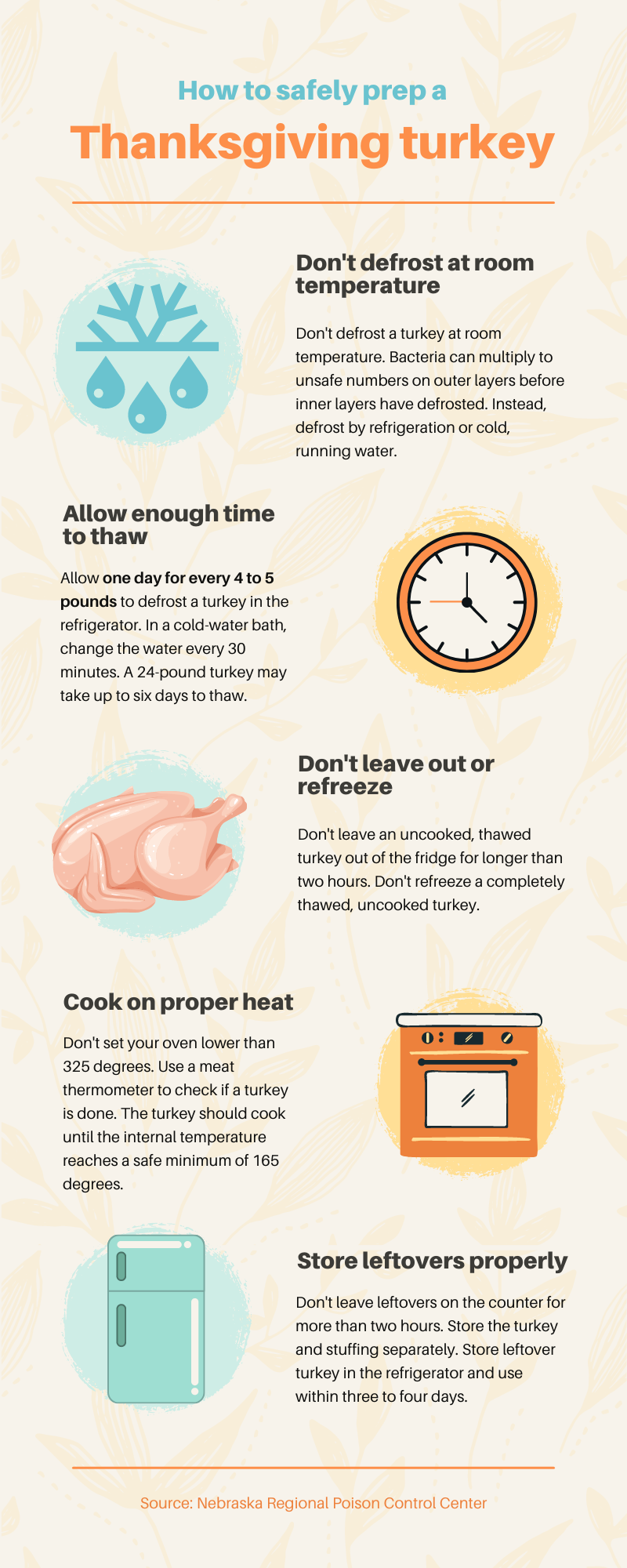 Rooney emphasized the need to properly cook turkeys, which can be notoriously tricky to prepare properly. He also stressed the importance of storing leftovers properly, especially because "leftovers are one of the best parts of a holiday like this."
And during the COVID-19 pandemic, people still should be cautious while gathering with those outside their household. Rooney said mask wearing should be considered, especially for people who are serving or preparing food.
Rooney also suggested that people tell guests in advance about any rules or safety precautions in place at their home so no one is surprised or has hurt feelings.
"We hope everybody has a great holiday and that families are able to get together and enjoy it this year," he said.
---