Trying to keep up with the demand for nurses in Nebraska, as in the rest of the nation, involves hitting a moving target.
The state's population continues to age. With that comes a need for more health care — and more nurses to deliver it. Changes in health care — such as performing more complex procedures in outpatient clinics — are also driving demand for more nurses.
"The supply has increased pretty dramatically, but changes in people's health and health care are resulting in more demand," said Juliann Sebastian, dean of the University of Nebraska Medical Center's College of Nursing.
To better track current demand and forecast future demand, the Nebraska Center for Nursing developed a new workforce supply and demand model. It factors in variables that affect demand — such as residents' age, disease prevalence, available hospital beds — and projects it for nine economic regions of the state.
The center's latest report puts the current shortage at the equivalent of 4,062 nurses statewide. That's expected to grow to 5,436 in 2025, an increase of almost 34%.
"Unless something dramatic happens, I don't see it changing for a while," said Catherine Todero, dean of Creighton University's College of Nursing.
Urban residents, according to a report outlining the model, are more likely to seek care at an emergency room or urgent care center and are less likely to have a primary care physician. Suburban and rural residents, by comparison, are more likely to see the same doctor, who is familiar with their medical history. That results in earlier diagnosis and fewer hospitalizations and, consequently, a lower demand for nurses than in urban communities.
Yet rural areas face greater challenges with supply. Most of the growth in nursing — 88% — has been concentrated in metropolitan areas. Eighty-four of the state's 93 counties have fewer registered nurses than the state average of 1,300 per 100,000 people. Five counties have no registered nurses or licensed practical nurses.
Lisa Walters, president of the center's board, said the model also allows users to make predictions as conditions change, such as foreseeing the impact of a new hospital wing.
Nationally, the lag between supply and demand is similar. According to the federal Bureau of Labor Statistics, the nursing workforce is projected to grow from 3.1 million in 2018 to 3.4 million in 2028, an increase of 12%. But 210,400 new registered nurses will be needed each year through 2028 to fill new positions and to replace retiring nurses, according to the bureau.
That means that those hiring nurses are kept busy.
Sign up for our Money headlines newsletter
Get the latest development, jobs and retail news, delivered straight to your inbox every day.
"It feels like it's just a constant thing," said Andy Noon, director of talent management for Nebraska Medicine. "Our (patient) volumes are up. There's a need for more, and that doesn't feel like it's going away."
The Nebraska Hospital Association noted a 5% vacancy rate for registered nurses at hospitals statewide in 2017. That was down from an uptick that reached 10.6% in 2015.
One of the biggest challenges, Noon and others said, is finding experienced nurses, particularly in specialty areas such as intensive care units and operating rooms. Those positions often require more training than nurses typically have straight out of school.
To address that problem, hospitals may reach out to nursing school partners or rely on on-the-job training.
At Methodist Hospital, 60% of patients are over age 65. There, they've emphasized training staff on the needs of older adults.
Children's Hospital & Medical Center, which hired 191 nurses this year and will open 100 new beds in 2021, offers a program to help experienced nurses coming from the adult world make the switch to pediatrics. Recent grads participate in a two-year residency program.
Health systems also have to be creative about workforce planning, both to make sure that nurses are employed to their best effect and to maintain the care and safety of patients. In some cases, that's led to nontraditional shifts.
Children's, for instance, started offering a nine-month contract earlier this year, allowing nurses to work full time for nine months and take three months off, said Suzanne Nocita, senior vice president of human resources. Nurses, if they choose, can take the summer off to be home with their children when school's out. The hospital's census tends to be lower in the summer.
"We're just trying to always keep a pulse on the marketplace," Nocita said. "As our workforce changes with (different) generations, we have to meet the needs of our employees."
Methodist uses analytics to project an average daily census and adjusts staffing to meet it, said Teri Tipton Bruening, chief nursing officer and a vice president at Methodist and Methodist Women's Hospital.
Linda Chase, divisional chief nursing officer at CHI Health, said the system's hospitals can look at numbers every four hours and adjust staff.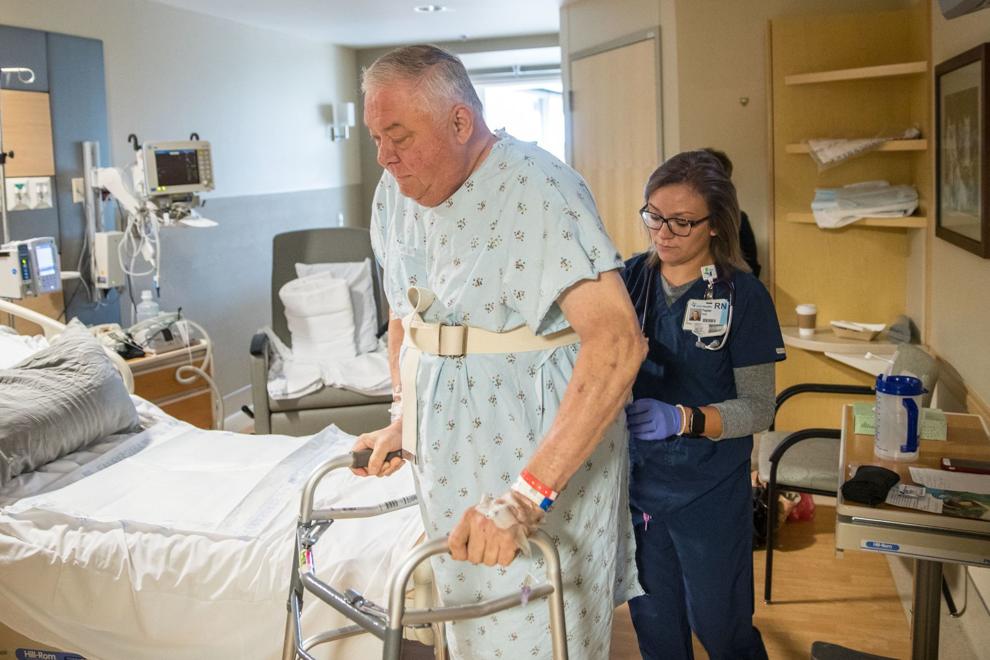 Both Methodist and CHI have float pools that they can draw from, like schools districts tap internal substitute teacher pools, to fill unexpected vacancies or handle surges in patient numbers.
"It's not easy," Chase said. "You've got to think of something new every day."
Hospital officials say they generally follow national and specialty association guidelines for how many nurses are on duty per patient.
Sue Nuss, chief nursing officer at Nebraska Medicine, said that health system recently has had high patient numbers, which has stretched nurses to higher ratios.
But the hospital works hard to avoid closing beds or deferring transfers, she said. The hospital occasionally puts lead nurses or supervisors on staff, which helps keep ratios manageable.
CHI's Chase said pairing registered nurses with licensed practical nurses and certified nursing assistants or other team members is another way to make sure that patients are getting proper care while reducing the burden on nurses. Nursing assistants, for example, can take vital signs and report them to nurses.
Chase said St. Elizabeth Regional Medical Center in Lincoln had some staffing challenges last year. The chief nurse there partnered with area nursing schools and placed upper-level nursing students with nurses to reduce workloads. Now those students are graduating, and the hospital is hiring them.
Hospitals occasionally hire traveling nurses to fill gaps, but that can be costly. In 2017, some 37% of Nebraska health care organizations used temporary staffing agencies to fill vacancies, up from 34% in 2016. Most of those were smaller hospitals. Overall, health care organizations spent more than $30 million staffing temporary employees, which was up significantly from $11 million in 2016.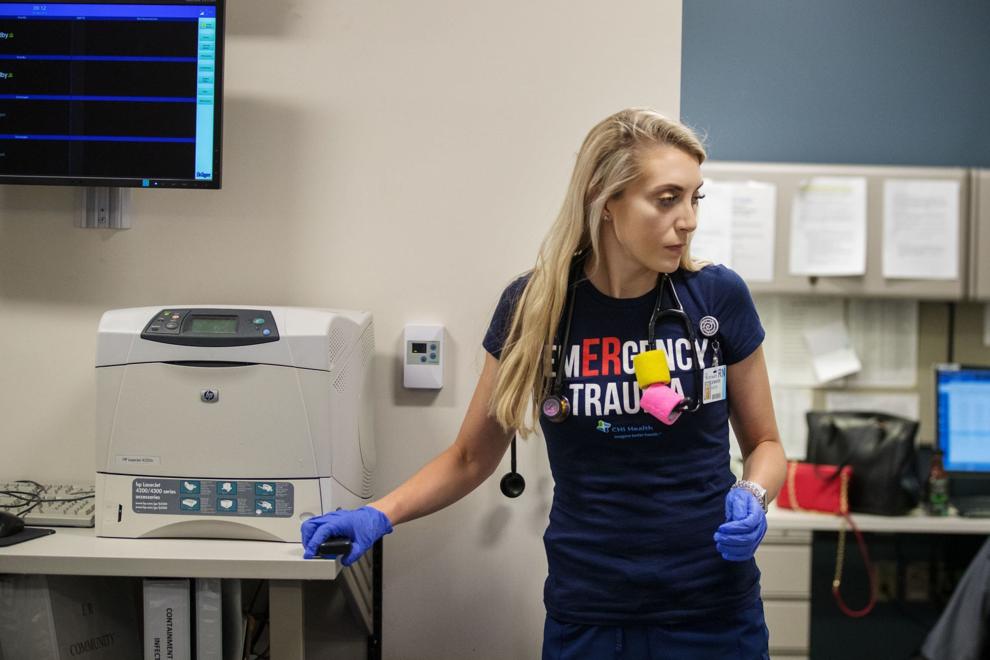 Those kinds of numbers led Great Plains Health to take a different approach.
The North Platte hospital at one point was staffing up to 50 travelers at a time to keep up with patient load and new services, said Jayne Johnson, senior director of human resources.
Ethan Suh, a registered nurse originally from South Korea, suggested international nurses. The hospital is in the process of hiring 52 of Suh's recruits — the hospital sponsors their visas — and has employed 61 more through staffing companies on two-year contracts with the possibility of staying permanently.
Most of the nurses have bachelor's degrees. All have to pass state licensing exams. "It's just been a blessing," Johnson said.
To help meet demand, nursing schools have significantly expanded their programs in recent years. The number of registered nurse graduates, according to state reports, has increased from 832 in 2002 to 1,247 in 2018.
This fall, Creighton enrolled a record 154 freshman nursing students. Todero said that's an increase of about 35% over the past three years.
Research indicates that nurses stay where they train. About two-thirds of Creighton's students come from out of state, she said, but about two-thirds stay, which works out to a brain gain for the community.
UNMC enrolled 310 freshman bachelor's nursing students this fall, up from 283 last year, an increase of more than 9%. In Lincoln, the Bryan College of Health Sciences enrolled its largest-ever class of 456 bachelor's nursing students.
Area schools have also worked to increase access for students, including high school students and those who have degrees in other fields. They're also taking steps intended to keep nurses in the field once they've graduated.
Said Deb Carlson, president and CEO of Nebraska Methodist College, "We haven't had a problem yet recruiting nurses. It still seems to be a profession that students are excited about."