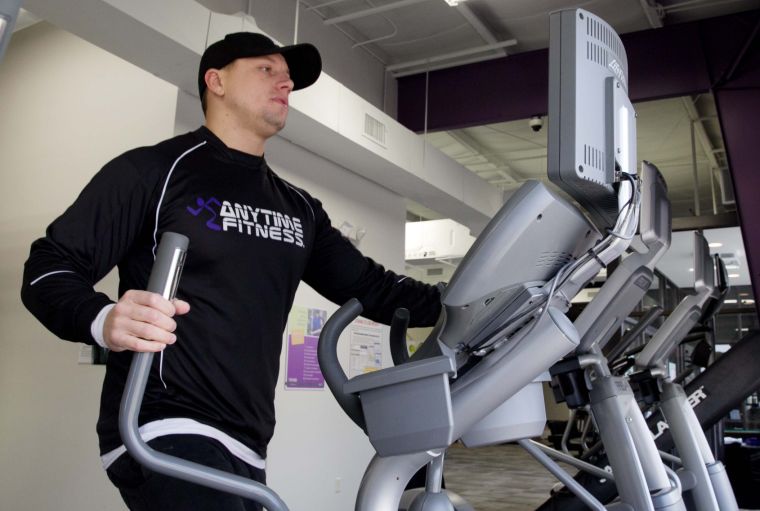 It's been less than two years since Sam and Jessica Heineman bought their own franchises of a fitness center chain in Fremont and Lexington, and already they've had to expand.
The married business co-owners opened another Anytime Fitness franchise in Norfolk earlier this year and moved the one in Fremont to a bigger space.
The Heinemans' Anytime Fitness business model of 24-hour access and adult-only membership has allowed it to be competitive even in Fremont, home of one of the nation's largest YMCAs, Sam Heineman said.
"The demand of the (fitness) industry, in general, has grown," Heineman said, and the 24-hour model is something multiple fitness center companies are pursuing. Snap Fitness, for example, has several locations throughout Nebraska.
"I think they're starting to see that it works well in small communities," said Heineman, son of Gov. Dave Heineman and a Fremont native.
In Lexington and Fremont, the 24/7 model helps people who work shifts at 24-hour factories to have the time to exercise, Heineman said. He said the gyms get a lot of members coming in at 3 a.m.
Mark Quota, 29, works night shifts and comes to Anytime Fitness in Fremont whenever he can.
Quota never used to exercise, but the Fremont native started coming to the gym when he heard about it. "It was something different."
Anytime Fitness is a niche product, Heineman said, keeping it relevant in a community with multiple gyms, such as a YMCA, a women's fitness center, a one-on-one training center and other combative arts gyms.
Membership cards and card scanners provide the 24-hour access. Heineman has opened an adjacent salon, called Tan 24-7, that uses fingerprint scanners to let members enter during nonstaffed hours.
The Fremont gym is an L-shaped room with a few adjoining facilities, namely a tanning booth, a combative arts room shared with ProKicks and a room for video-run fitness classes on request. A couple dozen weight machines and a handful of treadmills make up most of the equipment.
But the building has no pool or track — it's designed for simplicity, Jessica Heineman said, and for members to get a basic workout with facilities that are less expensive, require less maintenance and are more frequently used than a pool.
For Mitch Walters, a truck driver from Fremont, the environment is a happy medium between working out at the more youth-oriented YMCA and his basement. "I know most of the people," he said of the AnyTime fitness.
In addition, he's able to use his universal membership to access other Anytime Fitness facilities on his driving routes.
Feeling a connection with the gym staff and having a more relaxed, adult environment was what got Julie Booze to join Anytime Fitness.
"I just kind of needed a change of pace," the 45-year-old Fremont native said. She's a dual-gym person: she still has her membership at the YMCA and goes there when she works out with her boyfriend.
Ten-year-old Anytime Fitness now has almost 3,000 locations across the U.S. in 49 states and the globe in 12 countries. Franchises tend to be located in smaller towns because of lower leasing costs and the absence of other fitness centers said Mark Daly, national media director for Anytime Fitness. "Frequently ... it's the first or only fitness option."
Daly said a community populated enough to support an Anytime Fitness franchise would be about 15,000 or more people within a five-mile radius.
David City, Neb., and Oakland, Neb., with 2,900 and 1,200 residents, respectively, are smaller but still landed franchises.
But Curt Hineline, president of the Oakland Chamber of Commerce, said people from farther out in Lyons, Tekamah and Uehling also come to Oakland's fitness center.
The success of a franchise comes down to the community, and Hineline said that the "everybody knows everybody" aspect of small town life might be helping the local gym because members encourage others in town to exercise.
Ten percent of the town has joined Anytime Fitness in Oakland since it opened last August, a proportion co-owner Paige Peterson said is high for the industry.
In David City, the two-year-old Anytime Fitness operates amid a women's fitness center and a wellness center in the Butler County Health Care Center hospital currently being remodeled.
Interim city administrator Joan Kovar said the three facilities are unique enough that they don't necessarily compete with one another. She said they provide small-town David City residents with something to do in their spare time. David City has no movie theaters or bowling alleys, and Columbus is about a 30-minute drive away.
"We don't have much for entertainment," Kovar said.
James Kucera, co-owner of Anytime Fitness in David City, envisions his center eventually having more fitness training and youth sports.