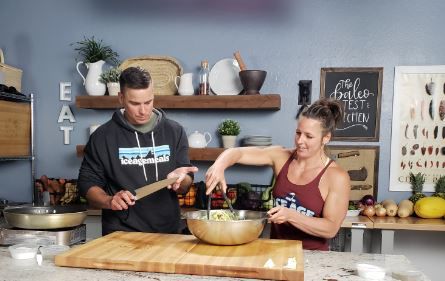 In my previous blog post, I told you I wanted to help more people in 2019. So far, I've been able to touch over 430 lives from all over the world. I'd say I'm off to a pretty good start!
I kicked off the New Year with a nutrition challenge. The first challenge I assigned to the group was to promise me to commit. Commit to making a change in their nutrition choices. To look at food as fuel, to feed themselves with every color of the rainbow and, most importantly, to eat when they are hungry.
But wait, it's just that easy?
Eating more fruits and vegetables in your diet takes a lot patience and a lot of practice. It also takes time to form new habits. Here are just a few of the positive but difficult changes that might take place when you start eating healthier:
1. Weaning yourself off of added sugars and refined carbohydrates, like those in breads, cookies and pizza dough, can be extremely difficult and, in some cases, even lead to headaches. It's all part of the process, and I've found it will improve after a week or so.
2. Learning to cook and prepare food at home can feel overwhelming and exhausting. It gets easier and more efficient with time.
3. Not seeing the scale move can be frustrating. Take before and after pictures of yourself — pictures don't lie! Believe it or not, in some cases, the scale won't move.
4. Integrating more fruits and veggies into your diet may cause some to feel bloated. With lots of water, and a little bit of trust, it gets better. Take it one cup at a time.
5. As a side effect to decreasing the amount of refined foods in your diet, you may feel lethargic. Soon enough, though, you'll find you have more energy. Kellie in Seattle, a participant in the nutrition challenge, said she has more energy to finish tough workouts and has lost 1.5 inches on her waist.
Once you get past a couple bumps in the road, the way you look at food will change. Your plate will become significantly more colorful, and you'll find it odd when your plate doesn't have fruits and/or veggies on it. Ashli in West Virginia told me that after overhauling her diet, she now craves fruits and veggies.
If you shop the weekly ads like me, and focus solely on shopping the outside perimeter of the grocery store, you might also be surprised to find your grocery bill will actually go down. Boxes of Lucky Charms, pints of Ben and Jerry's ice cream and Lean Cuisines sure do add up!
Allison, a member at my gym, told me she's realized that when you eat good foods, you feel good, too. I couldn't agree more.
As you make steps to choose healthier foods, enjoy the easy and affordable Crock-Pot recipe below. It serves a family of eight.
Turkey in the Crock-Pot with Yams
4 turkey legs and 2 turkey thighs
I like Paleo Grind's Veggie Victory and Penzeys Northwoods Seasoning. Never hurts to add a little garlic powder, too.
Wash and clean turkey. Trim of excess skin and fat.
Fill Crock-Pot with 1 cup water. Add your turkey meat. Place yams along the outside or under turkey. Season.
Turn on low. Let it cook all day. Serve when yams are soft and turkey falls off the bone.
Roasted Brussels Sprouts with Bacon
2-3 pounds Brussels sprouts
Preheat oven to 400 F. Wash Brussels sprouts and slice in half. Put on a large baking sheet and drizzle with salt, pepper and olive oil.
Slice 6-10 pieces of bacon and toss over the sprouts.
Bake for 30 minutes, stirring at halfway. Serve.
Gymgoers share what motivates them, pet peeves and their proudest accomplishments
You never know who you might run into at the gym.
There's the man who's exercising as he waits for a heart transplant. Or the woman who's made Jazzercise workouts part of her life for more than 30 years.
Some workouts see moms accompanied by babies. Elsewhere you'll find folks well into their 90s who stick with exercise.
Stacie Tovar is a retired professional CrossFit athlete from Omaha, former volleyball standout at the University of Nebraska at Omaha and co-owner of CrossFit Omaha. She writes monthly for livewellnebraska.com.