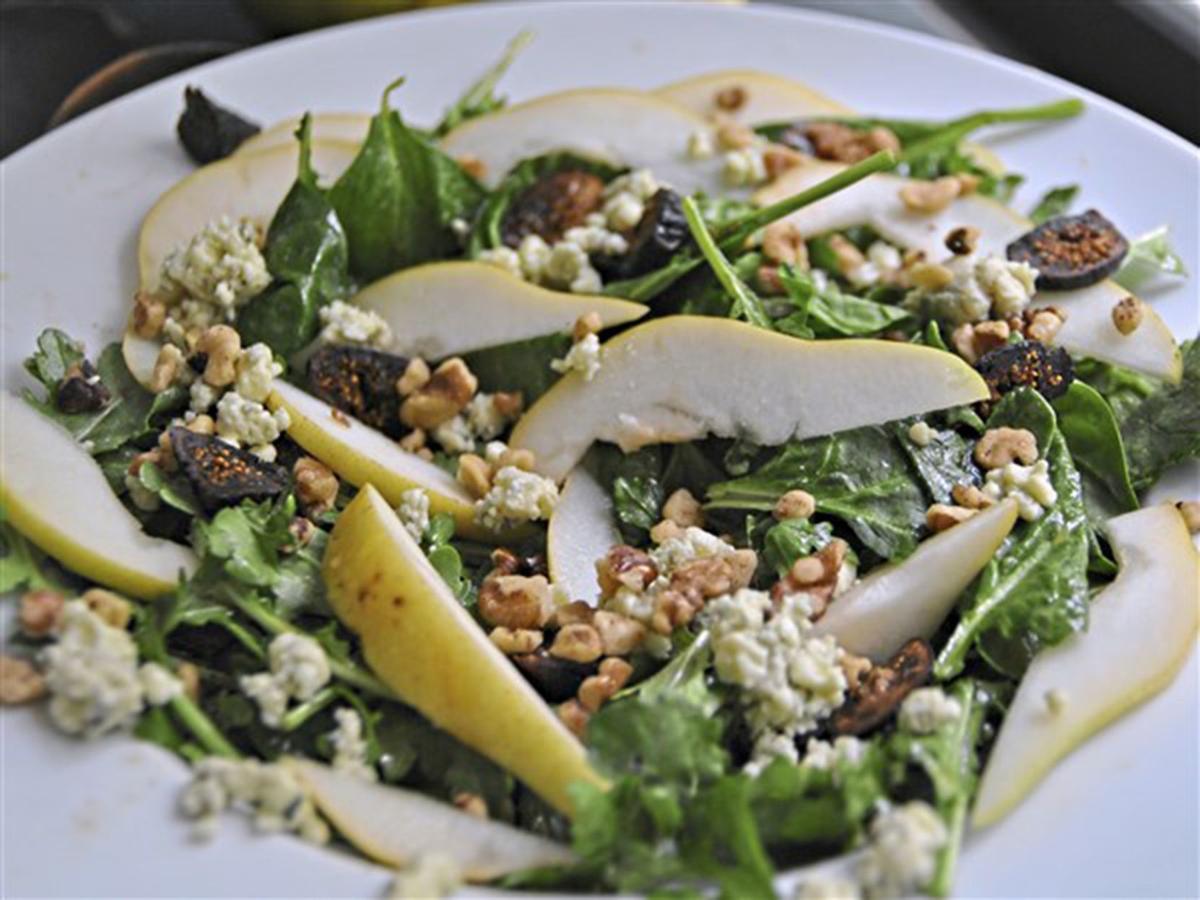 Pumpkin spice is nice. However, this time of year, there is an overlooked fruit that can add just as much spice to your fall fixings: the humble pear.
There are over 10 types of pears, and just like apples, they vary in their color, flavor and texture.
Green or red Anjou pears make up over 30% of the pear market in the United States. These pears tend to stay true to their color as they ripen, which makes them a pretty pear for entertaining.
Bartlett pears are your classic pear, consistent in sweetness and juiciness and commonly found. Its color varies as it ripens from green to golden yellow.
Bosc pears have a richer flavor and a distinct golden skin. This pear has a longer season starting in September through the winter to late spring.
Comice pears are a round, French pear with a blush of red over their green skin. They have a sweet yet buttery flesh that makes them a perfect match with cheese.
Forelle pears are sweet and crisp. The green pears take on a red glow on one side as they ripen, resembling the skin of the freshwater trout.
Seckel pears' peak season is October through February, and they are very small. Their short season and small size often causes them to be overlooked in the produce section.
Starkrimson pears are based out of Oregon and Washington, and have a shorter season, from August to January. These delicate, dark red pears ripen to a bright crimson when ready to eat. Slightly less sweet, they make a nice addition to salads or can be served as an afternoon snack.
Asian pears, often referred to as "apple pears" due to their apple shape, are crisp, sweet and juicy, and have a deep golden color. This variety ripens on the tree, so they are typically ready to eat upon purchase.
Concorde pears are slow to ripen and are a picture-perfect green that takes on a flush of pink when ready to eat. This popular pear brings a hint of vanilla flavor that is versatile for snacking, baking or as a bright addition to salads.
Nutritionally, one medium-sized pear provides about 100 calories, 12% of your daily value for vitamin C, 10% vitamin K and 6% potassium. Each pear provides about 6 grams of fiber and a variety of antioxidants such as carotenoids, flavonols and anthocyanins, depending on their color.
The most effective measure of a pear's ripeness is to "check the neck." Hold the pear in your hand and press firmly on the neck just below the stem with your thumb. A ripe pear will give under the pressure, but still feel firm in your hand.
Pears pair beautifully with cheese and wine. This season, look beyond just pumpkin and consider the following pairings, inspired by USApears.org, for fresh ideas on entertaining.
Red Anjou pear with fresh goat cheese and a sweet Riesling.
Bosc pear with aged cheddar and a Pinot Gris.
Comice pear with Brie and Riesling.
Bartlett pear with sharp blue cheese and Sauternes.
Green Anjou pear with Fromager d'Affinois and a Malbec.
Starkrimson pear with Pepper Jack cheese and Cabernet Sauvignon.
Niki Kubiak is a sports-certified registered dietitian, competitive runner and owner of Niki Kubiak Sports Nutrition and Weight Loss. She blogs regularly for livewellnebraska.com.
Sign up for the Live Well Nebraska newsletter
Get the latest health headlines and inspiring stories straight to your inbox.