An old lifesaving tool has found a new home in area schools: the tourniquet.
Some Omaha-area school districts are mounting bleeding control kits inside schools and training staff and students to use them.
The kits contain tourniquets and pressure bandages to stop bleeding from traumatic wounds.
Officials say the kits could be used for treating injuries ranging from a power-saw wound in shop class to a skewered hand in the cafeteria.
But, in light of tragedies like Sandy Hook and Parkland, they say the kits also could save lives after a school shooting.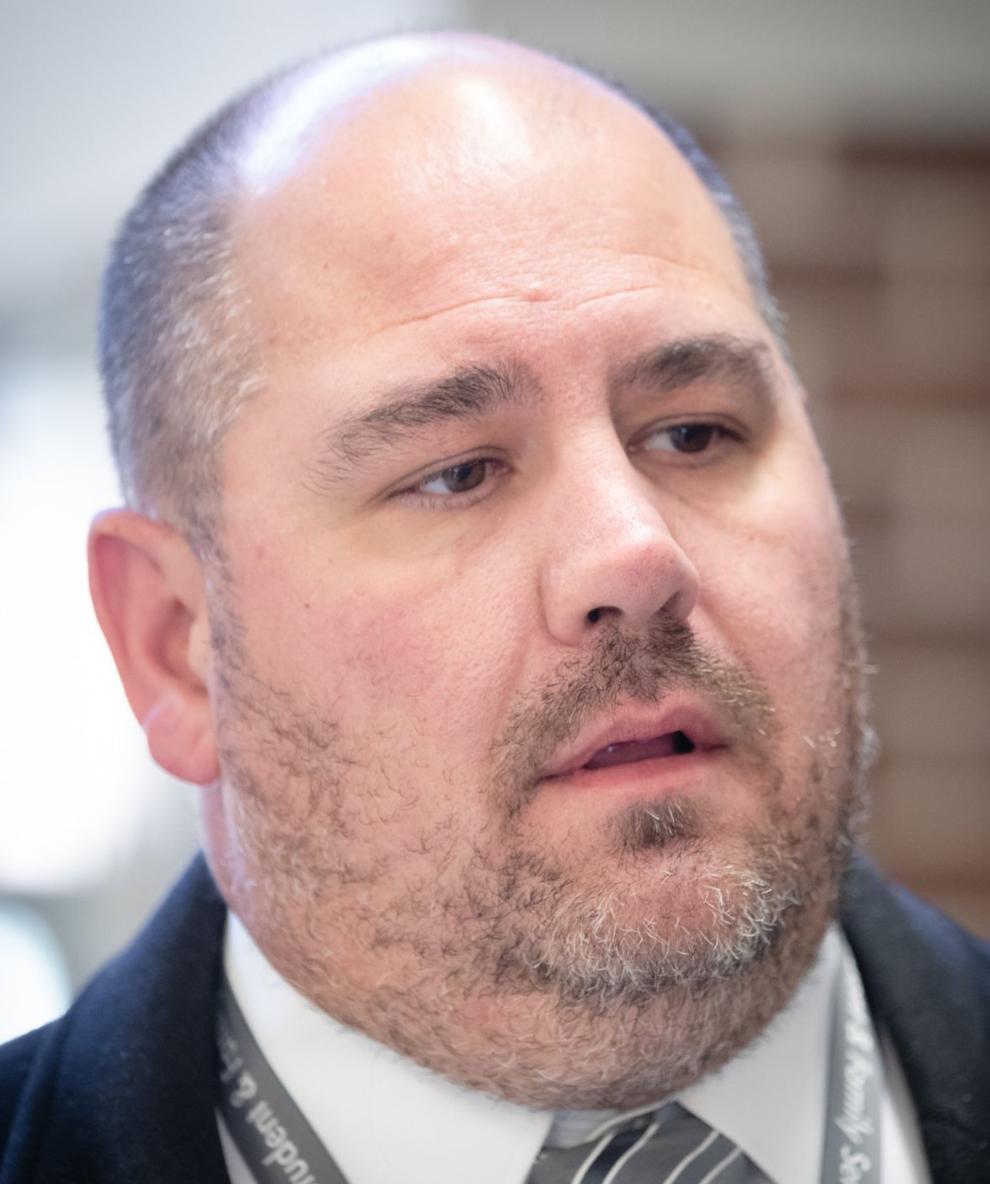 "The idea is if we can stop the bleed, we're going to save a life," said Tim Hamilton, executive director of student and family services in the Council Bluffs Community Schools.
In 2015, the White House launched the Stop the Bleed initiative, a national public awareness campaign and call to action. The campaign is intended to cultivate grassroots efforts that encourage bystanders to become trained and equipped to help in a bleeding emergency before professional help arrives.
In the Omaha area, several districts are exploring use of the kits. Some, including the Omaha Public Schools, have put the kits in certain schools and have trained some staff to use them.
In the Council Bluffs Community Schools, each school building has been outfitted with the kits, Hamilton said.
The Pottawattamie County Emergency Management Agency led the effort to place the kits in each school district in the county, he said.
The funding came through the Southwest Iowa Preparedness Partners.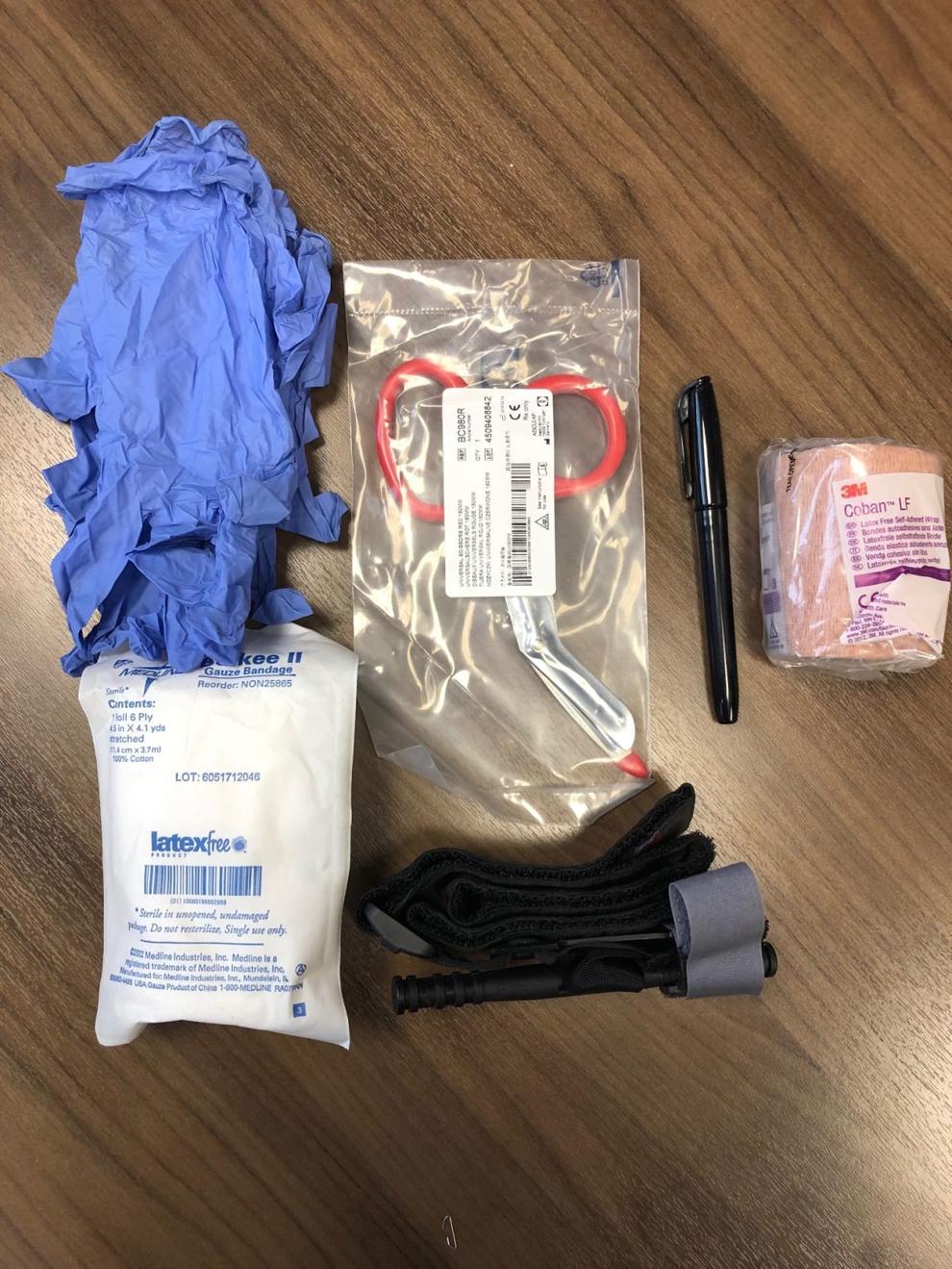 At Thomas Jefferson High School in Council Bluffs, a box containing eight kits has been mounted on a hallway wall. The box is labeled "Bleeding Control Kit" in white lettering. It is next to a box containing another lifesaving device, an automated external defibrillator, or AED.
Like the AED box, the box containing the kits is not locked, so anyone can gain quick access.
Just turn a handle, and it swings open. Inside, each individual kit is vacuum-packed in plastic. Each kit — in this case made by North American Rescue and costing about $56 apiece on Amazon.com — contains gauze, rubber gloves, scissors, a tourniquet and an instruction card.
The tourniquet is a black strap that when tightened cuts off the blood flow.
Ideally, someone trained would use the kit. But the instruction card can walk anyone through the process, Hamilton said.
"You're going to use it when bleeding is pretty out of control, and there's nothing else you can do," he said. "So it's pretty hard to screw it up. You're either going to save someone's life or you're not. And anything you try is better than trying nothing."
He said that while emergency responders can get to a scene quickly, even a couple of minutes can make a difference when bleeding is out of control.
The district has trained its health staff to use them, as well as some students, teachers and support staff. They are offering training to all staff.
In all, at Thomas Jefferson about 10 students and staff have been formally trained, he said.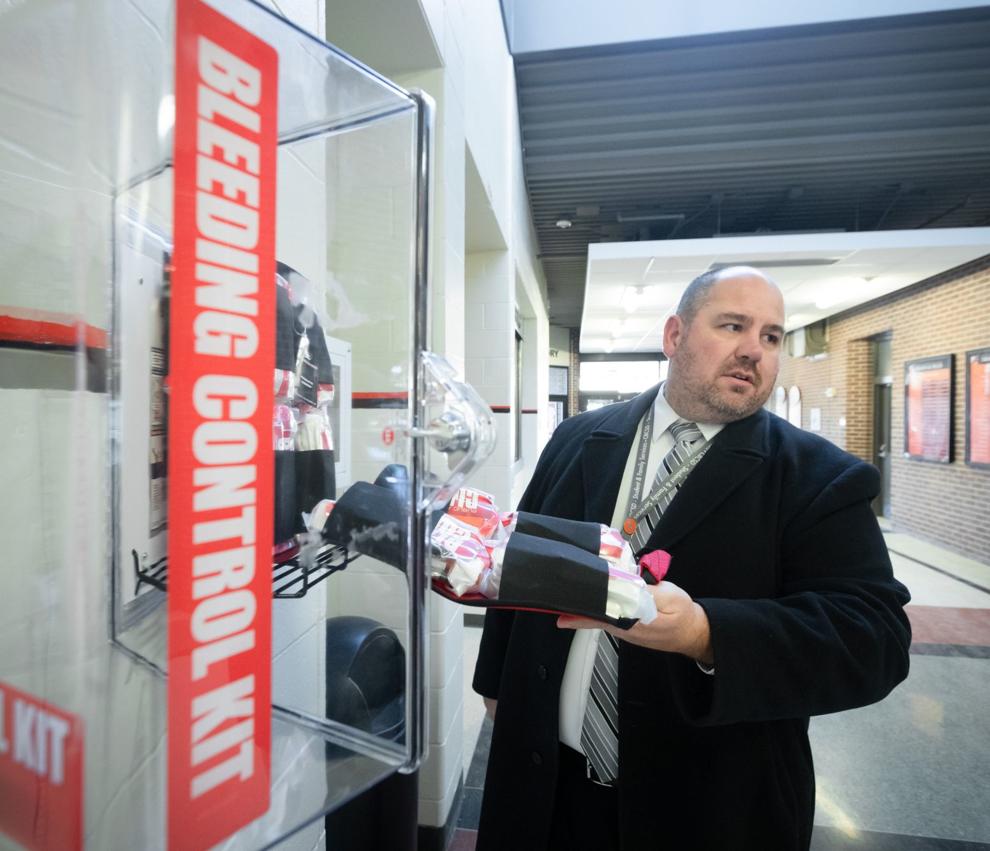 In Sarpy County, the Gretna Public Schools will soon have some kits.
Sarpy County Sheriff Lt. Jacob Betsworth has been working with CHI Health and the Gretna Community Foundation to install them.
CHI Health donated 40 kits, enough for four boxes: two at Gretna High School and one at each Gretna middle school.
The foundation is funding the boxes.
CHI trained Gretna's nursing staff and industrial technology instructors.
Betsworth said training people to stop bleeding is not that different from training them in cardio-pulmonary resuscitation.
"At some point in our history, CPR wasn't a thing," he said. "Now, almost everybody at some point has been exposed to it. We're kind of going down that path here."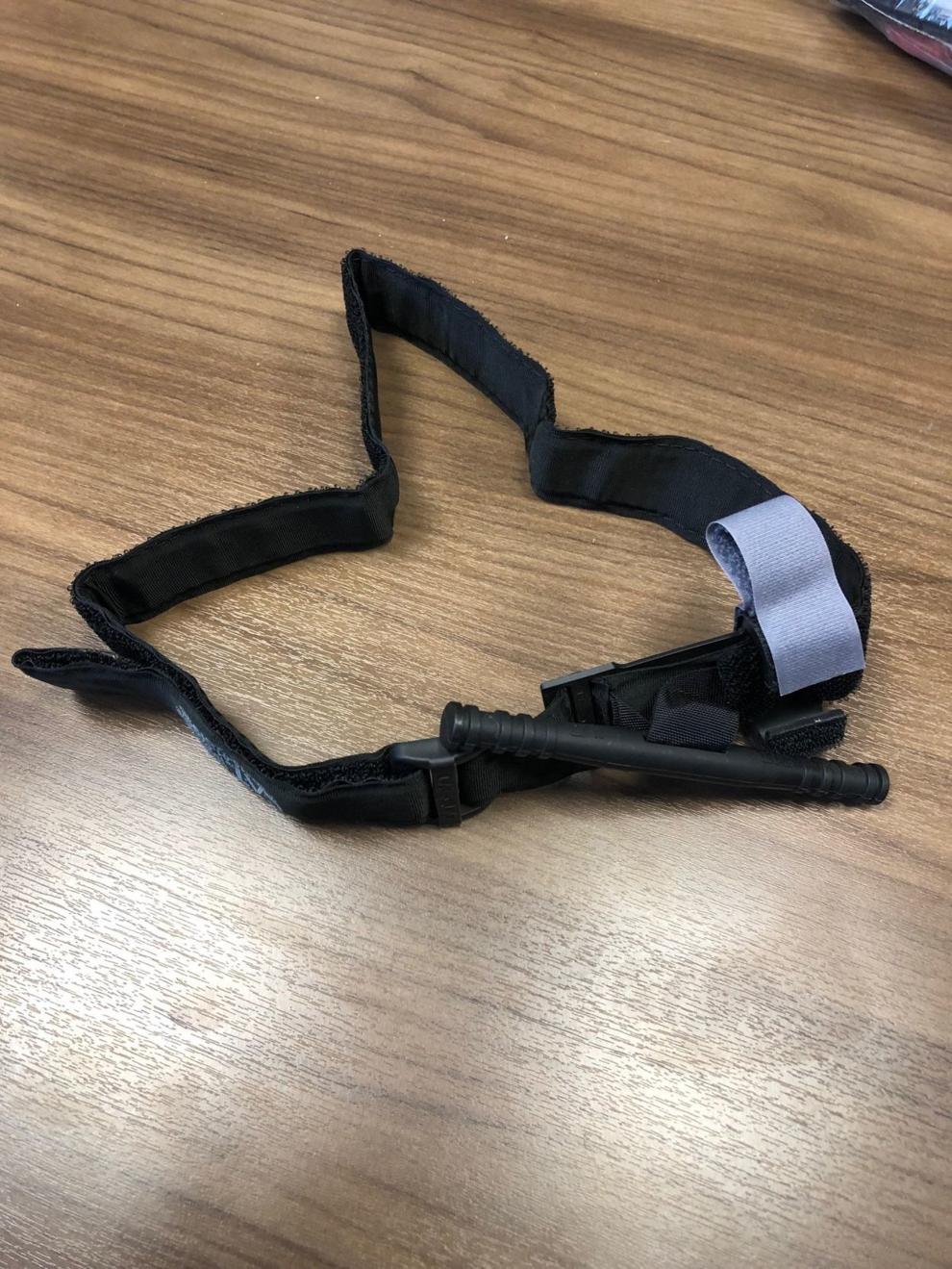 Tourniquets are for arm and leg injuries, he said.
"The philosophy is, you apply a tourniquet as high up as you can, and you tighten it down until the bleeding stops, and that tourniquet stays in place until you get to a trauma center," he said. "You basically get above the wound and cut off the blood flow below it."
For injuries to the abdomen — the part of the body above the hip joints and below the neck — the kit has gauze and pressure bandages for applying direct pressure, he said.
Training is realistic and includes some pictures of actual wounds and practicing on an artificial leg with simulated blood, he said.
The class helps with confidence, preparing people to get involved in an emergency situation, he said.
He said the Gretna project is being done through a Leadership Sarpy group that is promoting use of the kits in Sarpy County schools. The group has been working with Bellevue University to create a video to help encourage other schools to participate.
In the Omaha Public Schools, the tourniquet kits are in each high school and middle school, officials said.
OPS officials are developing a plan to purchase kits for each elementary school, they said.
The district is training nurses and security personnel in how to use them.
In the Millard Public Schools, nurses have been trained, and they have trained other staff, according to spokeswoman Rebecca Kleeman.
District officials are hoping to find grant money to put at least one tourniquet in every classroom emergency kit.
They plan to purchase kits to pair with AEDs in the buildings.
The Douglas County West and Papillion-La Vista districts also are installing them.