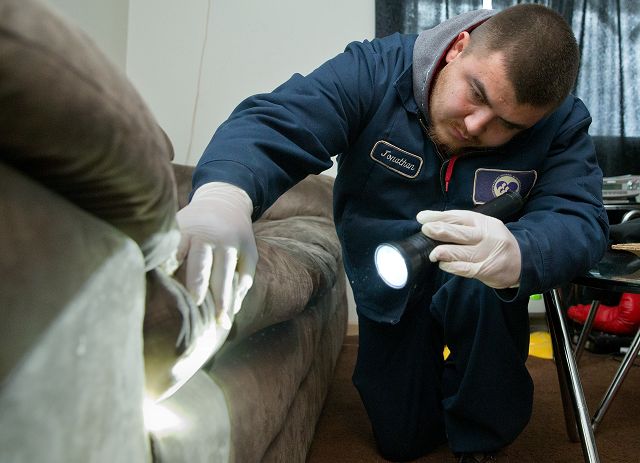 In a nation that finds itself increasingly itchy, Omaha stands out with a dubious distinction.
The metropolitan bedbug population made its largest gains on record last year. Omaha moved up from No. 28 to No. 17 on a national pest control company's annual list of the top 50 bedbug-plagued cities.
The cause of the bug explosion is unknown — leading experts to conclude that the problem will get worse before it gets better. But Barb Ogg, one of the area's bedbug experts and an educator for the Lancaster County Extension Office, said Omaha clearly fits the profile of a bedbug breeding ground.
Bedbugs thrive in densely populated areas and spread fastest in mobile cities. Omaha's central location and 42nd-largest population in the nation make for ideal bedbug habitat.
"We were just seeing something that was going to inevitably come here," Ogg said.
Bedbugs do not discriminate on income, quality of home or cleanliness, Ogg said. They jump in suitcases, hide in boxes, even latch onto jackets to travel with ease.
"Kids are taking them to school. People take them to the public health clinic. Libraries are finding them in chairs; they've been found in books," Ogg said. "It's all of these other venues where we don't expect to see them that you can't really prevent."
The more that people come and go, the higher the risk for bedbugs. This makes apartments, hotels and student housing — concentrated population areas with high turnover — easy targets, experts said.
Omaha's largest landlord, Omaha Housing Authority, sprays for bedbugs monthly in its apartment properties. CEO Clifford Scott said the best way for people to minimize bedbugs is to keep their rooms clutter-free during chemical spray treatments.
"People have to make sure that their unit is clean, make sure that there aren't a lot of areas where the bedbugs can hide and fester," Scott said.
A bedbug can survive as long as a year without feeding, according to Alex Anil George, owner of Blue Jay Termite and Pest Control in Omaha, who handles OHA's roach control. That and their travel habits make them difficult to eradicate.
"They're tricky, tricky animals," George said.
Homeowners or renters shouldn't try to treat them. Bedbug problems call for an exterminator, George said. Heat treatments are the most effective but can cost as much as $3,500.
"You don't need to panic. They're more of a pest," George said. "Sure, they eat your blood ... but in actuality, bedbugs are just pests. You've just got to get rid of them."
Though bedbugs have not been found to transmit diseases, they do cause skin rashes, as well as psychological damage, Ogg said.
"It's kind of repulsive to people," Ogg said.
As Omaha's bug problem grows, efforts are focused on prevention. Ogg publishes information and guides to help people keep them out of their homes. Among her tips: Check suitcases after traveling, and learn to identify the bug for early detection and treatment.
"Some simple prevention methods might be a little bit of a pain to do," Ogg said, "but it can save you thousands of dollars."
How to prevent bedbugs
Learn how to identify them: Adult bedbugs have red-brown, flat oval bodies ¼-inch long with six legs. Baby bedbugs are between 1.3 mm and 5 mm long with clear bodies.
Travel safely: Inspect all hotel rooms upon arrival, looking in cracks, mattresses and headboards for brown or black smears. When you arrive home from a trip, empty your suitcase outside and wash all clothes immediately, storing luggage outside or in a garage.
If you see a bedbug
» Call a landlord or exterminator and arrange for a treatment.
» Clean up all clutter, eliminating extra places for the bugs to hide.
» Wash and dry clothes and bedding in warm-hot temperatures, which should kill any bugs.
» Seal your mattress and box spring with a bug cover, trapping them inside, for more than a year.
» Inspect the rest of your residence for bedbugs, vacuuming all infested areas, including sofas.
How to treat them
Heat treatment: Evenly dispersed heat at least 120 degree is the most effective method but can cost about $600 at a minimum and around $3,500 for a large house.
Chemical spray: Pyrethrin spray costs about $100 per session but can miss bedbugs hidden in clutter, cracks in the wall or furniture.
Home remedies: Sprays and detectors are available for purchase in retail shops for less than $100, but experts warn that these are often ineffective.
Top 50 BedBug Cities, 2012 (with change from 2011)
33. Cedar Rapids/Waterloo, Iowa (+12)
41. Lincoln/Hastings/Kearney (+7)