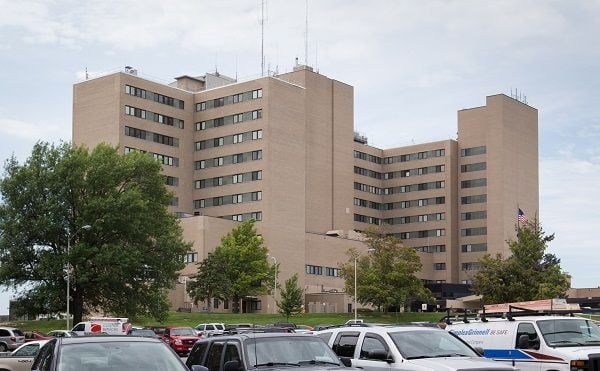 The Omaha VA hospital system used unauthorized waiting lists to track psychotherapy patients for much longer and far more extensively than VA officials previously acknowledged, according to documents The World-Herald obtained.
An internal VA investigation dated Sept. 30, 2015, documented the use of the unofficial lists as far back as 2006. They continued to be used after the U.S. Department of Veterans Affairs prohibited them in 2010, and after a scandal at the Phoenix VA four years later revealed that veterans there had died while languishing on hidden waiting lists.
"The management of these psychotherapy referrals ... was handled poorly and did not meet the standards of our VA Health Care System," the VA wrote in an unsigned response to Sen. Ben Sasse, R-Neb.
The earlier wait lists, however, had been in use for years. They "distorted" wait-time data sent to the national VA, the 2015 investigation concluded.
After surveying a sampling of 104 veterans on the list, investigators determined that 47 percent of those referred for psychotherapy had their care delayed. At the time, VA officials were under intense pressure to cut wait times because of bad publicity over the huge backlog of veterans waiting for care.
After the Phoenix scandal, the use of unauthorized wait lists turned out to be widespread in the VA. In 2016, USA Today documented such lists at 40 different VA health care systems in 19 states.
Last week the VA inspector general released a report documenting the recent use of "inappropriate" wait lists in the Eastern Colorado Health Care System (based in Colorado Springs) for mental health group therapy and in a PTSD clinic.
The 2015 investigation was mailed anonymously to The World-Herald, and its authenticity was confirmed by Omaha VA officials. On Friday, Omaha VA Director Don Burman and Chief of Staff David Williams agreed to answer questions about what happened in 2015 and why the wait list problem recurred in 2017.
Burman said he learned of the wait lists soon after taking the helm of the Omaha-based VA Nebraska-Western Iowa Health Care System in the spring of 2015. Internal investigations verified the problem, and he called an administrative investigation board, bringing in two outsiders from other VA systems to conduct it.
"I wanted to make sure there was immediate action," Burman said. "I didn't want to be classified as another Phoenix."
Burman said the VA made numerous changes after the investigation. But some problems didn't get fixed properly, allowing the wait list to recur in 2017.
Burman acknowledged the shortcomings of the earlier repair effort in an interview Friday.
"I learned a lot from 2015 that helped me to be a better administrator in 2017," he said.
Burman omitted mention of the earlier wait list problem in a World-Herald opinion page article this month. In the article he praised his own "proactive approach to problem solving in Omaha."
"The phrase 'VA does the right thing' may not make for a great headline," Burman wrote. "But in this instance, that's exactly what happened."
The 2015 investigation was also not mentioned in the VA's responses to senators. Burman said Friday that he considered the two investigations and wait-list problems to be largely separate matters.
Burman and Williams said that although some veterans had to wait longer than the VA's 30-day standard for psychotherapy treatment, all of them were receiving other mental health care. About 85 percent, Williams said, were referred by VA psychiatrists who were already treating them.
"This population was very much on our radar screen," he said.
The Omaha VA prides itself on getting same-day mental health treatment for most veterans.
The 2015 investigative board collected testimony from 18 witnesses and submitted its report three months later. Among the findings:
» The unofficial list — kept in an Excel spreadsheet on a shared computer drive — had been in use since at least 2006, perhaps longer. At the time, it was the only way the clinic tracked psychotherapy appointments.
» Use of the list continued even after a 2010 VA directive that barred the use of any list other than the VA's approved "Electronic Wait List."
» The department's four social workers became alarmed after the Phoenix wait-list scandal in 2014. One of them told investigators the group thought their list " 'was similar to what happened in Phoenix' and that they should get rid of it," the report said. Use of the list was stopped in March 2015.
» An antagonistic relationship between the social workers and the mental health department managers, Dr. Subhash Bhatia and Dr. Praveen Fernandes, "stymied any significant efforts to come up with a coherent scheduling policy."
The social workers believed the managers were focused on performance measures and bonuses and became suspicious that "meeting the measure was the product of malfeasance," the report said. Williams said Friday there's no indication Bhatia, Fernandes or any other mental health providers were paid bonuses based on those measures.
» The clinic also scheduled new patients referred for psychotherapy consults into a non-therapeutic "orientation group" during 2014 and 2015 in order to make it appear they had gotten treatment when they had not, the report said. As a result, the hospital could claim shorter average wait times for appointments.
Fernandes, director of the outpatient mental health clinic, told social workers to cancel the consults and place the veterans on the unofficial waiting list. Auditors couldn't tell whether those veterans ever received treatment.
The board, which was led by a VA administrator from California, made 12 recommendations that included a complete overhaul of the scheduling system, referral of any patients who have waited more than 30 days to treatment outside the VA, the use of routine scheduling audits, and a full review of all veterans referred since April 2014 to ensure patients hadn't been lost without receiving care.
The board further recommended that Bhatia, chief of patient care service mental health, and Fernandes be disciplined for poor management. It said Fernandes should also be disciplined for not complying with VA scheduling policies and that he should be removed from supervision of the psychotherapy social workers.
Burman declined to discuss disciplinary action against individual employees. In an interview, Bhatia said he was not disciplined. Fernandes, who still works at the Omaha VA, could not be reached for comment.
By Burman's account, most of the board's recommendations were implemented and scheduling procedures were overhauled.
Burman said the official electronic waiting list has been used since 2015, and the primary work of scheduling appointments was shifted from the social workers to the mental health schedulers.
But then last June, Williams said, anomalies in the list made him suspect that a second list was being used again. He discovered that some of the schedulers were using a separate spreadsheet, because it made appointments easier to track. They also failed to offer veterans left waiting for care more than 30 days the option of receiving care at a civilian clinic through the Veterans Choice program.
Burman said he pounded home his point at a staff meeting.
"I made it clear we would not tolerate the use of any unauthorized spreadsheets and there would be disciplinary action," Burman said. "We're much more aggressive in making sure they know."
Bhatia acknowledged he is one of two people who left after the second wait list was revealed but said he had planned to retire this year anyway, after 27 years with the VA. One of his deputies also resigned. He said he was not told any details about the most recent report.
"Nobody forced me to retire, but I chose to," Bhatia said. "I took responsibility, and I decided that another leader could deal with it more objectively."
He remains on the faculty at the Creighton University Medical School as a distinguished professor.
Williams said an investigation has recently been completed into whether other employees were culpable. He said no decisions have been made yet. But Williams said the mental health department has been overhauled.
"We brought in new leadership," he said. "Turning the department upside down."