Seven years after completing his cancer treatment, 13-year-old Carson Vecera recently was back in the doctor's office.
This time, however, the focus wasn't on keeping him alive in the face of a scary diagnosis but providing the kind of care needed to help him thrive for the rest of his life.
Over the course of a couple of hours, the good-natured Fremont youth met with a series of specialists who make up the new Survivorship Clinic that Children's Hospital & Medical Center launched in June.
Carson got caught up in school after his treatment for neuroblastoma, a nervous system cancer in young children, and now gets A's and B's, his father, John Vecera, told team members. He likes golf, track and basketball and gets up early to shoot hoops with an older brother at the local YMCA.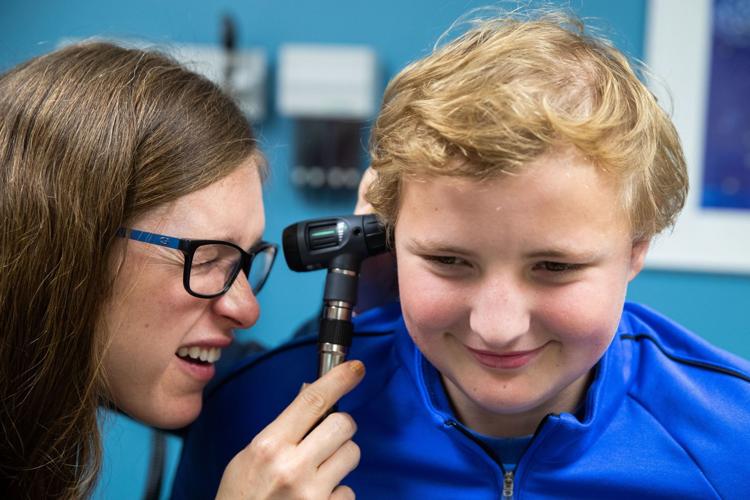 "He's a character," John Vecera said. "He's got a lot of energy."
But Carson also has some lasting effects from the intense treatment he received in 2011 and 2012.
He lost about 50% of his hearing, so he wears hearing aids at school and sits up front in class. One of his kidneys is smaller than the other, so he wears a kidney guard when he plays basketball to protect the organs.
Advances in treatment mean that more than 80% of childhood cancer patients now survive to adulthood, said Dr. Melissa Acquazzino, one of two pediatric oncologists who launched the Children's clinic.
Estimates, however, indicate that as many as 95% of those survivors will face at least one chronic health condition as adults as a result of treatment.
Sign up for the Live Well Nebraska newsletter
Get the latest health headlines and inspiring stories straight to your inbox.
The clinic's goal is to help them keep ahead of those late effects, particularly as they transition to adulthood and face managing their own care.
While doctors have always provided follow-up care to cancer survivors, Acquazzino said, a dedicated clinic allows providers to do it in a more focused way — and in a one-stop shop.
"A survivorship clinic lets us focus on helping our patients achieve their best health after treatment," she said.
Focusing on care for survivors is important in Nebraska, a state that last summer ranked No. 7 nationally in incidence of childhood cancers, said Dr. Don Coulter. Coulter is the director of the Pediatric Cancer Research Group, an umbrella group for pediatric cancer research at Children's and the University of Nebraska Medical Center.
The ranking is based on a 12-year analysis by the federal Centers for Disease Control and Prevention, which also showed Nebraska with the highest incidence of pediatric cancer in the Midwest.
Pediatric cancer, to be sure, is relatively rare, accounting for less than 1% of cancers diagnosed among Nebraskans. But concern about its incidence led parents, advocates and others to lobby the Nebraska Legislature for funds to bolster pediatric cancer research in the state.
The state's commitment, which began in 2015 and now stands at $9 million, has funded a number of studies by the research group, including a 24-year look at Nebraska's numbers and ongoing work on basic science, potential new treatments and possible environmental contributors.
The survivorship clinic, Coulter said, already is sparking new projects. Researchers are proposing studies on improving cardiac and bone health in childhood cancer survivors. A UNMC scientist recently received a National Institutes of Health grant to look at negative side effects of chemotherapy on mouse ovaries and explore whether certain inhibitors might head them off.
Acquazzino said patients typically switch from the oncologist who diagnosed them to the clinic two years after treatment ends. Patients typically are seen annually, and the visits generally are covered by insurance. Acquazzino said she anticipates having about 100 patients enrolled in the clinic by its second year. Most large children's hospitals have survivorship clinics.
"There's a natural transition when we're no longer screening for relapse, and that's a great time to focus on maximizing health for the long term," she said.
Each survivor's risks are different, she said, depending on the treatments they received.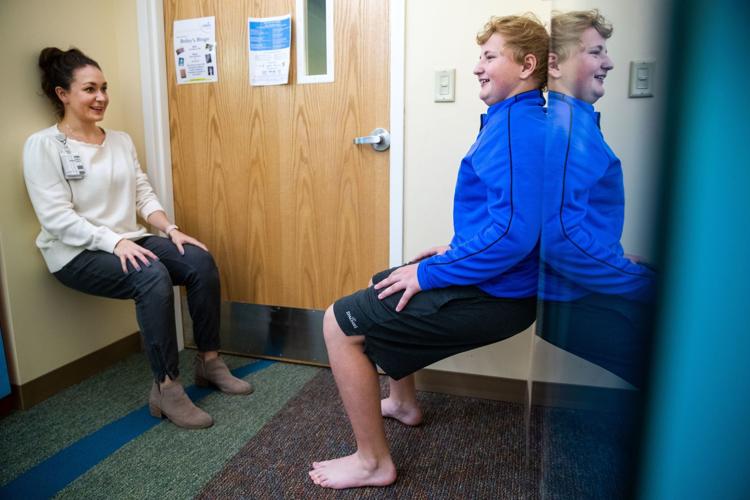 Guidelines recommend long-term follow-up based on those treatments. Some chemotherapies, for instance, can harm the heart. Patients who get them should undergo echocardiograms, or heart imaging, on a routine basis.
Radiation can cause other cancers later on. That means children who have had radiation to the abdomen, for instance, should start colonoscopies earlier than their peers.
The medical literature, however, indicates that more than half of adults who survived childhood cancer aren't getting recommended screenings, Acquazzino said.
The Children's team — which also includes a physical therapist, behavioral health provider and social worker — develops an individual plan for each patient. The plans include the lab tests and screenings they should receive and any mental health or school support they might require.
Behavioral health care is supported entirely by philanthropy, so patients aren't charged for it, she said.
Dr. Sachit Patel, the clinic's other pediatric oncologist, also will begin seeing patients who've had bone marrow transplants. The transplants, one of Patel's specialties, have their own long-term risks.
Before Carson's visit, the team met to discuss what follow-ups he should receive. A cardiologist concluded that his last heart imaging was good enough that he could wait a year for the next. The group recommended a vitamin D test to check bone health, which can be impacted by chemo. His was normal.
During his visit, Acquazzino counseled him on sticking with a healthy lifestyle, including reminding him to drink plenty of water to keep his kidneys healthy.
Physical therapist Carissa Rowberry assessed his strength and checked his ankles, knees and spine. Some chemotherapy can affect nerves, leading to weak ankles that can in turn trigger knee or back pain.
"We've actually found a few things kids (just) dealt with, because they didn't know it was an issue," Acquazzino said.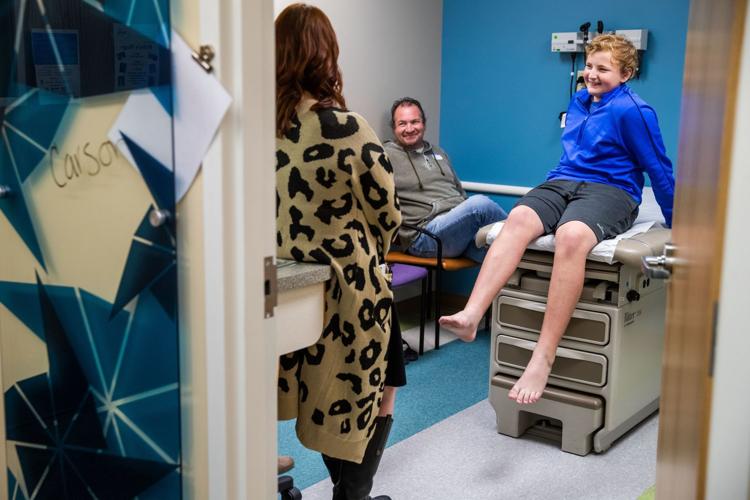 LesLee Hacker of Omaha said a physical therapist who saw her daughter, Lauren, in the clinic is working to sort through the cause of leg pain that has persisted for two years. Lauren, now in high school, survived two bouts of acute myelocytic leukemia.
"They're putting things around her to improve her health," LesLee Hacker said.
Providers can collaborate in real time during appointments, without the lag time that naturally occurs if they see patients separately. Fewer appointments also means less lost school time, an issue for those who've already missed a lot.
Lolo's Angels, a nonprofit Hacker started, plans to donate $30,000 to support the clinic in the next several weeks, funds raised during a recent event. The organization has pledged to raise additional funds, with an eventual goal of $100,000. "That clinic is going to help so many kids," Hacker said.
Acquazzino said the clinic team also fields questions that may not have come up in the heat of treatment, when families typically are deluged with information. They provide families with summaries of the care each patient received that they can use as a road map for future care.
Carson said he doesn't think about his treatment much. "I just kind of put that away, because it's been so long," he said. "I haven't really worried."
The good news, Acquazzino said, is that survivorship has increased each decade. For some conditions, doctors now can scale back some treatments and still provide good care.
And part of the fun of the clinic is seeing how well most patients are doing. The clinic plans to launch a survivorship celebration next fall.
Still, there's more to do.
"I don't want our outcomes to be the same in 10 years, 20 years," Acquazzino said. "Our kids and families deserve better, so that's what we're striving for."
17 rare and unusual health stories out of Omaha
One rare disease left an Omaha doctor eating a shakelike formula to supplement her diet. A friend said it tasted like cat food. An Omaha man woke up after his family took him off life support. And a Lincoln teen is allergic to almost everything.
Check out the stories on their unusual ailments and sometimes equally unusual treatment plans.