Lance Pérez remembers nothing of the car wreck that put him in a wheelchair for the rest of his life.
Fresh off his first year as a student at Notre Dame University, Pérez headed for work one summer-vacation morning at Roy Rogers fast-food restaurant 36 years ago at home in Virginia.
"I can't tell you anything that happened," Pérez said. "Then (I) sort of woke up in the hospital."
The wreck caused catastrophic damage to his spine, midway up the back. It would take roughly a year as a hospital inpatient and outpatient before he returned to college. Notre Dame was a long way from home, and he was no longer eligible for his Army ROTC scholarship in a wheelchair. He transferred to the University of Virginia.
He disputes the idea that his is an especially inspirational story. He is no different from other members of his softball team, he said, many of whom have accident and mishap stories similar to Pérez's. For that matter, he said, he is not different from millions of human beings who face challenges of all kinds. The human spirit is resilient, he said.
"We move forward, right?" Pérez said. "We keep pressin' on."
His wife, Julie, recalls watching him at the University of Virginia go downstairs backward in his wheelchair while he held onto the railing. That frightened her, but Pérez said it's the kind of thing most people in wheelchairs learn to do.
Julie Pérez said she fell in love with a man at the University of Virginia, not a disabled man. "You don't think of him as a guy in a wheelchair," his wife said. "You think of him, and the wheelchair happens to be there."
It's not the chair or even how he's handled life in the chair that makes Lance Pérez unique, she said. "I think he's special because of who he is."
One recent weekend his softball Barons, most of whom are from the Lincoln and Omaha areas, played in a tournament at Omaha's Seymour Smith Park. The park, at 6802 Harrison St., includes two softball fields for wheelchair competition, plus playground equipment and a water park for disabled children.
The AllPlay complex, which took $1.5 million to build, was the brainchild of Barons teammate and coach Bruce Froendt. Froendt, a retired businessman, donated his own money for the complex and acquired contributions from the Lozier Foundation, the Sherwood Foundation, the Peter Kiewit Foundation, Ruth and Bill Scott of Omaha, and others. The complex was erected 11 years ago.
Members of the Barons said it's the best outdoor wheelchair softball complex in the country. Froendt, 57, who is one of the Barons' catchers, became a quadriplegic when he broke his neck diving into a hotel swimming pool at age 23. He mistook the shallow end of the pool for the deep end.
Pérez leans forward at third base with his hands on the wheels. He wears no softball glove, and few players do. It's hard to push off and propel yourself in a wheelchair with a ball glove in your hand. Mobility is key.
The ball is slightly larger than a regular softball (some refer to it as a "Chicago softball" because it's frequently used there) and a bit softer.
Wheelchair softball requires a team to have at least one quadriplegic on the field, and there is a player point system based on severity of disability so that a team can't stack its lineup with mildly disabled players who have typical arm and trunk movement.
Pérez's paralysis makes it impossible for him to walk, and he has little or no mobility in the abdomen. He throws and wheels around bases strictly on his arm and shoulder strength. He has no torque in the middle of his body.
The Barons' first game was against a rival, the Chicago area's Hawks, and the Illinois team took it to them. Pérez, a third baseman, committed an error on a ground ball and hit into a double play. "I'm having the worst game," he said in the dugout.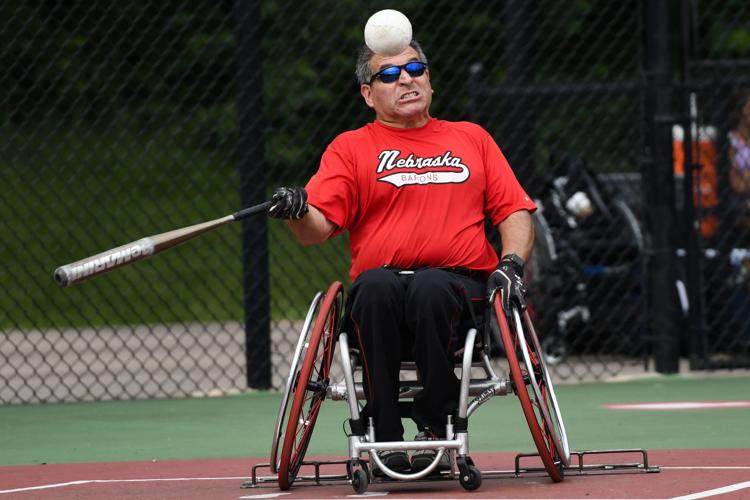 One of the most startling aspects of wheelchair softball is the frequency of collisions and ballplayers spilling onto the asphalt surface. Knees are rubbed raw. Fingers occasionally bend or break.
Once in the tournament Pérez backed up in his chair to pursue a pop fly and tipped over backward, landing on his back in the wheelchair.
They like the contact. If a baserunner wheels toward second, the infielder knows he might get whacked trying to turn a double play. If a fielder stands obliviously in the path of a baserunner, he is likely to get drilled.
The Barons came back and won the two-day Omaha tournament. "They're not, like, overly great," said the Hawks' coach, Keith Wallace. But the Barons hit well in the clutch, Wallace said, and they make plays when they have to.
Wallace, who is not disabled, also coaches the USA Wheelchair Softball Team, which Pérez has played on twice. The all-star team plays in the world tournament in Japan.
Dr. Paul Krabbenhoft, medical director of the spinal cord unit at Madonna Rehabilitation Hospital in Lincoln, arrived in Nebraska in the mid-1990s, about the time the Pérezes moved to Lincoln.
Krabbenhoft, who plays for the Barons, injured his spine when he fell out of a tree at age 12. Pérez and Krabbenhoft started playing wheelchair basketball together in the 1990s.
Pérez said at one time, they had about 20 wheelchair basketball players competing in a Lincoln gym. "It was brutal and grueling and wonderful and fun," Pérez said. But Perez, 54, said basketball is a young person's game. And it's hard to make time for two sports and serve as engineering dean at the same time, so he doesn't play much basketball anymore.
"He is very busy," Julie Pérez said, and his "mind is constantly going." While earning his master's degree and doctorate at Notre Dame, Pérez, who is an electrical engineer, would come home for dinner, then head back to campus to study into the night, his wife said.
She spent a year in Iraq about 14 years ago in the Army Reserves. She earned a Bronze Star as a transportation company commander and retired as a lieutenant colonel. She currently works at UNL's Raikes School of Computer Science and Management, where she is director of operations.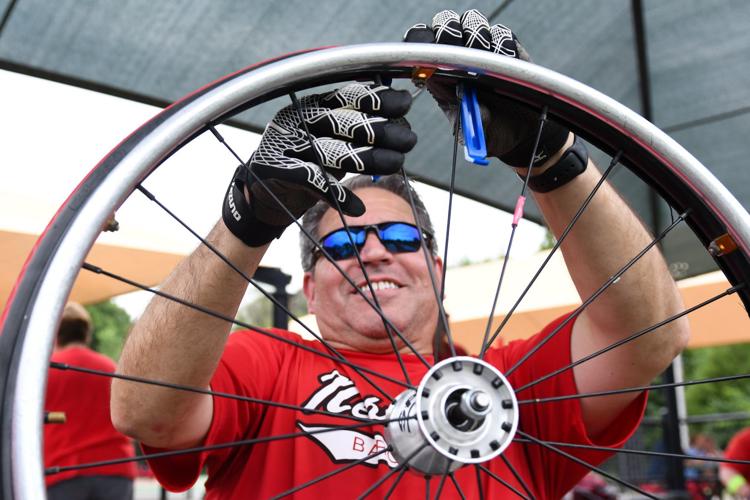 Softball is an outlet for stress and a sanctuary of competition and camaraderie for her husband, she said. She attends many of his games and works in the concession stand when the staff is thin.
The Nebraska Barons want to be recognized as competitors. They shun sympathy. Krabbenhoft said: "The public perception of that is, 'Oh, it must be hard, we feel sorry for you.' "
"I see them as athletes," said Wallace, the coach in Illinois. "It's a big brotherhood."
Pérez said he had little intention of taking the job when he interviewed for an engineering faculty position at UNL in 1996. His dad was born in Trenton, Nebraska, and Pérez expected to slip out at lunchtime and visit Trenton. Pérez had no understanding of Nebraska's vastness. Trenton is 250 miles from Lincoln.
He has come to love the state. It's generous in its support of worthy causes, such as the AllPlay complex and the College of Engineering, he said. His interest in engineering grew out of a fascination with the Apollo space missions, he said.
He imagined working at NASA's Jet Propulsion Laboratory in California. His doctoral research at Notre Dame was largely NASA-funded, in communication for satellites and deep-space probes.
But his graduate-school adviser at Notre Dame encouraged him to consider academia.
"I'm very happy I chose to go into the academic world," Pérez said. He rose through the engineering faculty ranks and became UNL's interim engineering dean in 2016 and permanent dean last year.
Sign up for The World-Herald's afternoon updates
Receive a summary of the day's popular and trending stories from Omaha.com.
The college is in the midst of a construction boom, including the $75 million renovation of the Scott Engineering Center and the demolition of a facility called The Link.
Pérez said he and university leaders are raising private money for an $85 million engineering building as well. The college has added more than 50 faculty members over the past five years, he said, and is revamping its curricula, teaching strategies and research programs. The college will move away from lecture-based education to learning that emphasizes hands-on experience and teamwork, he said.
"I have an amazing life, right?" he said. "It's a demanding job and I wouldn't expect anything less."
He's one of the few in the world who gets to run a Big Ten engineering college, he said. He plays on a great softball team, too.
A roundup of inspirational stories from Midlanders with heart
There's the woman with MS who runs despite her diagnosis. The 7-year-old born without his left hand who plays baseball just like the other kids his age. The refugee who turned to Zumba to help her recover from cancer treatments. Check out their inspiring stories and others below.
Be the first to know
Get local news delivered to your inbox!