When Sharan Bryson woke up from a coma, her leg was hidden beneath a layer of bandages.
When doctors unwrapped the limb, she realized the extent of the damage. The skin on her leg was black from lack of circulation. She felt nothing below her knee, except a sharp, stabbing pain.
Bryson's leg was dead, doctors told her, and her best option was amputation.
She wasn't sure what life would look like after surgery.
Now, fitted with a prosthesis, her doubts behind her, she's taken up running. Bryson, 46, will put her hard work to the test when she competes in the Omaha Marathon's 5K on Sunday.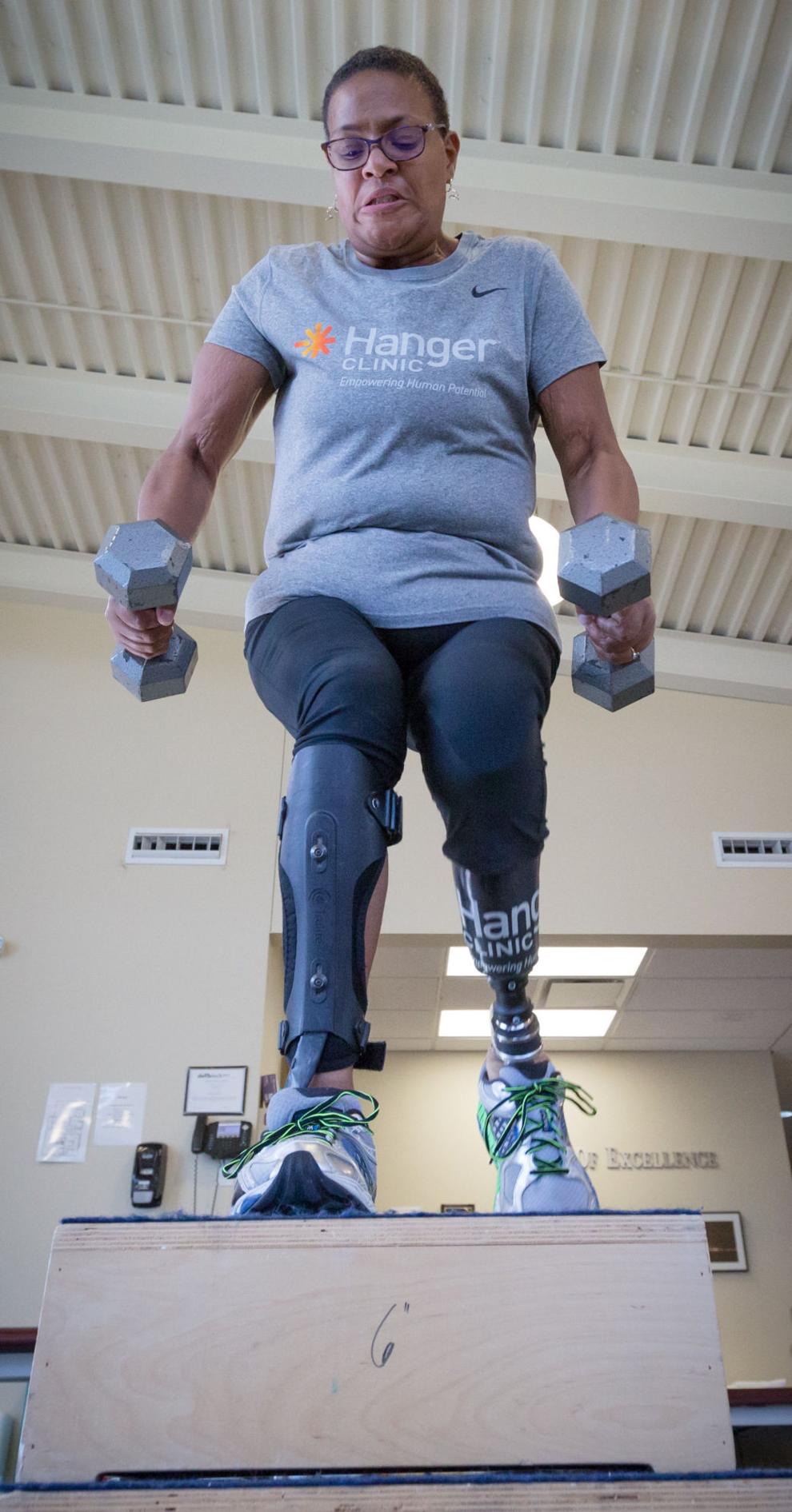 "I am truly the last person you would ever think would be able to run anywhere," Bryson said. "I'm telling you right now, it's by the grace of God."
Seven years ago, piercing pain shooting through Bryson's abdomen led her to the hospital on multiple occasions. Doctors ruled out gallstones and appendicitis but couldn't identify the problem.
It wasn't until later that doctors discovered that Bryson had pancreatitis. The ailment causes inflammation in the pancreas, and in severe cases like Bryson's, it can cause multi-organ failure, said Dr. Amol Patil, who treated Bryson at Immanuel Medical Center in Omaha. He now practices at the Nebraska Medical Center.
Patil said Bryson's kidneys shut down and her blood pressure dropped, which caused Bryson to go into cardiac arrest and then a coma.
Doctors told her family there was little chance she would survive.
Because her blood pressure was so low, doctors gave her a medication to move blood toward organs that need it the most, such as her heart and brain. That caused gangrene in her leg and feet.
"It was either we were trying to save her life or save her limbs," Patil said.
Bryson, a retired nurse, regained cognitive function two months later. She still couldn't talk or move.
Doctors told Bryson in April 2011 that the best option was to amputate her left leg below the knee. Months later, doctors performed surgery on her other foot to remove four toes and her heel.
Before she was fitted for her prosthesis — a year after her leg was removed — she had to rely on her family for day-to-day tasks.
"To become dependent on others to take care of you — to bathe you, to get you dressed — is very humbling," Bryson said.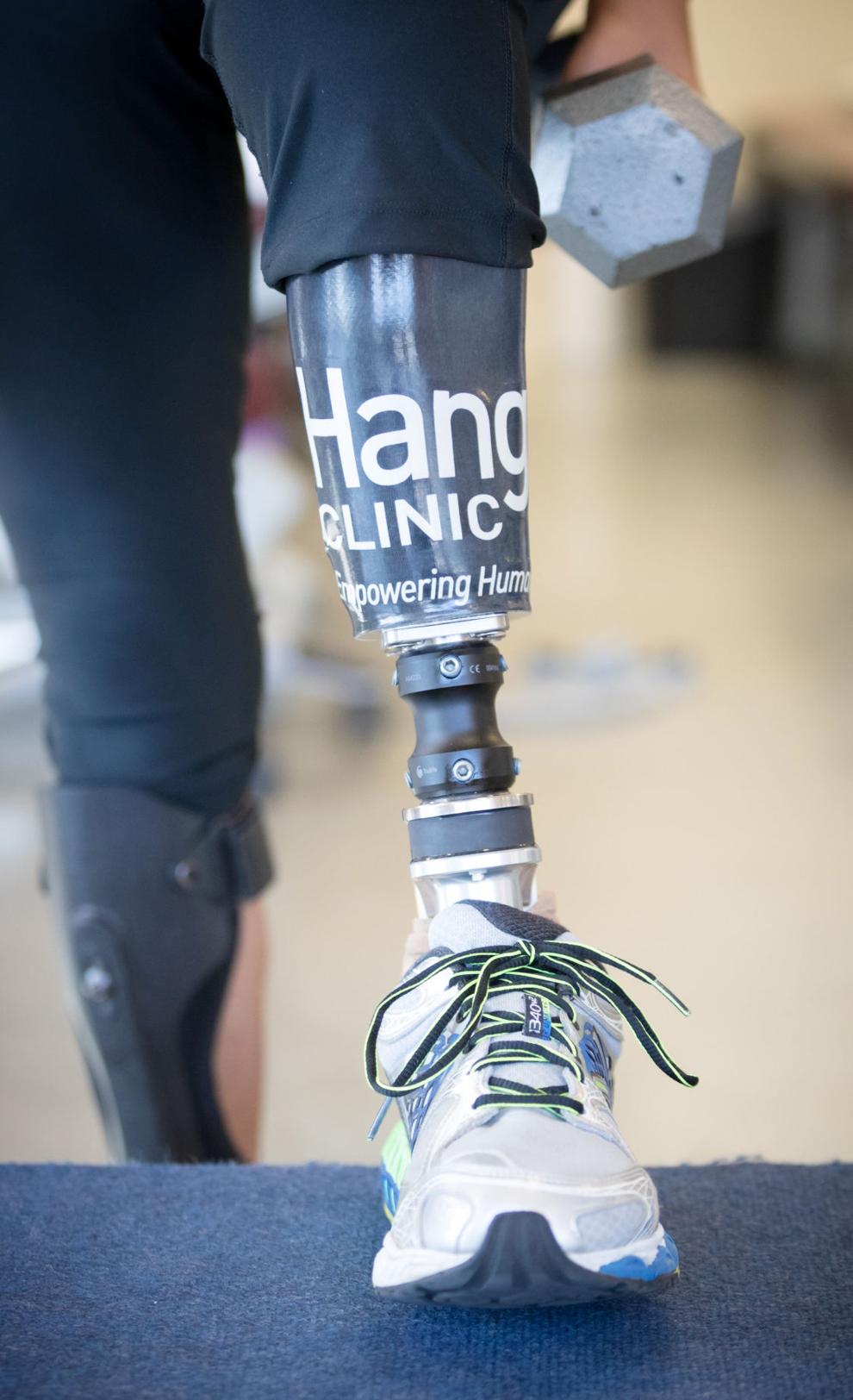 Bryson now wears a prosthesis on her left leg and a brace on her right ankle. In rehab, she strengthened muscles she wasn't used to using, improved her gait and learned to trust her prosthesis while walking.
It took two months before Bryson could walk confidently and without assistance. A year later, once she was comfortable with her prosthesis, Bryson started to exercise again.
Dr. Mark Maguire, Bryson's prosthetist at Hanger Clinic in Omaha, said it's possible for patients who've lost limbs to take up running.
"I make sure my patients know the only thing they're limited by is what's in their head," he said.
In December 2015, Bryson encountered another health problem. She was diagnosed with Type 2 diabetes, unrelated to her earlier health scare. After diet changes, exercise and gastric sleeve surgery, the 5-foot-7 Bryson lost 100 pounds in one year. Because of the drastic weight loss, she had to be fitted with a new prosthesis. She's no longer insulin-dependent, and she has stable blood pressure, kidney function and cholesterol.
Bryson's recovery is nothing short of amazing, Patil said.
"That's an example for people," he said. "Here's a person who has everything wrong, and then there's a miracle, they get their act together and they fix everything."
Bryson still goes to physical therapy three times a week. Twice a week, she runs on her own.
Being able to run for the first time was exhilarating, Bryson said, and the 5K this weekend is what she's been working toward.
"I'm so free when I run because even though I can't feel my leg, I can't feel my prosthesis, I can see it, and it's working. I know I'm OK," she said.
On Sunday, with a full cheering squad of friends, family and doctors, Bryson will complete her first 5K, a 3.1-mile race. She doesn't care if she's first or last, just as long as she finishes.
"I've been in a dark place. I know what it's like to feel sorry for yourself. I know what it's like to have people take care of you," Bryson said. "We can change the way we think. Once you free your mind, you're able to do all those things you want to do."