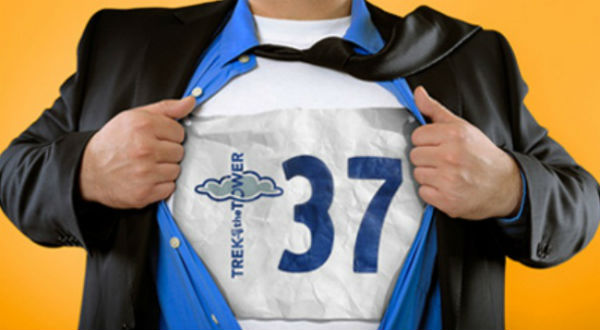 Once a year, the staircase of Nebraska's tallest building sees as much action as its elevators. The seventh annual Trek up the Tower is Saturday.
Nearly 2,000 people are registered to race to the top of First National Bank Tower in downtown Omaha. The building is 40 stories, or 633 feet.
Race organizer Rebecca Vinton Dorn said the event sold out within a week of opening to the public. Vinton Dorn is also the executive director of the Wellness Council of the Midlands, one of several event sponsors.
"There's a mystique around it," she said. "People want to know they can do it, they can finish it."
That's what motivated Doris Faltin to sign up. At 70, she will be the oldest female to compete on Saturday.
"I want to know I can do it at my age," said Faltin, who lives in Omaha.
"I want to stay healthy as long as I can, and I want to be able to live on my own as long as I can."
She participated last year, too, and finished in about 20 minutes. This year, her goal is to improve that time.
One runner starts their climb every five seconds. The elite group will take off around 7:30 a.m. after a handful of Omaha firefighters kick off the event by climbing all 40 flights in full gear.
To qualify as an elite racer, men must have finished last year's event in less than eight minutes, and women less than nine. The winner usually reaches the top in less than five minutes.
Ivan Marsh, of Ashland, has won Trek Up the Tower since it debuted in 2007. In 2009 he set the record at 4 minutes, 24 seconds. He'll compete again this year, along with last year's female winner, Nikki Perry, and the female record-holder, Carol Hoenthaner.
Some people race competitively, but most don't. The average "trekker" thinks climbing the building's 870 steps is enough, though they might spice things up Saturday and race in costume.
This year, event organizers introduced a superhero theme.
"We thought, 'What would be a fun way to put a little bit of a twist on it?'" Vinton Dorn said. "Superheroes leap tall buildings in a single bound. (Participants) are superheroes in their own right."
Registration for the 2014 Trek Up the Tower opens November 1.
Watch World-Herald fitness reporter, Katy Healey, trek up the tower (sped up) and dish on what a workout the climb really is.