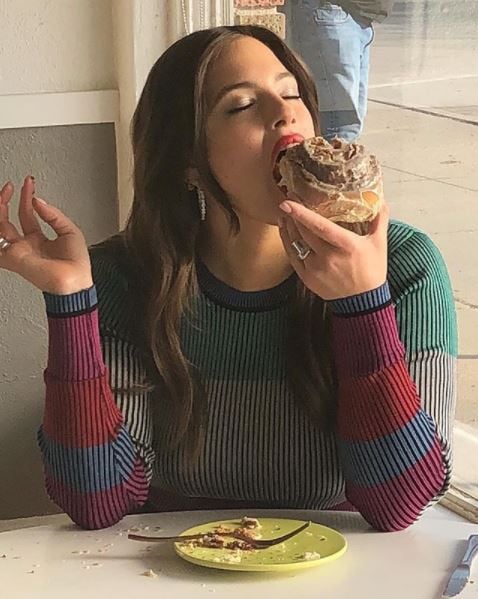 Supermodel and Nebraska native Ashley Graham spent Monday morning shimmying around a Lincoln bakery, cinnamon roll in hand.
Graham, who is a body positivity activist, visited Goldenrod Pastries during a shoot with Revlon and website Refinery29. The Lincoln native is one of the cosmetics company's brand ambassadors.
Graham and a full crew spent about three hours in the Lincoln bakery, near 48th Street and Prescott Avenue, said owner Angela Garbacz.
"It was definitely an exciting opportunity for Goldenrod to be involved with this production," she said.
Because the bakery is closed on Mondays, Garbacz went in around 1 a.m. to bake enough items to fill the pastry case and give the dining area a quick clean.
In addition to a bright red Revlon lipstick, one of the shop's vegan cinnamon rolls has a featured spot in the shoot. It's one of the store's best sellers, Garbacz said.
In a post on the model's Instagram story, Graham did a "cinnamon roll dance" with the popular pastry, which was perched on a green plate.
Other posts showed Graham touching up her lipstick near the bakery's front windows and blowing a kiss in front of the shop's neon sign reading "the good life."
After the crew wrapped up, Garbacz sent them off with cinnamon rolls, coffee cake and muffins. Later, Graham posted a photo of herself taking a bite of the cinnamon roll. She captioned it: "once on the lips, gonna look good on these hips."
"She's able to touch so many lives, and I really hope that what we're doing at Goldenrod is something similar," Garbacz said.
Last spring, Graham released a memoir, "A New Model: What Confidence, Beauty, & Power Really Look Like." In the book, Graham wrote about her successes and setbacks, and encouraged women to find self-confidence.