Harley Swanek was meeting milestones left and right.
She held her head up and could sit with a little help. Sometimes she would scoot around the family's Wood River, Nebraska, home.
Reluctantly, she allowed "tummy time" and would roll over. But Harley let parents Mercedes and Jeremy Swanek know that she wasn't too keen on it.
Then, just shy of 7 months old, Harley was found unresponsive at day care. The baby was living with an undetected heart defect. Being unresponsive for 35 minutes, while first responders performed CPR, led to a brain injury.
Harley was like a newborn. She had to learn each milestone all over again.
Sign up for the Live Well Nebraska newsletter
Get the latest health headlines and inspiring stories straight to your inbox.
About five months later, Harley is back home, though she's still catching up. Chubby-cheeked, she flashes smiles while wearing pink glasses that stretch around her head. She sports her hair in a fine ponytail or pigtails sometimes adorned by a bow. She's starting to roll onto her side. She reaches for toys, babbles at Mom and Dad and was able to sit up without help this month for family photos.
And next week, she will celebrate her first birthday, complete with a big party and her own cake.
In September, Mercedes Swanek got a call from her day care provider telling her only to head to Grand Island, about 20 minutes from their home in Wood River.
Swanek left work, and on her way, she got a second call. This one came from the Sheriff's Office. They told her to go straight to the hospital.
"You think the worst, and you pray to God that nothing happened to your little girl," Swanek said.
An X-ray showed that Harley's heart was twice its normal size. The baby was taken by helicopter to Children's Hospital & Medical Center in Omaha.
Harley was diagnosed with anomalous left coronary artery from the pulmonary artery, or ALCAPA. In a normal heart, there are right and left coronary arteries, and both come from the aorta, said Dr. Jean Ballweg, medical director of pediatric heart transplant and advanced heart failure at Children's.
In Harley's case, the left coronary artery was coming from the pulmonary artery. When that happens, the heart muscle is starved of oxygenated blood.
Ballweg, who treated Harley, compared the impact to an adult having blockage in the left coronary artery, which can lead to a heart attack.
Sometimes, infants show symptoms of the disease at 1 to 2 months old, Ballweg said.
Those symptoms can include quick breathing, no weight gain and difficulty engaging.
Other patients are like Harley and don't show symptoms until they're older.
"She was in heart failure since the day I delivered her," Mercedes Swanek said of her only child.
Harley's heart was able to compensate until her body was stressed from a cold and congestion.
The strain, Ballweg said, was like trying to run a marathon on a heart that didn't work.
ALCAPA is rare and undetectable on a prenatal ultrasound. Numbers from 2016 show that it occurs in about one in 300,000 live births.
Harley had surgery the same day she was found unresponsive.
She spent more than a month recovering at Children's before undergoing therapy at Madonna Rehabilitation Hospital's Omaha campus.
When she first arrived, Harley couldn't support her own head. She couldn't drink a bottle, let alone eat baby food.
She couldn't focus when she opened her eyes, and her little body was stiff. She spent most of her days crying.
"Sometimes, your brain is unable to tell what causes pain and what doesn't," said Dr. Sheilah Snyder, a pediatric hospitalist who worked with Harley at Madonna. "Any stimulation sometimes upsets kids like that."
Doctors and therapists worked on finding the right combination of medications for the baby. Then they worked on calming Harley down through stretching and comfy positioning. Being held by Mom seemed to be the best trick.
Swanek would rock back and forth, holding a scrunched-up baby on her chest and patting her back. Sometimes mom sang songs or talked.
"It's your own child. You want to comfort them," Swanek said. "You want to take the pain away."
During rehab, Mom lived out of a suitcase. She left her job as an occupational therapist. Dad stayed in Wood River for work during the week. He made the two-hour drive to Omaha on the weekends to be with his family.
Swanek spruced up the door to Harley's room for each holiday. At Christmastime, she displayed a wooden tree. Two posters that said "We love you Harley" hung in the room. All of Harley's stuffed animals made the trip, as did her favorite blanket made by a great-aunt. Pink and purple with a polka dot print, it says, "I love mommy and daddy."
One of therapists' first goals was to get Harley, who had a feeding tube, to tolerate the taste of formula and baby food. They used a hand-held device with a pacifier on one end. It pulses in the baby's mouth to stimulate a sucking motion. After about two weeks, Harley was moving her tongue and trying to swallow.
A couple months into rehab, Mom knew that her girl was back. She was getting stronger and more alert.
"She would open her eyes and look at you and smile," Swanek said. "That was probably when we knew."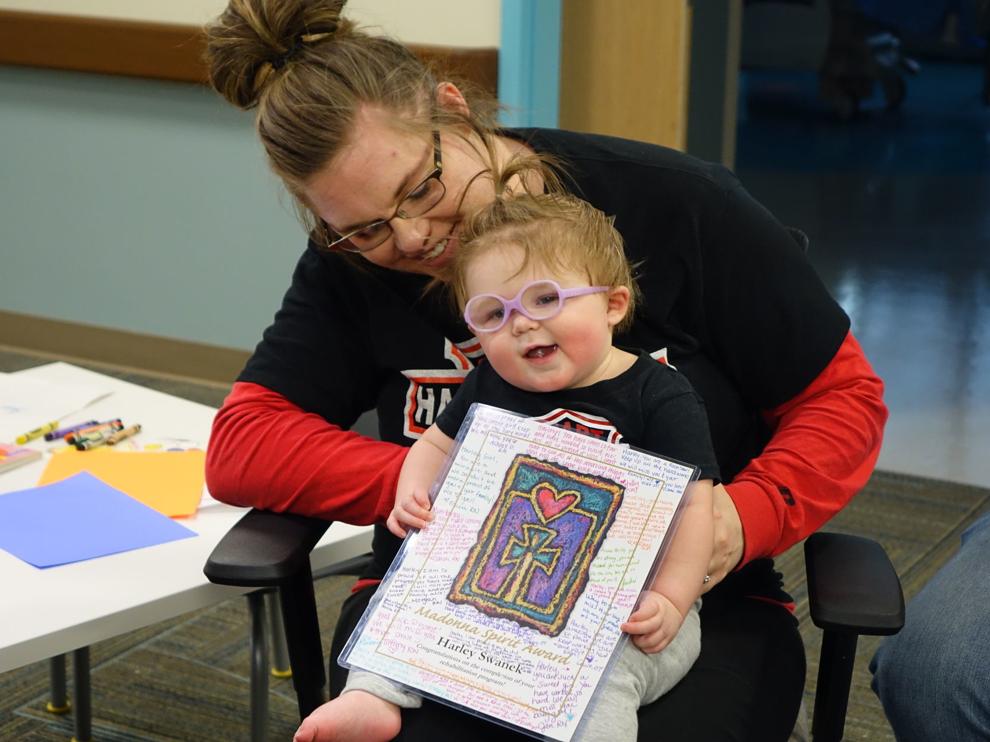 Harley went back to "tummy time" to strengthen her head and neck. (She still wasn't a fan.) Therapists used toys and play to help her work on grasping.
Harley was drawn to all of the noisy toys. If they had lights, too, it was even better. Her favorite was a bubble machine that changed colors.
Some days, Harley could only handle a few minutes of therapy. But by the end of her stay, Harley could make it through full 30-minute sessions.
Mom worked with her on techniques even after the day's therapy sessions were done.
"(Harley) had days where she was so on, and she would go through that day like a champ," said Rachel Stonacek, a speech language pathologist who worked with the baby. "... The family involvement is what really helped make that process go smoothly."
Harley, her parents and her care team donned shirts that read "Harley's Crew" and "Heart Warrior." The design mimicked the Harley-Davidson motorcycle logo.
Dad jokes that he traded in his bike for this new Harley.
Harley left Madonna at the end of January. Leaving was nerve-wracking — the convenience of having trained staff nearby was comforting. But going home was exciting because it meant that Harley was getting better.
Doctors aren't sure what deficits Harley will have because of the brain injury, but they hope that she can make a full recovery. Because infants' brains are still developing, they can make new connections and recover faster than adults, said Snyder, the hospitalist at Madonna.
Still, Harley's recovery will take time. Though she turns 1 on Feb. 20, she's developmentally close to a 7-month-old. Harley goes to outpatient therapy in Grand Island twice a week, and Mom works with her at home daily.
Mom and Dad are hopeful. Leaving rehab so close to her birthday was sweet timing.
Family and friends will watch as Harley digs into her own "smash cake" on Saturday. The cake will be a bit like therapy, too — teaching her to grasp and exposing her to different textures.
Harley will also celebrate her birthday at Madonna. The Swaneks are planning to bring some sweet treats and reunite with some of the friends Harley and her family made during her stay.
"She's truly a miracle," Swanek said. "She just keeps proving everybody wrong."