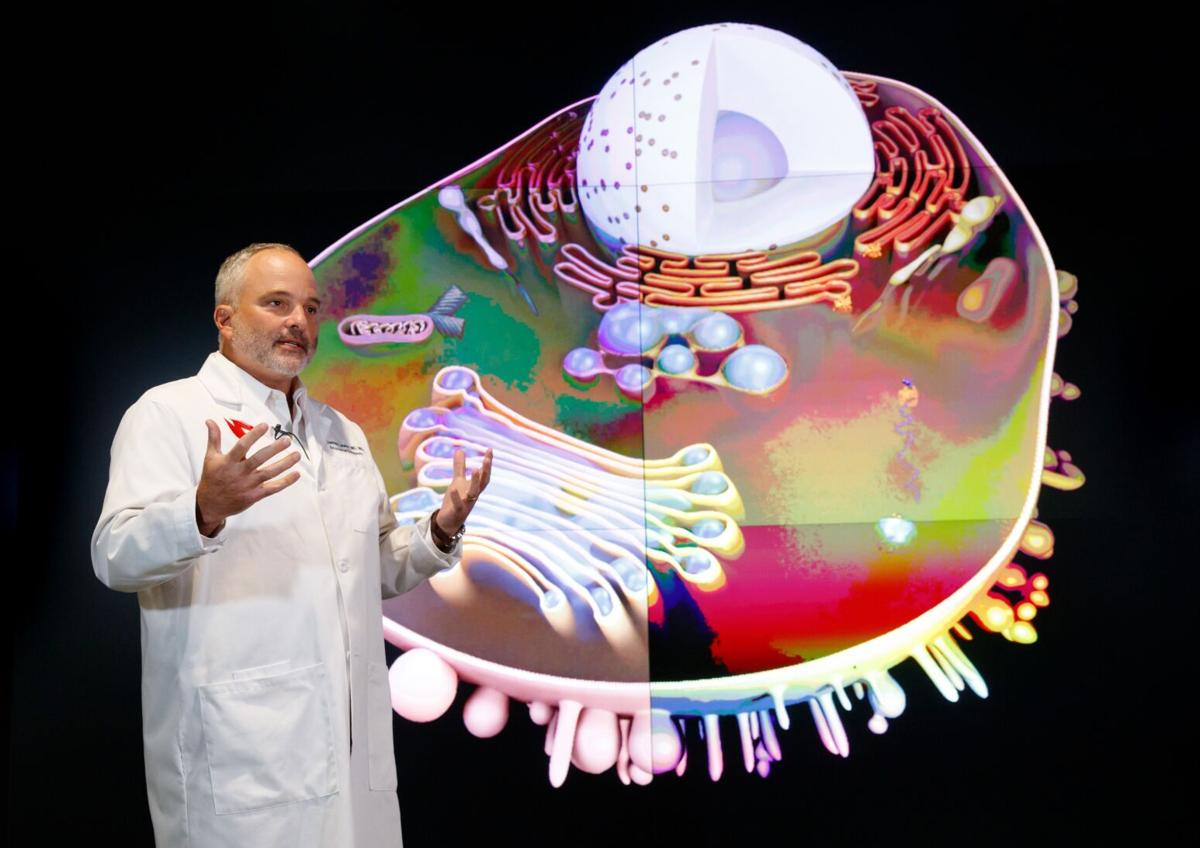 Seeing is believing, the saying goes, so the folks at the University of Nebraska Medical Center decided that displaying giant images of the coronavirus might be even more believable.
On Thursday, UNMC's iEXCEL team debuted color video animations of the delta variant of COVID-19 entering a human cell, hijacking it and making thousands more virus particles. The animations — created with Peter Angeletti of UNL's Nebraska Center for Virology serving as subject matter expert — also showed vaccine-generated antibodies blocking the virus from entering cells in the first place.
Much of the process is the same with the delta variant as with earlier versions of the virus.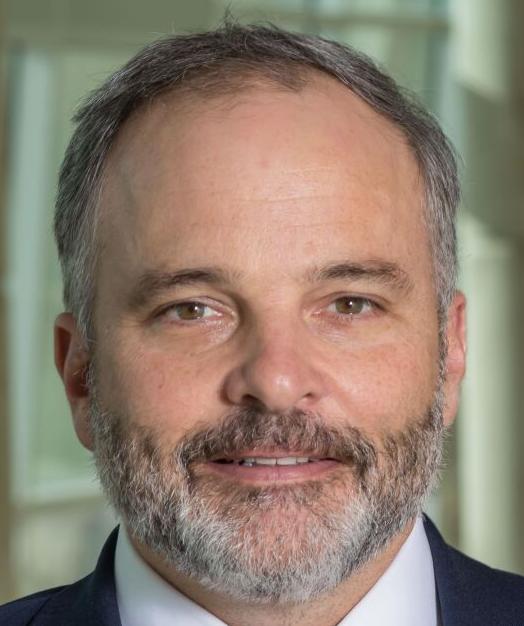 Dr. James Lawler, co-executive director of UNMC's Global Center for Health Security, stood in front of a 10-by-25-foot computer-aided-design wall to explain how delta is different. He also addressed why it's causing such a surge in cases in areas with low vaccination rates and why it's important for more people to get vaccinated.
Many experts, he said, were hopeful several weeks ago that the delta wave in the U.S. would be similar to what has been happening in the United Kingdom, which saw a dramatic spike in cases but lower hospitalization rates than what was seen in previous waves.
But in states such as Florida, Arkansas, Louisiana, Missouri and Mississippi, hospital and intensive care unit admissions are going up at the same rate or higher than they were last fall. Already busy hospitals could become overwhelmed.
That's a "dire warning sign" that the U.S. won't have the same experience as the U.K., Lawler said.
"I'm concerned this is going to be the worst phase of the pandemic for much of the United States," he said, "particularly states like ours that have low vaccination rates."
At the same time, Lawler said he is encouraged by data showing that more people are getting vaccinated.
"If we can build on that momentum and get enough of the community vaccinated, we really would have a very mild experience with this delta wave," he said.
A legitimate vaccination target for the U.S., he said, is at least 70% of the population. Getting to 75% to 80% will start to produce dramatic reductions in transmission. Some states in the northeastern part of the U.S. are farther ahead in their vaccination campaigns. In Vermont, for example, 84.2% of residents 12 and older had received at least one dose of vaccine by Thursday. Such states, Lawler said, are seeing relatively mild waves of delta.
Nebraska, he said, is probably a month behind states that had early delta surges. Most of those states could see continued increases in case numbers for at least the next three to four weeks.
Another concern: Schools are about to open. In the U.K., kids and schools significantly drove transmission of the delta wave.
Opening schools without masks and other measures that reduce transmission, such as spacing kids out and providing good ventilation, he said, would be "throwing gasoline on the fire."
In the Omaha metro area and beyond, the Westside Community Schools, the Ralston Public Schools and the Lincoln Public Schools have announced plans to require masks for elementary students, staff and visitors. Other area districts have said they will review health guidance as the school year approaches. Both the federal Centers for Disease Control and Prevention and the American Academy of Pediatrics have recommended that all students, teachers and staff mask in schools, regardless of their vaccination status.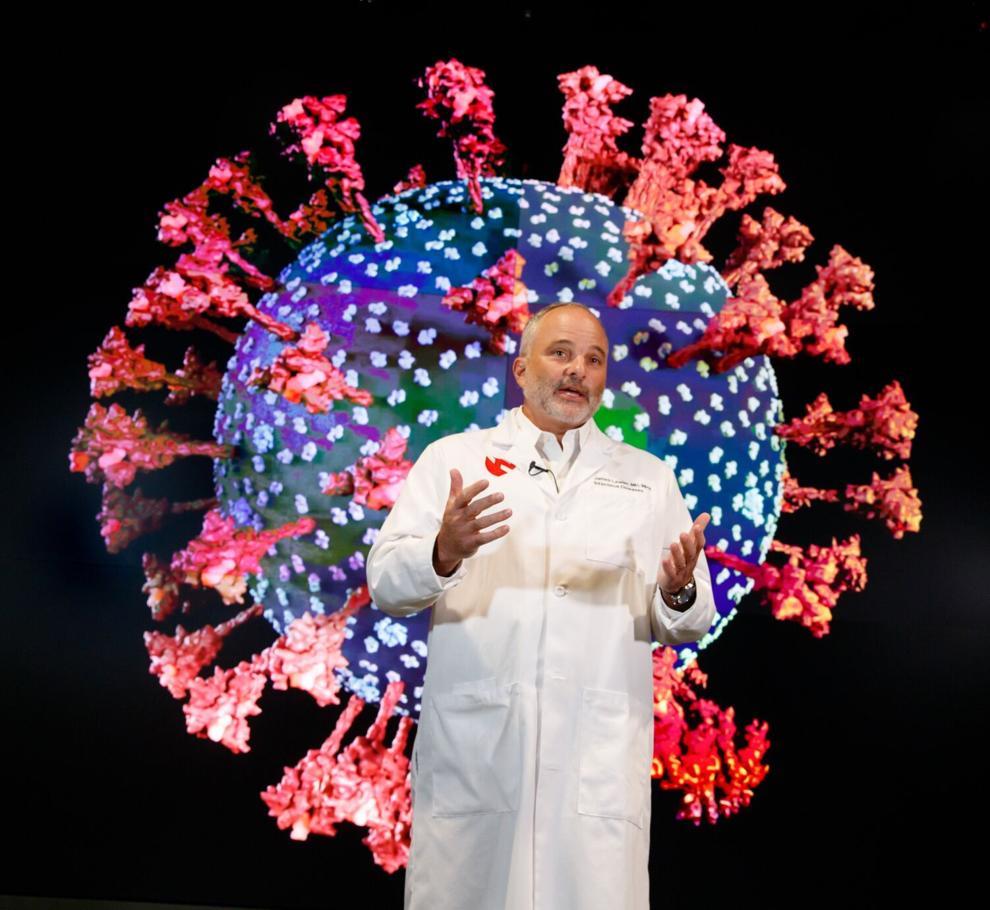 Following the virus's trajectory requires an understanding of how it works.
The outside of the coronavirus is studded with bumps known as spike proteins, which the virus uses to attach to receptors on cells in people's airways and gain entry.
With the delta variant, Lawler said, scientists are seeing changes in the spike that allow it to bind more tightly to cell receptors and gain entry to cells more readily.
Delta is also better at turning our cells into virus factories, he said, producing more daughter virus particles than previous versions of the virus. Scientists now know that people with the delta virus can shed 1,000 times or more of the virus than those with previous versions. The variant appears to be twice as transmissible as the original.
It's also becoming more clear, Lawler said, that delta can cause more severe disease than the previous version of the virus. Studies in Canada and Europe indicate that the risk of hospitalization from delta is two to three times that of the old virus.
"So it not only spreads more easily; it causes more severe disease," he said. "And I think that's why we're seeing so many more ICU admissions from this wave of delta variant."
But he noted that serious infections and hospitalizations are still occurring primarily in the unvaccinated. The vaccines remain effective in preventing serious illness, hospitalization and death, even against delta.
The vaccines cause the body to produce antibodies, which target the spike protein and block it from binding to and entering cells. The vaccines, Lawler said, produce much higher levels of neutralizing antibodies than natural infections with the virus.
"And that's why it's so important that we get as many of our community vaccinated as possible," he said.
And, with more than 300 million doses in Americans' arms, and rare instances of side effects, it's clear that the vaccines are safe.
"I have extreme confidence in the safety of these vaccines, and certainly the efficacy data of these vaccines is quite clear," he said.
Whether boosters will be required or tweaks made to the vaccines remains unclear, he said.
What is clear is that the longer the pandemic goes on, the more opportunity the virus has to produce new variants that may eventually do a better job of circumventing the vaccines.
"We hope we can vaccinate enough of the world's population that we can prevent that from happening," Lawler said, "and then we just have to worry about (providing) booster vaccines for people going forward."
---