Since the COVID-19 vaccines began rolling out last winter, some people who have had COVID have questioned their need to get shots, concluding that they have acquired natural immunity that will protect them from future infection.
At present, there's no reliable way for someone to know whether a prior infection will provide protection, particularly in the face of the highly infectious delta variant, according to University of Nebraska Medical Center experts.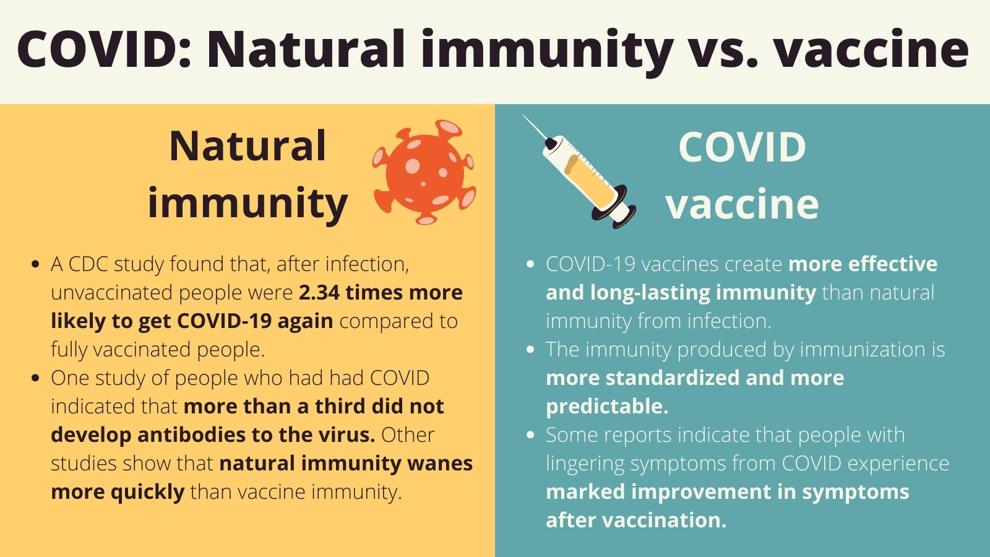 And in real-world tests, communities worldwide have experienced multiple waves of disease despite high infection rates that seemingly should have provided protection.
The upshot: Federal health officials recommend that everyone who is eligible get vaccinated — including those who have had COVID-19 — as the best way to protect themselves and the larger community from COVID.
"There's so many gray zones in this, it's difficult to give people iron-clad advice," said Dr. Mark Rupp, chief of UNMC's infectious diseases division. "The easiest approach from a population standpoint is oftentimes, when in doubt, vaccinate."
A Q&A posted recently by Nebraska Medicine, compiled from interviews with Rupp and Dr. Richard Hankins, outlined recent studies on the topic. The experts concluded that COVID-19 vaccines create more effective and long-lasting immunity than natural immunity from infection. Like Rupp, Hankins is a Nebraska Medicine infectious diseases physician.
Rupp said the "shades of gray" around the issue reflect the complexity of the immune response to COVID-19.
Some people who have COVID have a good, long-lasting immune response, he said. Others have a minimal response, as measured by antibody production, or a response that wanes quickly.
Trying to figure out who's who is difficult, he said. While antibodies can be measured, determining those levels isn't always straightforward. Some antibody tests may not be accurate. And while a high level of antibodies probably predicts some level of protection, he said, researchers don't yet know whether there's a level — and if so, specifically what it is — that correlates with protection.
"We can't give you a number to say, 'Above this, you're safe, and below this, you're not,'" Rupp said.
Even if there were such a number, he said, checking it periodically to see if it wanes and determining that it's time for a vaccine is so complex that it would derail most attempts to get the broader population vaccinated and protected.
Nor are antibodies the whole story, Rupp said. The body also has a longer-term immune response, involving T cells and B cells, which is more difficult to measure.
Researchers do know that the immunity produced by immunization is more standardized — and more predictable. "It's something we can monitor more easily, more readily," he said.
Rupp said people who have had COVID probably can wait for some time after infection, probably two to three months, before getting vaccinated.
"There's really good information to suggest if you've had COVID-19, and you get even one dose of vaccine, that you get a really robust booster effect," he said.
Backing the need for shots for people who have had infections, he said, is a study published by the CDC comparing those who had infections and then had gotten vaccinated to those who had infections but did not get vaccinated. The researchers found that, after infection, unvaccinated people were 2.34 times more likely to get COVID-19 again compared with fully vaccinated people.
"That was pretty well done, and pretty clear," Rupp said.
In addition, he said, a preponderance of "real-world situations" indicates that relying on natural immunity "just hasn't gotten us out of this pandemic."
Those include situations like that in Manaus, Brazil, which experienced a large second wave of infections despite having an infection rate of more than 70% during its first wave.
Another question, Rupp said, is the role of the delta variant, which may require a higher level of protection.
"In a perfect world, we'd be able to much more accurately tell people (whether) they have immune protection, at what point does it start to wane, and individualize when they should get booster vaccines," he said. "But we don't have the resources and the capacity to do that today."
In the UNMC Q&A, the physicians also recommend that people with prolonged symptoms from COVID-19 get vaccinated. Some reports indicate that people with lingering symptoms experience marked improvement in symptoms after vaccination.
Those who have had COVID-19 tend to have more short-lived side effects, such as fatigue, headache and chills, after vaccination. Those side effects show the vaccine is working, and they typically resolve in a day or two.
Nothing suggests people who have had COVID-19 are at greater risk for more serious adverse effects from the vaccine. Such effects remain extremely rare. People are more likely to suffer serious adverse effects from COVID-19 than they are from any of the vaccines.
---