Daniel Vance pulled a virtual reality headset over his eyes, grabbed a pair of hand controls and began stretching his arms over his head, as if he were grabbing invisible handholds on a rock climbing wall.
In fact, he was scaling a climbing wall — a virtual one.
As he climbed, Daniel, 14, suggested tweaks to the wall's creator, Jamie Gehringer, a research assistant professor at the Munroe-Meyer Institute at the University of Nebraska Medical Center.
A little more than a year ago, Gehringer began developing virtual reality games that require children with developmental disabilities to perform movements that they're asked to make during physical therapy.
The motions required to fire a hand-held rocket at an invading space alien in one game, for instance, are the same ones therapists have kids practice by pulling a tissue from a paper towel tube. Another puts kids to work scooping ice cream in an ice cream store, which requires strength, dexterity and coordination. The games are geared toward kids like Daniel with cerebral palsy, who typically favor using the stronger, dominant side of their body to the detriment of their weaker side. To get them using both, therapists often prescribe what's known as Hand-Arm Bimanual Intensive Training, or HABIT.
Sign up for the Live Well Nebraska newsletter
Get the latest health headlines and inspiring stories straight to your inbox.
"They're all tasks that require both hands to succeed," Gehringer said.
But those tasks can become, well, tedious. Gehringer wanted to find ways to make them more engaging, taking direction from the institute's physical and occupational therapists.
That makes sense to Cori Vance, Daniel's mom. "You get kids to do their PT and OT in a way they're not going to fight about, because they don't know they're doing it, which is fabulous," she said.
Daniel, who's been a Munroe-Meyer patient and loves technology, volunteered to try out the games, which Gehringer hopes to begin testing more formally next summer.
"This is the fun of having a kid come in and try it because they always have great ideas," Gehringer said, noting that Daniel has helped a lot with the rock-climbing game. "That's the feedback we need. We want to build something that's going to work and people actually want to play."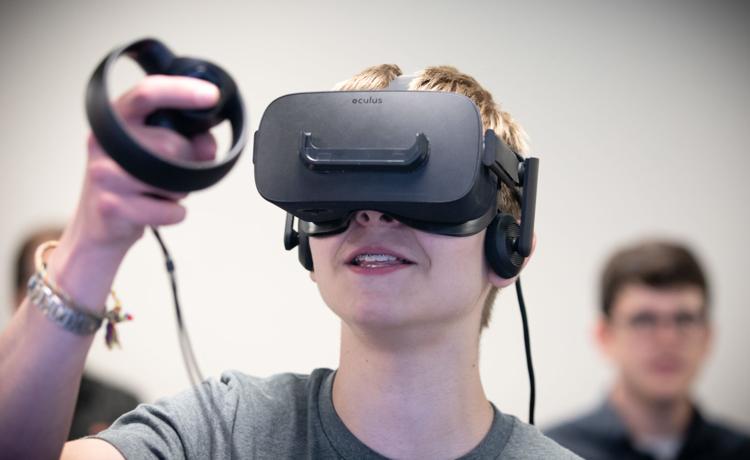 More recently, Gehringer also has begun developing virtual reality simulations of real-life events intended to allow children with developmental disabilities to practice for an occasion that might be challenging for them. One simulation lays out a virtual airplane ride, complete with flight attendant announcements and fellow passengers, and the other takes a child through a virtual haircut outing.
His work is among examples of how local researchers and clinicians are seeking to take virtual reality beyond simulation and education and put it to therapeutic uses. Nationally, researchers have reported progress using virtual reality to help manage PTSD and pain.
A team at the University of Nebraska at Omaha is designing virtual reality games that can be used in stroke rehabilitation, specifically for patients with impaired upper arms. The researchers are combining the games with a 3D-printed glove-like device to help patients extend and open their hand so they can regain the ability to grasp objects.
Nebraska Medicine is using a 3D virtual reality simulation developed by a California company with input from a child life specialist to prepare kids for MRIs and radiation treatment, with the aim of reducing their anxiety and need for sedation.
Brian Knarr, an assistant professor of biomechanics at UNO, said advances in the technology itself and the availability of more affordable — and portable — consumer headsets, such as Oculus Rift, are helping drive the push toward using the technology in therapy.
In the case of both Gehringer's work and the UNO project, the aim is to create tools patients could use at home as well as in the clinic. Munroe-Meyer, Gehringer said, is seeking to expand its assistive technology program.
The technological advances — particularly more computing power and higher-quality displays — mean what people now experience in virtual reality is reality, Knarr said. That immersion hooks patients into thinking they're in the virtual world in front of them and helps engage them.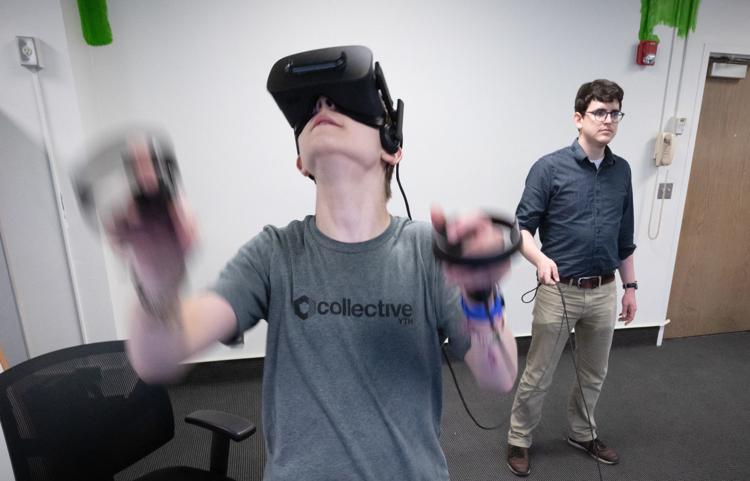 While the researchers don't expect virtual reality games to replace traditional therapy, he said, scientists elsewhere have shown the virtual version can add to it.
Repetition is important in stroke rehabilitation because another part of the brain has to learn how to do tasks the damaged portion once performed. The UNO researchers are using brain imaging to explore the underlying changes in the brain when patients use the system.
The UNO team, who are with colleagues at QLI and Immanuel Rehabilitation Institute, plan to launch their first pilot program at Immanuel as early as this fall.
"We're in the early days of exploring how well this can work," Knarr said.
The Nebraska Medicine simulation allows young patients to first explore virtual replicas of one of the hospital's MRI and radiation suites on a laptop, said Debbie Wagers, the child life specialist who brainstormed with the California firm's founder. If they're comfortable with that, they can don a virtual reality headset for a more immersive practice run.
Using the system has allowed the hospital to reduce the number of children being sedated before the procedures, Wagers said. Avoiding sedation means kids don't have to fast beforehand or go to recovery afterward, which speeds the process for them and their families. The health system is teaming with the company to study the program's effect on reducing anxiety and on reducing the number of patients who need sedation.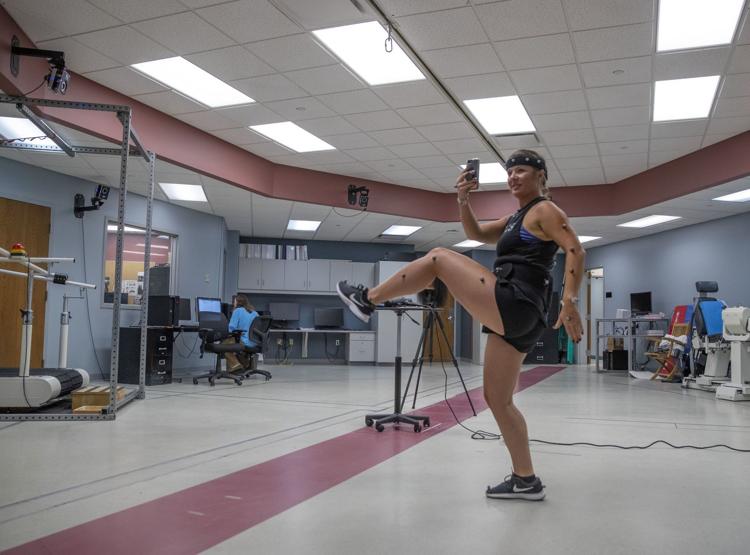 "It's all about trying to decrease their anxiety," Wagers said. "The more knowledge we can give kids, the more control they have over their situation."
Gehringer has similar aims for the airplane and haircut simulations he's building. Designed with kids on the autism spectrum in mind, both were the result of requests.
To create the animation for the haircut simulation, he's been using motion capture, the same technology behind actor Andy Serkis' portrayals of the creature Gollum in the "Lord of the Rings" trilogy.
Gehringer's actor is Callie Greene, a self-employed cosmetologist. During a recent filming, Gehringer stuck about 40 small, ball-shaped reflectors on Greene's arms, legs and torso. She also wore a reflector-studded headband. As she gave a stand-mounted mannequin head a series of ever-shorter haircuts, cameras mounted around the room shot infrared light. The light reflected back to the cameras, allowing Gehringer to triangulate her position in the room. They'll use that data to create the animated version.
Gehringer hopes to add more pieces to the simulation, including having the patron walk in from a car and check in at a reception desk.
Cori Vance, who also has a daughter with high-functioning autism, said being able to practice challenging activities before doing them in public could help such youths build competence and confidence.
The virtual reality games, she said, could serve as a bridge to adult therapy for youths like Daniel. He's too old for the games therapists use with younger patients and hasn't yet grown large enough to fit adult activities.
"I think every parent of a special needs child, you figure out ways to help them," she said. "What's amazing is these guys are taking it high tech."
17 rare and unusual health stories out of Omaha
One rare disease left an Omaha doctor eating a shakelike formula to supplement her diet. A friend said it tasted like cat food. An Omaha man woke up after his family took him off life support. And a Lincoln teen is allergic to almost everything.
Check out the stories on their unusual ailments and sometimes equally unusual treatment plans.
Be the first to know
Get local news delivered to your inbox!