When Jessie Sampson had her first son, Gram, now 3, she took about eight weeks off — mostly unpaid — from her job in state government to recover and bond with her new baby.
The second time around, things were different, thanks to a new program that allows state employees to donate vacation time to new and expecting moms within their agencies.
Sampson, who works for the Nebraska Department of Health and Human Services, took 12 weeks off — mostly paid — earlier this year after delivering Liam, now 5 months old.
The extra paid time, Sampson said, allowed her to keep Gram in day care — and hold his spot — while she bonded with new baby Liam.
"I think it works out pretty well," said Sampson, noting that the state has a lot of long-term employees who often don't use all of their vacation time. "It's a use it or lose it; at least it's doing some good."
Leave donation programs are one of a number of solutions that have been developed or proposed in recent years as the nation continues to wrestle with providing paid parental leave.
The United States is the only industrialized nation that does not mandate paid maternity leave, according to the Organization for Economic Cooperation and Development.
There's broad support for it. A 2017 study by the Pew Charitable Trust found that 82 percent of Americans supported paid leave for new moms and 69 percent backed it for dads.
"It's absolutely an area of national conversation," said Jason Jackson, Nebraska's chief human resources officer.
Paid leave is seen as a good thing for a number of reasons. It helps businesses attract and retain quality employees, particularly when it comes to younger workers in the process of building families. Keeping people in the workforce — particularly women, who are most likely to drop out to care for young children and face pay gaps as a result — also helps bolster the economy. And brain science points to the importance of early bonding to children's future well-being.
But it has also proved challenging, particularly for small businesses, largely because of its cost.
Right now, federal law protects for up to 12 weeks the jobs of men and women who take leave to care for a child, provided they work for a company with 50 or more employees. It doesn't require that time off come with pay.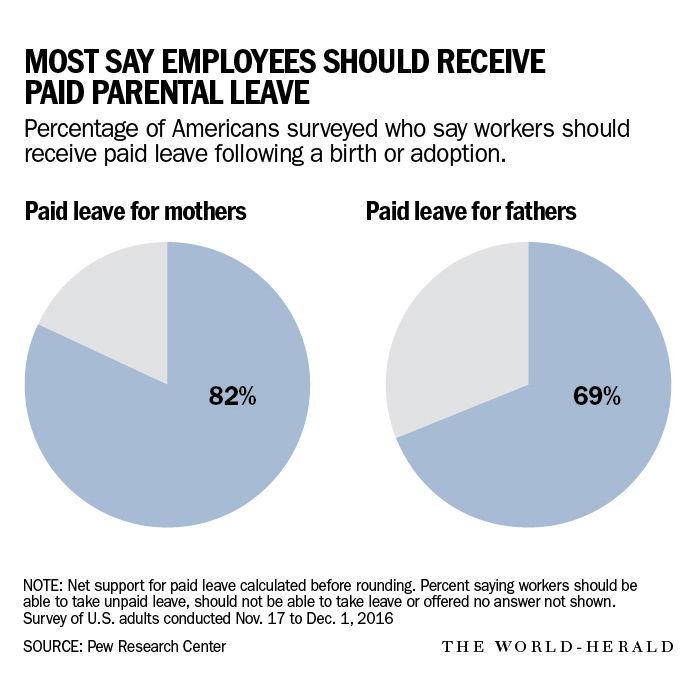 Some large companies in recent years have gotten attention for boosting their paid family leave benefits as the labor market has tightened. Locally, for example, FirstData in 2017 began offering eligible employees 12 weeks of paid leave for primary caregivers and two weeks for secondary caregivers in a policy designed to be gender neutral. Creighton University offers eligible employees who are new moms or dads four weeks of paid family leave.
Generally, such costs are considered part of the cost of doing business and may be passed along as part of the cost of goods and services.
Other companies instead have policies that consider a new mom disabled for a time after birth, typically six to eight weeks, qualifying her for short-term disability pay.
Governments, on the other hand, have to cover costs with tax dollars. That makes it harder for them to provide the benefit because they have to justify the expense to taxpayers.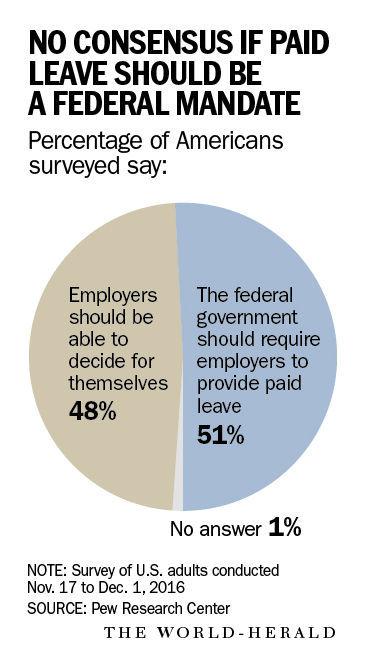 The State of Nebraska currently doesn't have paid family leave time. Nor does it have a temporary disability policy to cover time off with a newborn.
The donation program, Jackson said, was a step the state could take immediately with no budget impact to support expectant moms and to be more competitive with the private sector. The state already is obligated to cover the cost of the paid vacation time employees are donating.
A woman Jackson works with in the Governor's Office inspired the program. Expecting her first child, she hadn't accrued enough sick or vacation leave to cover the time she wanted to take after her baby was born.
So state officials broadened a catastrophic leave program that allows employees to donate sick or vacation time to a co-worker who is sick or injured. The expanded program allows new moms to tap donated vacation time. Gov. Pete Ricketts announced the change in January.
As of early September, 3,082 donated hours had been used and 41 moms had benefited from the donation program.
"Our workforce ... appreciates that we're taking strong steps toward making them feel supported, allowing them to continue their careers in public service and accommodate their growing families without having their wages negatively impacted," Jackson said.
But Tiffany Joekel, policy and research director for the Women's Fund of Omaha, said strong family leave policies do better.
"You shouldn't have to rely on the generosity of your co-workers to meet the needs of your family and protect your job," she said. The Women's Fund, a nonprofit, offers 12 weeks of paid leave for an employee's own illness or to care for and bond with a new or adopted child.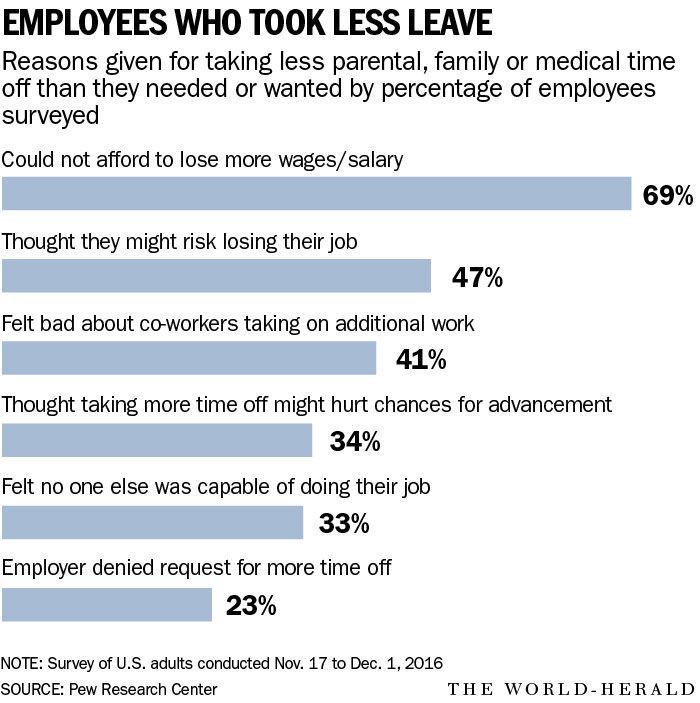 Jackson said the state will continue to explore providing paid leave.
Jackson, who previously worked in the tech industry, said the public sector will continue to draw upon the private sector for inspiration as government innovates in this area.
Paid leave programs, however, aren't the norm in the private sector either: 15 percent of private sector workers were offered paid family leave last year, according to the U.S. Bureau of Labor Statistics. That was up from 13 percent in 2015.
Leave donation programs aren't as common as paid leave, said John Schembari, an attorney with Kutak Rock who consults with Omaha companies on workplace issues.
They're more common in state, or state-run, programs than in the private sector, he said. Smaller employers don't have the resources to offer it and larger ones may worry about a negative perception if employees needed to rely on their colleagues' donated time off.
A few states and cities instead have taken another tack. California, New Jersey, New York and Rhode Island all require companies that do business there to provide paid family leave. According to the National Conference of State Legislatures, the programs are administered through pre-existing temporary disability insurance programs and funded through employee payroll deductions.
Washington state passed a law, but a lack of funding means it's never been implemented. San Francisco requires paid family leave, and Washington, D.C.'s paid family leave law takes effect in 2020.
Schembari said he expects the number of states and cities requiring employers to offer paid family leave to continue to increase, just as it has for paid sick leave.
For Sampson, the mother of two, the additional paid time off was welcome. Without the 150 hours of donated time she received, she'd have gone without pay for about four of the 12 weeks she was on leave. It also allowed her to keep back a few weeks of her vacation time in case her boys got sick. Her child care center is closed the week between Christmas and New Year's Eve.
"Having that option was really helpful," she said.
Are you satisfied with your company's parental leave policy?
Be the first to know
Get local news delivered to your inbox!