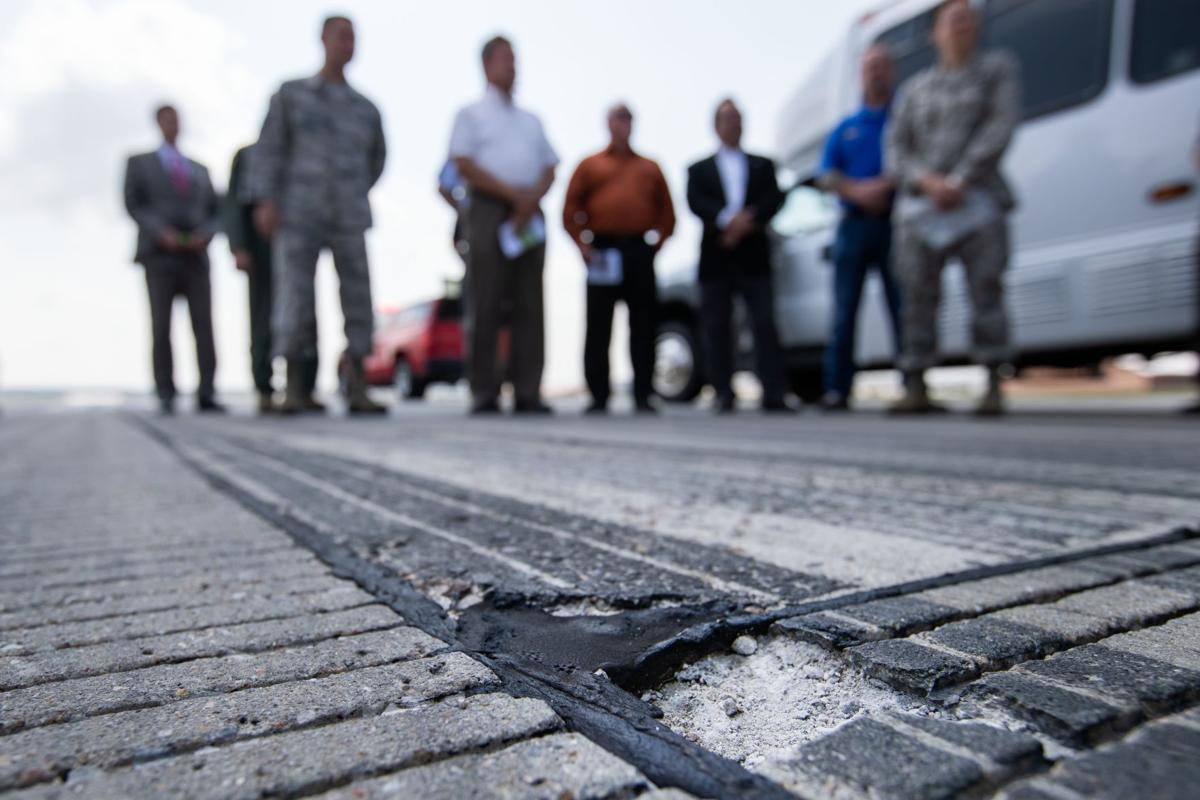 The Air Force has awarded a $144 million contract to a California firm to begin a total reconstruction of Offutt Air Force Base's 79-year-old runway, the 55th Wing announced in a press release Thursday.
The building and design firm Gilbane Federal of Concord, California, won the contract. The company built the National World War II Memorial and the Vietnam Veterans Memorial in Washington, D.C., according to the company's website, as well as buildings on U.S. military bases around the world.
The project will be the most extensive rebuilding of the Offutt runway since it was first constructed in 1941 and extended to its current length in the mid-1950s. Contractors will completely rebuild the concrete end sections, asphalt center section and asphalt shoulders, as well as install new lighting systems, the press release said.
"The runway is more than 70 years old and has fallen into disrepair," said Col. David Norton, director of the Air Force Civil Engineer Center's facility engineering directorate, which will help oversee the project, in the press release. "We have incorporated modern design and construction techniques to rebuild the runway and to ensure the longest lifespan at the overall lowest life cycle cost."
The project is expected to begin sometime in the coming winter and last two years. During that time, flight operations for Offutt's fleet of 29 RC-135-variant, four E4B-Nightwatch, and one Navy E-6B Mercury communications and reconnaissance jets will operate out of the Lincoln Airport.
The $144 million construction cost is in addition to $37 million to remodel and lease temporary space in Lincoln, and $17 million in transportation and lodging costs during the relocation, bringing the total cost to $198 million. That's about $22 million more than the $176 million officials estimated last August.
Several years ago, stories in The World-Herald about the poor condition of Offutt's runway prompted fears that the 55th Wing — which employs more than 5,000 military and civilian workers at Offutt — might move elsewhere. Federal, state and local officials mobilized to get money for the new runway and also to fund a project to raise two levees along the Missouri River that protect the base from flooding.
In a press release Thursday, Sen. Deb Fischer, R-Neb., described the contract decision as "exciting news for Offutt Air Force Base, the state of Nebraska and the nation."
"It is the culmination of years of tenacious work and cooperation to make sure this critical project could happen," she said in the release.
Nebraska Gov. Pete Ricketts also weighed in on the announcement.
"Offutt Air Force Base is one of our state's largest employers, and it is key to growing Nebraska," he said in a press release.
"Completing this critical runway reconstruction project helps ensure that the base continues to grow our state for many years to come."
---
Offutt Air Force Base through the years