Even the U.S. Air Force couldn't stop the Mighty Missouri River from flooding Offutt Air Force Base.
Between Saturday night and early Sunday, the 55th Wing called off a 30-hour, round-the-clock sandbagging effort because the floodwaters were rising too fast.
"It was a lost cause. We gave up," said Tech. Sgt. Rachelle Blake, a 55th Wing spokeswoman.
By Sunday morning, one-third of the base was underwater, she said. Thirty buildings, including the 55th Wing headquarters and the two major aircraft maintenance facilities, had been flooded with up to 8 feet of water, and 30 more structures damaged. About 3,000 feet of the base's 11,700-foot runway was submerged. No one, though, had been injured.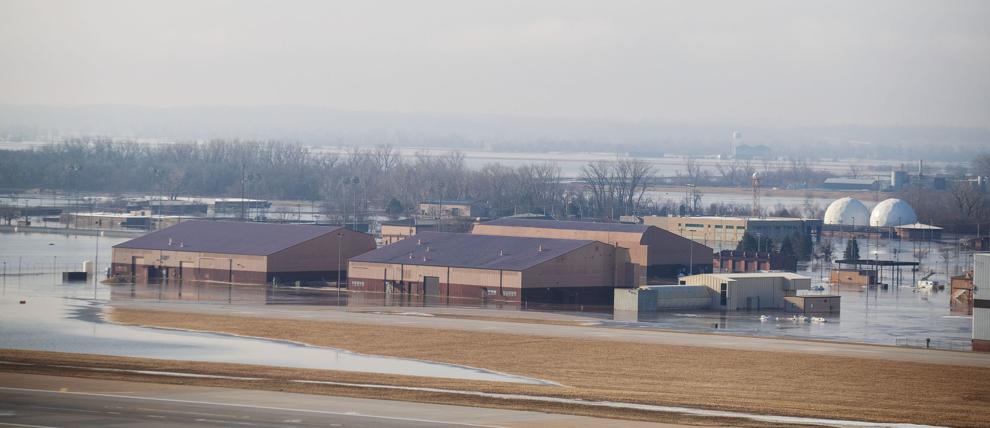 "It's devastating to the 55th Wing, devastating to the installation and the facilities," said U.S. Rep Don Bacon, R-Neb., a retired Air Force officer who commanded the 55th Wing in 2011 and 2012. "They just took a punch to the gut. But the 55th Wing will get back on its feet."
While Sunday yielded small indicators of improvement in some pockets of flooding along the Platte and Elkhorn Rivers, the devastation at Offutt was a signal of tougher times along the Missouri. Engineers and emergency personnel fixed their eyes on Offutt, Bellevue and points south as water levels rose along the river. A levee near Hamburg, Iowa, was topped as a World-Herald journalist looked on.
Shortly before 10 p.m., a mandatory evacuation order was issued for Pacific Junction, Iowa.
At Offutt, the 55th Wing managed to fly out nine of the 33 reconnaissance jets based there Saturday evening, according to 55th Wing Commander Col. Michael Manion's official Facebook post. Some were flown to the Lincoln Airport, where the Nebraska Air National Guard has a base.
Five planes were still parked on the northwest taxiway and the apron Sunday morning. Blake said it's not clear yet when or whether they'll be moved. No planes have been damaged in the floods.
At least 1,600 workers at the base have been relocated to other buildings. For now, the 55th Wing is operating out of the Dougherty Conference Center, near the Patriot Club, the former officers' club, Blake said. Others will be working out of the cavernous Building D, the former Martin Bomber Plant, built just before World War II.
Photos: Nebraska flooding viewed from above
The Elkhorn River at the Maple Street bridge is shown under water Monday March 18, 2019.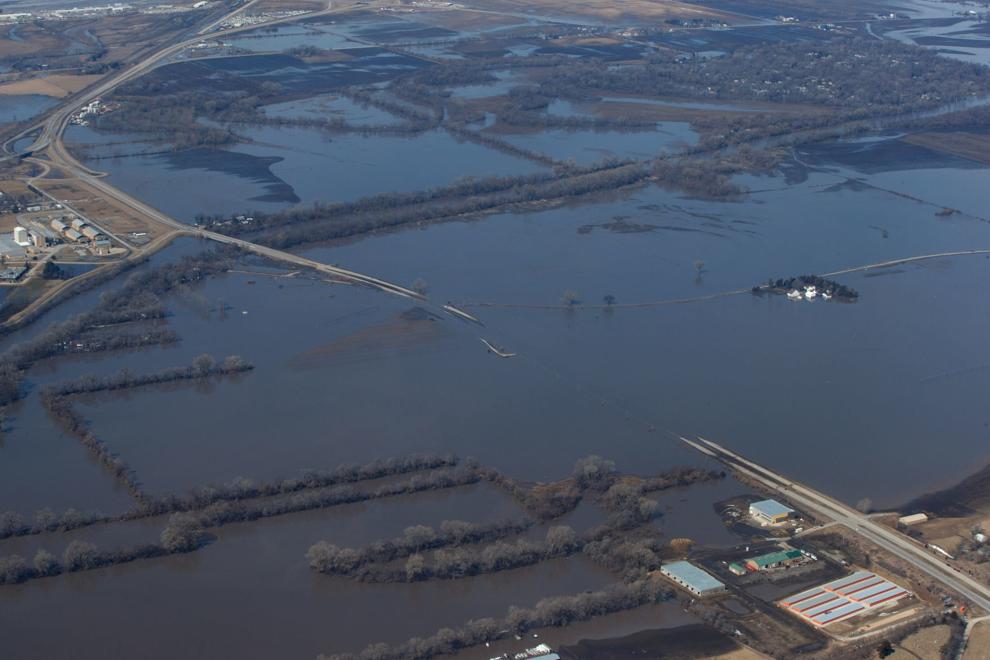 Floodwaters from the Elkhorn River have gone down and now expose a heavily damaged West Dodge Road.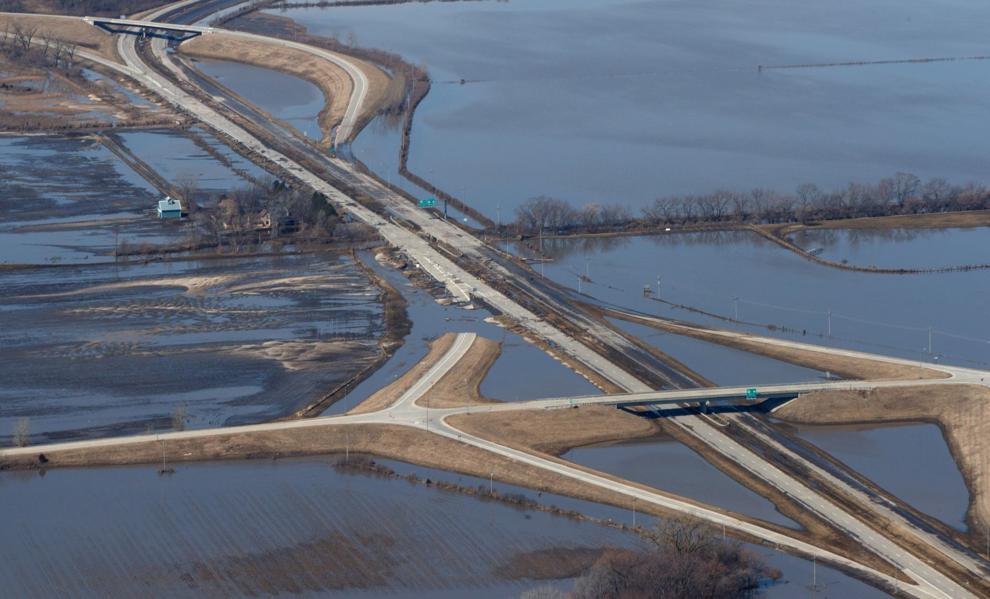 Floodwaters from the Elkhorn River have started to recede, exposing a heavily damaged West Dodge Road.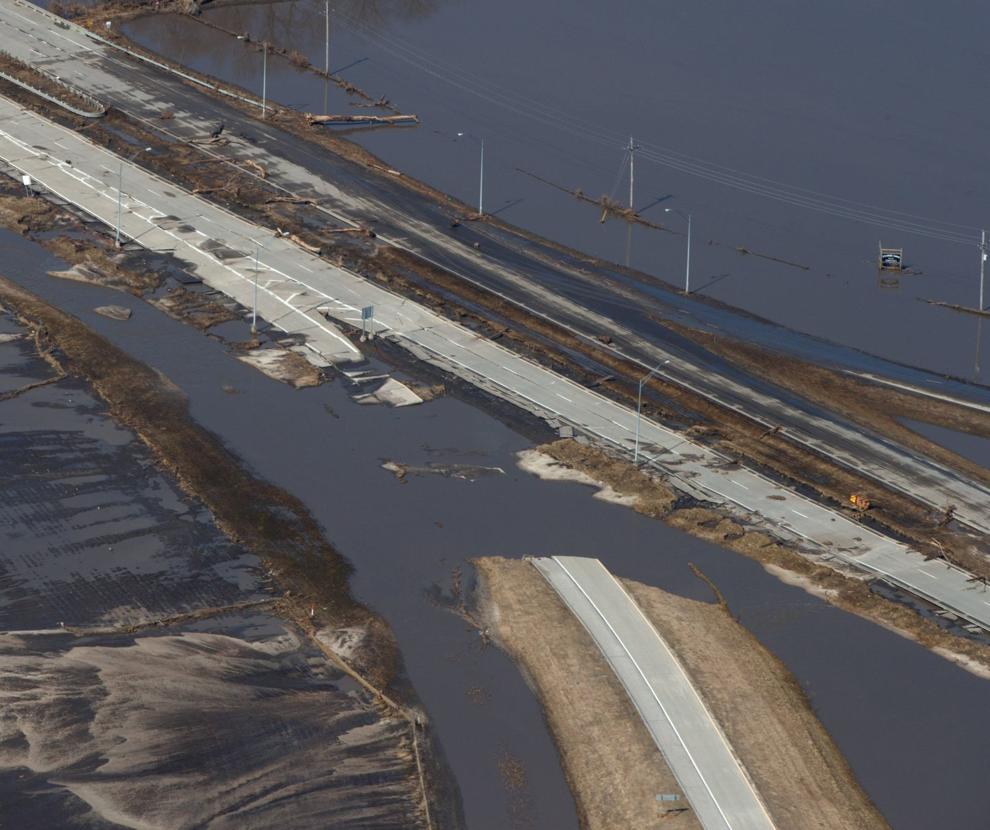 The eastbound lanes of West Dodge Road just west of 228th Street show the damage done after floodwaters went down Monday.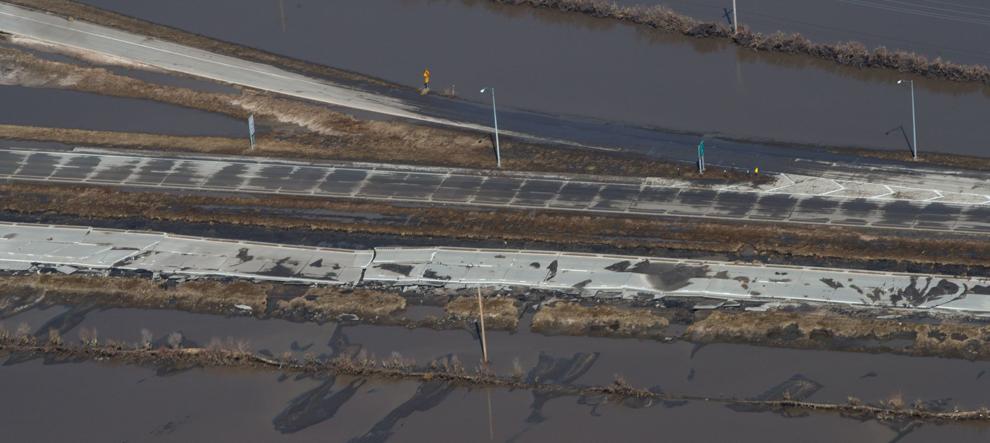 A cow makes its way through floodwaters near Columbus, Nebraska, on Friday.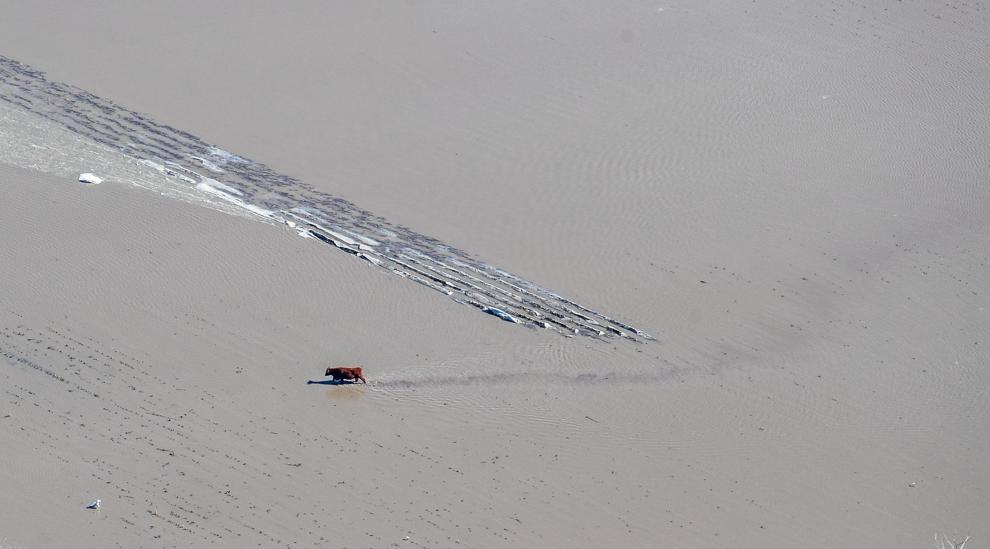 A shell of the Spencer dam is left on the Niobrara River.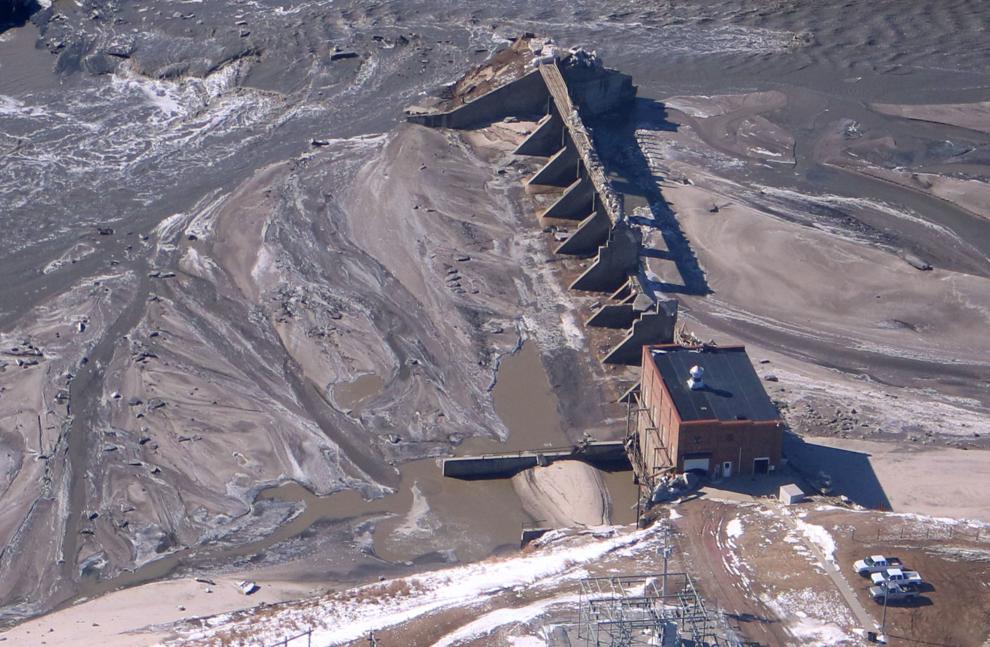 Floodwaters engulf a farm near Missouri Valley on Friday.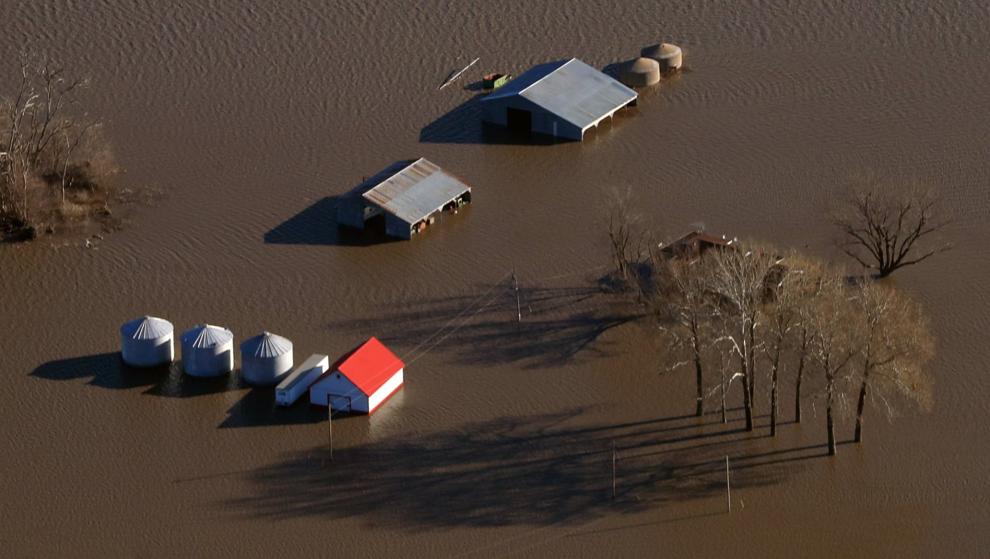 Floodwaters flow over a railroad bridge near Arlington, Nebraska, on Friday.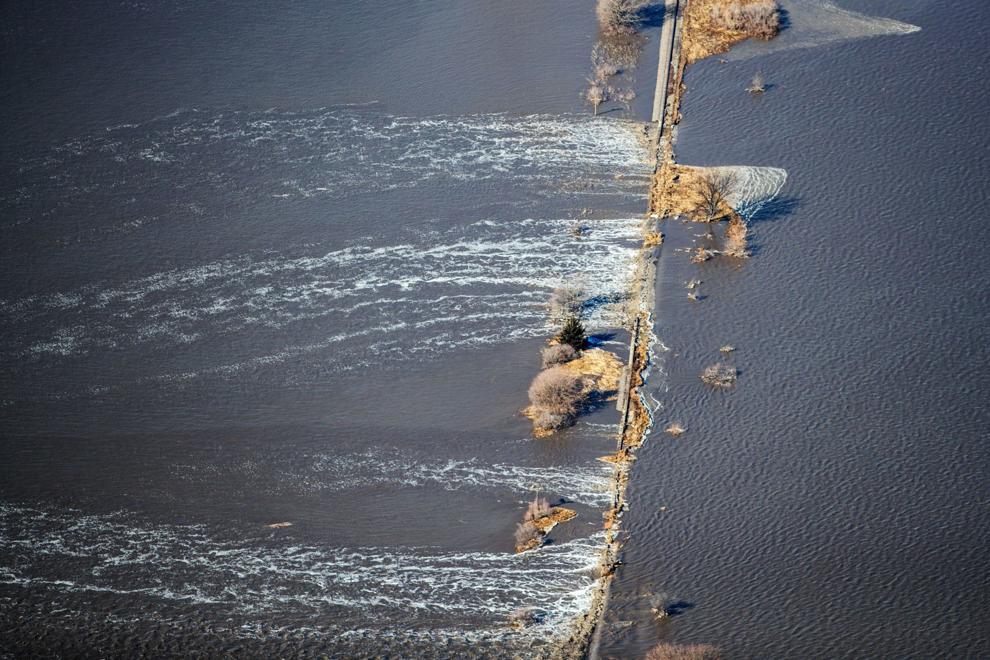 Floodwaters make their way into North Bend, Nebraska, on Friday.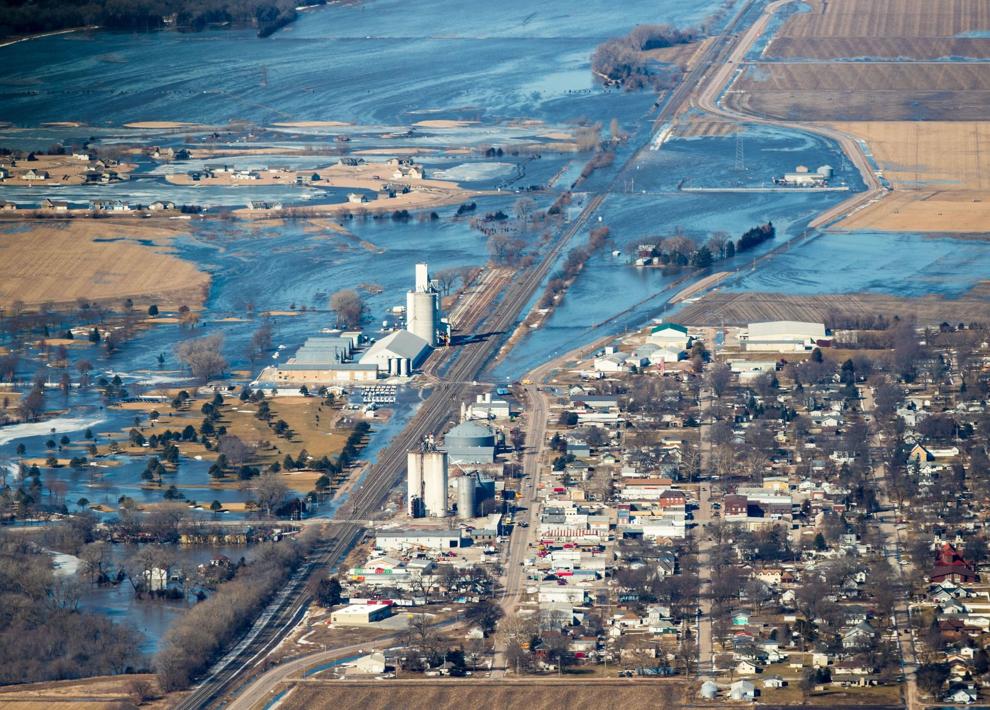 The Elkhorn River encroaches on Waterloo on Sunday.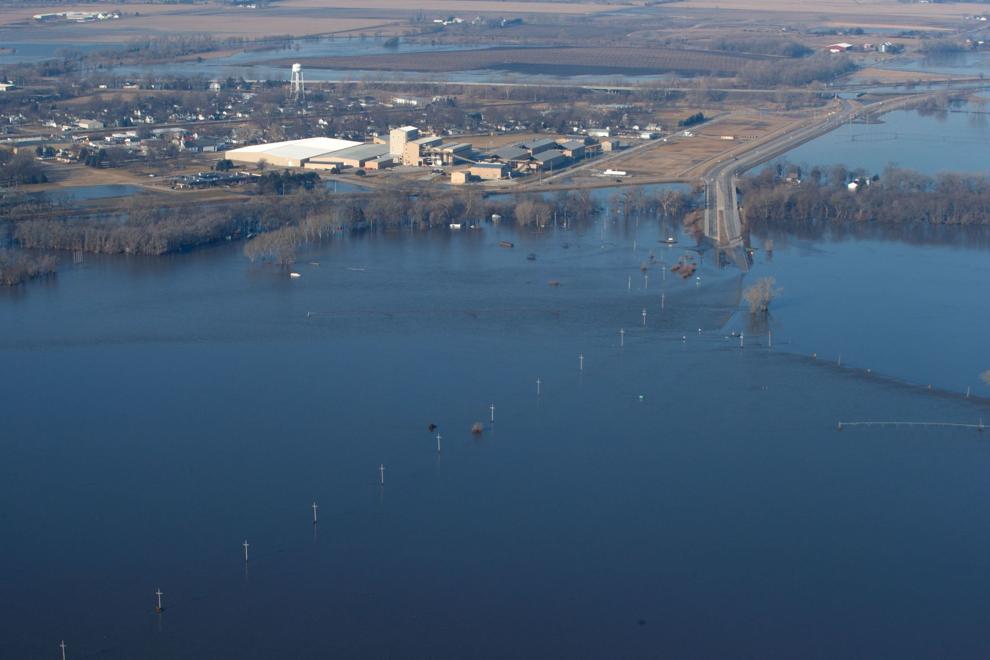 A portion of Highway 92 has been destroyed by floodwaters in western Douglas County.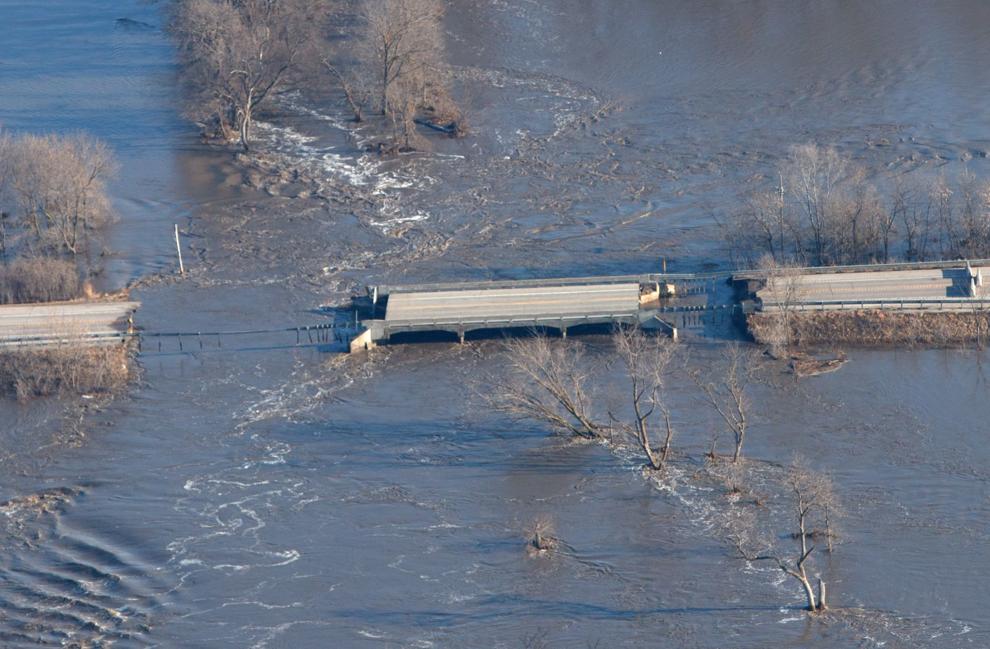 The Elkhorn River has covered several parts of western Douglas County.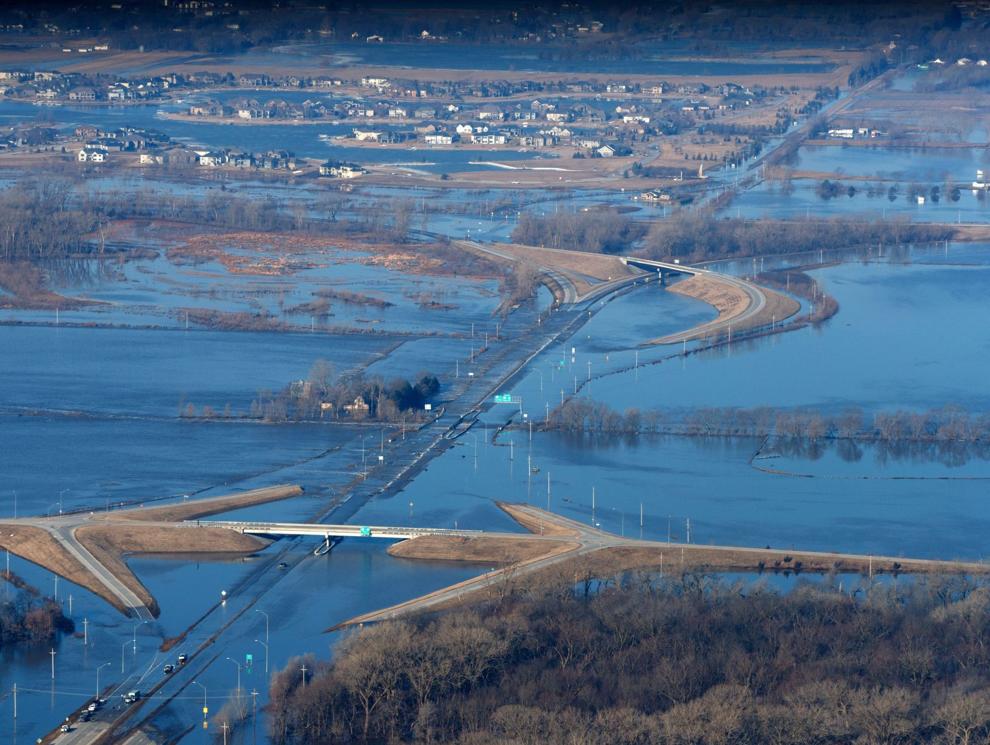 A levee breach is shown on the Platte River near Ashland on Sunday.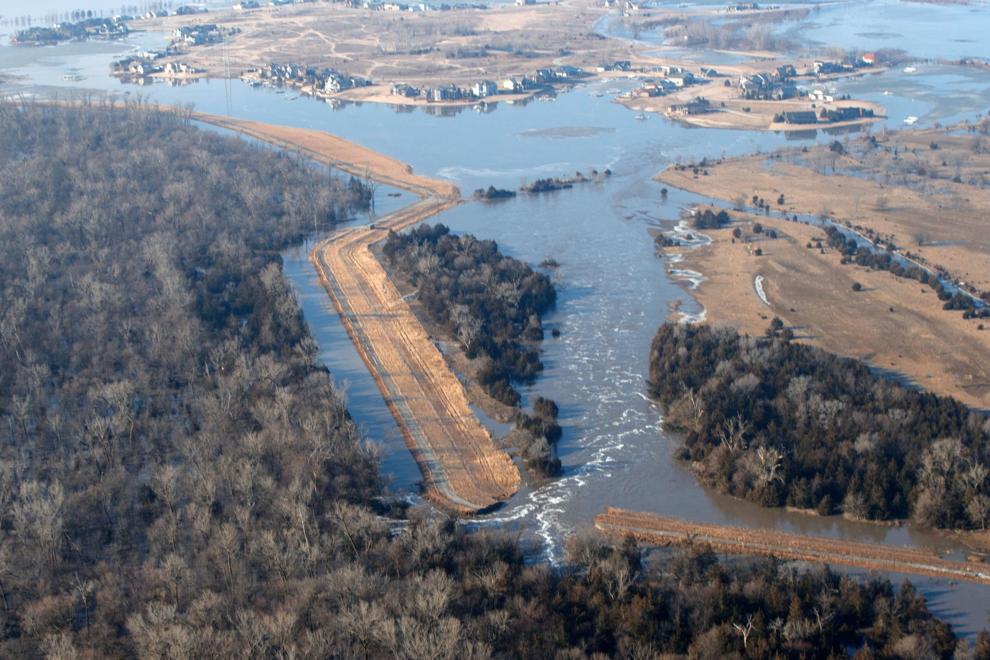 Valley is shown inundated by floodwaters on Sunday.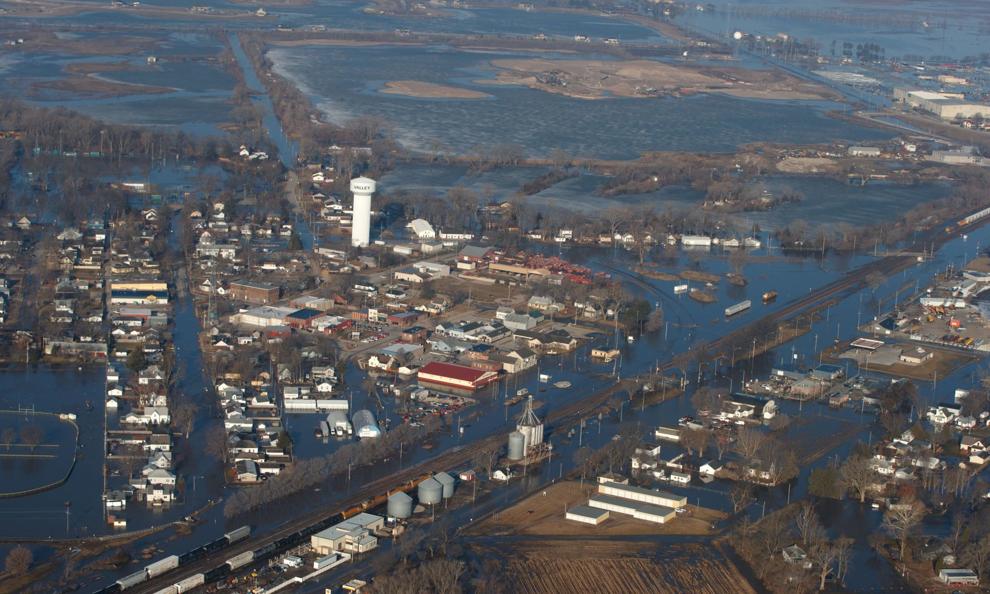 An aerial view of Missouri Valley near the Interstate 29 exit on March 15.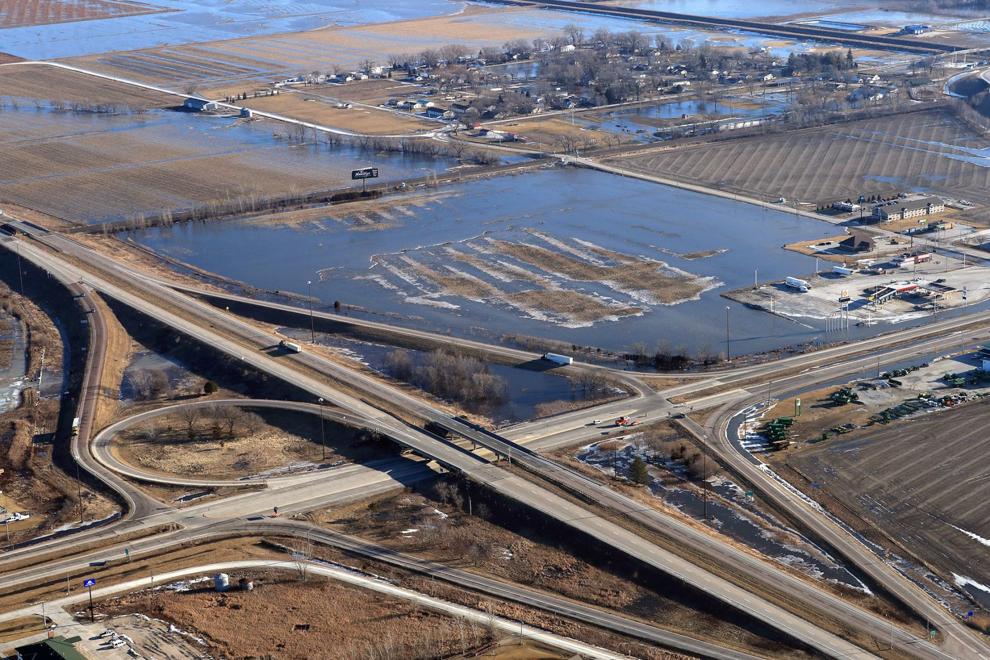 An aerial view of Missouri Valley as floodwaters continue to impact the area on Friday.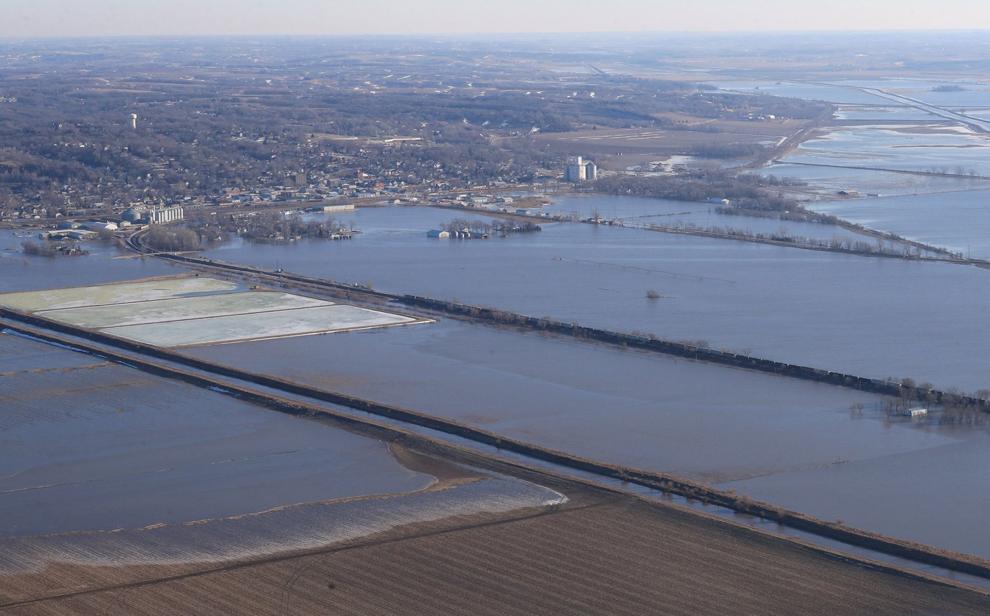 A house is surrounded by floodwaters near Waterloo, Nebraska, on Friday.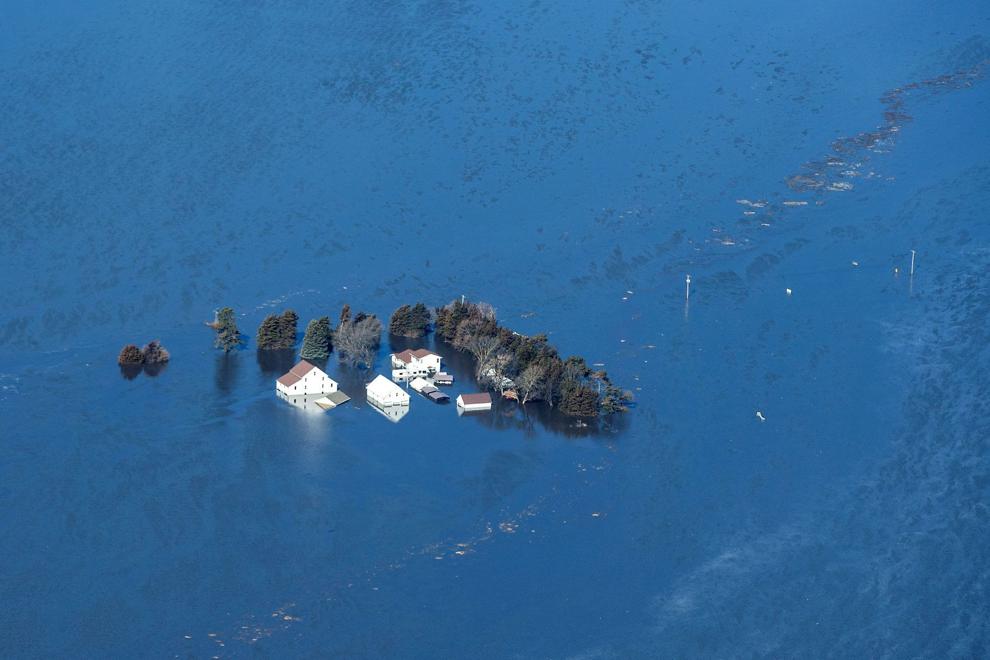 Floodwaters envelop King Lake, Nebraska, on Friday.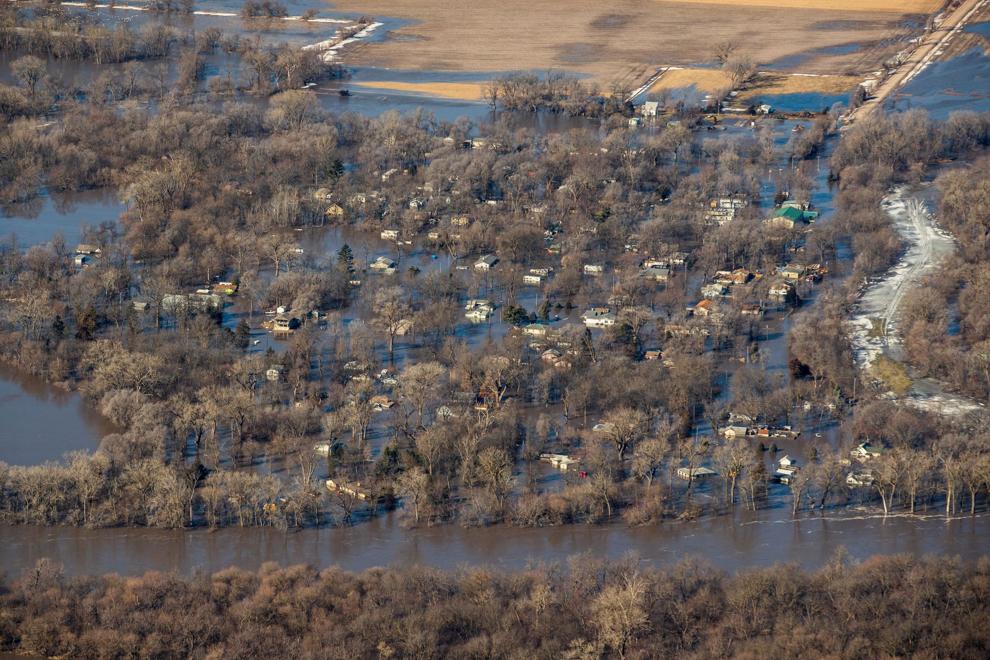 Floodwaters swallow the town of Rogers, Nebraska, on Friday.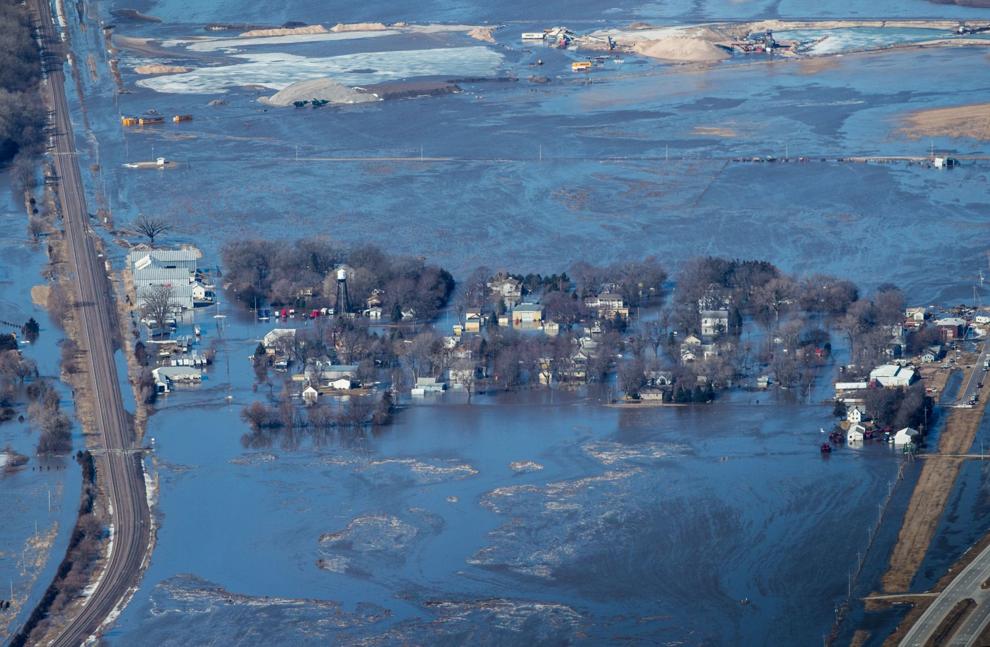 Water recedes in the town of Niobrara Neb. The highway showing is Hwy 12 and Hwy 14 Junction.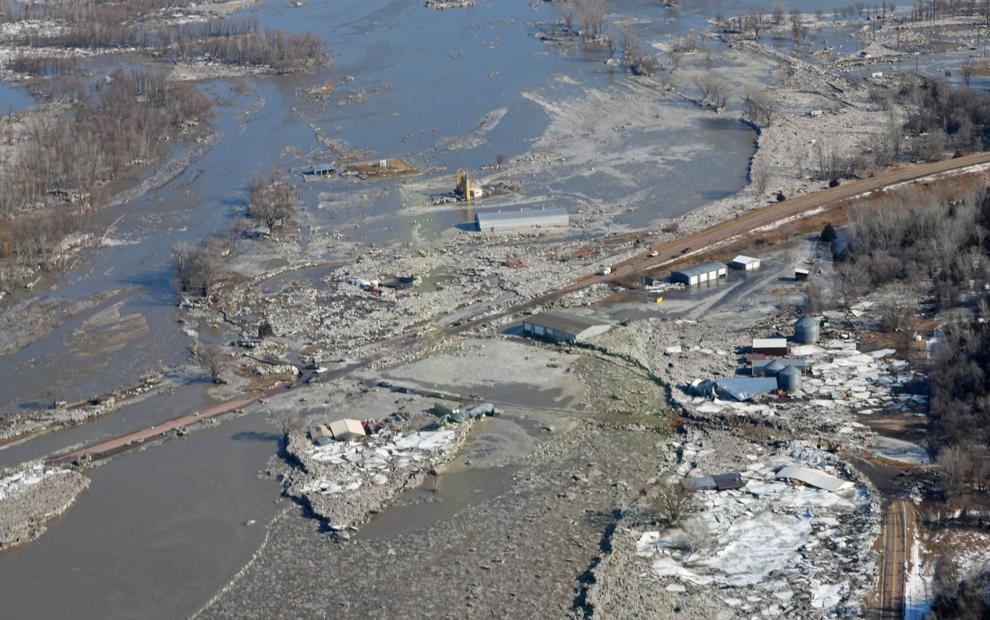 The Morman bridge on Highway 12 between Niobrara and Niobrara State Park was wiped out by a flood.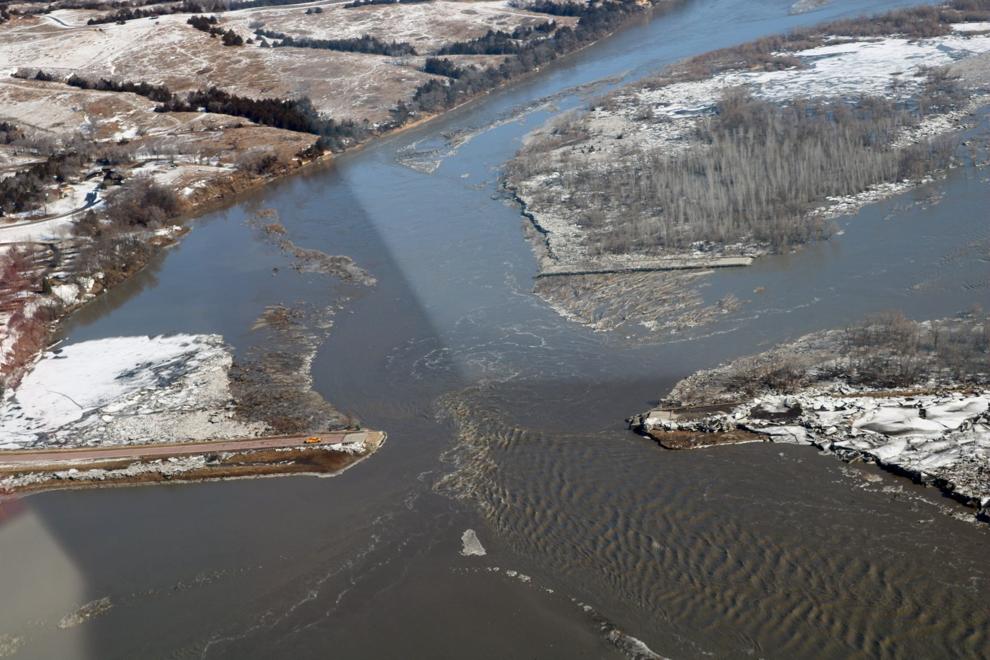 A train is stopped on flooded tracks next to the Platte River near Cedar Creek, Nebraska, on Friday.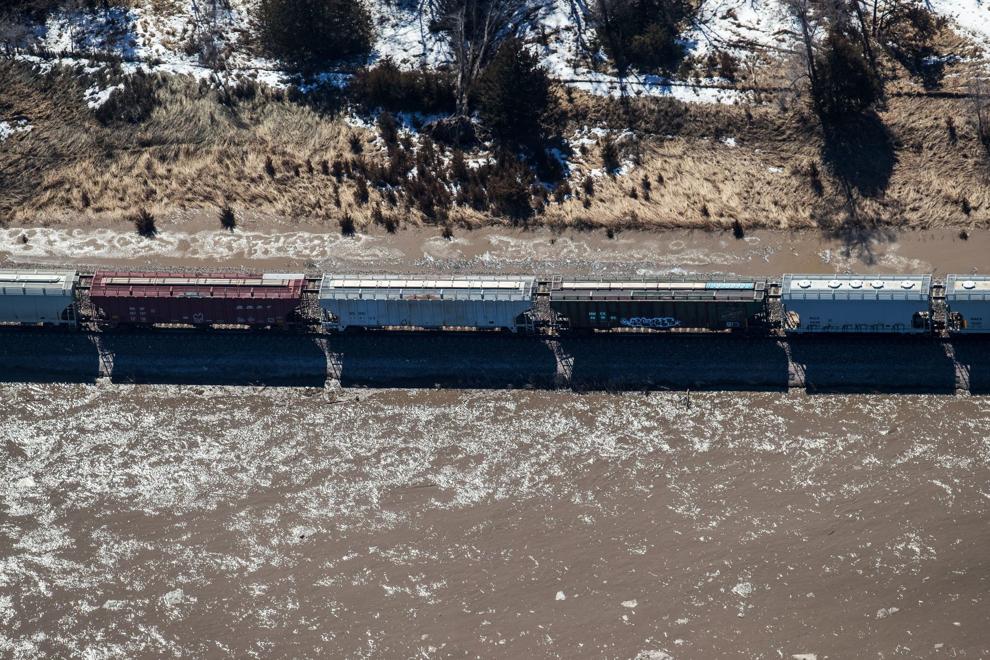 Interstate 29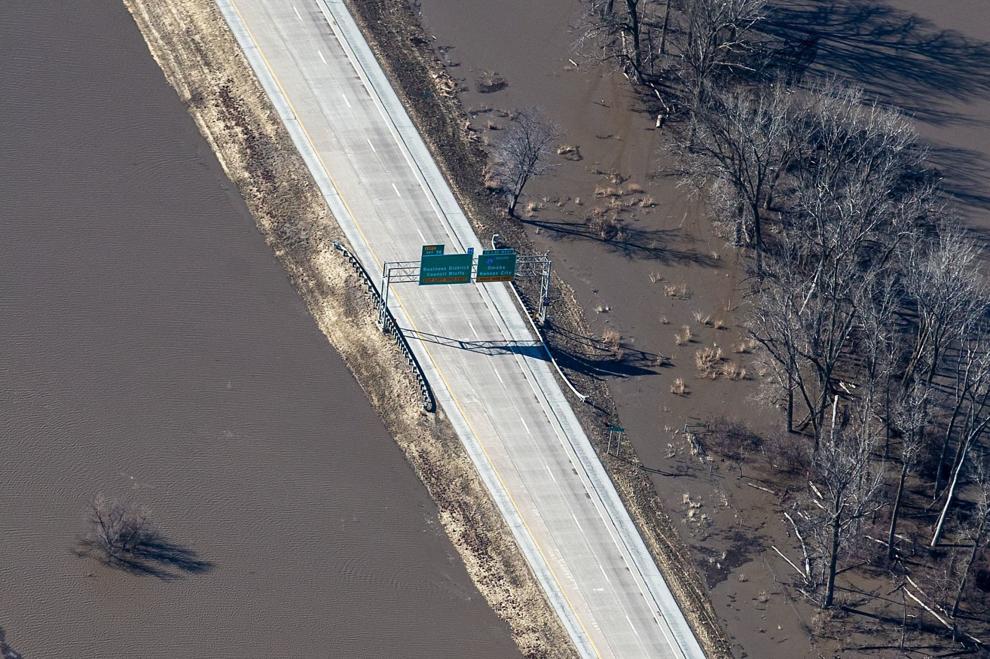 Highway 75's northbound lane is closed because of flooding near Merritt's Beach RV Park on Friday.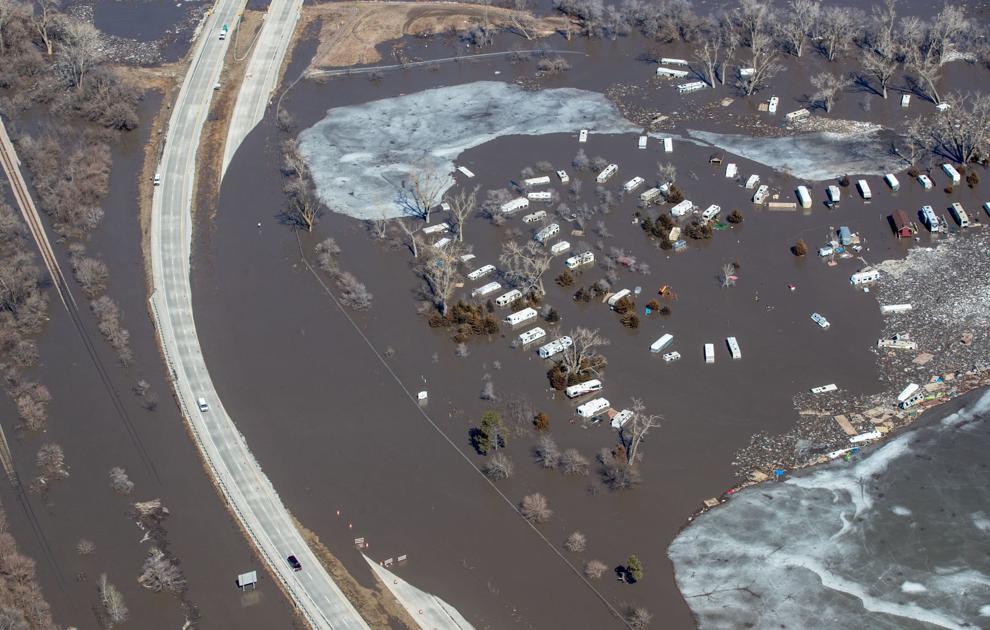 A Nebraska National Guard helicopter flies over areas flooded by the Platte River near Columbus, Nebraska, on Friday.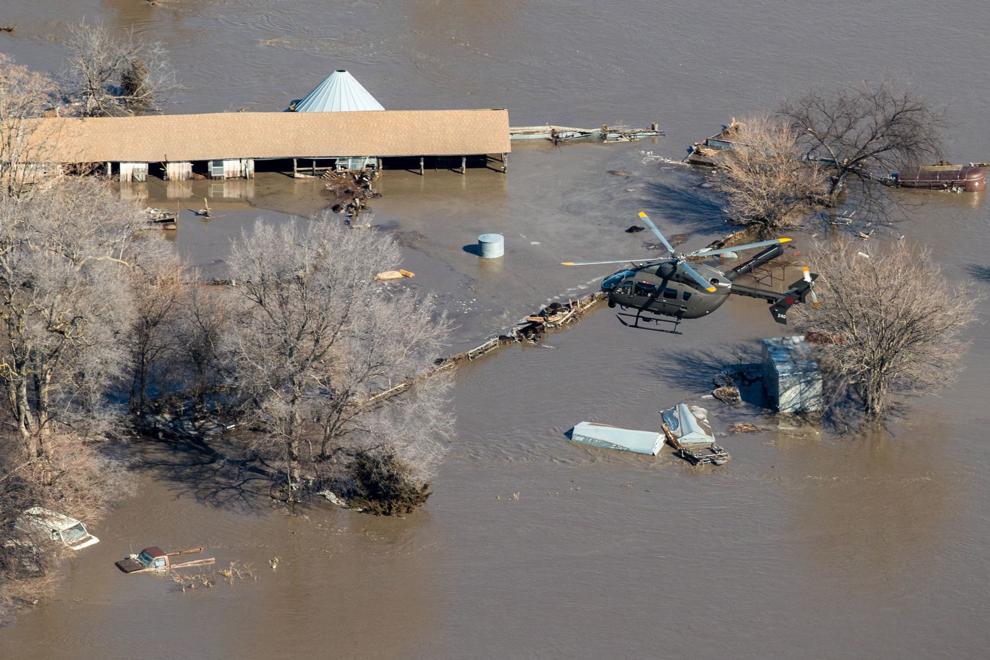 Highway 81 covered in floodwaters south of Columbus, Nebraska, on Friday.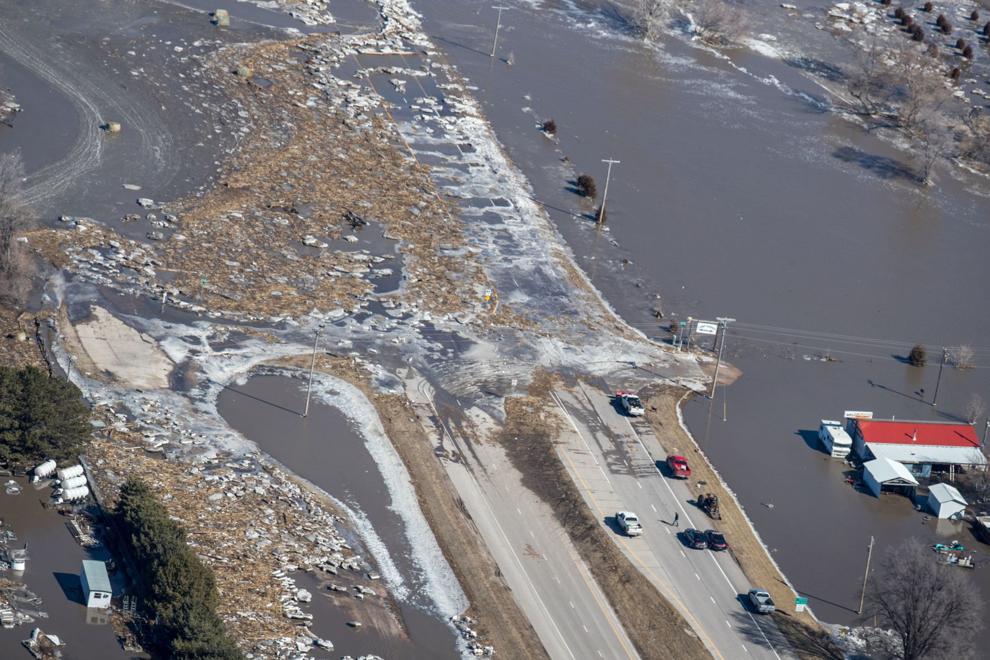 A Nebraska National Guard helicopter flies over flooded Waterloo on Friday.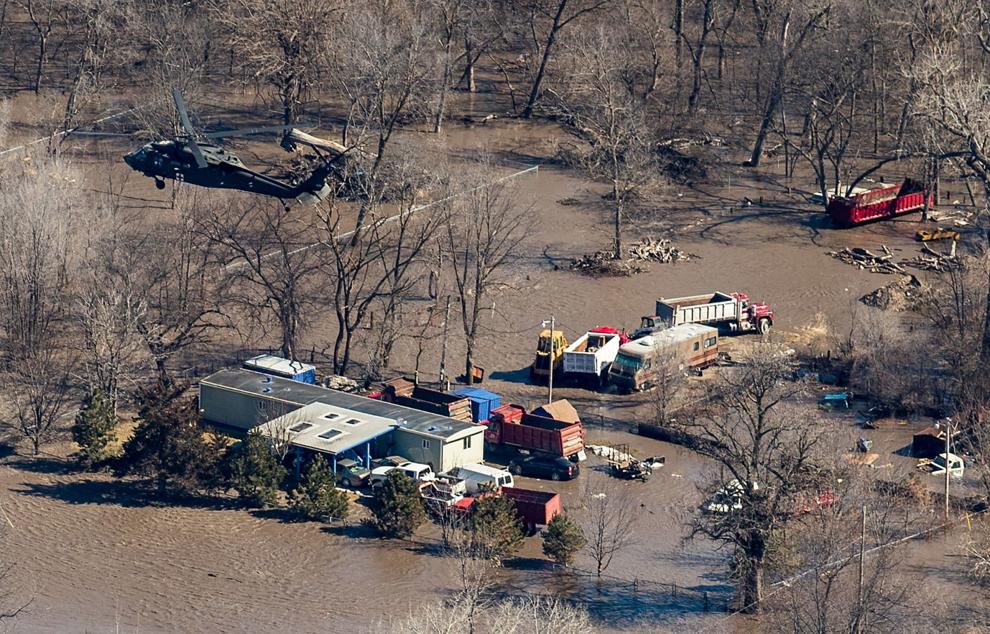 Cars drive drive across a flooded Platte River on Highway 50 just north of Louisville.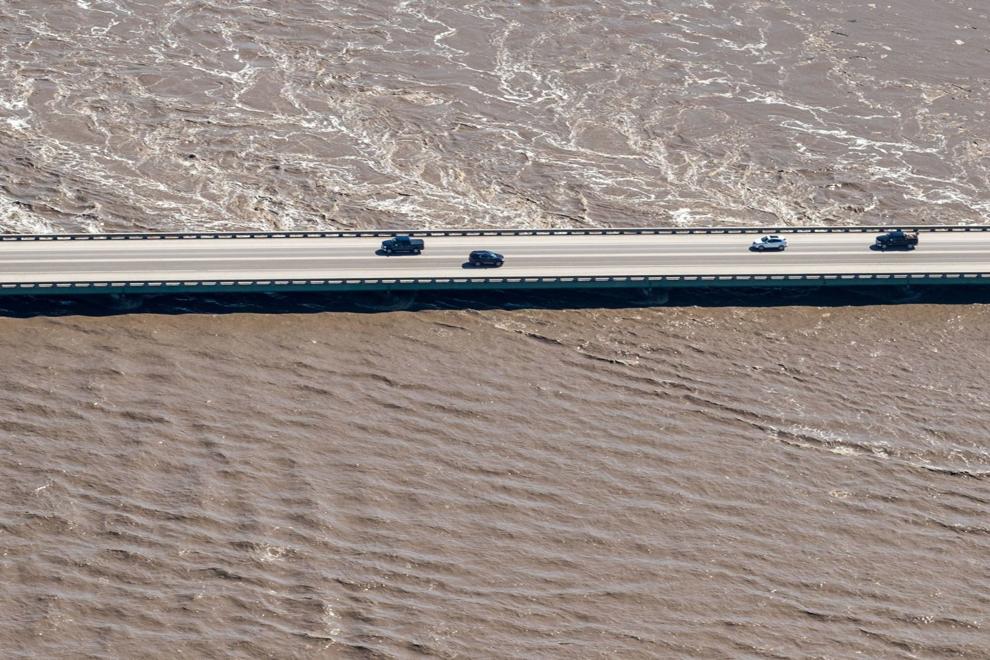 Water covers a road near Valley, Nebraska.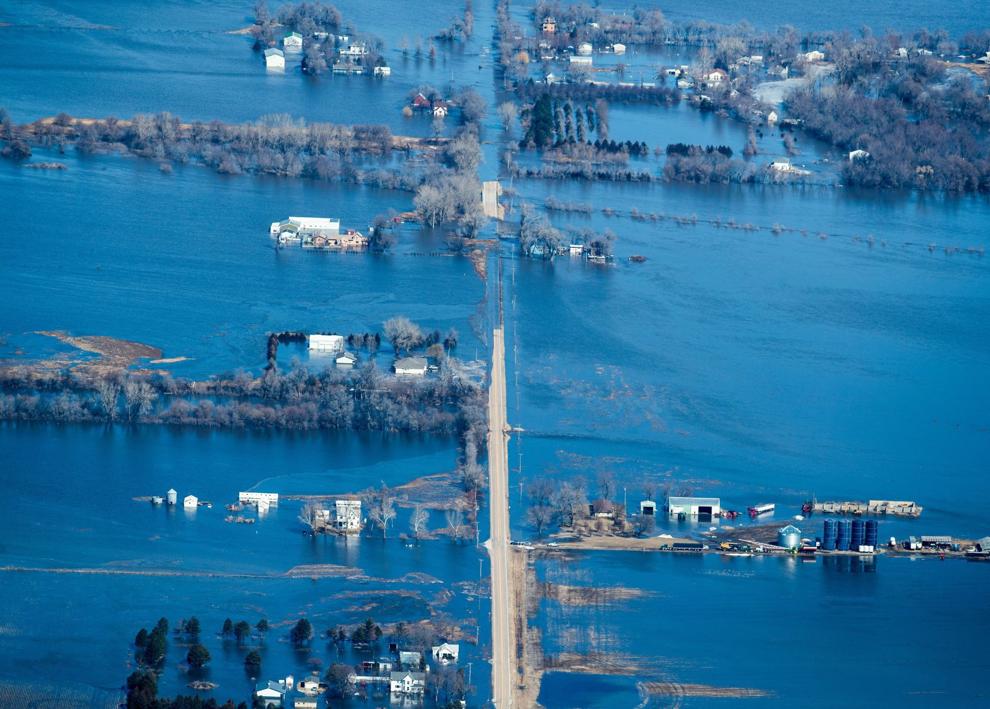 A westward, aerial view of a flooded Tom Hanafan River's Edge Park on Friday.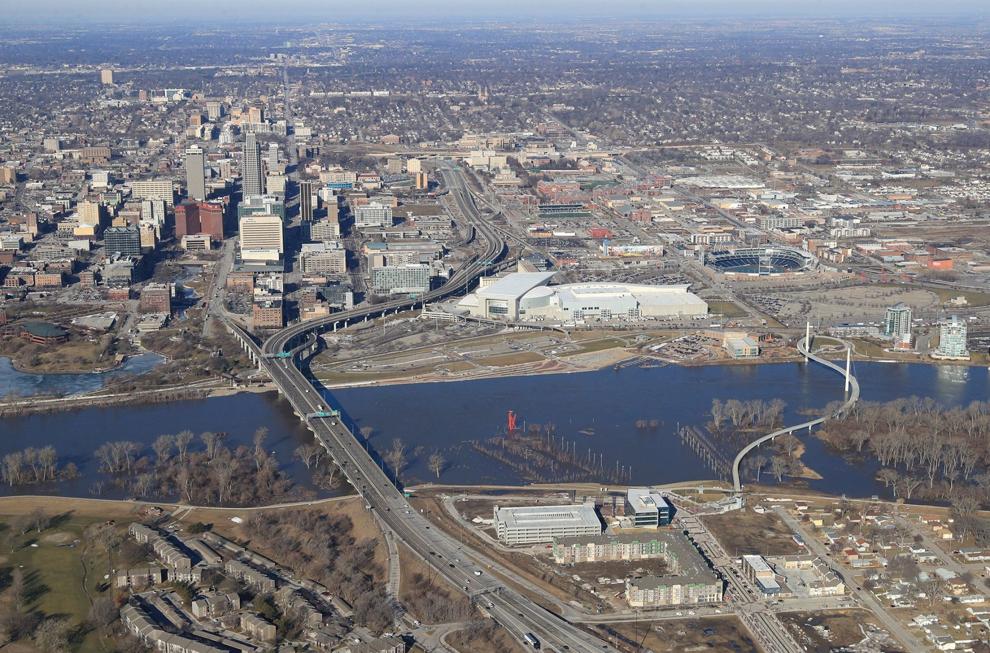 An aerial view of Missouri Valley, Iowa, as floodwaters continue to impact the area on Friday.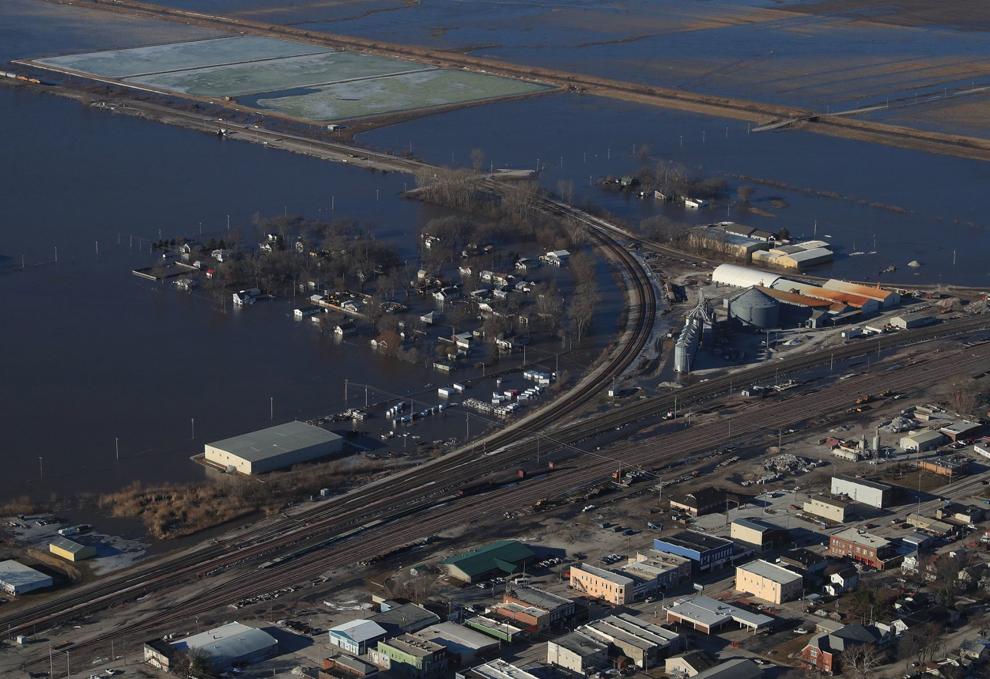 The National Weather Service in Valley, Nebraska was evacuated due to flooding.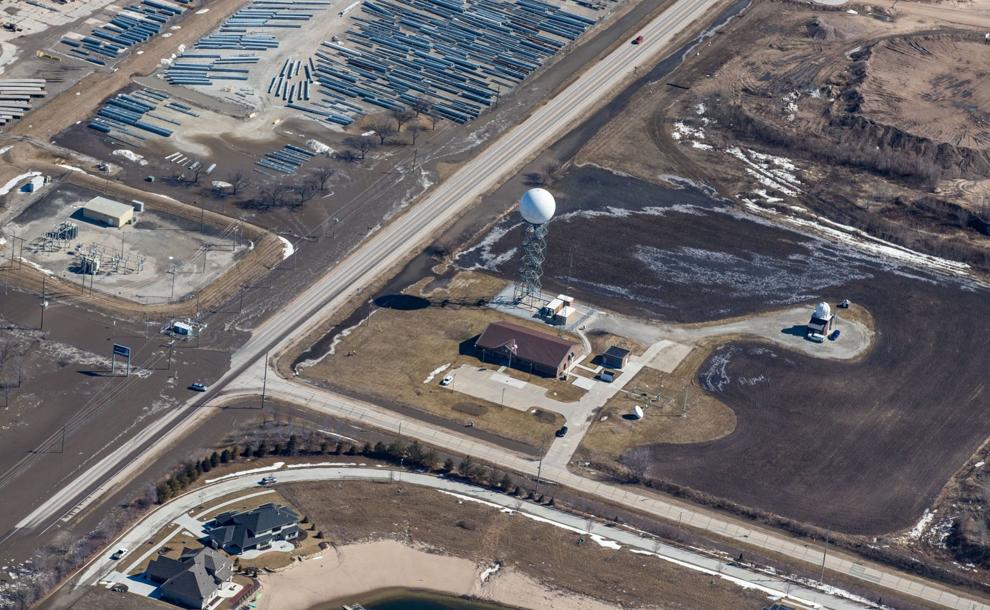 A truck drives through a flooded road near the Platte River.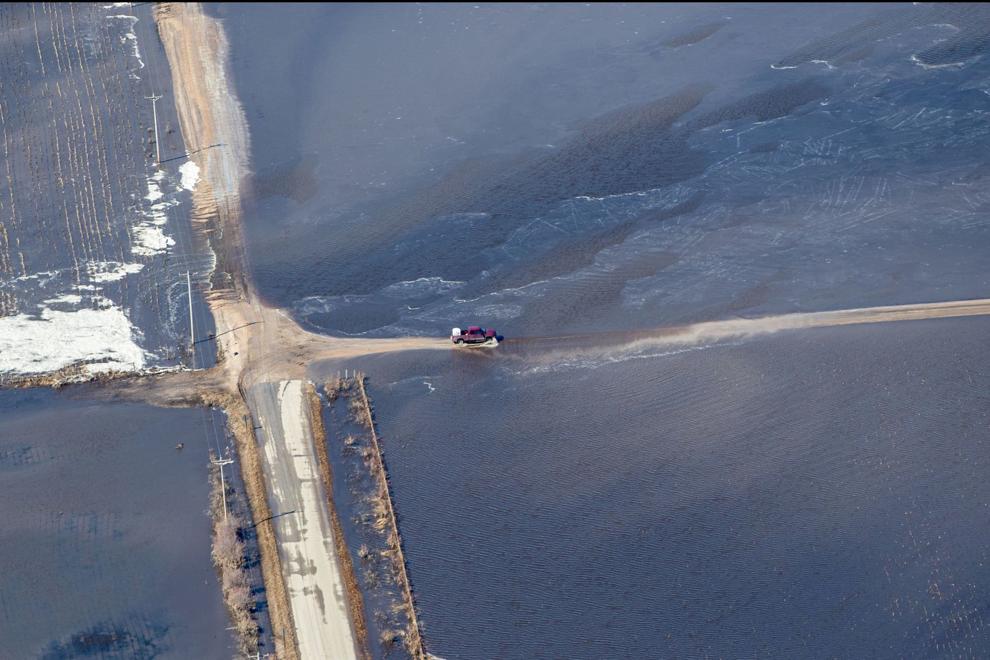 The headquarters of U.S. Strategic Command, which is on a hill, had not suffered any flooding. Many of its senior leaders are participating in a worldwide military exercise called Global Lightning, which began Wednesday, though the command has reduced its force to "minimum manning" levels. StratCom's new $1.3 billion headquarters also had suffered no damage.
The base's commissary, shopping exchange and chapel and all base housing are out of the flood zone, and no on-base residents have been evacuated, Blake said.
"Half the base is in crisis mode, and half the base everything is normal," she said.
Sandbagging and other defensive efforts began at noon Friday, said Lt. Col. Vance Goodfellow, deputy commander of the 55th Wing's Mission Support Group.
"It was a 24/7 effort," he said.
He said floodwaters first breached the base's eastern fence, about a mile from the river, at 9 a.m. Saturday. By late afternoon, water was pouring out of storm and sewage drains and had reached critical buildings south of the single runway, a half-mile from the eastern boundary.
"The water came in and overtook us," Goodfellow said.
The defensive effort involved teams of 100 airmen and civilian volunteers working four-hour shifts to fill and stack sandbags. They put up 460 "HESCO" flood barriers and filled sandbags by the tens of thousands. The Cities of Bellevue and La Vista donated 4,500 tons of sand.
But once the fence line was breached and water began to flood in, Goodfellow said, work was refocused on protecting certain critical buildings.
A specialized device called an Aqua Dam, 4 feet high, was flown in from Louisiana to surround a building that contained expensive flight simulators. But the water rose too quickly to deploy it.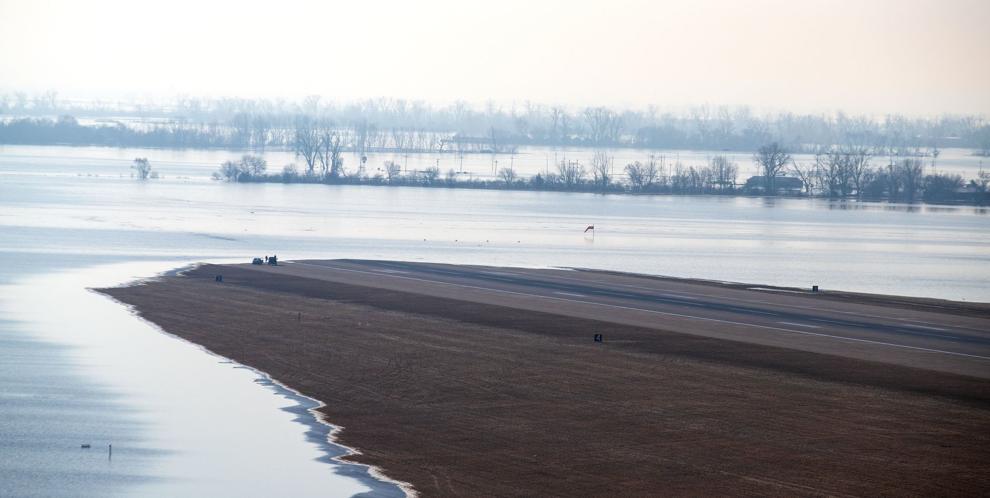 Master Sgt. Eric Streeter, a Nebraska Air National Guard member with the Offutt-based 170th Group, said he spent seven hours Saturday making sandbags. He brought his son the next morning to see the floodwaters.
"We got overwhelmed with water, so we backed off to the StratCom parking lot," Streeter said.
His friend, Master Sgt. Eric Pyatt, was one of the last to leave the massive Bennie Davis facility, the maintenance headquarters for the Offutt fleet. He and others picked up as many items as they could and put them on shelves or tables.
"There was nothing else we could do to change what was happening," he said. He helped move cars left in the parking lot, some by airmen who are deployed. Other vehicles had to be towed away.
Bacon also took part in the sandbagging effort and was crushed to learn that it failed.
"I was in tears this morning to hear it," said Bacon, who first worked at the base in the 1980s. "It's just heartbreaking."
No damage estimate is yet available. Goodfellow said it may be days before engineers can get into some of the flooded buildings. He's hopeful that the water has crested and will recede in a few days.
"We're resilient here," he said. "We'll recover from this."
Offutt's single runway, coincidentally, was closed over the weekend for survey work connected to an upcoming renovation project. The surveyors continued their work Sunday, even with more than a quarter of the runway underwater.
Offutt officials could not predict when normal flight operations would resume. Offutt is the training base for the 55th Wing's 29 reconnaissance jets, and four E-4B Nightwatch airborne command-and-control aircraft.
"If we're at a somewhat operational level in 30 days, that'll be a win," said Gary Kaufman, Offutt's airfield manager.
The base clearly has suffered far greater damage than was inflicted by an EF-1 tornado that hit the base in June 2017. That one caused about $20 million in damage, about half to airplanes parked on the apron, and half to buildings.
The damage is also far more widespread than what the base suffered during massive flooding along the Missouri River in 2011.
Those floods prompted the Federal Emergency Management Agency to order 19 miles of levees along the Missouri to be raised by 2 feet in order to protect Offutt, a project expected to cost about $30 million. The Papio-Missouri River Natural Resources District had secured permits to start the construction soon.
Bacon said it took a massive effort, overcoming opposition from some who questioned whether the higher levees really were needed. Now that question appears settled.
"Clearly we could've used two more feet," Bacon said.
The flood has knocked out facilities at a time when Offutt's largest commands were on the verge of moving into new buildings, anyway. StratCom's new headquarters is expected to be ready for full occupancy by the end of 2019.
Some 55th Wing personnel were scheduled to move in December to temporary quarters at the Lincoln Airport for one year. Those quarters, in a former blimp hangar, haven't yet been renovated into office space.
After that, the 55th Wing is slated to move into the 1957-vintage Curtis LeMay Building being vacated by StratCom, though that building will require a major renovation first.
It's not yet clear how the flooding will affect the runway project, or the Wing's longer-term future at the base.
"It's too early. Right now we're trying to mitigate an emergency," Bacon said. "They're just trying to save what they can, and then they'll plan."
But he said it's critical for the whole community to do whatever is necessary to help the 55th Wing in its time of need.
"They're part of our Omaha DNA. We want to preserve them as part of our community," he said. "We want to work our butts off to make sure this stays their home."
World-Herald staff writer Aaron Sanderford contributed to this report.