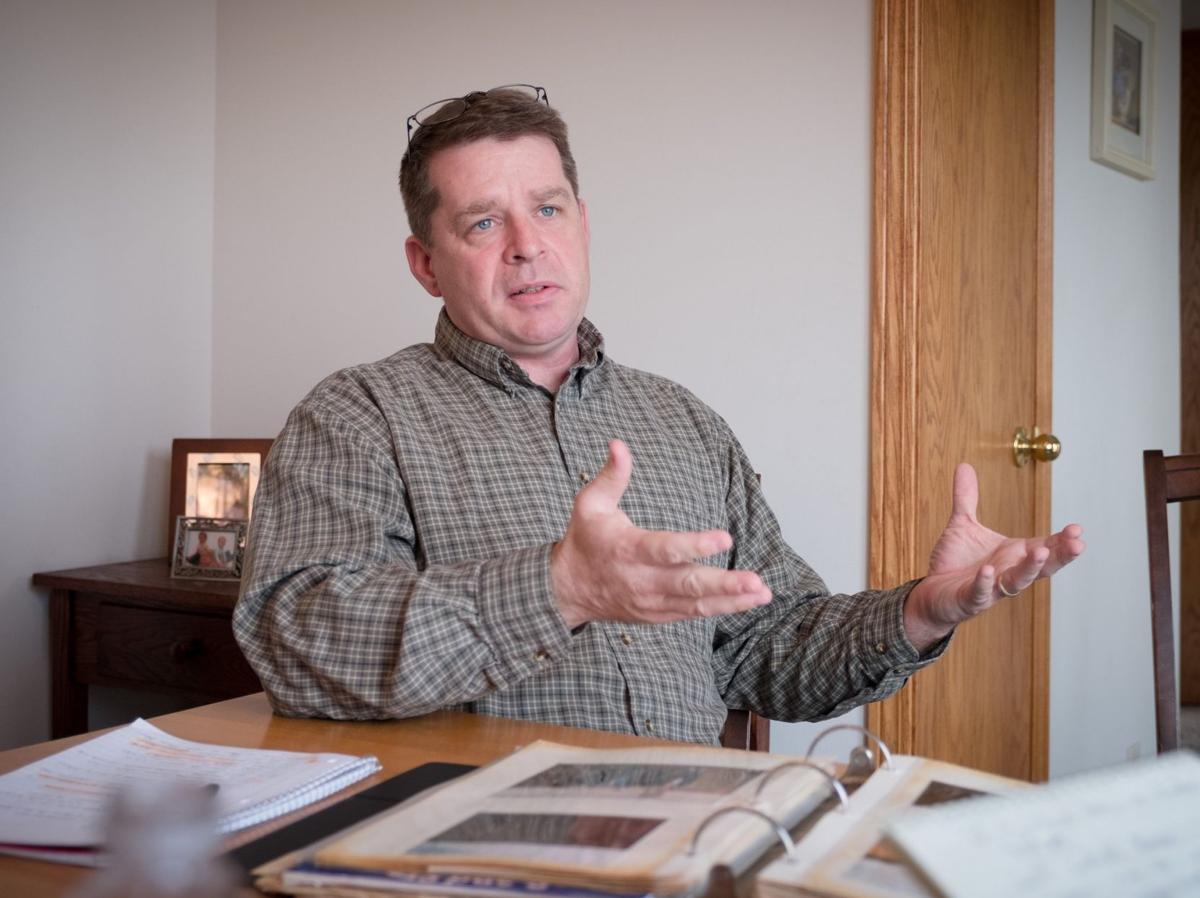 Omaha Police Detective Tom McCaslin has almost no tangible link to his namesake uncle, a B-26 tail gunner who fought in World War II years before McCaslin was born, and who never came home.
But on Saturday McCaslin will be presented an Honor and Remember flag in the name of Staff Sgt. Thomas J. McCaslin, who has been missing since anti-aircraft fire hit his plane over Caen, France, on June 22, 1944. All eight soldiers on board died. The bodies of McCaslin, 25, and two others never were found.
Detective McCaslin will be among about 200 relatives of Nebraska and Iowa service members who will be guests of the Honor and Remember Nebraska Chapter at a commemorative dinner, part of a day of public and private events in their honor.
"I think it's great," McCaslin said. "I'm looking forward to meeting some of these other Gold Star family members."
Following the private gathering, the families will be bused a few blocks to TD Ameritrade Park for the seventh annual Families of the Fallen Walk, said chapter President Jim Meier.
Then, led by a color guard and Scottish bagpipers, they'll march into the stadium through the centerfield fence before the start of the Creighton-McNeese State baseball game. Maj. Gen. Daryl Bohac, adjutant general of the Nebraska National Guard, will escort them through a sabre arch of upraised swords.
Before the game, four World War II-vintage P-51 Mustang fighter aircraft will fly over the ballpark in salute, and skydivers will land on the ballfield bearing an American flag.
Meier said those attending the game will also get a preview of the Great American Flag Project, Omaha Westside senior John Lang's plan to build a giant flag out of plastic construction bricks to set a world record.
After the game a fireworks display is planned. The names of Nebraska and western Iowa service members who died in Iraq and Afghanistan fighting will run on the stadium's jumbo screen, as will the names of Omaha-area police and firefighters who have died in the line of duty.
George Lutz of Chesapeake, Virginia, created the Honor and Remember Flag — which is red and white, with a blue-edged gold star in the center — in commemoration of the sacrifice of people like his son, Cpl. George "Tony" Lutz II, who was killed in Iraq.
He said he started the Honor and Remember nonprofit and began distributing the flags to Gold Star families to let them know their sacrifice is remembered.
"I needed to know somebody gave a damn," he told The World-Herald in March.
Bob Allgaier of Omaha attends the Honor and Remember event each year. His youngest son, Chief Warrant Officer 3 Christopher Allgaier, died in 2007 when the Army UH-1 Chinook helicopter he was piloting was shot down in Afghanistan. He died along with the four other members of his crew. They were buried together at Arlington National Cemetery.
"There's not a day goes by that I don't think of him," Allgaier said.
He's gotten to know some of the other Gold Star families in the area through the Families of the Fallen event, which is held each year in conjunction with Armed Forces Day.
"In a way it's like a support group," said Allgaier, who served in the Navy before the Vietnam War. "You get to see people who have been through the same thing."
Meier is offering free tickets to the baseball game for individuals or community groups who would like to honor Gold Star families and remember fallen soldiers like Staff Sgt. Tom McCaslin, who was an acclaimed amateur baseball player in Omaha before he joined the Army during World War II.
"It's such a small thing to be present for those who have given so much," Meier said.