Six months after what 55th Wing officials describe as "historic and disastrous" flooding swamped one-third of Offutt Air Force Base and destroyed 137 structures, the expected costs of rebuilding continue to mount.
Lt. Col. Chris Conover, who is spearheading the recovery and reconstruction project, said the figure now stands at $790 million. But during a recent tour of the flood zone, he warned that it most likely will rise further — perhaps even hitting $1 billion, since the cost of furnishing and equipping many of the new buildings hasn't yet been fully calculated.
"We're not all the way yet," said Conover, director of the Wing's Next Generation Project Management Office.
55th Wing engineers have sketched out a $359 million plan to replace the damaged structures with taller buildings, organizing them into eight functional "campuses" that will group related functions together. Conover said reconstruction could take as long as five years.
"We're trying to do a very methodical, deliberate approach," he said.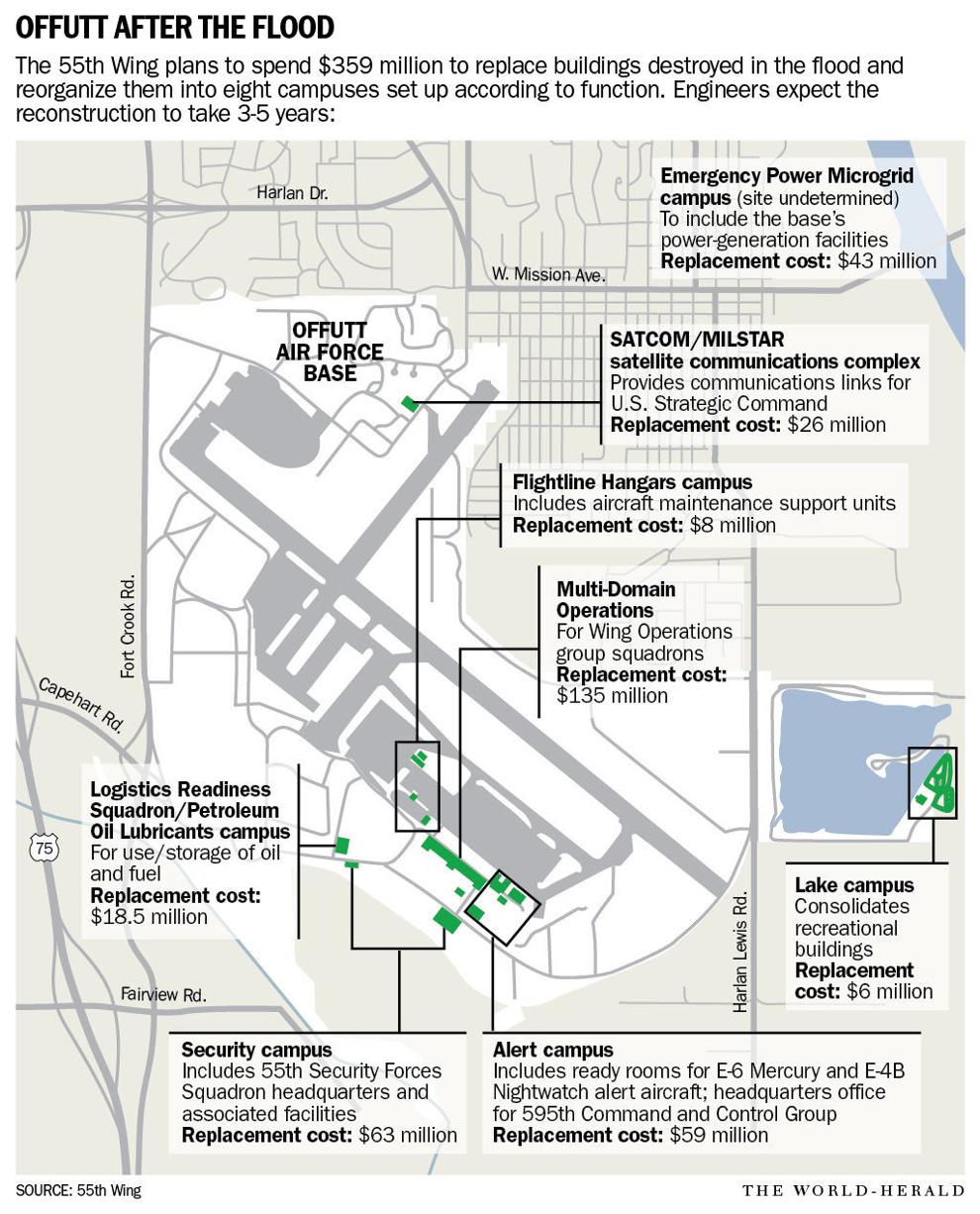 Seven of the eight campuses will be built in the area south of Offutt's runway where water reached a depth of up to 8 feet during the March floods, which Conover labeled a 500-year event.
He said some of those campuses need to be at the south end, near the aircraft. Plus, there's not enough empty space on the higher ground north of the runway to relocate many buildings to that area.
"The real estate up here is pretty limited," Conover said. "This gives us the opportunity to smart-build."
New buildings in the flood zone will be perched 3 to 5 feet higher than the flood-damaged structures, he said, and many will be built with multiple floors. Roads on the south end of the base will be raised higher, too.
Some buildings will feature what Conover called "sacrificial" first stories, containing only noncritical equipment and facilities. Most of the flood-damaged buildings were only one or two stories high. One such building contained a pair of mission simulators that will cost $234 million to replace.
The Air Force is also counting on a $35 million project to upgrade two adjacent Missouri River levees to block future floods. That project, spearheaded by the Papio-Missouri River Natural Resources District and funded by several state and local governments, will raise the levees 1 to 3 feet and widen them by 2 to 4 feet and is expected to be completed in late 2020 or early 2021.
Collectively, these projects will mark the biggest transformation since the former Fort Crook Army post was adapted for the Air Force during and after World War II.
"It is definitely going to be a new face, a new layout (for Offutt)," Conover said.
The perfect storm of events caused record high-water levels in the Missouri and Platte Rivers and their tributaries after dozens of levees failed.
In the Omaha metro area, Offutt bore the brunt of the disaster. One nearby levee at the confluence of the Missouri and the Platte was breached. When that levee broke, the adjacent levee protecting Offutt and the Papillion Creek Water Treatment Plant was overwhelmed. The southern third of Offutt — about 2,500 acres — filled up like a bathtub with 720 million gallons of water.
Offutt personnel worked round the clock for two days to save the base, filling 400,000 sandbags, but they couldn't hold back the river. Luckily, electricity was shut off and all of the base's aircraft were either flown out or taxied to higher ground before the water reached them.
When the waters receded, they left behind a swamp of slime and muck.
Sign up for The World-Herald's afternoon updates
Receive a summary of the day's popular and trending stories from Omaha.com.
Of the 137 structures lost to the flood, 44 served as offices for military and civilian personnel. About 1.2 million square feet of office space was lost, including headquarters buildings for the 343rd Reconnaissance Squadron, the 55th Operations Group, the 55th Security Forces Squadron, the 595th Command and Control Group, and the 55th Wing itself.
All are slated for demolition, Conover said.
The floods destroyed five of the Wing's seven Sensitive Compartmented Information Facilities, or SCIFs, which are rooms or suites specially built to guard against electronic eavesdropping. Conover said they can't be easily replaced because there is a lengthy certification process to ensure that they are truly spy-proof.
As a result, 55th Wing personnel are double-shifting in the SCIFs.
These secure rooms also created headaches after the flood, Conover said, because they were loaded with waterlogged classified materials that had to be guarded at all times. They couldn't be opened up and aired out like other parts of the buildings.
He worked in one of them at the time of the flood.
"My office was one of the last to be opened," Conover said. "The black mold just took over. It's hard. Devastating."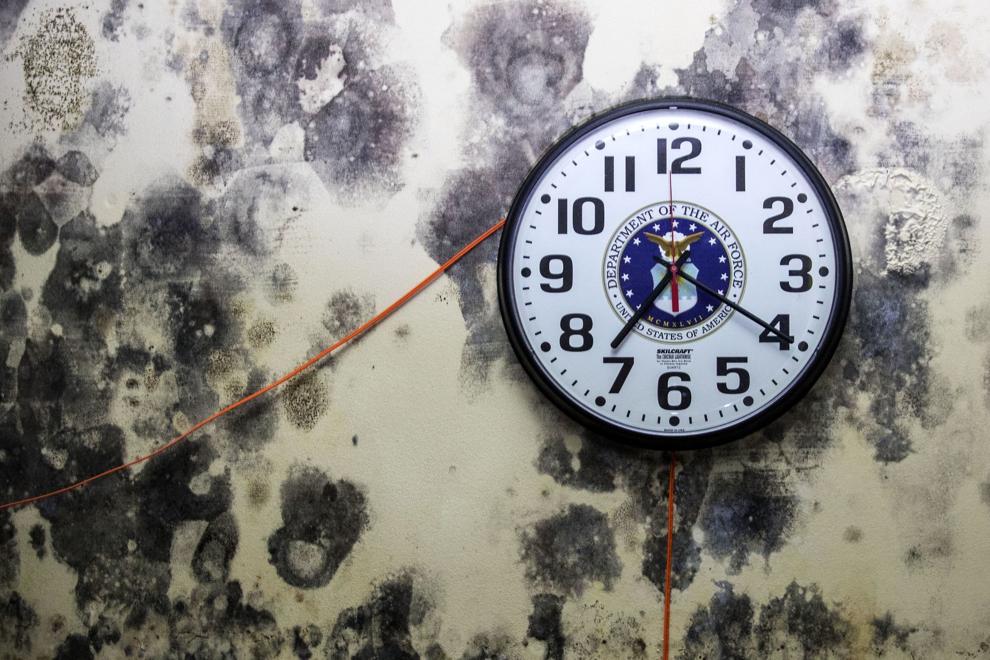 Some flooded buildings are being salvaged. Work has begun on rebuilding Tennant Hall, the former home of the 97th Intelligence Squadron, at a cost of $11 million. The Wing will spend $18 million to repair the Bennie Davis Maintenance Facility, used primarily as an aircraft hangar, and $12.6 million to fix up the alert facility for E-4B Airborne Command Post crews. The veterinary clinic and several electrical and sewage pump stations also can be saved.
The floods displaced about 3,200 military and civilian workers, one-third of the base's workforce. Many set up shop in a conference center and Offutt's former officer's club.
"We stuffed a lot of people in there as a Band-Aid solution," Conover said. "We never skipped a beat on the mission."
Hundreds of workers from several units are being resettled in Building D, the historic World War II-era Martin Bomber Plant, where workers assembled B-26 and B-29 bombers during the war. For years it's been slated for demolition to make way for a taxiway at Offutt, but the Air Force has never found the money to do the work.
Conover said office space in the building that was last used 10 to 15 years ago by the former Air Force Weather Agency is being spruced up to be used again.
"The silver lining is, we had it available," he said.
Master Sgt. Jason (whose last name is not being used because of 55th Wing security protocol) just moved into Building D with others from the 97th Intelligence Squadron, which supports the 55th Wing's reconnaissance operations. He has spent most of his 13-year Air Force career with the 97th.
"For me, it's emotionally painful," he said. "I spent most of my career in that building."
The Wing spent $37 million on immediate recovery efforts after the flood. Part of the work involved sending contract workers in hazardous materials suits to scoop out the fetid mud, contaminated with sewage.
Six months later, it's possible to walk through the ruined buildings, though a flashlight is necessary (there's no electricity) and a mask is highly recommended. Black mold is everywhere.
In the 55th Wing headquarters building, slime-crusted furniture has tumbled every which way. Chairs, tables, desks, couches, even kitchen appliances floated as the water rose, and toppled over as it slowly receded.
In a break room, a refrigerator lies on its back, the door opened, with cases of warm Mountain Dew still stacked inside.
There's a high-water mark on the walls, about five feet above the floor.
Waterlogged boxes, file folders, and cabinets fill the cluttered office of the 55th Wing historian, John McQueney. Firefighters broke down the door as several current and retired veterans mounted a heroic effort to save precious artifacts from the Wing's long history before they were lost to the flood. They saved plenty of relics, but clearly they couldn't get them all.
"A lot of that was lost," Conover said. "Gone to the black mold."
Photos: Flood damage at Offutt Air Force Base six months later