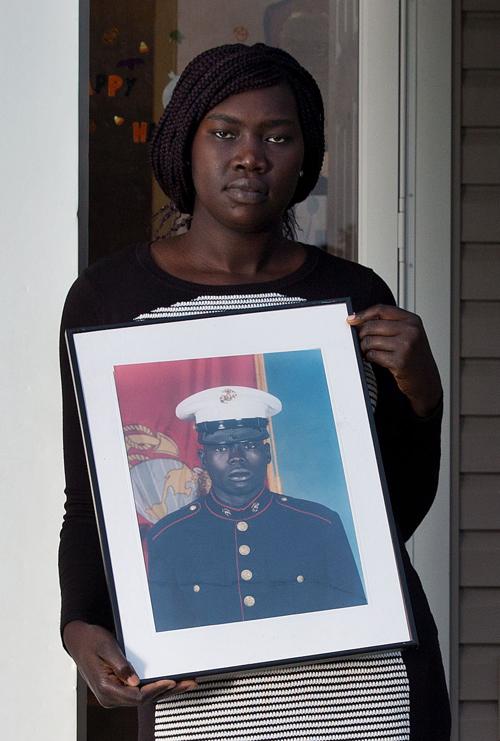 Stiff and somber in his Marine Corps dress uniform, Lam Chuol Thichuong's image gazes down from the wall on his two daughters and his former wife in the living room of their north Omaha home.
For his family, the portrait and some memories are all that's left of the South Sudan-born Thichuong, who risked his life in Iraq for his adopted country and gave his life in the struggle for his native one.
Today at noon, hundreds of members of Nebraska's large community of South Sudanese are expected to gather at Lutheran Church of the Master, 2617 S. 114th St., to honor Thichuong. He and his brother, Pal, haven't been heard from since they disappeared Dec. 15 in South Sudan's capital, Juba, on the first day of the country's civil war.
After months of fear and worry, Nyaduer Jock and her daughters, Nyazoly, 15, and Kume, 12, have reluctantly given up hope that Lam, 39, somehow survived.
"It's 11 months, nothing being solved," Jock said, tearfully. "The kids wanted to have closure — to know about their dad, what he had done. I wanted them to know he wouldn't be forgotten."
Some South Sudanese fear their loved ones already have been forgotten. Local community leaders say that at least two U.S. citizens from Nebraska besides Lam and his brother, and five former Nebraskans who were not citizens, are missing and may be dead in the continuing ethnic clashes that have killed an estimated 6,300 and left 588,000 homeless.
The Rev. James Rut of Omaha, a lifelong friend of Lam's, fears the number could grow higher.
"We're sure more people will be added," Rut said. "Many people keep silent. Nobody knows for sure that (their relatives) have died."
Rut and others have asked Rep. Lee Terry, R-Neb., and the FBI to help them account for their missing relatives.
"Where are the U.S. citizens?" asked Andrew Ruva, 30, a close friend of Lam's who served with the U.S. Army in Iraq. "We sacrificed for our country. What are we sacrificing for if the U.S. won't help us?"
State Department Press Officer Pooja Jhunjhunwala said the department currently is aware of just one U.S. citizen missing in South Sudan. Because of privacy restrictions, she could not identify the person or the person's home state.
An additional 220 U.S. citizens have been evacuated from the country, she said.
Sudan's troubles date back decades, rooted in conflict between dominant Muslims in the north, and Christians and followers of native religions in the south. Since the nation was freed from colonial rule in 1955, north and south have fought two civil wars lasting a total of 39 years.
When Lam was a boy, his older brother was snatched out of their house and killed in the middle of the night by soldiers from a government-backed militia, he told The World-Herald in a 2002 interview.
His family fled to a refugee camp in Ethiopia and, later, to Kenya. After a decade, in 1995, they resettled in Minnesota. Lam moved to Nebraska three years later to attend the University of Nebraska at Omaha, at the same time working as a bilingual liaison for the Omaha Public Schools.
Jock's family had known the Thichuongs in the refugee camps, and they were reunited in the U.S. They were married in 1998.
"He was my first love. There was something different about him," she said. "He would smile. That was one of the things that was really attractive to me."
Lam was sworn in as a U.S. citizen 10 days after the 9/11 terrorist attacks, and he finished his bachelor's degree at UNO the following year. Within days, he was off to Marine Corps boot camp.
Jock said that he wanted for years to go to Sudan to fight, but she protested that he shouldn't go so far away from his daughters. So he joined the Marines instead.
"I love the leadership that comes from being in the Marine Corps," he told a military journalist at the time.
Jock and her children made a home in Omaha, near her family and his mother.
"It was really hard — especially that year he was in (Iraq)," Jock said. "I managed it, knowing he was doing something he loved."
After his tour, he came back to Nebraska. He worked at the Charles Drew Health Center and made his mark on Omaha by serving as the president of the board of directors of the Southern Sudan Community Association, a nonprofit group that helps refugees adjust to life here.
But his homeland drew him back. The warring sides signed a peace agreement in 2005, and leaders in South Sudan began laying the groundwork for independence. Lam got a job as the personal aide and secretary to Riek Machar, who would become the country's vice president after independence in 2011.
Jock didn't want to raise her daughters in Africa or endure any more long separations. The couple divorced in 2008 but kept in close touch because of their daughters.
"He was a careful father to his kids," she said. "He always wanted to know — are they getting good grades?"
Jock traveled with her daughters to visit Lam in Juba in 2009. She wanted her children to see the land of their ancestors. But she had no interest in living there.
Lam last visited Omaha two years ago in the jubilant early days of independence. He arranged a meeting for Machar with then-Mayor Jim Suttle, and Machar also spoke to a large group of South Sudanese here. Jock and Lam talked of their daughters' future.
In mid-2013, President Salva Kiir dismissed Machar and the rest of his Cabinet. On Dec. 15, Kiir declared that Machar had mounted a coup. House-to-house fighting broke out between soldiers and militia members from Kiir's Dinka tribe and civilians from Machar's Nuer tribe.
Jock said she last spoke with Lam on Dec. 13, and all seemed well. His brother, Pal — also a former Nebraskan — had moved to Juba from Anchorage, Alaska. They enjoyed spending time together.
Jock heard the first news of fighting from friends after coming home from church.
"I said, 'The father of my kids is over there,' " she recalled.
She and other relatives tried desperately to reach Lam on his cellphone. No one answered.
In the chaos of street fighting, some people escaped to the countryside or into neighboring countries. Many took refuge in a United Nations compound in Juba. There were horror stories of soldiers slaughtering civilians and dumping bodies in rivers, swamps and forests. Even friends still in the capital couldn't tell for sure what was happening.
"I went for two days thinking that, for security reasons, he had his phone turned off," Jock said.
She finally spoke with Machar's wife. The former vice president had escaped, but Lam wasn't with him.
"She insisted to me: 'As soon as we know, we'll let you know,' " Jock said.
Jock and her daughters are still waiting.
Rumors filtered back, though, that Lam and Pal both had been killed in the first hours of the attacks. People began to post condolence messages on Lam's Facebook page. Nyazoly begged them to stop.
"No one knows if he's alive or dead," she wrote on the page. "(N)o one is for sure so please stop posting."
On March 27, Lam's 40th birthday, his daughters wanted to have a party for him. Jock didn't like the idea.
"I said, 'There's nothing to celebrate here,' " she recalled.
After nearly a year of silence, they have decided there is little room left for hope.
"It's 11 months, nothing being solved," Jock said. "We want his body, we want his remains. We want to know what happened."
Piecing together second- and third-hand accounts, Lam's friends believe he and Pal died together, killed on the streets of Juba as they tried to escape to the U.S. Embassy.
"He had an opportunity to get away, right when the vice president was leaving," said Seth Mock, a close friend of Lam's who lives in Omaha. "He wasn't going to leave without his brother."
After the initial burst of killing in December and January, the fighting in South Sudan has faded from the headlines. Fighting is now sporadic. Kiir and Machar — who now commands a rebel army — have engaged in fitful peace talks. But the war is not over.
For Nebraska South Sudanese, some of the early grief has congealed into anger. Among Nuer, blame is directed at Kiir, who they believe targeted members of their ethnic group.
Some of it is reserved for Secretary of State John Kerry and for President Barack Obama, who they say have not held the South Sudanese government — the recipient of $720 million in emergency aid in 2014 — accountable for the Americans who are missing there.
"Nobody wants to take responsibility," Ruva said.
Jhunjhunwala said the State Department faces challenges around the world gathering information about missing Americans.
"We only know what is reported to us," she said. "While we do everything in our power to assist U.S. citizens, we must also work within the legal and administrative processes that apply within the host country."
There are practical matters, too. No one has officially declared the missing Americans dead. Jock has applied for Social Security survivors' benefits for her daughters.
"They keep sending me letters — 'We need death certificates,'" she said. "I just give up. What do these Americans want? How could I get a death certificate?"
Today, however, the focus will be on honoring Lam and his brother, Pal.
"He was very, very, very influential," Mock said. "He had achieved so much for a young man."
Kume will remember the happy dad who used to race her to see who could finish a glass of juice first. Who won?
"He did," she remembered, smiling.
Nyaduer Jock will remember her first love, born without a country, who served one and gave his life in the fight for another.
Mock said the service will cross the tribal lines that loom so large in South Sudan but are less important here.
"All the ethnic groups have suffered," he said. "There's not a better place than Omaha that can start to help bring a lasting peace to South Sudan."