An off-duty Marine from Nebraska was arrested at Offutt Air Force Base two weeks ago after he tried to enter the base with two semi-automatic rifles, a pistol, a silencer, a bump stock, a vest with body armor and a case of ammunition.
Pfc. Ali Al-Kazahg, 22, of Milford, is in custody at Marine Corps Base Hawaii near Honolulu, a Marine spokesman said. Al-Kazahg, a landing support specialist at the Hawaii base, has not been charged. The Naval Criminal Investigative Service is investigating.
It is illegal to carry weapons at Offutt, aside from authorized members of security forces and certain military retirees. It's not clear to base authorities whether Al-Kazahg intended to use the weapons to harm people at Offutt, said Lt. Col. William Smith, commander of the 55th Security Forces Squadron.
Al-Kazahg — who was home in Nebraska on leave — was stopped in a pickup truck May 31 at Offutt's StratCom gate after security guards there saw his name on a law enforcement watchlist of people judged capable of doing harm. A "be on the lookout" bulletin had been circulated across Nebraska a week earlier by a coalition of federal, state and local agencies tasked with monitoring security threats.
Sign up for World-Herald news alerts
Be the first to know when news happens. Get the latest breaking headlines sent straight to your inbox.
The bulletin, issued May 24 by the Nebraska Information and Analysis Center and later obtained by The World-Herald, said Al-Kazahg told another Marine that he would "shoot up the battalion, starting at the barracks," if he were disciplined for certain misconduct. According to the bulletin, he also mentioned specific Marines he wanted to target.
The bulletin quoted NCIS as reporting that Al-Kazahg had previously made "suspicious statements" and been reported for "suspicious activity." It said he had previously "shown various people large amounts of cash" and an online order he had placed for body armor, magazines, weapons parts, holsters and medical supplies, all to be shipped to a Nebraska address.
The bulletin also cited a caution about Al-Kazahg issued by the Lincoln Police Department in 2016 (before he enlisted in the Marine Corps) alleging that he was "dangerous, has an infatuation with guns and violent acts, and has a dislike for law enforcement."
Al-Kazahg had made no threats specific to Nebraska, the bulletin said.
Al-Kazahg's vehicle was stopped at the StratCom Gate, on Capehart Road, at 6:39 p.m. May 31. Law enforcement authorities haven't said why he showed up at Offutt that Friday evening.
Smith said Al-Kazahg presented his military identification card at the gate. The guard who checked the Marine's credentials saw that they were flagged with a message to detain him and contact the Office of Special Investigation, the Air Force's investigative agency.
Agents from OSI's Offutt detachment responded within minutes, Smith said. Al-Kazahg's pickup was searched, and agents found the weapons and other gear.
Al-Kazahg said little about his intentions to either Offutt guards or OSI agents, Smith said. He was turned over to NCIS, which investigates criminal activity involving the Marine Corps and Navy, about an hour later.
Public records indicate that Al-Kazahg lived in Milford, about 17 miles west of Lincoln. In 2017, he served on the Nebraska Children's Commission's Bridge to Independence Advisory Committee, which advises the state on policies to help kids in foster care transition to adulthood.
He joined the Marines on Sept. 11, 2017. After boot camp in San Diego and additional training at Camp Pendleton in California and Camp Lejeune in North Carolina, he was assigned to Marine Corps Base Hawaii in August 2018. He is a member of the 3rd Marine Logistics Group, and his enlistment is up in 2021.
Al-Kazahg's public social media posts indicate no obvious signs of anger or discontent. There are no mentions of politics or religion.
He has never posted on a four-year-old Twitter account in his name, which has just 10 followers. His Facebook and Instagram pages are private, though a cached copy of his Instagram page shows a number of photos of him posing with military weapons. His images also seem to convey pride in the Marines, his own personal fitness and his Husker heritage.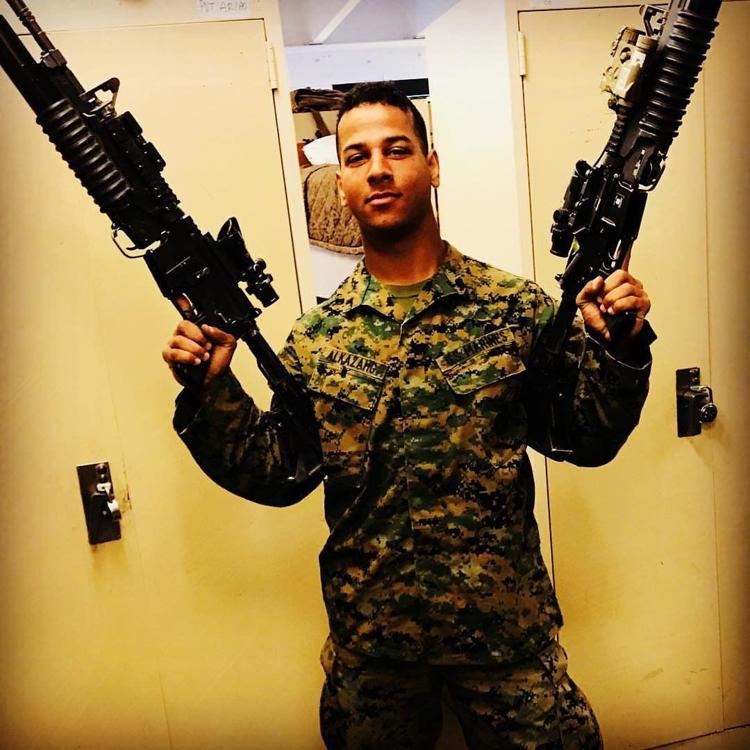 In one photo, he and another Marine, both in uniform, are holding up a red-and-white Husker "N" flag in front of palm trees. The caption says, "Just two pround (sic) Marines from Nebraska living in Hawaii!"
A second photo shows him posing about six months ago with Dakota Meyer, a former Marine who was awarded the Medal of Honor for heroic actions in the Afghanistan War in 2009, with a caption that says they had lunch together.
A third photo shows him at Camp Pendleton last summer holding one military M4 carbine in each hand with a comment that says, "These feel pretty light."
News videos posted on YouTube show him and other Marines drinking the blood of a freshly killed cobra and eating a scorpion during survival training conducted as part of the military's Cobra Gold exercise in Thailand earlier this year.
"Drinking the cobra's blood was pretty fun," Al-Kazahg said in an interview that was part of the video.
Smith praised his personnel at Offutt for their diligence in quickly detaining Al-Kazahg.
"This was one of those seamless events from start to finish," he said. "This was an opportunity where we could have saved lives."
Maj. Gen. Daniel Karbler, U.S. Strategic Command's chief of staff, went a step further in a post on StratCom's unclassified internal computer network.
"This service member was out to hurt people," Karbler said. "Thank a Security Defender next time you come through the gate."
Be the first to know
Get local news delivered to your inbox!