UPDATE: The Russian Tu-214 Open Skies aircraft made a single pass over Offutt Air Force Base about 12:40 p.m. Friday. It approached over Sarpy County from the west, after overflying U.S. military facilities near Colorado Springs, Colorado, and Cheyenne, Wyoming, earlier in the day.
Omaha-area residents might get a glimpse of a Russian "spy" plane when it flies over eastern Nebraska early Friday afternoon.
The red, blue and silver Russian air force Tu-214 is in the United States flying a two-day supervised aerial photography mission this week under the 1992 Open Skies Treaty.
Which means it's not really "spying" at all.
The flight was announced earlier this week in a press release by the Russian Ministry of Defense. The plane is expected to take off from the Rosecrans Air National Guard base near St. Joseph, Missouri, at 9 a.m. and fly over Offutt Air Force Base at about 12:30 p.m., according to a U.S. source with knowledge of the schedule.
Flights over Offutt are relatively rare. The last confirmed one was in 2011.
The plane will be flying west to east over the Omaha area, though it's not clear at what altitude. The flight can be tracked at air-traffic control web sites such as FlightRadar24.com. The Russian plane will use the call sign OSY332F.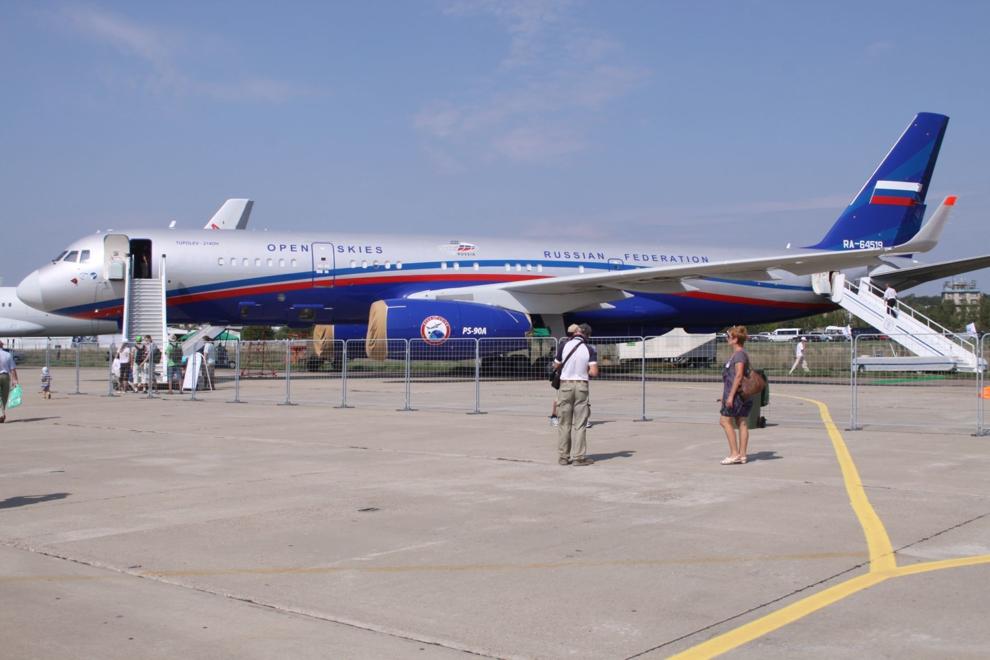 The plane also flew out of Rosecrans on Thursday, over locations including Fort Riley, Kansas; Fort Bliss, Texas; the White Sands Missile Range in New Mexico; and the Pueblo Chemical Depot in Colorado, according to Steffan Watkins, an independent Canadian analyst who blogs at www.vesselofinterest.com.
U.S. observers fly on board all Russian Open Skies flights within U.S. territory.
Coincidentally, the two U.S. Open Skies Treaty OC-135B aircraft are based at Offutt and flown by crews from the 55th Wing's 45th Reconnaissance Squadron.
Under the treaty, each of the 34 signatory nations — the United States, Russia, Canada, and most European nations — may fly aerial photography missions over one another's territory several times a year, based upon a formula set by the treaty. Over the years, treaty nations have flown more than 1,400 flights.
The U.S. has been approved to fly 16 observation flights over Russia and Belarus this year, as well as two flights over Ukraine and one over Georgia.
Russia has been approved for up to 42 flights, eight of them over the U.S. It flew another mission during the first week in April, using the airport in Great Falls, Montana, as a base to conduct aerial photography mostly over California and Nevada.
This week's flight is Russia's first using the new Tu-214 Open Skies aircraft. Russia is also using new digital cameras, called "sensors," for its aerial photography, using parameters set in the treaty.
Sign up for The World-Herald's afternoon updates
Receive a summary of the day's popular and trending stories from Omaha.com.
Open Skies flights are operating as normal this year, a sharp departure from 2018. Last year, all regular flights were grounded because of a dispute between Russia and its neighbor, the former Soviet Republic of Georgia.
In the time since Russia annexed Ukraine's Crimean Peninsula in 2014 and fomented instability in eastern Ukraine, U.S.-Russia relations have tumbled to a post-Cold War low.
The tension has played out in disputes over treaties, including Open Skies. For the past two years, the two sides traded jabs over mutually imposed limits on certain flights and airfields where their planes can stop overnight in each other's country.
Photos: Signs of 2019 flood damage at Offutt Air Force Base