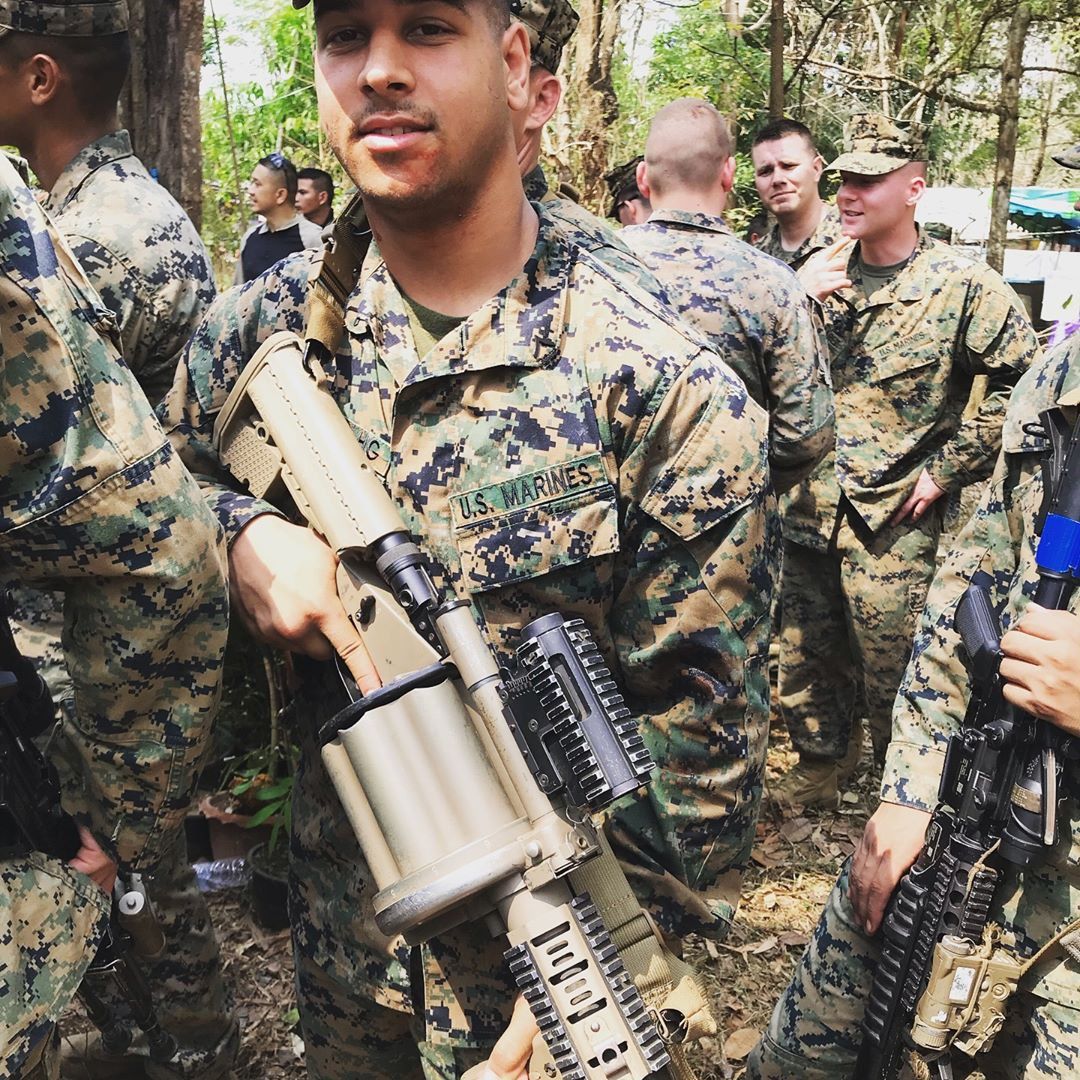 Preliminary military charges have been filed against a Marine from Nebraska who was arrested May 31 for attempting to carry modified weapons and ammunition onto Offutt Air Force Base in his personal pickup truck.
Pfc. Ali Al-Kazahg, 22, of Milford has been charged by the leadership of the 3rd Marine Logistics Group. He is based at Marine Corps Base Hawaii, near Honolulu.
Al-Kazahg faces numerous charges: carrying a concealed weapon, possession of modified firearms, unlawful firearms modifications, communicating threats, making a false official statement, unauthorized absence from duty, violation of a lawful general regulation and dereliction of duty.
He is in custody at Naval Brig Pearl Harbor, said Capt. Eric Abrams, a Marine Corps spokesman. No court-martial date has been set.
Sign up for World-Herald news alerts
Be the first to know when news happens. Get the latest breaking headlines sent straight to your inbox.
Al-Kazahg, a U.S. citizen who is the son of Iraqi refugees, was stopped at Offutt's StratCom Gate at 6:39 p.m. after guards spotted his name on a law enforcement watchlist of people considered to be capable of doing harm. Offutt security forces summoned agents from the Air Force's Office of Special Investigation, who detained him for questioning.
A search of his vehicle showed that he was carrying two semi-automatic rifles, a pistol, a silencer, a bump stock, a vest with body armor and a case of ammunition. He didn't threaten Offutt personnel. His motive for bringing the weapons onto the base hasn't been revealed.
For nearly all personnel, it is illegal to carry weapons on a military base.
The type of weapons found in Al-Kazahg's vehicle raised fears that he might have been planning a mass shooting. But the charges preferred against him by the Marine Corps do not include any that appear linked to terrorism.
The Marine's sister, Nedhal Al-kazahy, 20, of Lincoln, didn't know about the charges until she was contacted by a reporter Tuesday. She said she believes they are without merit.
"All these charges just sound really stupid," she said. "It's a waste of time. My brother is not a dangerous person."
Al-Kazahg came home to Nebraska on leave May 23. The following day, the Nebraska Information and Analysis Center in Lincoln, a coalition of federal, state and local agencies tasked with monitoring security threats, issued a "be-on-the-lookout" notice for him.
The notice, obtained by The World-Herald, said he told another Marine that he would "shoot up" his battalion, starting at the barracks, if he were disciplined for certain misconduct. According to the bulletin, he also mentioned specific Marines he wanted to target.
It noted that he didn't make any threats against anyone in Nebraska.
The bulletin cited "suspicious statements" and "suspicious activity" by Al-Kazahg while serving in the Marines.
It also said the Lincoln Police Department had issued a caution about him in 2016 alleging that he was "dangerous, has an infatuation with guns and violent acts, and has a dislike for law enforcement."
Al-Kazahg worked as a corrections officer for the Nebraska Department of Correctional Services for about six weeks from May to July 2016, said Laura Strimple, a spokeswoman for the department.
It's not clear why he left after such a short time. Al-kazahy said he quit to fulfill a dream of joining the Marines, but he didn't enlist until Sept. 11, 2017, according to Marine Corps records. He was a landing support specialist assigned to the 3rd Marine Logistics Group in Hawaii.
A Lincoln police spokeswoman declined to discuss the reason for the caution, citing the confidential nature of the bulletin.
Al-kazahy said she and her brother — whose name is spelled differently because of a clerical error on his birth certificate — were two of seven children born to Iraqi refugees. Their parents came to the U.S. in the 1990s from Saudi Arabia following the Persian Gulf War. Ali was born in the United States.
She said their mother is deaf and their father died four years ago from kidney disease. The children, including Ali, grew up mostly in foster care, but they saw each other frequently and remained close. The oldest brother, Naif, 19, was shot to death on a street in Lincoln in July 2012 after being threatened by another young person.
"We all had a hard time with our childhood," said Al-kazahy, who worked as a page in the Nebraska Legislature and is a camp counselor to children in foster care.
The family is Muslim, Al-kazahy said, but her brother Ali converted to Christianity while living with a Christian foster family.
She said her brother was interested in guns, but no more than other Nebraska boys. She described him as an extrovert who played football in high school and studied criminal justice at Southeast Community College.
Al-kazahy said he was staying with his former foster parents in Milford while home on leave in May. She said he planned to work out at Offutt's gym the evening he was arrested. She added that he had posted a photo of himself there on the social media platform Snapchat a few days earlier.
Al-kazahy said she has received one letter and had one brief phone conversation with her brother since his detention in Hawaii.
"He's doing the best you can when you're in a military jail," she said. "He's upset that the military is doing this to him."
Be the first to know
Get local news delivered to your inbox!