It's safe to say Krystle Kageyama won't be getting a bouquet of flowers or breakfast in bed this Mother's Day.
Instead, the Navy Reserve lieutenant commander will roll out of her military-issue cot, pull on her green battle-dress uniform, tug her hair into a sensible bun, and report for a 12-hour duty day at Camp Lemonnier, Djibouti, in East Africa.
Back home in Bellevue her husband, Cory McGraw, will roust their two children, Xander, 4, and Adley-Grace, 2, fix them breakfast, and play some games with them.
Sometime today they hope to connect for a video chat.
"I don't have any plans for Mother's Day except the usual call home," said Kageyama, 38, in an email. "It's hard to celebrate holidays here with social distancing in effect, but we are all in the same boat, so I'm not alone."
Holidays via FaceTime are nothing new for deployed military families. Both Kageyama and McGraw, 39 — who served 11 years in the Navy as an engineer — have been through them before. In fact, they met while both were deployed to Afghanistan in 2011-12.
And no one should think they're complaining. In the post-9/11 military world, long separations are routine, if difficult. Everyone knows they're part of the deal.
"It is what it is," McGraw said.
Kageyama grew up in Hawaii, the oldest of three children. She attended the Kamehameha Schools, a network of private college prep schools for youths with native Hawaiian ancestry that dates to the late 1800s.
No one in her immediate family had served in the military. But she took an interest in her high school's Army JROTC program and loved it.
"I always believed that it was important to serve others and the community, so the military fulfills that desire," Kageyama said.
She won an appointment to the Naval Academy, graduated and was commissioned as an officer in 2004. She switched to the Naval Reserve in November 2005, working as a recruiter in Pensacola for two years while attending night school to earn a nursing degree.
Kageyama deployed for the first time to Afghanistan in 2009, spending eight months as assistant officer-in-charge for a support unit in Kabul.
Between 2010 and 2014, she deployed three more times: twice to Bahrain, and once more to Afghanistan.
Meeting McGraw changed everything. He grew up in a small town in Oregon. They got engaged on top of the Burj Khalifa in Dubai, the world's tallest building. Cory took military leave so the two could get married in Bahrain in February 2014.
He left the Navy the next year for a civilian job at a Navy base in California. In late 2016, they moved to Nebraska for Kageyama's next assignment at Offutt Air Force Base, with U.S. Strategic Command.
She worked as deputy battle watch commander in the Global Operations Center — StratCom's famous subterranean command bunker. She wrote plans for the two biggest annual exercises, Global Lightning and Global Thunder.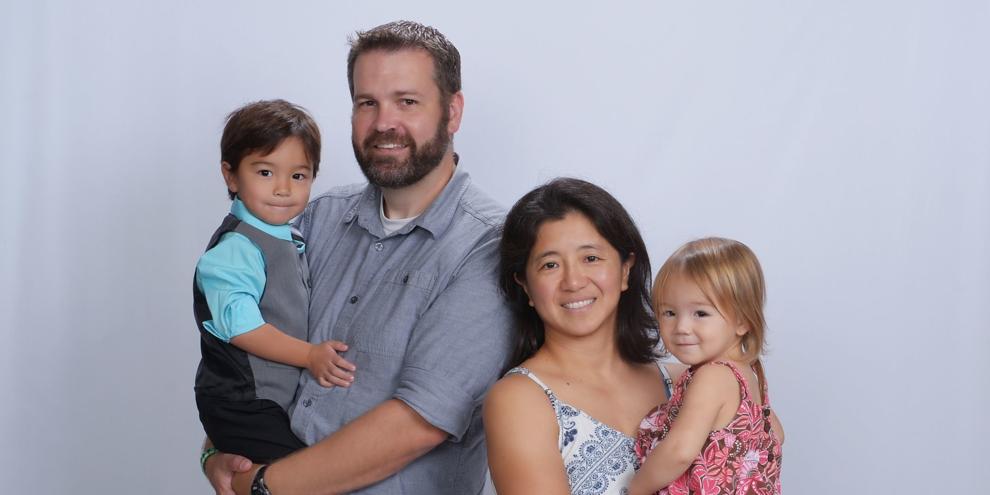 In Bellevue, she and McGraw have worked on building a life together. Since the birth of her children, Kageyama considers herself a "stay-at-home mom" except for part-time work as a registered nurse.
And except when duty calls, as it did for her latest deployment to East Africa — the headquarters of the battle against terror groups such as the al-Qaida-linked group al-Shabab in Somalia and other parts of the region.
Since Oct. 31, Kageyama has been the emergency management officer at Camp Lemonnier, home to about 3,000 U.S. troops. That means preparing the base and its people for potential disasters — chemical, nuclear and radiological.
Also medical. When she left Nebraska, no one had heard of COVID-19. Now, it's a big part of her daily life. She works 12-hour days, seven days a week, planning the coronavirus preparations and response. Social distancing requirements make that even more complicated.
"We can't have meetings with all personnel in the emergency operations center, but instead have to use teleconferencing and video conferencing solutions," she said in her email. "It does make it harder to work and accomplish the mission, but we get it done!"
Kageyama is experienced at deploying overseas, but McGraw is adjusting to a brand-new role.
"This is my first deployment on the home front," he said. "It's definitely been a learning experience."
Besides juggling child care duties for two preschoolers, he took a new job at StratCom a month ago after working three years at the Omaha VA Medical Center.
McGraw is also a long-distance dad to four sons, ages 11 to 17, from a prior marriage. They visited for the Christmas holidays, but a spring break trip was scrubbed because of the coronavirus pandemic. It's still uncertain whether the boys can come for the summer.
For the youngsters, it's day care during the week, and keeping the weekends as fun as possible while staying at home.
"I have to continually explain why they can't go to the zoo or the Children's Museum," McGraw said. "I make up for it with Nerf battles and squirt gun wars."
Despite occasional cries of "I want Mom," McGraw said the children are young enough that her absence doesn't cause too much pain.
"My 4-year-old understands: Mom's gone to Africa, but she'll be coming back," he said. "My 2-year-old is blissfully happy."
In far-off Djibouti, though, Kageyama knows she's missing important milestones. Xander is learning to read and tell time. Adley-Grace is talking, even stringing together full sentences.
"We try to show these to Mom via video chat," McGraw said. "Sometimes it works, sometimes it doesn't. I guess that's what you get with a 4- and 2-year-old."
This deployment is intertwined with the pandemic and contributes to Kageyama's biggest fear: What if Cory gets sick?
"It would be very hard for my children if my husband were to end up in the hospital due to COVID-19," she said.
They hope for McGraw's continued good health and that coronavirus travel restrictions won't prevent her from returning home as planned, in time for Xander's fifth birthday in the fall.
"I would like to have a date night with my husband and take the children somewhere fun," she said.
For now, the McGraw-Kageyama family will do what every separated military family does: video chat and take each day as it comes.
There may be no flowers or breakfast in bed, but Cory and the kids do have something a little special planned for Mother's Day. They've made a special sign out of construction paper.
Honoring our heroes: A gallery of Nebraska veterans
Honoring our heroes: Nebraska veterans and their service.