UPDATE: The Nebraska National Guard learned this week that it will receive full funding, totaling $62.3 million, to fully rebuild the Camp Ashland training site, according to a statement released Wednesday by the state's adjutant general, Maj. Gen. Daryl Bohac.
"That amount is a combination of new military construction funds to replace buildings that were completely destroyed with new, elevated buildings, as well as restoration and modernization of existing structures that sustained flood damage," Bohac said in the statement.
He added a thank-you to Nebraska Sen. Deb Fischer, the Defense Department and the National Guard Bureau "for their commitment to bringing the Camp Ashland Training Site back to its pre-flood operating capacity."
---
Thanks to a hefty Christmas gift from Washington, the Nebraska National Guard soon will be able to start rebuilding its flood-ravaged training site, Camp Ashland.
Guard officials say that is plenty to get the job started, and they are expecting to receive most of the rest of the money before the end of the year.
"I am very thrilled about this appropriation," said Col. Shane Martin, the Guard's construction and facilities management officer. "I'm going to build (the buildings) bigger, and on stilts."
And while the buildings will be bigger, there will be fewer buildings overall, so the total square footage will stay roughly the same, guard officials say.
The Guard is doubling down with pricey plans to again rebuild the 1,184-acre facility on the Platte River, fortifying it with bigger walls and stronger defenses to keep out future floods, and raising buildings with stilts.
Camp Ashland, 30 miles southwest of Omaha, is a regional training center used by as many as 100,000 National Guard, Army and Army Reserve members from Nebraska and nearby states. The Nebraska National Guard has used it for more than 100 years.
First the Salt Creek, which runs along Camp Ashland's southern boundary, overflowed its banks and filled the camp like a saucer. Over the next three days, the swollen Platte River ate away at the levee protecting the camp. Then the river ripped a gash near the levee's north end and opened a fast-moving channel through the middle of the training base.
Camp Ashland's low-lying buildings didn't stand a chance. Every structure not already on stilts suffered damage, some of it catastrophic. The water overwhelmed floodgates constructed after a major flood in 2015 that caused $3.7 million worth of damage.
This time, floodwaters rose 2 to 4 feet higher.
The ruined buildings included both classrooms and barracks, and the dining hall was badly damaged. All training was stopped at the camp for two months, and since then it has been largely limited to daytime drills. Soldier training at Camp Ashland dropped almost 80% from 2018 to 2019.
"We don't have much capacity to house people," Martin said, though some training has moved to other National Guard sites in Mead and Hastings.
Soon after the flooding, the National Guard Bureau in Arlington, Virginia, sent Nebraska about $4 million in emergency funds to clean up the worst of the damage.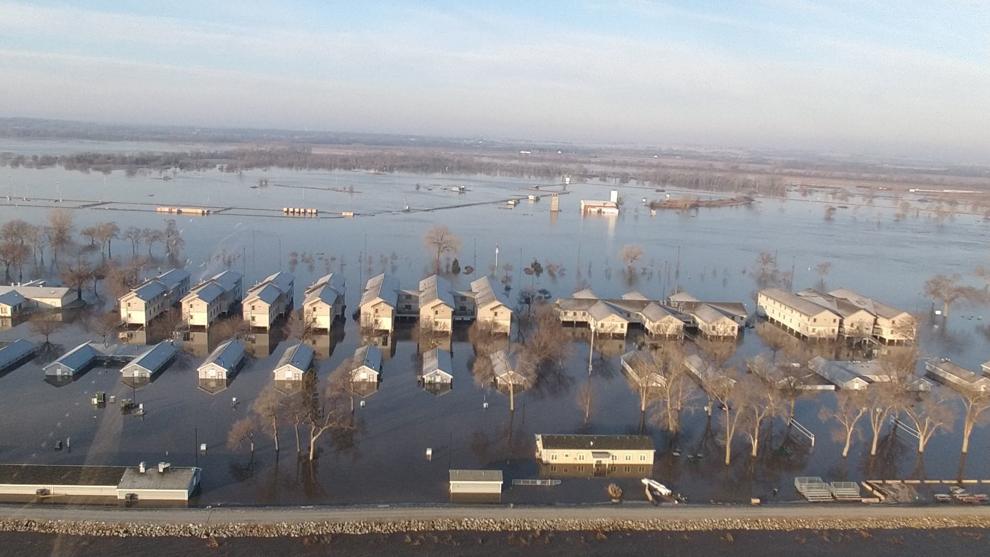 That allowed Martin to hire contractors to fill the gaping hole in the levee, tear out sodden drywall and insulation in the flooded buildings, and clean up massive amounts of silt, trash and debris left behind when the floodwaters receded.
"The grounds are all looking pretty good," he said. "We're patched. Everything is operational."
But to fully restore Camp Ashland, Martin said he needs $62.3 million. That includes:
$35 million to replace existing administrative offices, classrooms and barracks with seven new buildings, all built on stilt pilings at least 7 feet off the ground.
$8.5 million to extend to the north a 7-foot concrete bulkhead that currently runs inside the Platte River levee on the southern part of the camp.
$4.9 million for the design of those two projects.
$8.1 million to repair existing buildings and infrastructure, including $1 million for road repair, $2 million for grading and repairing trails and $3 million for land clearance and grading.
$3.6 million for a new maintenance building and a new gym.
$2.2 million to replace furniture and equipment.
The $48 million in federal military construction funds — secured through the efforts of Nebraska Sen. Deb Fischer and Reps. Don Bacon and Jeff Fortenberry — covers the first three items on the list. Martin said he expects construction contracts to go out for bids in late summer or early fall 2020, with work to last about 18 months.
On that timeline, the camp could operate again at full capacity in early 2022.
Sign up for World-Herald news alerts
Be the first to know when news happens. Get the latest breaking headlines sent straight to your inbox.
Martin said he is "very, very hopeful" to receive an additional $11.7 million this year to cover the fourth and fifth items on the list — the road, trail and building repair, plus gym and maintenance building — through a separate fund for "sustainment and restoration" of National Guard facilities.
"It sounds like it's going to be coming to us," he said. "But we have not seen these funds."
That would leave only the furniture and equipment unfunded. They won't be needed until most of the other work is completed, anyway.
"I'll be fighting for that furniture money in the next fiscal year," Martin said.
The National Guard has fended off arguments that it should abandon the site. But Martin said not only is it conveniently located — near Interstate 80, halfway between Nebraska's two major population centers — the Guard also has both a financial and historical investment in the property.
He pointed to Memorial Hall, the auditorium and meeting hall that is Camp Ashland's signature building. In the 1920s, Nebraska soldiers pitched in to build it. It was dedicated in 1929 and suffered $400,000 worth of damage in last year's flood, the first time waters climbed high enough to enter the structure.
"We have extreme history here," he said. "It's an amazing possibility for us to put Camp Ashland back the way it was."
Camp Ashland begins to recover after flood
The Nebraska National Guard has submitted a bill for the reconstruction of the flood-prone Camp Ashland training site on the Platte River, in Ashland, Nebraska.