Area Vietnam veterans have embarked on an ambitious project to build a memorial in Papillion for Nebraskans who served in the Vietnam War.
The Nebraska Vietnam Veterans Memorial would be built on empty city-owned property just south of the SumTur Amphitheater, said Dennis Schissel, president of the nonprofit Nebraska Vietnam Veterans Memorial Foundation, which is building the memorial.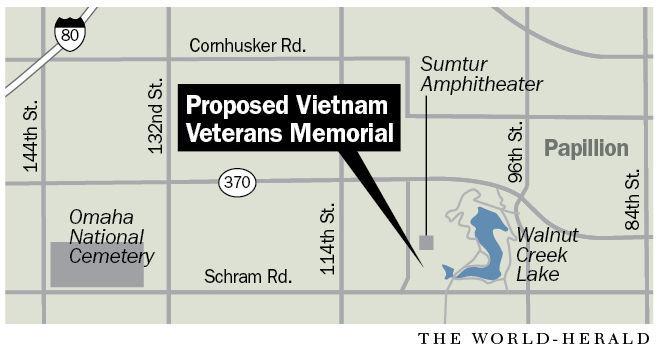 "It will be a different type of memorial than any other," he said. The group is trying to raise $3.6 million to make their dream happen.
Schissel, 68, who served in the Army from 1972 to '76, said the project started two years ago among members of the Vietnam Veterans of America Chapter 279. It has drawn support from prominent Vietnam veterans including former Sens. Chuck Hagel and Bob Kerrey, as well as Papillion Mayor David Black and Bellevue University President Mary Hawkins.
The committee was looking for something different from the somber black-granite Vietnam Veterans Memorial in Washington, D.C., which has been a place for sorrow and healing since its dedication in 1982.
Members chose a design that features a number of large obelisks arrayed in a parklike setting of about two acres, in a brick plaza interspersed with trees.
At the center of the plaza will be a large obelisk topped with an American flag. On one side of the plaza will be a series of smaller obelisks representing each year of the war.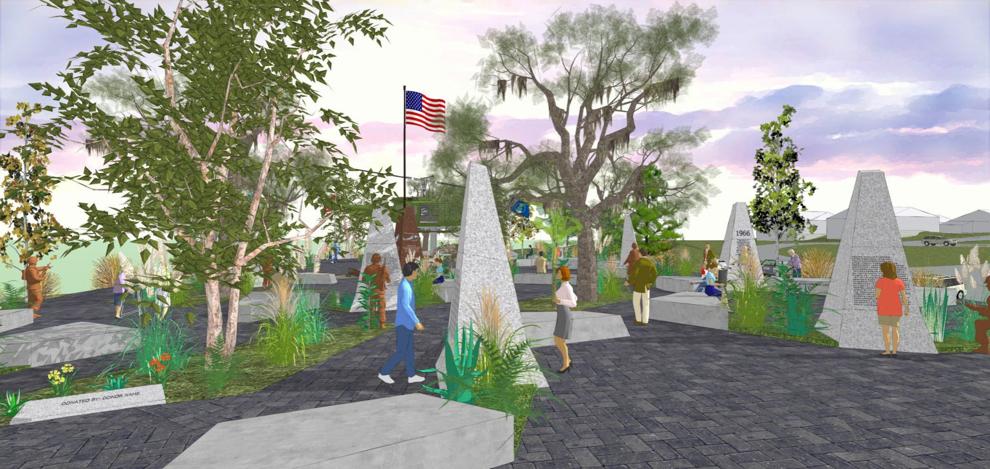 Those obelisks, Schissel said, will include a brief summary of the war's events for each year and a listing of Nebraskans who died in Vietnam that year. A separate obelisk will honor the service of women veterans.
The plaza also will feature monuments to each of the service branches. And the committee has obtained a surplus Vietnam-era UH-1 Huey helicopter, which will be displayed as part of an exhibit.
"We not only wanted it as a legacy to the Vietnam veterans, but as a way to teach future generations about the Vietnam War and the sacrifices made by these veterans," Schissel said.
Through a partnership with Bellevue University, the committee plans to develop a classroom curriculum to help schools in the state teach about the war.
Schissel said the committee considered sites in different parts of the state, particularly along the Interstate 80 corridor, and in the Omaha and Lincoln areas. But he said sites in the major cities were too expensive, and committee members feared that travelers would not stop along I-80 as they zip through the state at 75 or 80 mph.
Then they connected with Black, the Papillion mayor, who was enthusiastic about finding a site for the memorial in his city.
"We got on GIS mapping and looked through the entire city, public and private land," Black said. "The best site in Papillion was on city property."
The memorial will be on high ground just above the amphitheater and behind an existing gravel parking lot, which Black said will be paved. It's next to the Walnut Creek Recreation Area, which will make it easier for park workers to maintain.
The site is also close to Highway 370, about two miles from I-80, and Schram Road, which offers a straight shot to Omaha National Cemetery.
"We walked the site numerous times," Black said. "They said it was perfect."
Schissel said the committee has just begun fundraising and so far has received about $40,000 in donations.
He said the group had planned to go full-tilt on fundraising this year and begin construction next year. While a website, NVVMF.org, has been up and running since June 1 (including a button to make donations), pandemic-related limits on group gatherings have hampered the group's efforts to pitch to prospective donors.
"We'd hoped to be further along, but this COVID-19 threw a monkey wrench into everything," Schissel said. "Now, we can get out and meet people."
He said the veterans are passionate about the project. Many of them felt mistreated when they returned home because of the controversy over American involvement in Vietnam, which inspired widespread protests in the late 1960s and early 1970s.
"When we came back, we were made to feel ashamed of ourselves," Schissel said. "We had all been painted with the same brush, that we were kind of a ragtag bunch of malcontents."
Opponents of the Vietnam War haven't stigmatized the soldiers who served there for decades. But today's Vietnam veterans — there are more than 44,000 in Nebraska today — want to make sure that future generations understand the sacrifice and valor of their generation. More than 400 Nebraskans died in the war, and seven earned the highest award for bravery, the Medal of Honor:
» Marine Pfc. Ronald Coker
» Air Force Lt. Col. Gerald Young
» Marine Lance Cpl. Miguel Keith
» Navy Lt. j.g. Bob Kerrey
» Army Lt. Col. Charles Hagemeister
» Army 2nd Lt. Robert Hibbs
"We need to set the record straight," Schissel said. "Maybe if we build this memorial, people will remember."