In the Hollywood version of Rob Yllescas' life, the Army captain from Osceola, Nebraska, is talking Husker football in his last moments on Earth.
"I do like football. Nebraska," he tells another soldier, as they cross a rickety footbridge over a scenic river in northeastern Afghanistan. "Yeah, Nebraska fan."
His words are cut off by a massive explosion, and he disappears in a cloud of smoke from an improvised bomb. The camera cuts to a uniformed body, floating in the current below. Later, he is zipped into a body bag.
Yllescas' targeted killing by Afghan insurgents is a pivotal moment in the new film "The Outpost," which opened this weekend for home viewing through on-demand video platforms.
"The Outpost" tells the real-life story of Combat Outpost Keating, a desperately undermanned Army camp that stood in the rough borderlands just 14 miles from Pakistan from 2006 to 2009. On Oct. 3, 2009 — 10 months after Yllescas' death — Camp Keating was the site of the bloodiest battle of the Afghanistan War. The film is based on the engrossing 2012 book "The Outpost: An Untold Story of American Valor," by the CNN journalist Jake Tapper.
Against all odds, barely 50 American and Latvian soldiers, with limited air support, fought off an invasion by a Taliban force at least five times bigger. The defenders dodged an Alamo-style massacre only through astonishing bravery on the part of Camp Keating's badly outnumbered defenders, eight of whom died. Two of them — Staff Sgt. Clint Romesha and Spc. Ty Carter — were awarded the Medal of Honor.
The Battle of Kamdesh, as it came to be known, remains the bloodiest battle of the long war in Afghanistan.
"I was so impressed with these men. They were going to fight until the very end," said Barb Yllescas-Vorthmann, Rob's mother, who leads the Gold Star Families chapter for Nebraska and western Iowa. "It was a miracle from God that they came out alive."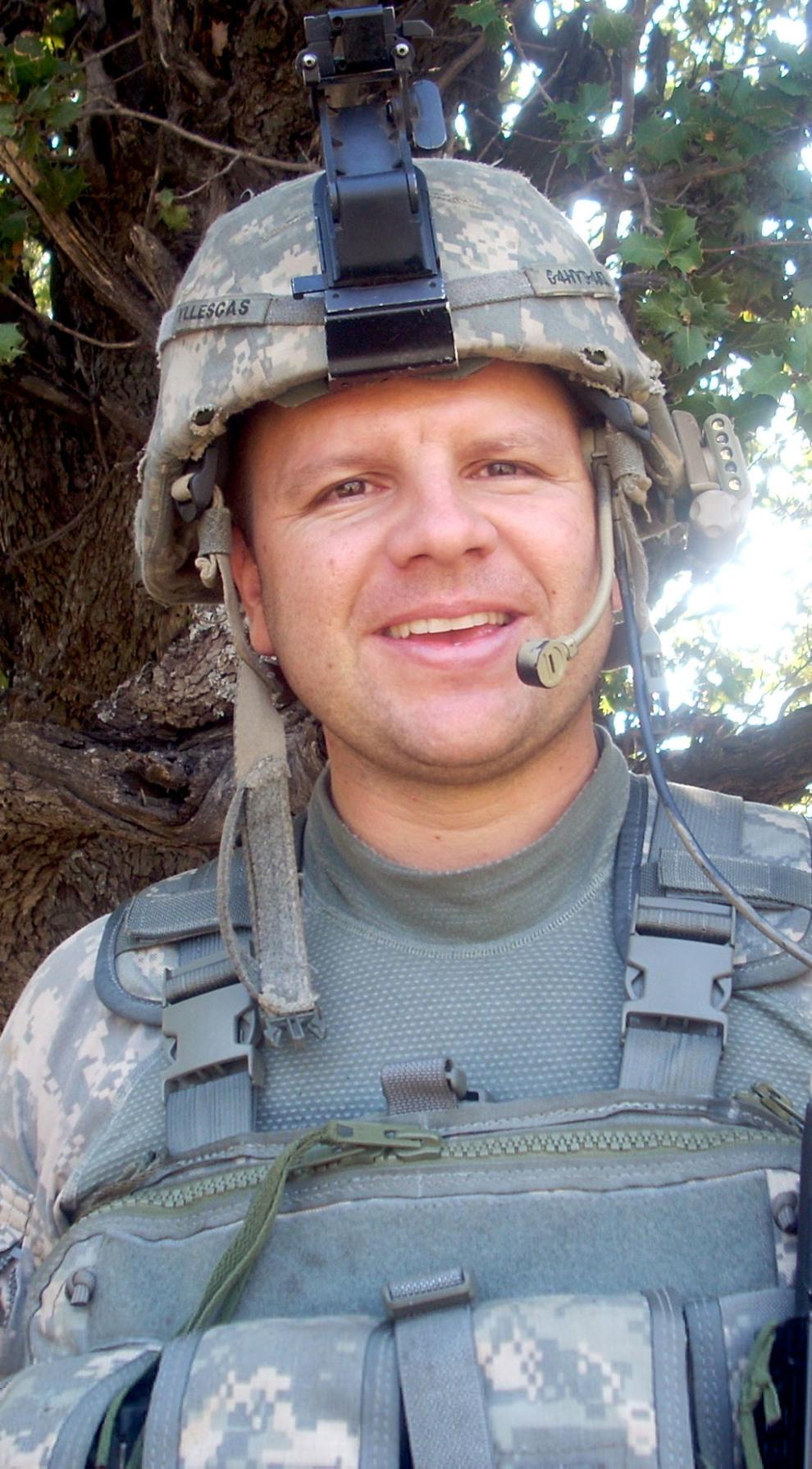 The movie portrays the growing anxiety at Camp Keating, which sits in an exposed location at the foot of three mountains in Nuristan province, and the dark, off-color banter among the soldiers from Bravo Troop of the 3rd Squadron, 61st Cavalry Regiment, before and during the final battle.
The film begins with the story of Capt. Ben Keating (played by Orlando Bloom), the unit's beloved first leader, who is ordered by a bullheaded senior officer to return a giant truck the unit never needed or wanted to a distant headquarters base over a dangerous and impassable mountain road.
Keating views it as a suicide mission, and insists on leading it himself. The mission, inevitably, goes awry.
Yllescas follows as the leader at the base that is named for his predecessor. He wins over his soldiers and is making inroads with the local elders when he meets his fate on the bridge. His men are left shaken and grieving.
Emboldened by Yllescas' slaying, attacks on Keating increase. The climactic battle fills most of the movie's second hour. The soldiers ignore clear warnings from their Afghan translators of a major attack, and are taken by surprise when it happens. They are pushed back and nearly annihilated.
Romesha, a staff sergeant and squad leader, rallies the surviving troops with the cry, "We're going to take this bitch back!" — a line that seems like a Hollywood flourish, but he actually said it.
Then, somehow, they do it.
Carter and three survivors of the battle are part of an ensemble cast that features Bloom, Scott Eastwood (Clint's son) and Caleb Landry Jones. Rod Lurie, a former Army officer, directed. He described "The Outpost" as his passion project.
Lurie built a replica of Camp Keating in a river valley in Bulgaria that survivors said closely resembled the original in Afghanistan's towering Hindu Kush mountains.
"They made it identical to the real one," said Milo Gibson, the 29-year-old actor who portrayed Yllescas, in an interview Wednesday. "When you walked in through the gates, you were instantly transported."
The film's distributors planned a big premiere for "The Outpost" in March at Texas' South By Southwest music and arts festival, with a nationwide release at more than 500 theaters over the long Fourth of July holiday, a make-or-break weekend for summer blockbusters.
The COVID-19 pandemic wrecked those plans. SXSW was canceled, and this weekend's opening is limited to 74 theaters nationwide that have been allowed to reopen. None are in Nebraska or Iowa.
Still, the film is garnering good early reviews. The Hollywood Reporter calls it a "visceral and admirably crafted war film," while Variety says it "represents the most exhilarating new movie audiences have been offered since the shutdown began."
Producers are betting that kind of buzz will get people to order it through streaming video services or their cable or satellite platforms, almost all of which are carrying it.
"We can only hope," Gibson said.
The movie's independent producers held a screening of "The Outpost" last October in Washington, D.C., for the soldiers who survived the battle at Camp Keating, and for the Gold Star families of those who didn't.
Barb Yllescas-Vorthmann wrestled for months with whether to attend. Finally she did, along with several of Rob's friends and relatives.
"I didn't want to go, but I knew I had to go," said Yllescas-Vorthmann, who lives in Treynor, Iowa. "We just held each other's hands. I kept my eyes closed through most of it."
Yllescas' widow, Dena Yllescas-Johnston (who has remarried and lives in Aurora, Nebraska), attended the screening with her husband and daughter Julia, who was 7 when her father died.
Yllescas-Johnston had braced herself to watch the Hollywood version of her soldier-husband's death, but she still froze when she finally saw it.
"It's like watching 'Titanic,' " she said, referring to the 1997 blockbuster film. "You know how it's going to end. But you still hope it doesn't."
It helped a bit that Lurie had fictionalized important aspects of Yllescas' death. As often happens, the reality is more complicated — and, in some ways, more dramatic — than the Hollywood version.
"It was easy to pretend it wasn't Rob," Yllescas-Johnston said. "There's so much more to his story."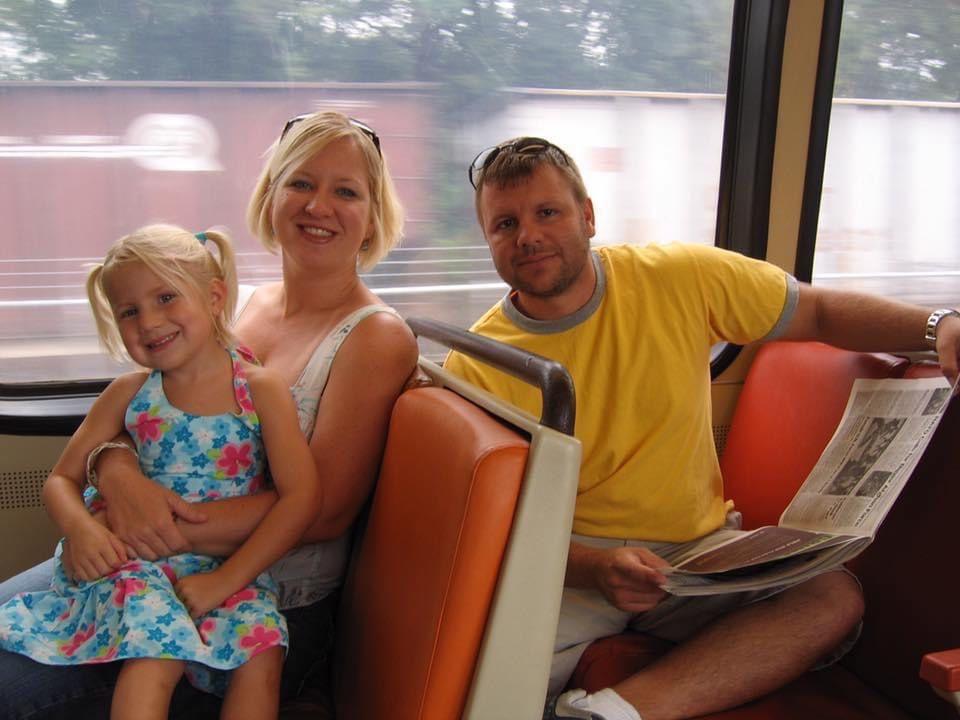 Yllescas had grown up in Guatemala, the home country of his father. He moved to Nebraska, his mother's home state, to attend the University of Nebraska-Lincoln. He met Dena there, and graduated with a degree in agronomy. He joined the Nebraska National Guard and entered active duty with the regular Army on Sept. 10, 2001.
Yllescas served two tours in Iraq before becoming commander of Bulldog Troop, 6th Squadron, 4th Cavalry Regiment, the unit he took to Afghanistan in June 2008.
Another soldier told Dena that her husband was going to one of the most dangerous places in the country. Yllescas downplayed that, but she knew he was anxious about the deployment.
"He said, 'I'm worried that someone is not going to come back alive,' " Yllescas-Johnston recalled.
Once he got there, Yllescas was frustrated by the lack of resources.
"He was tired. He was trying to get any kind of supplies," she said.
The film portrayed Yllescas' death as instantaneous, but that was a Hollywood fiction.
In fact, after the bomb blew up beneath him, Yllescas was plucked from the river, battered but still alive. He was medevaced by helicopter, spending time at hospitals in Afghanistan and Germany before he was brought to Bethesda Naval Hospital outside Washington. He lived for more than a month.
Yllescas never regained consciousness, but both Dena and Barb spent hours at his bedside. They told him stories about his daughters, Julia and baby Eva, and read him letters.
Dena kissed his hand and told him she loved him.
Three weeks later, he survived a dangerous brain operation — but then suffered a fatal stroke.
The Keating disaster exposed failures of neglect all the way up the chain of command — from military leaders who built the outpost in a highly vulnerable location and denied them the resources to defend themselves, to political leaders in Washington who diverted equipment and troops to war in Iraq.
Virtually every soldier who ever passed through Camp Keating could hardly believe it had been built there.
"It was a perfectly awful place. You're in a bowl, with high terrain all around," said retired Col. Christopher Kolenda, a Nebraska native who visited Keating frequently while commanding units in Nuristan in 2007-08. "It's the worst possible place where you could put an outpost — except for every place else in that area."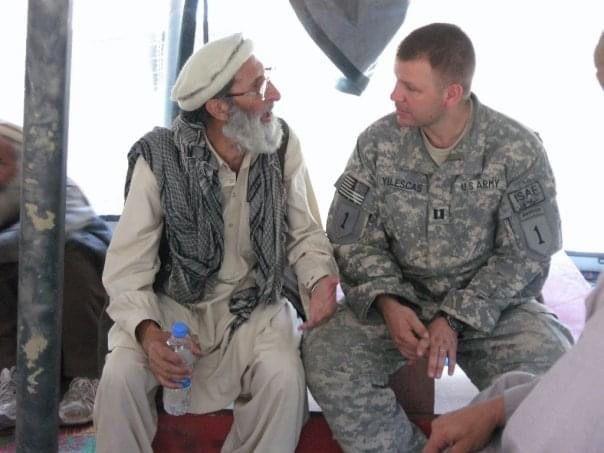 Kolenda (who is not portrayed in the movie) felt the best defense was building friendship and trust with local elders, a strategy called counterinsurgency. He was highly successful at it. Attacks dropped sharply under his command.
"The key to their success was being constantly out of the base, constantly interacting with the people," said Kolenda, who now lives in Milwaukee and is a leadership consultant. "Any attacks, we were notified in advance where they were going to be."
He met his fellow Nebraskan when Kolenda's unit handed off to Yllescas' in mid-2008. He clicked with the younger officer.
"He just impressed me as someone who got it and was very competent — that he had every intention of keeping up those relationships," Kolenda said.
Yllescas did, for a time. He told friends and family he loved the challenge of working with locals and outmaneuvering the insurgents. He described it as "like a chess game … with no rules."
"He would go to the locals, take off his gun, and sit down and talk to them," Yllescas-Johnston said.
He was so good at it that the Taliban targeted him. The Bulldog Troop soldiers no longer trusted the locals, and the Taliban exploited that by stepping up attacks on Camp Keating.
The events surrounding Rob Yllescas' death may not have taken place exactly like the movie, but Barb and Dena both were impressed by the actor who played him.
Milo Gibson — the son of actor and director Mel Gibson — questioned both of them at length to find out what Rob was like.
"He really wanted to make sure that he got Rob's personality," Dena said.
Gibson said he spent more than a month learning about Yllescas before the two-month film shoot in Bulgaria.
"It allowed me to get inside his head," Gibson said. "I wanted to do him justice."
Barb and Dena hope the film inspires people to want to learn more about Rob Yllescas and the war that took his life.
"Rob's part is only 20 or 30 minutes. It doesn't really show what a great job he did," Dena said. "I highly recommend people read the book."
Barb has mixed feelings about the cause for which she sacrificed a son. It bothers her that few people seem to realize the war is still going on, more than a decade after his death.
"We don't hear enough about it. We still have forces in dangerous places," she said. "People nowadays need to see what happens when we send our men and women off to war."
---
Offutt Air Force Base through the years