An Air Force jet piloted by an Offutt-based crew is flying the first aerial photography flight over Russia in more than a year under the Open Skies Treaty, Pentagon officials confirmed, marking a return to some limited military cooperation between the two nations.
The OC-135B flew from Offutt Air Force Base to Japan late last week. On the way there, they picked up a team of monitors from the Defense Threat Reduction Agency to staff the expensive "sensors," or cameras, mounted in the cabin of the four-engine jet. It flew on to Russia on Monday.
The observation flight was scheduled to take place Friday and Saturday local time (Thursday and Friday in Omaha) and begin in Khabarovsk, in the Russian Far East, according to the Russian Defense Ministry.
Sign up for World-Herald news alerts
Be the first to know when news happens. Get the latest breaking headlines sent straight to your inbox.
Six observers from the Russian Federation were to be on board, said Eric Pahon, a spokesman for the Office of the U.S. Secretary of Defense.
The Open Skies Treaty, ratified in 1992 after the Cold War, allows its 34 members to fly supervised aerial photography missions over one another's territory.
Since then, member nations have flown more than 1,400 flights.
But all regular flights were grounded in 2018 because of a dispute between Russia and its neighbor, the former Soviet republic of Georgia.
Georgia refused to allow Russia to conduct a flight over parts of its territory because of a border dispute stemming from Russia's 2008 invasion and subsequent occupation of disputed territory.
"It sounds to me like the logjam that was generated by Georgia's pique, and Russian generalized misbehavior, has been broken," said Michael Krepon, co-founder of the Stimson Center, a nonpartisan think tank focused on peace and security issues. "This is excellent news."
Russia's occupation and annexation of Ukraine's Crimean Peninsula and fomenting of instability in eastern Ukraine have caused U.S.-Russia relations to tumble to a post-Cold War low.
The tension has played out in disputes over treaties, including Open Skies.
For the past two years, the two sides traded jabs over mutually imposed limits on certain flights and airfields where their planes can stop overnight in each other's country.
They also disagreed over Russian upgrades to modern digital cameras and a new Tu-214 aircraft, which the U.S. has been slower to match. Although new sensors have been ordered, the U.S. still uses wet-film cameras on 57-year-old aircraft.
As a result, some Republican critics of the treaty have said it should be scrapped, arguing that Russia benefits more than the U.S. For a time last year, the U.S. balked at certifying Russia's new plane.
Also, both countries have recently suspended the 1987 Intermediate-Range Nuclear Forces Treaty that eliminated one class of nuclear weapons. President Donald Trump has also taken aim at the New START Treaty, signed in 2010, which cuts in half both countries' arsenal of strategic missile launchers.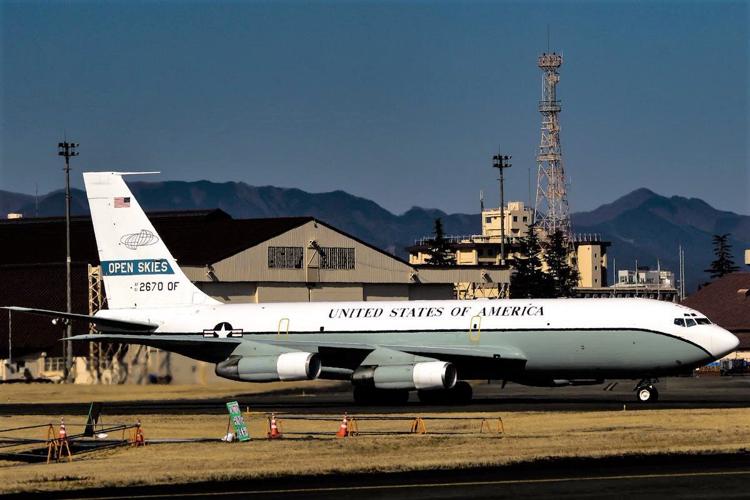 While those disputes remain, in October, the U.S. reversed course and agreed to certify the new Russian Open Skies plane. Russia and Georgia also resolved their differences, leading to the resumption of flights this year. Although no regular flights were flown in 2018, the U.S. did fly one "extraordinary" flight over central and western Ukraine in December, a response to the Russian navy's capture of a Ukrainian ship and attempted blockade of Ukrainian ports.
The U.S. has been approved to fly 16 observation flights over Russia and Belarus this year, as well as two flights over Ukraine and one over Georgia.
Russia has been approved for up to 42 flights, eight of them over the U.S. This week, a Russian Open Skies crew flew over Turkey, according to a press release from the Russian Defense Ministry. They are scheduled to fly over the U.S. next month.
"Things are back to normal-ish," said Steffan Watkins, an independent analyst from Ottawa, Canada, who closely follows the workings and politics of the treaty.
Now it appears that the U.S. could shortly get new planes to replace the aged OC-135s. The two old planes were built in 1961 and have endured frequent mechanical breakdowns for years.
"The air crews are being stranded in Russia for weeks at a time, put in really awkward situations," Rep. Don Bacon, R-Neb., a retired Air Force officer who formerly commanded the 55th Wing, said last year. "You're compelling our airmen to fly in these old airframes, and putting them in danger."
In its 2019 budget, the Trump administration proposed buying two new small airliners, at a cost of $222 million, to fly Open Skies missions in the future.
Nebraska's Republican congressional delegation fought off an attempt by Open Skies opponents to kill funding for the new planes. A letter from then-Defense Secretary Jim Mattis to Sen. Deb Fischer, R-Neb., asserting the need for the aircraft helped quell opposition.
A notice posted last month on a federal website, FedBizOps.gov, indicated that the Air Force plans to seek bids in May for the purchase of the new planes.
Photos: Our best shots of 2019 (so far)
Take a spin through the best of our staff photos from 2019. The gallery will be updated throughout our journey through the next year.