In a week that has seen the literal toppling of statues celebrating the Confederacy, a groundswell is building to cleanse the U.S. military of names and symbols of the Confederate rebellion during the Civil War.
Last week, the Navy and Marine Corps banned the Confederate "Stars and Bars" battle flag from being displayed on its ships and installations. This week, the focus is on renaming 10 U.S. Army bases named for military leaders who fought for the losing Southern side, including such well-known bases as Fort Bragg, North Carolina; Fort Rucker, Alabama; Fort Hood, Texas; and Fort Lee, Virginia.
On Thursday, Nebraska Republican Rep. Don Bacon, a 29-year Air Force veteran, joined with Rep. Anthony Brown, D-Md., a 30-year Army veteran, in introducing a bill to create a commission that would replace such names within a year.
The bill would create the National Commission on Modernizing Military Installation Designations, composed of individuals appointed by service secretaries as well as members of Congress. It would review and make recommendations for renaming bases or property "which have designations not in line with the values of this country or the mission of the United States military."
All the bases are in Southern states. In addition to Forts Bragg, Hood, Rucker and Lee, those slated for renaming in the legislation include Camp Beauregard, Louisiana; Fort A.P. Hill, Virginia; Fort Benning, Georgia; Fort Gordon, Georgia; Fort Pickett, Virginia; and Fort Polk, Louisiana. The Navy cruiser USS Chancellorsville, named for a Civil War battle that resulted in a resounding Union defeat, also would be renamed, along with other facilities designated by the commission.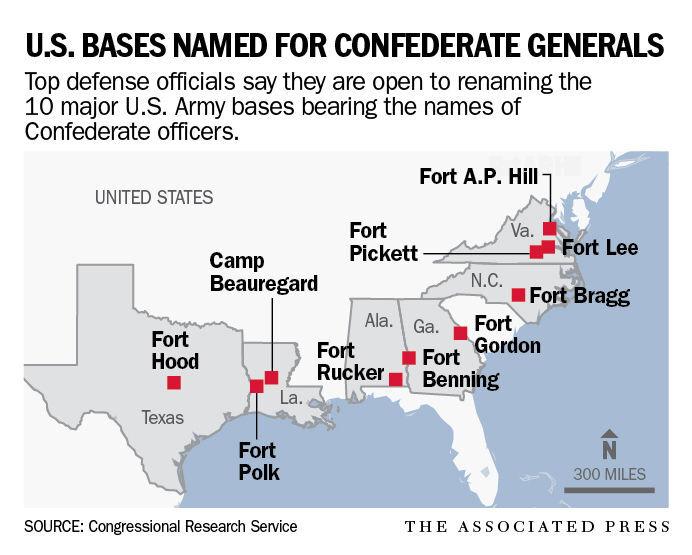 Most were named after World War I and in the 1940s, in some cases as gestures of conciliation to the South.
"It is only right that our installations bear the names of military heroes who represent the best ideals of our Republic," Bacon said in a joint statement with Brown. "We owe this to ourselves, to our military, our veterans, and to every American who will answer the call."
Bacon said the purpose of the commission would be to determine not if the names should be changed, but how, and to involve all interested groups in choosing new names.
Bacon's Omaha-area House colleague, Republican Jeff Fortenberry, did not state a position on Bacon's bill but said in a statement he is "evaluating a variety of proposals that deal with violence by police and past injustices."
Sign up for World-Herald news alerts
Be the first to know when news happens. Get the latest breaking headlines sent straight to your inbox.
The move in the Democratic-controlled House runs parallel with an effort in the Senate, where a GOP-led Armed Services Committee on Thursday approved a plan to remove the names of Confederate figures from bases and other assets within three years.
The plan, proposed by Sen. Elizabeth Warren, D-Mass., was approved on a voice vote as a piece of the annual Pentagon policy bill.
Earlier this week, Defense Secretary Mark Esper and Army Secretary Ryan McCarthy said they were "open to participating in a bipartisan discussion" on changing the names, reversing a position that had been stated as recently as February.
On Wednesday, though, President Donald Trump tweeted his opposition to removing Confederate names.
"The United States of America trained and deployed our HEROES on these Hallowed Grounds, and won two World Wars," he said in part. "Therefore, my Administration will not even consider the renaming of these Magnificent and Fabled Military Installations."
...history of Winning, Victory, and Freedom. The United States of America trained and deployed our HEROES on these Hallowed Grounds, and won two World Wars. Therefore, my Administration will not even consider the renaming of these Magnificent and Fabled Military Installations...

— Donald J. Trump (@realDonaldTrump) June 10, 2020
Despite Trump's emphatic stance, Bacon believes the president may change his mind in the face of widespread support for changing the names.
"I think the can be persuaded when he gets feedback — especially from Republicans," Bacon said.
Confederate monuments have reemerged as a national flashpoint since the death of George Floyd, a black man who died after a white Minneapolis officer knelt on his neck for nearly nine minutes. Protesters decrying racism have targeted Confederate monuments in multiple cities, and some state officials are considering taking them down.
Bacon is facing a close race for reelection against Democrat Kara Eastman, whom he narrowly defeated in 2018.
Eastman said in a statement Thursday that Congress should act more quickly than Bacon is proposing to rename bases. She cited the example of Brig. Gen. Henry Benning, namesake of Fort Benning, Georgia. In 1861 he justified Southern secession out of fear that abolition would lead to "black governors, black legislatures, black juries, black everything."
"How can we justify having a military base being named after him for even one more day?" Eastman said in the statement. "It's a no-brainer. We already know the answer here."
This report includes information from the Associated Press.
---
Offutt Air Force Base through the years