Every day, 55th Wing air crews carry out some of the Air Force's most secret and sensitive missions aboard jets so old and trouble-prone that no U.S. airline would think of flying them. 
In recent years, these crews have survived mishaps that would terrify passengers if they happened on a commercial flight. An engine on fire at 31,000 feet. A pressurization failure that made the cabin feel like the summit of Mount Everest. A broken cockpit windshield over the ocean, hundreds of miles from land. Fuel gushing out from under a navigator's console. A galley fire so intense that crew members compared it to a blowtorch. 
55th Wing crews based at Offutt Air Force Base near Omaha have endured all of these and more, according to documents obtained by The World-Herald. In more than a few cases, the jets have returned home safely only because of heroic efforts by their flight crews.
The idea for this World-Herald series on the safety of the 55th Wing C-135 reconnaissance fleet was sparked three years ago, when 27 crew memb…
A C-135 military jet is about 110 times more likely than a commercial airliner to be forced to land early because of mechanical failure, statistics show.
"If my airline had that record, the FAA would have said, 'Stop flying and fix the problem,'" said Frank Strickler, a former Air Force pilot and senior captain for American Airlines who has helped the FAA investigate air crashes.
Breakdowns in the 55th Wing's 29 jets have caused the unit to scrub nearly one out of every 12 missions since 2015.  On more than one in four flights, the Wing's planes came back too broken to fly. That's among the worst rates in an Air Force that has had widespread problems with its aged, breakdown-prone aircraft.
The C-135 jets all were built more than 50 years ago  and are nearly the oldest planes in the Air Force. They suffer from chronic problems common to aging aircraft. Still, the Air Force plans to keep flying them for another 30 years. By comparison, it's been 35 years since U.S. airlines last flew the Boeing 707, the civilian version of the same jets.

Some 55th Wing veterans look at more than 80 emergencies and aborted flights per year and see an overworked fleet that is vulnerable to disaster.
"That is beyond comprehension," said retired Brig. Gen. Reg Urschler of Bellevue, a member of the 55th Wing Hall of Fame who commanded the unit in the late 1970s. "It is unacceptable — totally, unequivocally unacceptable."
Former 55th Wing pilot Robert Hopkins III, who chronicled the long history of these reconnaissance jets in his new book "Boeing KC-135 Stratotanker: More than a Tanker," put it even more bluntly.
"There are too many things going wrong here," he said. "We're going to fly these airplanes until somebody dies."
55th Wing leaders argue vigorously that safety is their top priority. The Wing has not lost an airplane in a crash since 1997.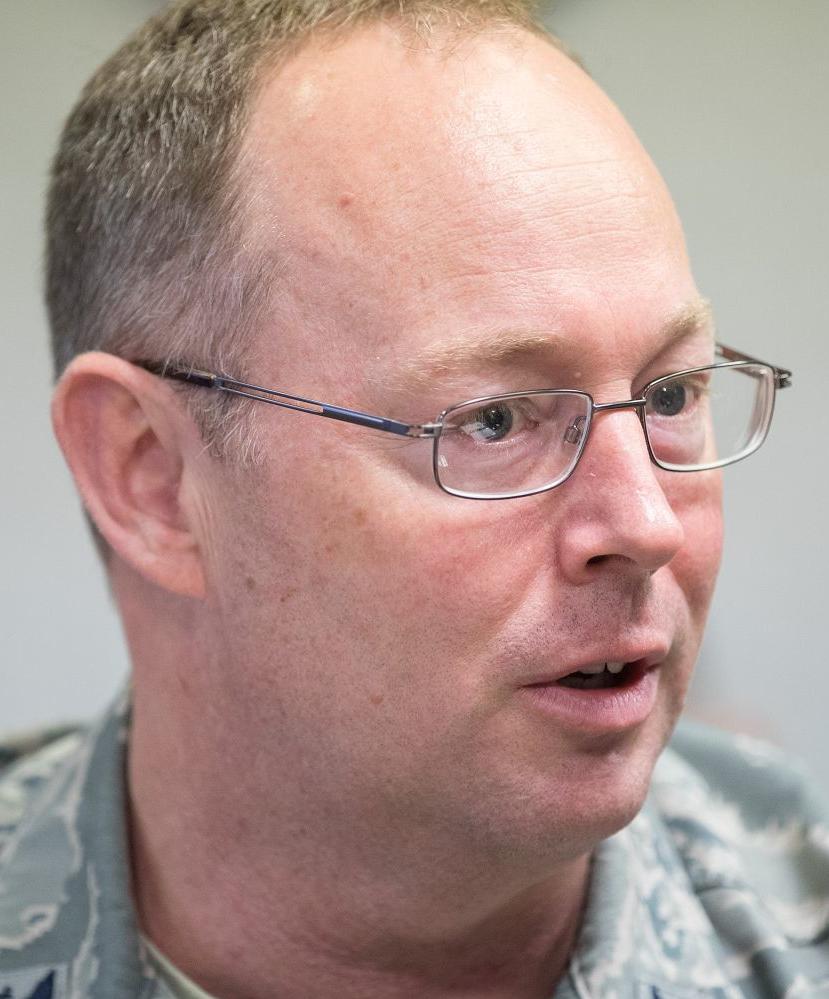 "I have complete confidence in flying this aircraft," said Col. David Berg, the 55th Wing's vice commander. "These (planes), from every angle, are meticulously maintained."
The Air Force conducted studies in 2008 and 2012 that concluded that, with the proper upgrades, these planes can fly for another 20 to 30 years. Each jet receives periodic major overhauls conducted by L3 Technologies, a Texas-based defense contractor that has been outfitting the jets for their specialized reconnaissance missions since the 1960s.
"It's like having your 1950s car rebuilt every five years," said Maj. Gen. John Rauch, who commanded the 55th Wing five years ago and now heads the Air Force Safety Center. "We're not planning on flying it forever. But this one gets a lot of maintenance love."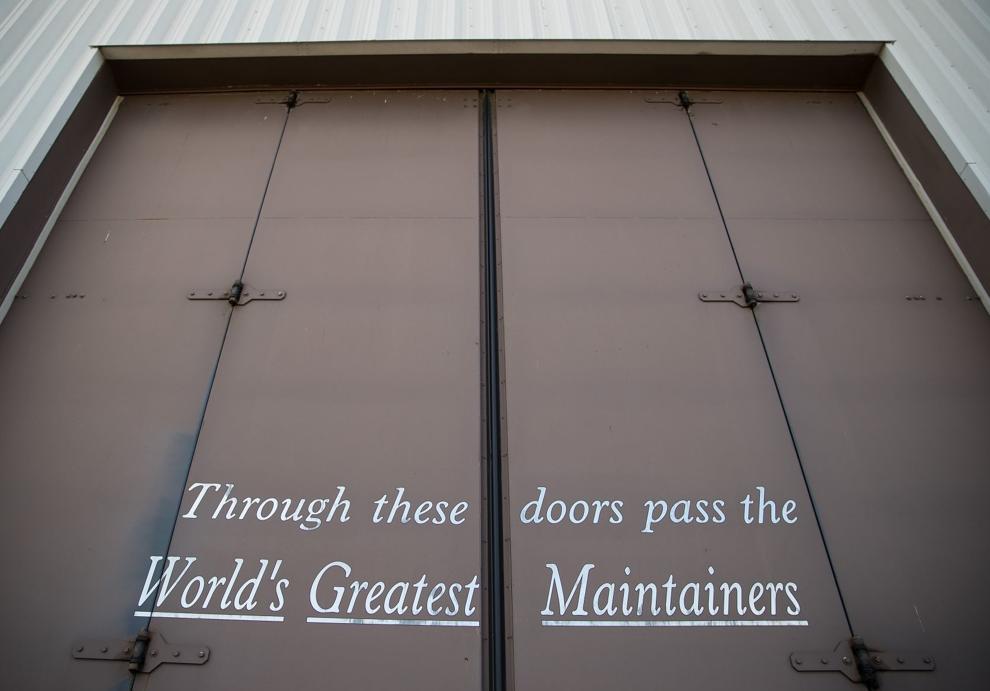 In spite of that love, records show that mechanical failures persist in the 55th Wing fleet. Among The World-Herald's findings:
» In the past six years, 55th Wing flights have been cut short by mechanical problems or marked by emergency at least 505 times.
» In at least 216 of those cases, the pilot declared an in-flight emergency — defined by the Federal Aviation Administration as a condition of "distress" or "urgency" — giving the flight clearance and priority over every other aircraft in the sky. The declaration also summons firetrucks and rescue crews to meet the plane when it lands. Those numbers don't include bird strikes, which interrupted another 70 flights.
» Hundreds more flights were "redballed" — scrubbed before they began because of mechanical problems discovered by the flight crew. In some cases, missions are flown by another jet, but it's not clear how many.
» Mechanical failures forced 55th Wing crews to cancel almost 8 percent of their sorties from 2015 to '17, according to maintenance data released by the Air Combat Command.
» 55th Wing jets often come back from sorties too broken to fly again without mechanical repairs, a measure called the "break rate." Over the same three years, the Wing's C-135s have a collective break rate of 27 percent.
» Among these jets, the two radiation-sniffing WC-135 jets had the highest break rates of any plane type in the Air Force during 2015 and 2016. More than 40 percent of the time they returned broken from sorties. By comparison, the Offutt-based E-4B Nightwatch jets, which are 42 years old (and since 2016 are no longer part of the 55th Wing) had break rates of about 2 percent.
» Mechanical problems frequently recur on the same aircraft. In several instances, the same type of failure caused in-flight emergencies or aborted flights on the same aircraft within a few days or weeks. "I'm becoming increasingly concerned with safety as this malfunction happens more frequently," wrote the pilot of a jet in February 2017 after the aircraft's radios failed on approach to Lincoln Airport.
Some recent examples of 55th Wing RC-135 aircraft that experienced repeated mechanical failures in a short period of time.
» 55th Wing flights are scrubbed due to mechanical failure at rates exponentially higher than U.S. civilian airlines, which operate much newer aircraft. About 3 in 10,000 U.S. commercial flights landed early in 2015 because of mechanical failure, according to a November 2016 investigative report by the Tampa Bay Times. For the 55th Wing, the comparable rate of interrupted flights during fiscal years 2012-16 was 330 per 10,000 flights — 110 times greater.
The litany of maintenance and safety problems reflect an underfunding of the Air Force that's gone on for years, said U.S. Rep. Don Bacon, a retired brigadier general who commanded the 55th Wing from 2011 to 2012 and now represents Nebraska's 2nd District in Congress.
"What you're showing me is sort of what I've seen in my 30 years (with the Air Force)," Bacon said. "I'm not saying it's good. But unfortunately, it's not abnormal."
The news about the 55th Wing comes at a time of increasing concern throughout the military about aircraft safety. An April investigative report in the newspaper Military Times showed that moderately serious mishaps (those involving damage of $50,000 to $500,000) have risen 40 percent across  all military branches since 2013. The Military Times list of mishaps included several from the 55th Wing.
Across all branches, 133 aviators were killed in crashes between 2013 and 2017. Thirty-five more have died during the current fiscal year, which began Oct. 1, 2017. None have been killed in the 55th Wing.
Addressing the House Armed Services Committee in April, Defense Secretary James Mattis described the fatalities as "a tragic manifestation of readiness that has degraded during 17 years of war and made worse by budget cuts and fiscal instability."
Senior Air Force and military leaders agreed that they need to look hard at aircraft maintenance and replacing old aircraft.
"We cannot repair our way out of the situation we are in," Mattis said. "We're actually going to have to buy, in some cases, the capabilities we have simply worn out and had to set aside and can't even be repaired."
The 55th Wing's stressed reconnaissance fleet has been at war for decades. The planes deployed to the Middle East in August 1990, in the run-up to the Persian Gulf War. The Offutt-based jets and air crews have been deployed continuously ever since.
Although they operate in the shadows, it's hard to overstate the importance of the missions these planes fly. Some monitor radio, radar and other electronics signals and pass along intelligence immediately to troops on the ground in Afghanistan, Iraq and Syria. Some monitor missile launches in Russia or North Korea, and others sniff the atmosphere for nuclear radiation.
"They are now the No. 1 aircraft that every theater commander asks for," Hopkins said.
The crew of one reconnaissance jet called Python 71 won an award from the Air Force Association two years ago for a Nov. 12, 2015, combat mission that shows both the value and the fragility of these planes.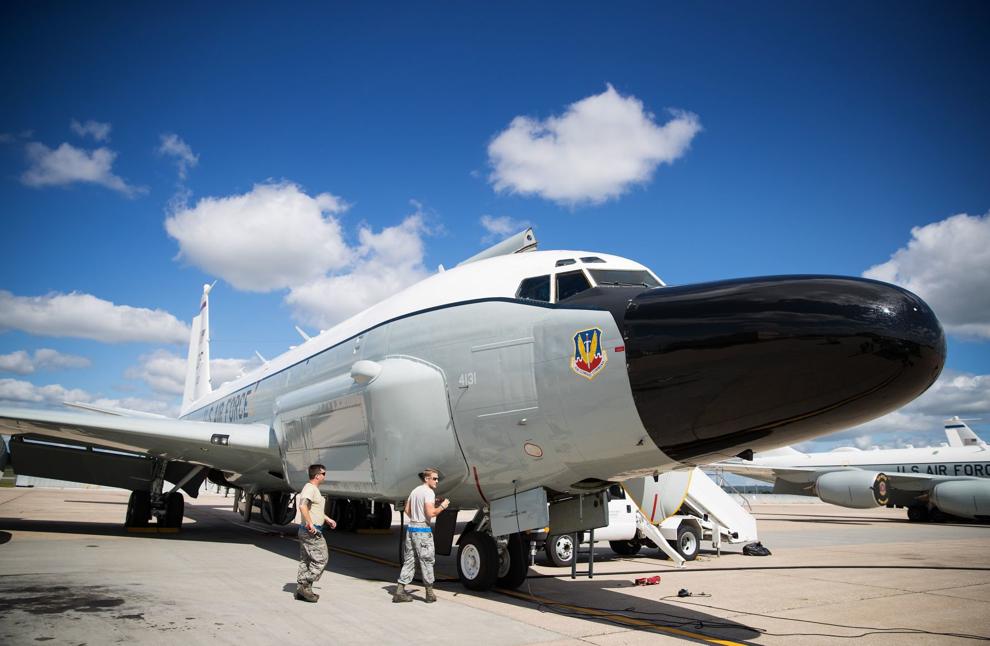 That day the crew aided U.S. and Kurdish forces on the ground in the liberation of the northern Iraqi city of Sinjar from Islamic State militants. Listening to electronic signals, they quickly passed along multiple threat tips and alerted strike aircraft to 19 insurgent locations. They aided airstrikes that led to destruction of 26 enemy fighting positions and the death of 135 Islamic State fighters. One tip saved two Iraqi army helicopters from being shot down.
But the flight almost didn't happen. When the crew got to the aircraft that morning at Al Udeid Air Base in Qatar, a critical antenna was broken and a reserve braking system had suffered a hydraulic leak. The RC-135 got off the ground several hours late.
"In order to do our reporting, our equipment has to be working," said Master Sgt. Michael, the airborne mission supervisor on the flight, whose last name may not be revealed under Air Force rules, in a 2016 interview. "The amazing thing was, the maintainers pulled it together and fixed it."
For that day, at least. The jet missed a mission the next day because of the problem with the reserve brake, records show. Crews were forced to scrub six more combat missions aboard the plane over the following six weeks because of mechanical problems.

The 55th Wing's maintenance problems have made headlines in the past, too.
In 2008, the Kansas City Star published allegations by George Sarris, then a civilian mechanic at Offutt, that the 55th Wing had failed to conduct required inspections on its jets, didn't replace certain parts on schedule and improperly repaired landing gear. The newspaper reported that several other then-current and former mechanics supported his claims. He also submitted his concerns to Congress through the office of Iowa Sen. Chuck Grassley.
At the time, the 55th Wing denied some allegations and said it had moved quickly to fix others. The Wing suspended Sarris' security clearance and reassigned him to a job with menial duties. He later sued under whistleblower-protection laws in a case that was settled out of court. He was allowed to keep his pay and retirement, though he never got back his security clearance. He retired from the 55th Wing in 2014 and still lives in Council Bluffs.
Sarris reviewed The World-Herald's documents regarding incidents and said he believes they represent a continuation of the problems he tried to expose a decade ago.
"These planes are not safe to fly. They're not maintained properly," Sarris said. "They've got a crisis in (these aircraft), and they're not dealing with it."
Hopkins said the Air Force is relying too heavily on its military and civilian mechanics to keep an ancient fleet in the air.
"What more miracles can the folks at Offutt do to keep these planes flying?" he asked.
The jets use the same basic airframe as the KC-135 tanker, configured differently for the varying intelligence, surveillance and reconnaissance missions that they carry out for the 55th Wing.
Hopkins said the reconnaissance jets were certified for 29,000 flying hours. All but three aircraft in the 55th Wing have passed that figure, some of them long ago. The current fleet averages about 41,000 hours. Six have racked up more than 50,000 hours. Their original manufacturer, Boeing, no longer supports them.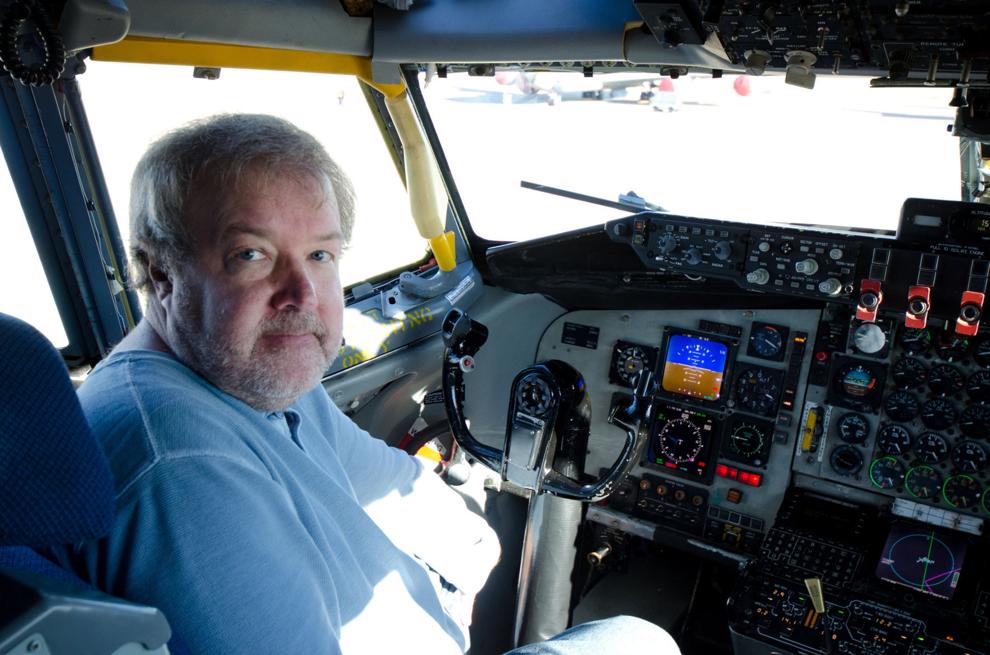 Most of the jets have received major upgrades to bring them more up to date. Nearly all have been updated with "glass cockpit" avionics, which are simpler and easier to use than older analog switches and gauges.
And in the 2000s, the Air Force upgraded them with modern and more powerful engines, which generate more electricity for the power-hungry surveillance equipment they carry in their reconnaissance areas.
"It's not a new airplane, but it's the next best thing," Bacon said.
But in many ways, they are the same aircraft Boeing used to usher in the jet age 60 years ago.
"The designers of these airplanes were schooled in the 1940s. These are first-generation jets," said John Cox, a safety analyst and former airline pilot who now runs an aviation consulting firm.
He said their brakes have a primitive anti-skid system. Their circuit-breakers and valves are old, and their hydraulic systems tend to leak with age.
The Air Force is acutely aware of its old airplanes. Across the service, aircraft average 27 years old, said Air Force Secretary Heather Wilson in a 2017 interview with The World-Herald. That's more than twice the average age of the U.S. commercial-airline fleet.
"Our aircraft are older, it becomes costly to maintain them and we need to modernize across the fleet," Wilson said.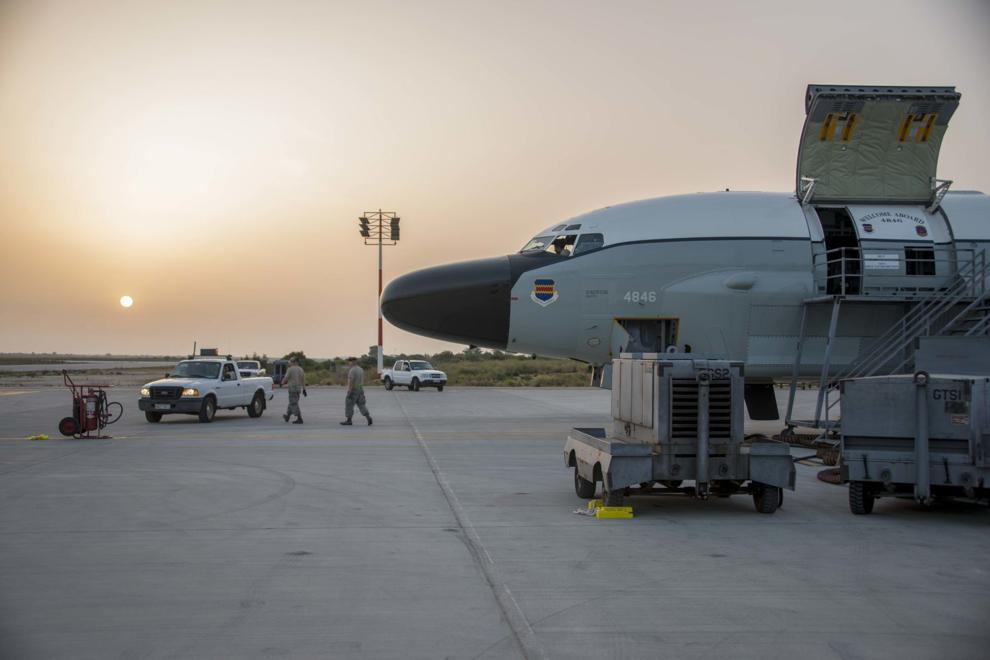 The Pentagon has begun a long and expensive program to replace its large fleets of bombers, fighters and tankers — collectively, some 2,000 airplanes costing some $250 billion.
But replacing the recon jets isn't very high on its wish list.
"If the world was perfect, we would like new aircraft," Bacon said. "There's more on our plate than we can pay for."
That's why the Air Force expects to continue flying the Rivet Joint and its recon siblings for a few more decades.
"There's no serious effort to replace these airplanes, upon which so much depends," Hopkins said. "No one has the courage to say, 'the sky is falling.' "
Tomorrow: Emergencies and aborted missions are common in the 55th Wing. A few have been near-disasters. 
In-flight emergency: An investigation into flight safety at Offutt's 55th Wing
Despite periodic overhauls and "a lot of maintenance love," the 55th Wing's 29 planes average more than 80 emergencies and aborted flights per year. Some Air Force veterans fear for crews that take to the sky in the aged, overworked jets. Yet the Air Force plans to keep flying them for 30 more years. Click on links in captions to read individual stories. Or start here.