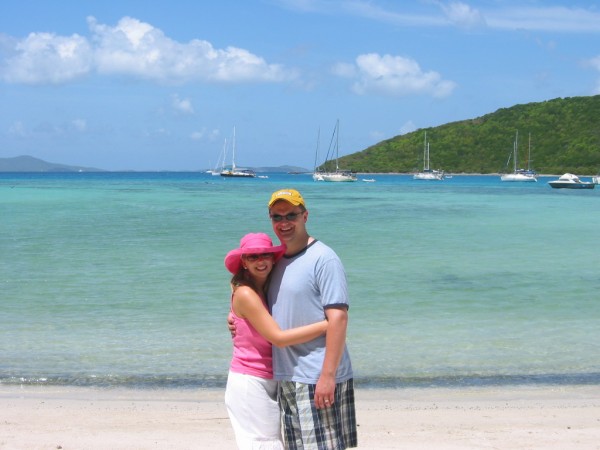 I have a framed picture hanging in my main floor bathroom. It's a photograph of my husband and me on our honeymoon. We are posed in an embrace on the sandy shores of St. John, USVI. He's sporting a younger face and plaid swim trunks, and I'm rocking the only string bikini I have ever worn- or will ever wear.
Every time I'm helping the kids wash their hands or brush their teeth, I see this snap shot of a magical moment in time. For a brief moment I can feel the warm Caribbean water wafting against the back of my legs. I can see the empty, white sand beach and feel the embrace of my new husband. Sometimes I even taste the sugary rum drinks and hear the steel drums harkening me back to pure bliss.
Then I look in the mirror and see my frazzled ponytail, smudged mascara, snot-covered shoulder and laugh at the dichotomy.
The only sand and water around me these days is dirty bath water from two kids who "accidentally" got in the sand box when I wasn't looking. The only straws I've seen lately go in juice boxes and the drumming is more of a pounding coming from toy trains being dropped on the wood floors.
The embrace of a new husband? Ha! More like a peck on the lips before we turn in opposite directions and fall fast asleep.
Today, while in the bathroom wiping pizza sauce from little cheeks, it dawned on me we did the honeymoon thing all wrong.
We were newly married, young lovers who didn't need an escape to a remote island for a little R&R. We didn't live together before marriage and also saved sex for our wedding night. Looking back, we had enough excitement from marriage that we probably didn't need to spend nine days in paradise. We were already there.
After seven years of marriage, two children, a career change, and a move less than two weeks away, now is the perfect time for a honeymoon. The quiet, desolate sand beach would be a great place for uninterrupted discussion and reconnecting. The suite with an ocean-view would allow for intimacy …or simply sleep! The rum drinks and all-you-can-eat shrimp sound pretty divine too.
The last night of our honeymoon, under the moonlit sky, my husband promised we would return for our 10 year anniversary.
T minus three years, folks! Maybe a weekend to Kansas City will have to do in the interim.
Jessica Brashear is a stay-a-home mom to three children.
RELATED LINKS: