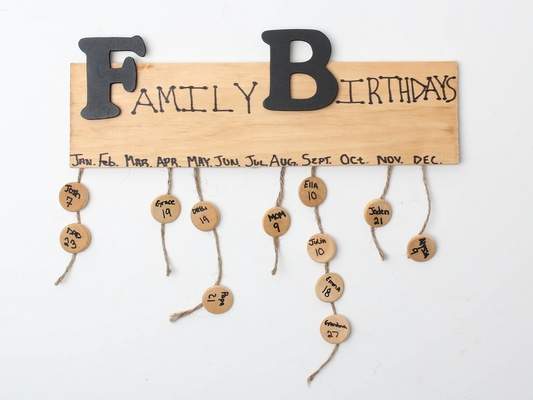 Editor's Note: This story was originally published on omaha.com
Josh Frigerio
WORLD-HERALD STAFF WRITER
I'm not really that crafty, but I try to be.It's easy to get jealous of those who can put together a really creative holiday wreath or make a dinner centerpiece filled with ornaments. So I went to the Pinterest website for inspiration.I searched for "holiday gifts" and looked for "DIY" or "Do it yourself" in the description and found this rustic-looking birthday calendar that hangs on the wall. It looked relatively simple to make and is a practical gift. I picked up all of the supplies at a local craft store for under $12.WOODEN BIRTHDAY CALENDARSupplies
A 31/2-inch-by-12-inch piece of wood
Small one-inch wooden circles
Twine or string cut into six-inch strips
Glue or staples
Permanent marker
Paper towel
Variety of personalized decorative pieces
Directions
The wood is a standard pale craft wood. I found out online that coffee or tea can be used as an alternative to wood stain. I brewed a "strong" pot of coffee and began painting the coffee onto the wood, letting it soak in, painting a new layer every 15 minutes or so. Another option would be to pour
the coffee into a baking pan and soaking the wood for a couple hours.
The wood did warp, which added an unexpected rustic characteristic to the project. To stain the small circles, I poured a cup of coffee and let the wood circles soak. Once the wood is dark enough, remove them and let them dry overnight. The wood will lighten.
Write "Family Birthdays" on the large piece of wood, as well as each month across the bottom. Write the family member's name and the date they were born on each circle. Attach a piece of string below each month and glue the circles onto the string.
To hang, glue or staple your twine to the back of the calendar.
Difficulty: 3/4
Be the first to know
Get local news delivered to your inbox!