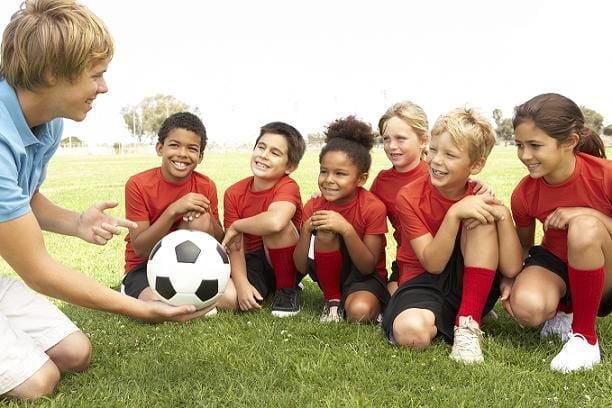 As a dad to a 4-year-old, there are few things I enjoy doing more than going to my son's sporting events throughout the year.
I love sports and have made an effort to incorporate sports into Ty's life as well. We like the same teams and he's able to share the same experiences with me that I had with my dad growing up.
During the summer, he played T-ball. When he wasn't at a game, we liked to play catch and practice batting at home. We would talk about swings and other intricacies of the game together.
This past late summer/early fall, Ty was in a youth soccer league, and he got really good. He scored  a lot, and he had a lot of fun running around and learning the fundamentals of the game. His games would usually last an hour, and it was the best hour of my week. I loved standing next to the field, watching Ty out there scoring goals – genuinely enjoying himself. I got to say, "That's my son." There's no better feeling for me.
One weekend last month, Ty was a substitute player on his mom's team, which is for older kids. Ty was so happy to play with them. He called to tell me about it since I was out of town for a wedding. He was very excited about playing with the older kids and he ended up playing with them again the next weekend. It's great to see him develop his skills – and he's not overwhelmed.
Normally, just seeing him play and have fun was enough to get me to his games, but there was actually another reason, too.
I have Ty on Wednesday nights and every other weekend, which means I don't see him for a week when I don't have him that one weekend. When Ty was in soccer, his games would occur on the weekends, which always gave me a chance to see him and break up the week in between my visits with him.
Even if this wasn't the case and I got to see Ty every day, I'd still be at all of his games. As a parent, it's my responsibility to support Ty in all that he does and help him find his calling in life. Even if it ends up not being sports-related, I will make sure Ty knows he can do whatever he wants. I love him and am proud of him no matter what.
Each day he's growing up more and more, and I can't wait to see the person he becomes. I hope he turns out to be just as good of a person as he is a soccer player.
I'll be there every step of the way.
Joe McCampbell is a single father and the online operations coordinator at the Omaha World-Herald.