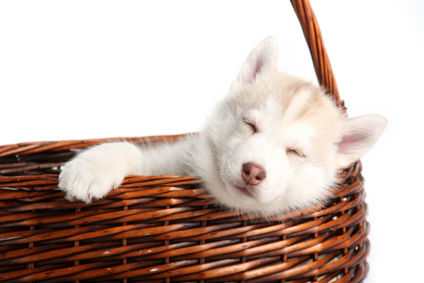 When you think about adopting a puppy, visions of perfect moments dance in your family's heads, no?
You think of all of the hugs, cuddles, licks, sweet eyes, laughs and giggles you'll share together, but there is a dark side to owning a puppy that you must face head on and be ready to conquer upon adoption.
It's the poop on the floor, holes in your socks, separation anxiety and very early mornings.
Welcoming a puppy into your home is a huge undertaking with extra expenses like training, vaccinations, spay/neuter and possibly new shoes and furniture.
You can watch every Cesar Millan "Dog Whisperer" episode there is in preparation, but until that little puppy enters your life, all you can do is plan ahead and be ready for what comes with her.
First Impressions
When bringing your pup home, the first thing you will want to do is fling open the door and let her run free into the home, sniffing every corner. But this is not healthy for the little doglet. She has no idea what is happening and this could alienate her, making it harder to establish trust. Ideally, take her on a short walk on your street before having her enter the home. Let her get used to the sights and smells. Lead her to your front door and invite her inside along with you. Keep her on a leash and stay by her side as she explores her new home. Direct her to her crate, food and water, toys, etc.
Separation Anxiety
Unless you have someone home 24/7, there is a good chance your rescue puppy could have separation anxiety — especially if she goes from being in the company of other dogs at the shelter to being locked in a crate all day. Avoid this problem by starting in small increments. Leave the house for an hour, then two and so on.
Introduce her to your family so they can stop in for low-key visits or to let her out during the day. Puppies have small bladders and they can only go a few hours at a time without having to go outside. Don't leave a young puppy in her crate an entire work day because she probably won't make it and she'll feel shame in her own home. That's not fair.
Establish Routines
Feed your pup at the same time every day and take her outside within 15 minutes of eating. Don't change the type of food she eats. Keep a potty routine — first thing in the morning, when you return home from work and before bedtime. Also, you'll find she has to go after vigorous play. If you catch her in the act inside, don't yell at her. Pick her up midway through and take her outdoors. Praise her once she finishes outside. She'll begin to get the picture.
Initial Expenses
Many people don't consider the yearly expenses their new family member adds to the budget, let alone the initial costs. The shelter procedures for adoption will determine whether or not they include initial vaccinations, microchipping and spaying/neutering. If not, during your first few trips to the vet, expect $100 to $300 visits. Dog supplies include healthy food and treats, preventive medications, leashes, dog training collars, beds, toys, crate, etc.
Training can be a pretty penny as well, but it's a must. You can find puppy socialization classes around town for a small fee (about $20). These will intro your pooch into the world of other dogs. Group obedience classes that run 6 to 8 weeks can cost anywhere from $100 to $300. An in-house private session can run from $50 to $150 per hour.
But don't let any of this steer you away from adopting. You're not only saving a dog's life but oftentimes, they have a part in saving yours.
Be the first to know
Get local news delivered to your inbox!