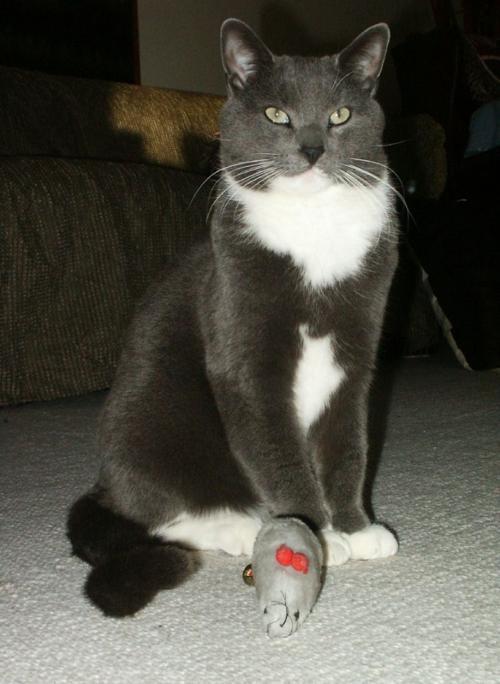 Long before personal blogs and Facebook made it easy to connect with family and friends on a daily basis, the annual Christmas letter was (and still is) a great way to connect at a wonderful time of year.
Some people dread receiving these letters, which at times can be filled with TMI, but I truly look forward to reading them and catching up with friends and family. I started writing annual Christmas letters in 1997, and the best part has been re-reading them through the years and reminiscing about the good old days when my children were younger and more excited about the holidays.
On this Christmas Day, I thought I'd share a letter from Christmas past.
Borrowing from the classic Christmas Story by Clement C. Moore…
The Night Before the Next Day
'Twas the night before the next day, when all through the house
Not a creature was stirring, except for Riley (11), Avery (8),
Tom, Wheaties and Precious (the 3 cats),
Elsa the Dog, Moby Dick and Tiny (the two fish) and Jerry Cheddar, our new pet mouse.
The clothes worn just that day were flung all over the floor,
With hopes that Mom or Dad would put them away once more.
The children were supposed to be nestled all snug in their beds,
But they were running around laughing and yelling instead.
We quietly suggested for the very last time, "Get ready for bed or we will be imposing a fine!
Please go wash your faces and brush your sugar-coated teeth,
How can two lovely children cause their parents such grief?"
Eventually, the children were as peaceful as could be. Finally, some quality time for Roger and me.
Roger reported his day as a great one, quite fine. I had just begun telling him all about mine,
When what to my listening ears should I hear
but the deep, relaxed breathing of someone sleeping quite near!
My feelings were hurt – did he not care? I had important information I needed to share!!
I was tempted to "gently" push him out of bed,
but was afraid that he might seriously injure his head.
I finally nodded off about a quarter till 2, after thinking about all of the things I needed to do,
When outside the door there arose such a clatter,
I yelled at Roger "Get out of bed and go see what's the matter!!"
Away to the door he flew like a flash, did not look where he was going and fell with a crash.
Then what to his droopy eyes should appear but one of our cats grinning ear to ear.
We knew in a moment he wanted in. It was cold outside, his fur coat was too thin.
As I poked my head out from under the covers to look around,
In the door, Tom the cat came with a bound! He was dressed all in fur, from his head to his paws,
And his ears were alert as well as his claws.
I could see his teeth glistening in the very dim light,
And if I hadn't known him – he would have given me a fright!
His eyes – how they twinkled, his whiskers how fine.
I had to admit he was one good-looking feline.
His droll little mouth was drawn up like a bow, and the fur on his chin was as white as the snow.
He had a broad little face and a little round belly, that shook when he ran, like a bowl full of jelly.
He was chubby and plump, a right jolly old cat, and I laughed when I saw him, in spite of all that.
The head of a mouse he held tight in his teeth, and the tail encircled Tom's head like a wreath!
Then what to our wondering eyes should appear, but the mouse on the loose, coming quite near!
Roger, who is known to be quite nimble and quick,
Did not go after the mouse as you and I might predict,
But crawled back in bed to go back to sleep,
Saying – "What's one more mouse in the house – it won't make a peep."
Before I had time to tell him what I thought of his plan, into our room little Avery ran.
She stopped and stood right next to the bed, and Roger and I had a sudden feeling of dread.
"I think I am going to be sick" she cried, and we soon learned this wasn't a lie!
More rapid than eagles we flew out of bed, with the hope we could make it to the bathroom instead.
But you can't tell an 8-year-old to hold it – to wait – there was no bucket near – it was just too late!
We spoke not a word but went straight to our chore, of cleaning up Avery and our bedroom floor.
Thank goodness for chemicals and Lysol spray that help take those distinctive odors away.
But there is nothing quite like the feelings you share,
When you take care of a child for whom you dearly care.
It was now almost a quarter past four and all were tucked in bed once more,
When I heard in the distance a very strange thing, like the creak of a board or the sound of a swing.
I tried to ignore it so I began to count sheep, but on One Million and One I was still not asleep!
So I crawled out of bed to search for the sound and downstairs this is what I found -
Jerry Cheddar the mouse running around and around and around
On his exercise wheel – it was making the obnoxious sound.
The exercise wheel that ROGER bought for this mouse
That I had said we would never, ever have in our house!
So I picked up the cage in which Jerry resided and looked for a place where I could hide it.
I put him in the bathroom and closed the door,with the hope I could hear him exercising no more.
I trudged back upstairs to crawl into bed and resisted the urge to wake up sleepy head,
To tell him HIS mouse was causing me stress but I knew that he also needed his rest.
It seemed like I had just laid my head down – when the alarm clock's music began to sound.
Try as I might, I could not move – how could I possibly get into the daytime groove?
Roger then sprang out of bed to our kids gave a whistle -
To the bathroom he flew like the down of a thistle.
And I heard him exclaim ere he ran out of sight -
Good morning, everyone – I hope you had a good night!
May your nights before the next day be filled only with sweet dreams!
Mara Rasure is married with two teenage daughters. She is a retired attorney.