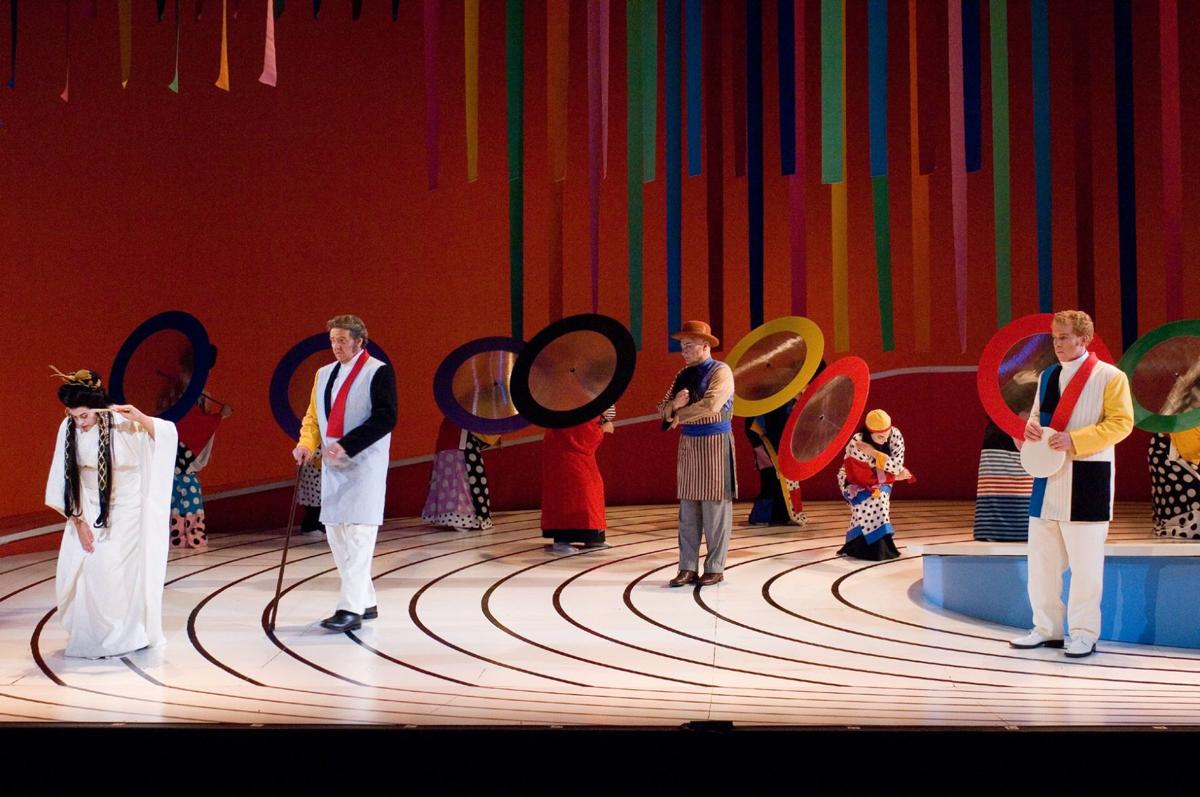 The return of Jun Kaneko's version of "Madama Butterfly" to the Opera Omaha stage should strike a note of anticipation — to see Puccini's beloved classic in its fresh artistic glory.
Whether you're a savvy opera-goer or a newcomer to the experience, you'll be captivated not only by the memorable score but also by the vivid sets and costumes by the Omaha-based artist.
Local audiences first saw the critically acclaimed Kaneko version at the Orpheum Theater in 2006 and again in 2011. When "Butterfly" returns Nov. 1 and 3, the production will be even more noteworthy, with a new cast and added costumes and new scenery created in partnership with San Francisco Opera, joint owner of the production with Opera Omaha.
Ten things you might not know about "Madama Butterfly"
1 "Madama Butterfly" bombed at its premiere at La Scala in Italy on Feb.17, 1904. The failure was partly blamed on Puccini completing it late, resulting in inadequate rehearsal time. In light of its poor reception, Puccini withdrew the opera and undertook several large-scale rewrites that culminated in the fifth version, commonly known as the Standard Version, now one of the Top 10 operas worldwide. It's an achingly beautiful story of a young wife and mother named Cio-Cio-San, in Nagasaki, Japan, in 1904. She awaits the return of her beloved B.F. Pinkerton, a lieutenant in the U.S. Navy. When his ship finally does come in, her dreams break along with her heart.
2 Opera Omaha will introduce a debut cast of stellar artists with international acclaim, many of whom have made "Butterfly" their signature work.
3 This nationally acclaimed production was Kaneko's first venture into opera. Since its first performance at Opera Omaha in 2006, it has been performed in San Francisco, Washington, D.C., Atlanta and Philadelphia, among others. Kaneko has since designed productions of two more operas: Mozart's "Magic Flute" and Beethoven's "Fidelio."
4 Puccini based his opera on the short story "Madame Butterfly" by American author John Luther Long, first published in 1898. This version was in turn based on the 1887 French novel "Madame Chrysanthème" by Pierre Loti. Long's short story was also dramatized in a play by David Belasco called "Madame Butterfly: A Tragedy of Japan," which Puccini saw in London in 1900.
5 There have been at least 14 other adaptations of the opera. Some well-known examples are "M. Butterfly," a play by David Henry Hwang which opened on Broadway in 1988, winning the Tony Award for Best Play that year and the popular musical "Miss Saigon" by Claude-Michel Schönberg and Alain Boublil, which first appeared on Broadway in 1991.
6 The opera takes place during a very important period of Japanese history, called the Meiji era. Emperor Meiji was Japan's emperor during a rapid period of industrialization after 1868, when the Meiji Resoration saw the reinstatement of imperial rule. Prior to this period, the shogun or political and military leaders, who had been dominated by the Tokugawa family since the 1630s, enacted sakoku, or a closed borders policy in the country. The restoration of 1868 ended this policy and began increasing Western influence in Japan. The country also transitioned from a feudal society, in which the working class provided labor for the samurai, the ruling class, to a capitalist society.
7 In "Madama Butterfly," the protagonist Cio-Cio-San secretly converts from Buddhism to Christianity. Following the Meiji Restoration in 1868, which reenacted freedom of religion, Protestant missionaries in Japan grew. While they did not influence the religion of that many Japanese people, they did introduce Western customs. For example, more than 60% of Japanese weddings are performed Christian-style.
8 Puccini, who had expensive tastes, was believed to have more than $200 million at his death. A serious car accident in early 1903 slowed his progress in writing "Madama Butterfly." He was recovering from a broken leg leading up to its premiere. Perhaps that explains the disastrous opening!
9 "Butterfly" did not return to La Scala for 112 years. Interestingly, when it did in 2016, the opera house chose to present the original version. This time, however, rather than boos it earned a 13-minute standing ovation.
10 Malcolm McLaren, stage manager for the Sex Pistols, released an electropop single in 1984 called "Madame Butterfly (un bel di vedremo)," which samples heavily from Cio-Cio-San's most famous aria from the opera, "Un bel di," and pairs it with synthesizers and drum machines. The song hit the Top 20 pop charts in both the United States and the United Kingdom.
Be the first to know
Get local news delivered to your inbox!