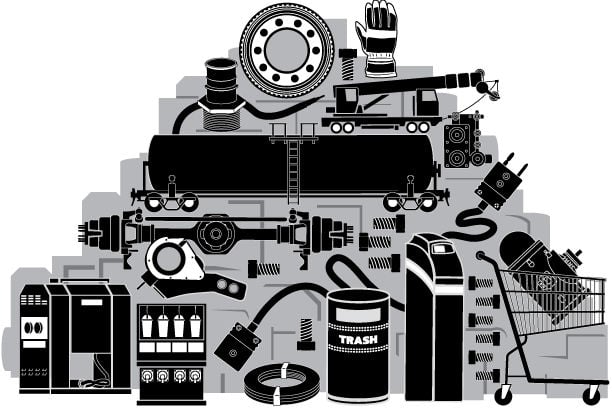 Warren Buffett was trading cocoa beans for shares of stock when he met Jay Pritzker.
Six decades later, the industrial company that Pritzker assembled, now called Marmon Holdings, is Berkshire Hathaway Inc.'s least-known mega-business, a maker of wire, owner of train cars, supplier of industrial parts and employer of nearly 19,000 people with operations in 23 countries.
"Marmon has never sought the public spotlight," instead focusing on what its customers need, said David Dees, a Marmon vice president. "While Marmon is a strong, successful, growing organization, we're not concerned about being a household name."
It was enough to command a $9 billion purchase by Buffett, who has written that he knew Pritzker was headed for success from the start of that cocoa-for-stock deal in New York City in 1954.
Pritzker and his brother, Robert, began collecting industrial companies, now totaling about 175 under the Marmon name with sales of $7.5 billion last year. The family added other businesses, too, including the Hyatt chain of hotels.
When their descendants couldn't decide on Marmon's future, Buffett offered a solution in 2008: Sell it to Berkshire and let it grow inside the Omaha-based conglomerate.
Thus each year at Berkshire's annual shareholders meeting, Wells Lamont has a booth selling work gloves at a discount. The gloves are the tip of the Marmon iceberg, a largely hidden set of businesses that supply parts and equipment you may never notice but would miss if they were absent.
Marmon had a colorful history even before Nicholas Pritzker, a Russian immigrant, set up a law office in Chicago in 1907.
Marmon Motor Car Co., formed in 1902, produced fine autos, including the car that won the first Indianapolis 500 in 1911: the Marmon Wasp, so named for its long, pointed, drag-reducing tail.
Marmon eventually became part of Marmon-Herrington, which manufactured axles and other heavy-duty equipment, and later joined the Colson Co., also an industrial manufacturer.
Jay and Robert Pritzker acquired Colson in 1953 and in 1964 elevated the Marmon name because of its reputation for innovation, engineering and performance.
More acquisitions followed, including Cerro Corp. in 1976, nearly doubling annual revenues to $1 billion, and Trans Union Corp. in 1981, pushing sales to $3 billion and adding railroad tank cars, consumer credit, water treatment systems and other businesses.
Jay Pritzker died in 1999. Robert Pritzker ended his career in 2002, succeeded as chairman by Jay's son Tom Pritzker and new Chief Executive John Nichols. In 2006, Frank Ptak became CEO, continuing today.
Berkshire's 2008 transaction settled the family issues with Marmon. Berkshire paid $4.8 billion for 63.6 percent of Marmon, agreeing to buy the rest over the next several years at prices determined by Marmon's earnings.
Berkshire paid $1.5 billion for an additional 16.6 percent in 2010; $1.4 billion for 9.8 percent in 2012; and $1.47 billion for all but a few remaining shares in 2013.
Total paid: about $9.2 billion. Buffett called the final purchase one of Berkshire's surest profit-making acquisitions because of Marmon's proven success.
Pritzker family members, meanwhile, continued in other businesses and in philanthropy. In 2015 Forbes magazine listed 11 Pritzker family members as among the nation's wealthiest, with a combined net worth of $29 billion.
Dees, the Marmon vice president, said the transition to Berkshire ownership felt natural because Marmon has always had a decentralized organization similar to Berkshire's, "with a lot of autonomy at the local operating level and an entrepreneurial spirit among our managers."
The Chicago office has about 30 people working for the corporate headquarters — Berkshire has 25 — and a few people from each of the four main operating companies, about 70 people altogether.
In recent years, Berkshire hasn't reported Marmon's profits and revenue separately, lumping most of its results in with other manufacturers. But through 2013, Marmon's pretax profits under Berkshire ownership totaled $5.54 billion.
It's possible Marmon has paid for itself already.
"We think Marmon has been a consistently good cash generator for Berkshire over the years and hope our friends at Berkshire think so, too," Dees said.
Starting last February, Marmon's results have included Duracell Co., acquired by Berkshire in a $1.8 billion transaction with Procter & Gamble.
Marmon's Union Tank Car repairs railcars in Omaha and Waterloo, Nebraska, and Muscatine, Iowa. There are EcoWater dealers in Omaha and other nearby locations, selling and servicing residential water treatment equipment.
Every now and then, Marmon adds businesses: Zephir, an Italian manufacturer of mobile train car movers and industrial tractors, last December; Dominioni Punto & Pasta, an Italian manufacturer of pasta-making equipment, last September; GE Railcar Services' fleet of railroad tank cars in 2015.
The company's reach today is far beyond Buffett's first dealing with the Pritzker clan in 1954, when he was a 24-year-old employee of the New York City investment company Graham & Dodd.
Buffett wrote in 1988 that the 1954 deal was ingenious, reflecting the financial abilities that Jay Pritzker, then 32, would display over the course of his career.
Rockwood, a chocolate company, had come to Pritzker, then working as an accountant, for help in avoiding high taxes on the sale of its stash of cocoa beans. A shortage of beans had jumped the price from 5 to 60 cents a pound.
Rockwood wanted to sell its beans and reap a profit, but taxes would have eaten up half of the proceeds. Pritzker discovered an arcane tax rule that let Rockwood avoid the taxes by shutting down its cocoa butter operation and buying up stock from shareholders.
Buffett's task for several weeks was to sell the beans on a commodities trading exchange and then trade the receipts for shares of stock, riding the subway between sale venues.
It was a positive experience for Buffett, who made a personal profit at the same time, and he followed the Pritzker family's business ventures over the years until the Marmon purchase came up.
Marmon's employment under Berkshire has held fairly steady over the years, starting at about 18,000 in 2008, peaking at 19,900 in 2014 and recently listed by Berkshire at 18,872.
Buffett's 2016 report to shareholders doesn't break out all of Marmon's businesses but said its railcar business slowed last year, which will cause its earnings to drop in 2017.
The fleet was 91 percent in use in December, down from 97 percent a year ago. The drop was "particularly severe" at the fleet purchased from General Electric in 2015, Buffett said, adding that he expects the railcar business to improve and Marmon to add to its fleet over time.
Marmon's pretax earnings from leasing railcars, containers and cranes totaled $680 million in 2016, down 8 percent from 2015 and down 13 percent from 2014.
"Nevertheless," Buffett wrote, "we very much like this business and expect decent returns on equity capital over the years."
Photos: Berkshire Hathaway meetings through the years
Marmon companies make a lot more than money
Marmon Holdings is divided into four companies, each with several business sectors and, within those sectors, independent businesses.
They design, manufacture and sell hundreds of products and provide a range of services, mostly for industrial use but also for retail sales to consumers.
Marmon lists 100 businesses on its website, but within many of those are other businesses, bringing the total to about 175. The exact number changes as businesses are created, acquired or combined as markets change.
A sampling of Marmon products and services:
Cables and wire, railroad tank cars, rail yard switching, sulfur processing, steel cones, crane services, specialty metal tubing, metal sheeting, steel beams, brass fittings, valves, high-speed toasters, commercial grills, tomato slicers, refrigerated food cabinets, milk and beverage dispensers and retail displays, water softeners, water filters, industrial heat exchangers, industrial water treatment systems, retail displays, retail security systems, recycling and waste containers, shopping carts, material handling carts, extension cords, work gloves, retail data analysis, auto and truck clutches, brake equipment, truck-trailer connectors, commercial truck trailers, axles, commercial truck adaptation, truck fenders.
Marmon's companies operate in 23 countries: Australia, Belgium, Canada, China, Czech Republic, Finland, France, Germany, Greece, India, Italy, Japan, Mexico, Netherlands, Poland, Russia, Singapore, Spain, Switzerland, Tunisia, Ukraine, United Kingdom and the United States.
Marmon's companies, sectors and a partial list of independent businesses:
MARMON ENERGY SERVICES CO.
Engineered Wire & Cable: Electrical and electronic wire and cable for industry, including energy, transit, aerospace, defense and communications.
Cable USA; CCPI Europe Limited; Comtran Cable; Dekoron Unitherm; Dekoron Wire & Cable; Gendon Polymer Services Inc.; Harbour Industries; Marmon Utility (Hendrix); Marmon Utility (Kerite); Owl Wire and Cable; Radiant-RSCC Specialty Cable (India); RSCC Aerospace & Defense; RSCC Wire & Cable; TE Wire & Cable; Zephir
Rail Products & Services and Intermodal Containers: Railroad tank and intermodal cars and products and services for the energy, chemical, petrochemical, agricultural and transportation markets.
Ameritrack Rail; McKenzie Valve & Machining; Procor Limited; Railserve Inc.; Union Tank Car Co. (Intermodal Containers); EXSIF Worldwide Inc.; Lindenau Full Tank Services GmbH
Engineered Products & Services: Sulfur processing, steel tank heads and cylinders, bi-modal railcar movers, wheels, axles, gears and related products and services for the transportation, energy and other industries
Enersul Inc.; Penn Machine Co.; Trackmobile; Uni-Form Components Co.
Crane Services: Mobile cranes, operators and lift engineering services for the energy, mining, petrochemical and construction markets.
Astha Sterling Crane Private Limited (India); Freo Group Pty Ltd. (Australia); Sterling Crane (North America)
MARMON ENGINEERED COMPONENTS CO.
Distribution Services & Construction Products: Specialty metal pipe, tubing and beams, construction fasteners and electrical wire products
Bushwick Metals; Future Metals; Marmon/Keystone Canada Inc.; Marmon/Keystone; M/K Express Co.; Prism Plastics
Tubing, Fittings & Industrial Products: Copper, brass and aluminum tubing and fittings and adhesives primarily for automotive and aerospace applications
Anderson Copper and Brass Co.; Cerro E.M.S.; Cerro Flow Products; Cerro Wire; Penn Aluminum International; RLS Press Fittings
Safety Products: Gloves and other protective wear, portable lighting equipment, overhead electrification equipment and other products for the automotive, mass transit and general industries.
Atlas Bolt & Screw Co.; Cerro Fabricated Products; IMPulse NC; Jomac Canada; Koehler-Bright Star; Nylok; Pan American Screw; Procoves Industrie; Robertson Inc.; Tucker Safety Products; Wells Lamont Industrial; Western Builders Supply Inc.
MARMON FOOD, BEVERAGE & WATER TECHNOLOGIES CO.
Retail Food Technologies: Food preparation equipment primarily for quick-serve restaurants
Catequip S.A.S. and Cat'Serv S.a.r.l.; Epuro
Beverage Technologies: Beverage dispensing and cooling equipment and related products for brand owners and food service retailers
Cornelius; Display Technologies; 3Wire Group Inc.; Trade Fixtures
Water Technologies: Water treatment equipment for residential, commercial and industrial uses.
Amarillo Gear Co.; Amarillo Wind Machine; Ecodyne Heat Exchangers; Ecodyne Limited; EcoWater Canada Ltd.; EcoWater Systems Europe; EcoWater Systems; Filtrex Technologies; Graver Technologies; Graver Water Systems; KX Technologies
Restaurant & Catering Technologies: Professional cooking and refrigeration equipment for high-end restaurants and the hospitality and catering markets.
Dominioni Punto & Pasta; Angelo Po of Carpi; Prince Castle; Silver King; Sago
MARMON RETAIL & HIGHWAY TECHNOLOGIES CO.
Retail Science: Merchandising displays, in-store digital merchandising, retail environments and marketing programs
Commercial Zone Products; DCI-Artform;  Streater
Retail Store Equipment: Display fixtures, shopping carts and related services for retail stores and industrial material handling carts and automation equipment
Cannon Equipment; Eden; L.A. Darling Co.; Leader Metal Industry Co., Ltd.; Store Opening Solutions; Thorco Industries; Unarco Industries
Retail Products: Extension cords, air compressors, work gloves, socks and other products through home retailers.
Campbell Hausfeld; Cerro Electrical Products; Cerro Plumbing Products; Midwest Plastic Fabricators; Wells Lamont Retail Group
Highway Technologies: Heavy-duty highway flatbed, drop-deck and other trailers; truck and trailer components including fifth wheels, wheel-end and undercarriage products and fenders; and truck modification services
Fontaine Fifth Wheel Co.; Perfection; TSE Brakes Inc.; Webb Wheel Products Inc.
Vehicle Solutions: Engine and suspension products including clutches, fuel pumps, engine and transmission mounts for the light-duty vehicle after-market
Fontaine Commercial Trailer Inc.; Fontaine Modification Co.; Fontaine Spray Suppression Co.; Marmon-Herrington Co.; Sisu Axles Inc.; Triangle Suspension Systems Inc.
The Omaha World-Herald is owned by Berkshire Hathaway Inc.