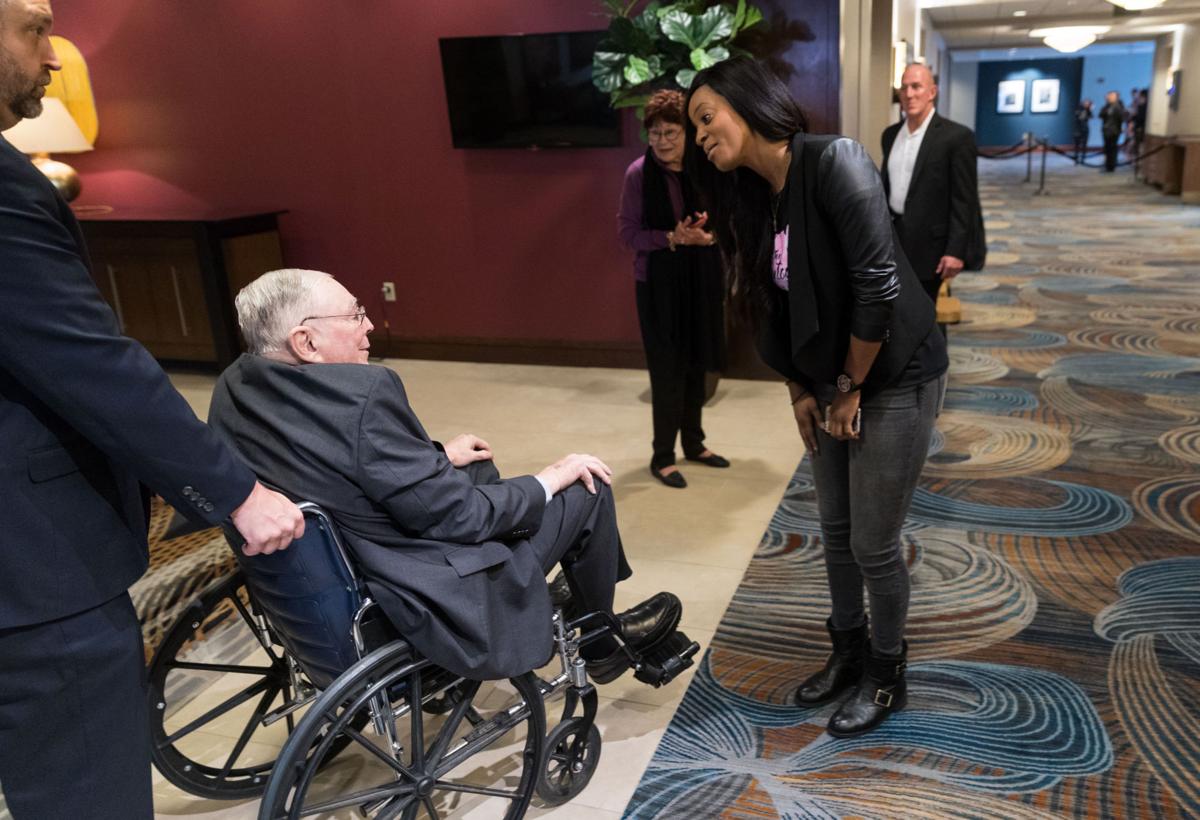 Charlie Munger rode a wheelchair Monday to carry out some of his duties as vice chairman of Berkshire Hathaway Inc., but a sore back didn't stop him from exercising his brain.
Munger, 93, had complained of back pain during Saturday's meeting of Berkshire shareholders, and on Monday an assistant wheeled him down a long hotel hallway for a morning interview session.
"That's the first time I've seen Charlie in a chair," said Berkshire Chairman Warren Buffett, noting that Munger has had back pain for some time.
Munger also uses a cane, although he walked unaided to and from his seat on the CenturyLink Center stage for the shareholders meeting, a six-hour marathon of questions and answers about Berkshire.
Berkshire director Thomas Murphy, 91, retired head of Capital Cities/ABC, was in a wheelchair at the shareholders meeting. Munger is the oldest of Berkshire's 12 directors, who average 72.5 years old. The youngest, former Yahoo President Susan Decker, is 54.
Munger criticized the country's health care industry for what he said was unnecessary complexity, waste, fraud and "overtreatment" of people who are dying.
"The whole system is cockamamie," he said. "It's almost ridiculous in its complexity. ... It gives our companies a big disadvantage in competing with other manufacturers."
The U.S. system of private insurers and state and federal regulations should be replaced by a "Medicare-for-all" government payment system with strong protections against fraud, he said, letting wealthy people pay for separate care if they want.
Munger, who lives in California, said Kaiser Permanente, a health care system based in Oakland, California, can be a model for efficient, effective health care nationwide. The system has high quality but keeps costs down, partly by not "overtreating the dying," he said, and clients like the system.
Known for his acerbic commentary, Munger also criticized investment groups, known as private equity funds, that borrow too much money to buy up businesses, loading them with debt.
"I think there's a lot of idiotic deal-making that goes on in equity capital," he said.
He said politics is mired in "a miasma of hatred" between the two parties, leading to decisions made not for the good of the country but because Republicans and Democrats truly hate each other.
"There's too much hatred in American politics," Munger said.
After the hourlong interview session, in which the three men were seated on barstools, Munger was wheeled to a daylong meeting of Berkshire's board of directors, the last session after four days of events for company officers.
The Omaha World-Herald is owned by Berkshire Hathaway Inc.
Photos: Berkshire shareholders meeting, Saturday, May 6
Be the first to know
Get local news delivered to your inbox!