Warren Buffett's older sister, Doris, has health problems, including advanced Alzheimer's disease, the Boston Globe reported, and her charitable work is the subject of disputes involving her foundation's staff members and her grandson, Alexander Buffett Rozek.
The Globe story by Sacha Pfeiffer, published last weekend as shareholders of Warren Buffett's Berkshire Hathaway met in Omaha, said Rozek had disagreements with the people who run Doris Buffett's nonprofit Sunshine Lady Foundation after she moved to Boston from Virginia.
After the story ran, Warren Buffett told The World-Herald, "Alex has taken extraordinarily good care of Doris for a great many years."
Doris Buffett, 90, attracted attention with the 2010 publication of a book, "Giving It All Away," about her small grants to people with financial problems and her support for prison education programs and other projects.
Her brother helped fund some of the foundation's early grants, but she began providing the money herself from Berkshire stock she owns, valued at about $50 million in 2015.
The Globe story said a rift between Rozek, 39, and the Sunshine Lady staff resulted in him and his grandmother leaving the foundation and setting up the separate Letters Foundation, so named because it receives and sorts letters asking for money.
Earlier this month, a former Letters employee, Emily Walsh Holland (no relation to the late Dick Holland of Omaha, an early Berkshire shareholder), pleaded not guilty to charges of taking confidential financial information and Doris Buffett's medical records from the Letters Foundation, the Globe reported.
Holland told the Globe she believes she was fired because she questioned the way the Letters Foundation's finances were handled. Rozek told the Globe that an investigative firm reviewed Holland's concerns and found no evidence of mismanagement. He brought the theft complaint against Holland, the Globe reported.
In a letter to the Globe about the news article, forwarded to The World-Herald by Warren Buffett's office, Amy Kingman, director of external relations for the Letters Foundation, said the foundation is "doing exactly what Doris Buffett has always loved to do: help others and show her appreciation for her employees and volunteers."
Kingman said Rozek and other family members "receive no financial benefit from the Letters Foundation and never will."
She said the foundation has given away more than $3 million to more than 300 people since 2016 and has a small staff and more than 100 volunteers who review thousands of request letters a year.
Check out 42 stories that built, defined and characterized Nebraska
The World-Herald has gone back through the archives and uncovered stories that define not only the Omaha area, but the entire State of Nebraska.
Bumped from a flight, she missed the Berkshire meeting
Folks who came to Omaha for the May 5 Berkshire meeting had a good time, according to the World-Herald staffers covering the event, but Kalamazoo's Dr. Virginia Little, daughter of a longtime shareholder, ended up not attending.
She had prepaid three days at the Magnolia Hotel downtown but came slightly late to the airport and was bumped by a weather-delayed passenger, she said. She said she could have gotten another flight the next day but wouldn't have arrived until early on the morning of the meeting, so she stayed home.
The airline refunded her ticket and Magnolia refunded her first night, but because four or five other weather-delayed guests came to Omaha anyway and she could have come, hotel manager Tim Darby said, it seemed fair to not forgive the second and third nights.
There was some back and forth, and Little isn't happy. Such disputes happen occasionally, and you would hope it won't discourage her from being here on May 4, 2019, right?
Honoring Humboldt, 'the forgotten father of environmentalism'
Berkshire weekend isn't just about money.
An Omaha group invited local guests and German investors, in town for the meeting, to the Fontenelle Forest Nature Center for the Alexander von Humboldt Dinner, named after a German explorer and scientist who traveled all over the Americas.
A contemporary of Thomas Jefferson, Humboldt is the namesake of that chilly Pacific Ocean current that runs north along the west side of South America. He gained fame for his observations and collections in geography, botany, climate, biology and other fields, but he has nearly dropped out of public consciousness.
Researcher and author Andrea Wulf rediscovered that missing piece of history with "The Invention of Nature: Alexander von Humboldt's New World" (Vintage Books, 559 pages, $17).
She told the forest-goers that Humboldt's understanding of the world influenced naturalist John Muir and poet Henry David Thoreau, among many others, but today he is "the forgotten father of environmentalism."
Anyone want a purple ukulele?
A pair of visitors were still smiling when they left the Regency shopping center on the day after the Berkshire meeting, but they had failed in their mission: to give Buffett a ukulele with a Berkshire Hathaway Home Services-themed paint job.
Leigh Voruz, an Omaha Public Schools middle school art teacher, artist and founder of Unique New Uke, and her son Max, 8, who got a toy locomotive at the mall, knew Buffett is a ukulelist and hand-painted the instrument but didn't spot him.
I have her number if someone from the company is interested in a purple ukulele.
Meeting the 'Early Bird' author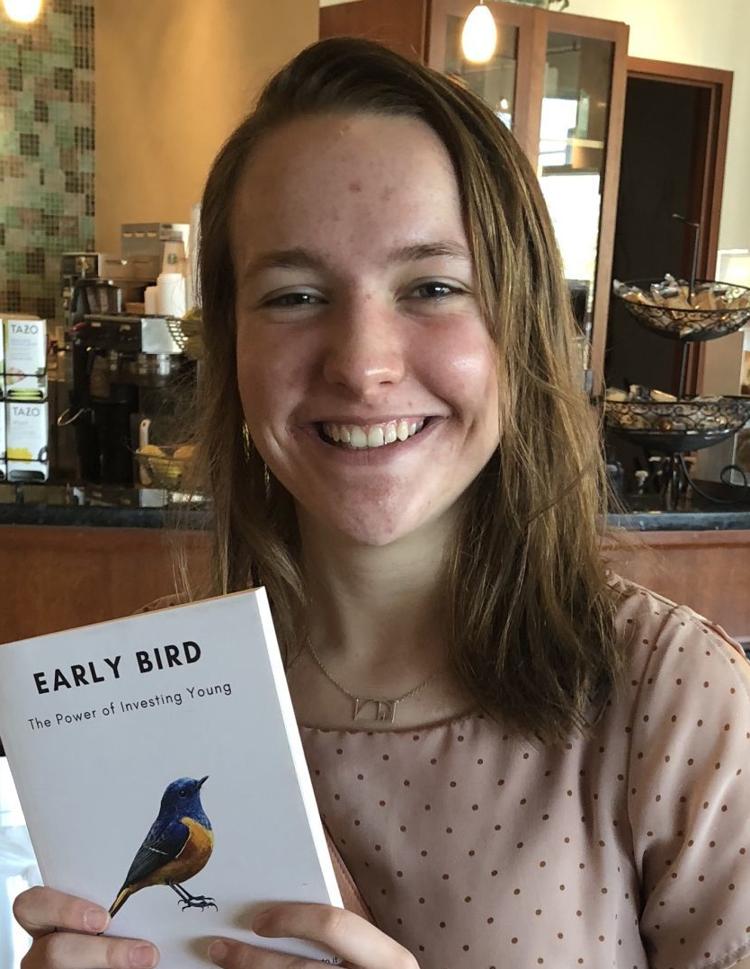 Next year, she hopes to have the book sold at the meeting. At this year's session, Buffett discussed his first investment, at age 11, which fits exactly with her thesis: Start young so you have plenty of time to compound your money.
She's trying to organize an investment club at her high school and was heartened at the number of children attending the meeting.