Grant Schoenberg, 16, pushed his mom to buy Berkshire Hathaway stock, persuaded her to take him to Omaha, and then chided her affectionately for splurging too much on Uber rides.
You might say he was a bit obsessed with Warren Buffett, his frugal ways and investment teachings.
"Warren Buffett is like God, basically," said Grant Schoenberg of New York City. "Everything about him is major."
Schoenberg and mom, Elyse Kreitman, were on their first visit to Berkyville this weekend, though from the sound of the teen, it would not be the last.
Kreitman smiled at her son's enthusiasm, and said he keeps asking to go over her investment portfolio for her.
The 10th grader got the finance bug after reading a book, then another and watching any documentary or YouTube piece about Buffett he could get his hands on.
Kreitman said she could think of much worse things to consume a teen's time.
"Thank God this is his obsession," she said. "It's a good obsession."
Groups from different parts of globe have chance encounters
It's the kind of thing that can forge lasting friendships: traveling across the globe on the chance to see a common hero.
Robert Gill of Toronto happened to sit next to Daria Danilina of London on an airplane headed to Omaha earlier this week. They chatted and learned both were bound for this weekend's Berkshire Hathaway gathering.
The two met up again early Saturday while in line to get into the CenturyLink Center, which opened at 7 a.m. for the annual shareholders meeting.
"You get to talking to each other and find there are some fun people here," said Gill.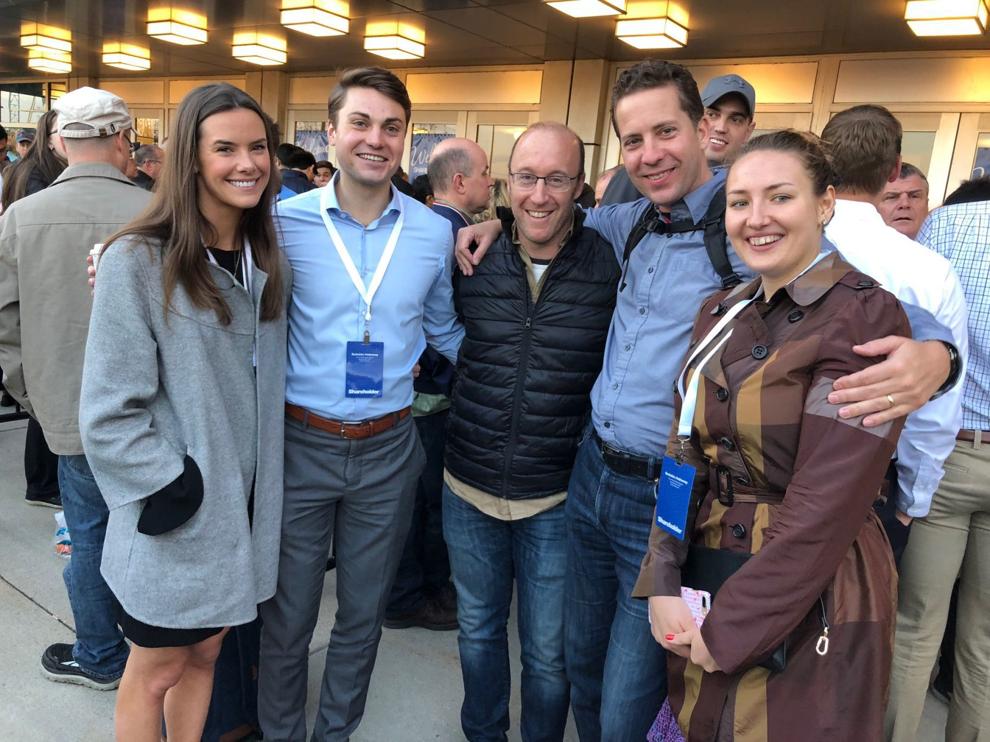 Danilina had came to Omaha with three classmates, who, she noted, were still sleeping when she called Gill and plotted to meet up with his early-rising group.
Gill had been waiting in line by about 4 a.m., with a handful of friends including Laura Fyfe, Alex Mahoney and Andrew Watson.
The Toronto contingent was running on only about an hour of sleep, they said, having stayed out late at a local karaoke bar the night before.
Watson was attending his seventh Berkshire event, and said he wasn't necessarily looking to learn anything "super exciting and new." Rather, he looked forward to "getting ingrained more in the philosophy."
"It's like going to church," said Gill. "You're already a believer and it strengthens your convictions."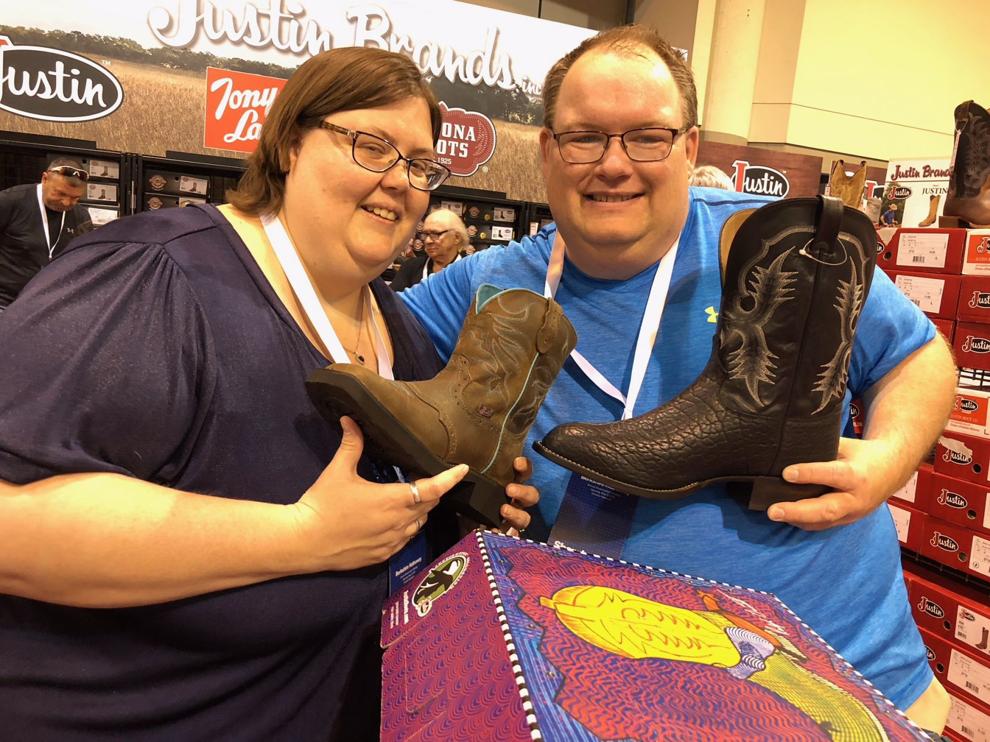 Who cares about the Q&A? We've got Berkshire shopping to do
There's a business meeting going on?
Not too interested, at least not while there are shopping deals to be had, said John and Deanne Grant - who walked away from Saturday's Berkshire event with a set of new his-and-her cowboy boots.
The Grants, from Bellevue, are shareholders, but said they prefer to take advantage of member discounts rather than battle for a seat in the auditorium where thousands were glued to a stage where Warren Buffett and Charlie Munger held court. 
"We fight our way through the shopping crowds," said John, with one foot in a Tony Lama boot and the other still in a sneaker.
Said wife, Deanne, as she tried on a brown and teal pair: "We watch the meeting on monitors. It's much easier."
Their second year at the annual meeting, the Grants said they're making attendance a tradition with friends from Nebraska City.
Last year, John bought a brown pair of boots from Justin Brands, one of the busiest shopping areas on Saturday. This year, he decided on a black pair.
"We like the atmosphere," his wife said. "Seeing people from different countries, speaking different languages."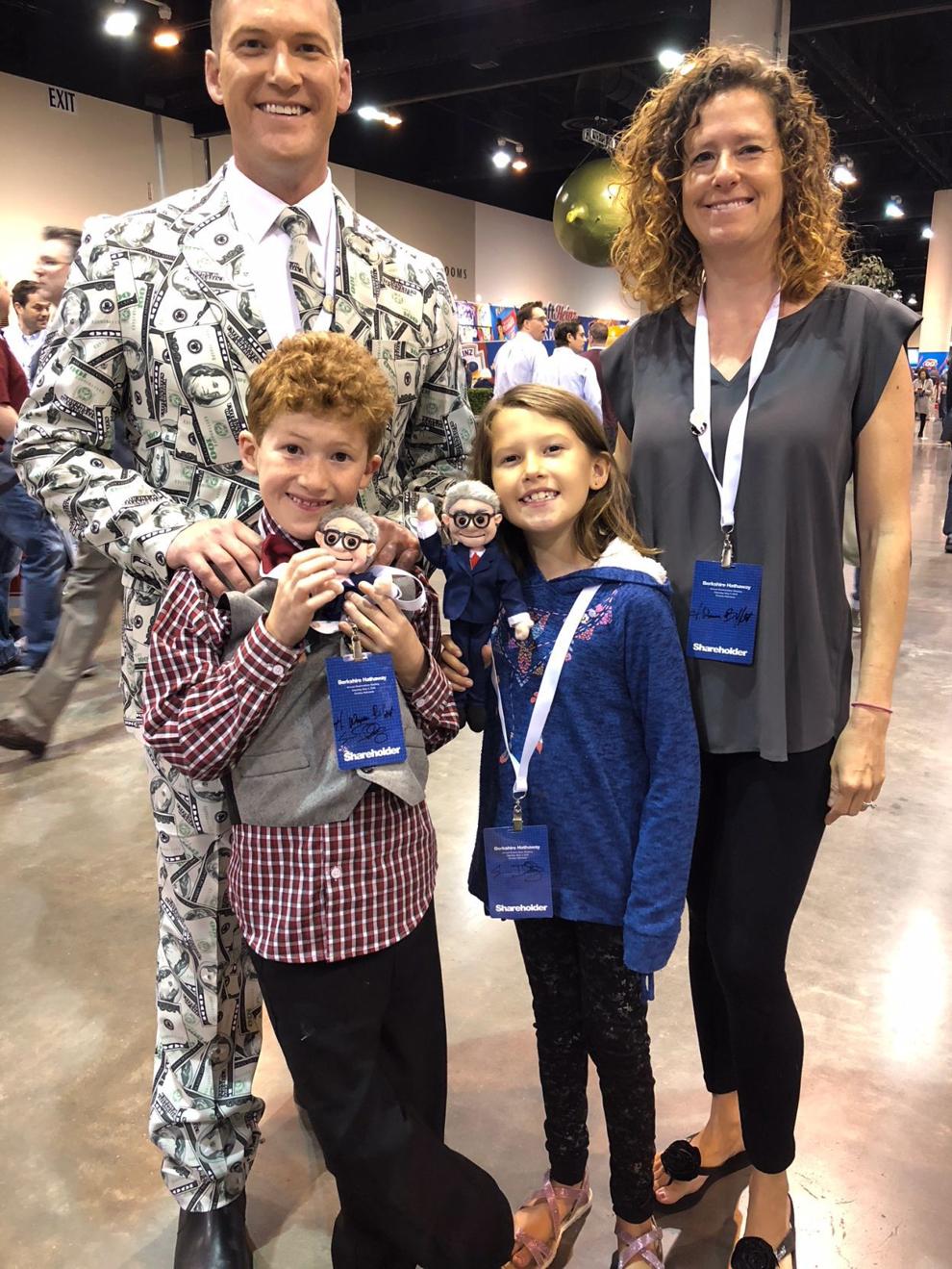 Teaching his children about the important things in life — through the Berkshire meeting
There was the giant Gecko, a pair of walking ketchup and mustard guys, countless dripping Dilly bars.
Then there was the dad drawing high-fives and giggles for his suit made of hundred-dollar bills.
Ray Renk of the San Francisco area said he ordered the head-to-toe garb (plus tie) online especially for this weekend -- to infuse "more energy" into the experience he shared with wife, Sara, and two children.
Kennedy, 7, and Benjamin, 9, also had their Warren Buffett dolls on hand -- memorabilia from last year's event.
Renk said it was important for him to see his kids really soak in the Buffett message. He recalled Omaha trips years ago with his own dad.
"I saw the value that gave me," he said. "I wanted to do the same for my kids."
Those are values that include not getting caught up in get-rich schemes, he said, and knowing that highest returns come over the long run.
Benjamin said he was enjoying the Berkshire scenes, and was eager to learn.
What's his mission? "Learn about how to make a bunch of money," he said.
Quality time with the family at the meeting
For Debbie Kucera and her sister Melanie Lundsrtrom, the meeting served as an opportunity for some family time.
And, of course, bargain-hunting. Kucera, of Fremont, also came with her daughter, sons and baby granddaughter.
"I think it's great. A lot of good deals. Plus, we spend all this fun time together," Kucera said.
Lundstrom traveled from Altoona, Iowa, for her first Berkshire experience. The family had already picked up some Pampered Chef wares, Justin boots and See's Candies.
"We had a Blizzard, a fudgecicle and a Dilly Bar. What haven't we had?" Kucera said of the Berkshire-owned Dairy Queen products.
Someone's gotta ship all that Berkshire product back to shareholders' homes
As shareholders loaded up on See's Candies, Fruit of the Loom underwear and Ginsu knives, the Omaha branch of AIT Worldwide Logistics stayed busy packing the items up for shipment to shareholders' homes.
The company hosts a booth every year at the Berkshire meeting. By 11:45 a.m. Saturday, workers already had packed up nearly 300 packages. That's a little ahead of last year's pace, said Terry McMullen, the AIT Omaha branch owner.
A typical year usually results in about 400 to 500 packages, he said. The booth sees at least 100 repeat customers each year.
"Ginsu knives are big — can't carry those back on the plane," McMullen said.
When the meeting is over, AIT's work isn't done. They're also responsible for setting up and tearing down the vendor exhibits.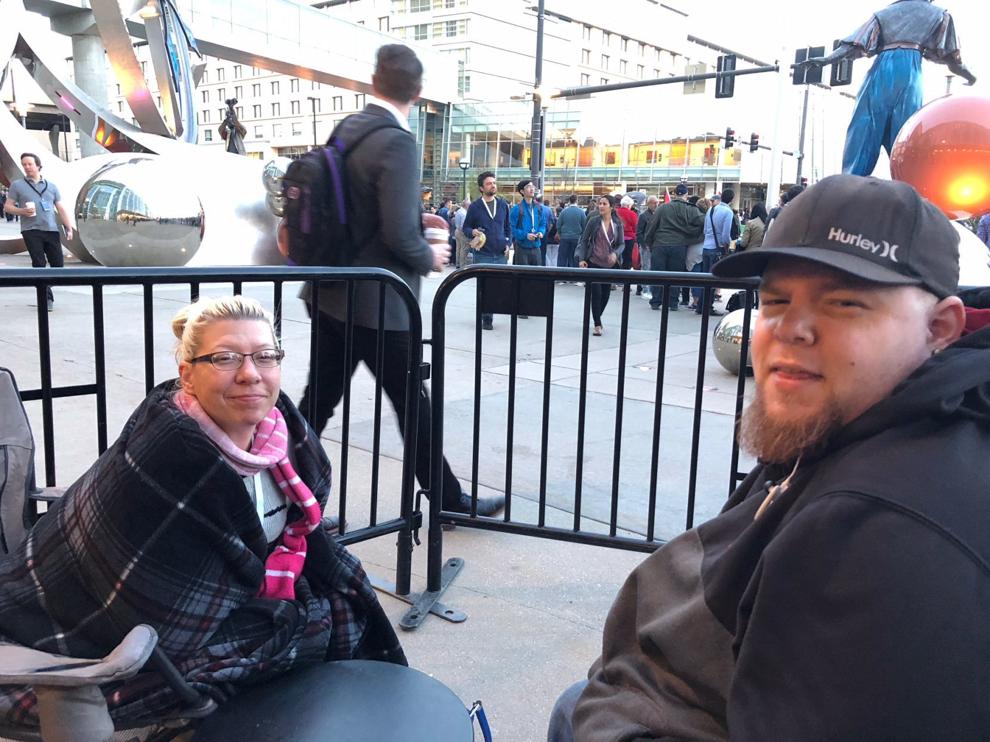 Shareholders pay non-shareholders to stand in line
Up early to hold a place in line — all for $200
Jessica Lehosky was browsing through Craigslist when she found her next side job — and it had Berkshire bucks written all over it.
An Irish investor was advertising for someone to wait outside the CenturyLink Center on Saturday and hold a good seat for him at the annual shareholders meeting.
For $200, Lehosky was in.
She enlisted her friend Jesse Ives to come and share in the dividends.
The two were wrapped in light blankets, sitting in lawn chairs between a fold up-card table they set up upon arriving at 3:30 a.m.
Ives watched Netflix much of the time, his ear buds blocking out the growing chatter.
Lehosky snacked, sipped and checked out smartphone messages.
"This is the strangest way I've ever made money," she said. "But it's a lot easier than other side jobs I've had."
Lehosky planned to call the Irish man who hired her once she got settled inside the auditorium. She'd met with him the night before, and he had given her a shareholders pass to enter.
She didn't plan to stick around too long once she got her loot — unless some investment strategy caught her ear, that is.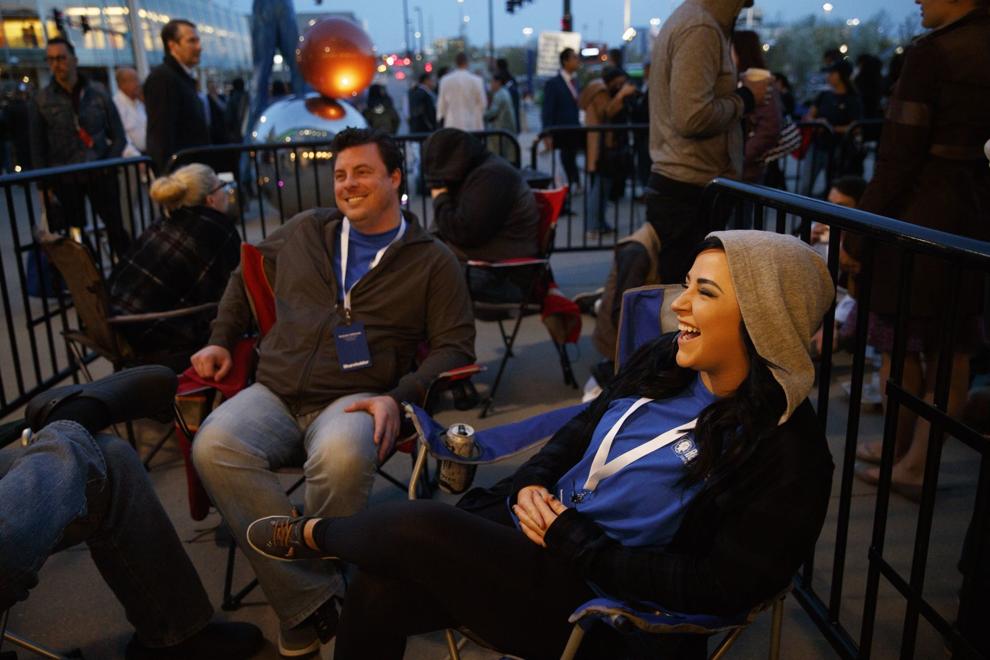 Up early to absorb the business — and life — lessons from Warren and Charlie
Joe Henry got up before 3 a.m., filled up on energy drinks and waited hours with co-workers in the predawn dark outside to nab the best spot to hear advice from the wisest octogenarian he'd heard about but never met.
And all he could do at the moment was laugh.
"Have you ever been up at 3 in the morning?" he said a few hours into his morning, not really expecting an answer. "Everything starts to be funny."
Henry and a group from Remedy Intelligent Staffing in Omaha were among the first to line up outside the CenturyLink Center on Saturday for doors to open at 7 a.m. for the annual Berkshire Hathaway shareholders meeting.
Chuckling aside, Henry and his team were prepared to absorb serious investment and life lessons from Warren Buffett, 87, and Charlie Munger, 94, — once the show began.
Savannah Lowis, 25, said she and her Omaha team wanted to experience first-hand all the fuss they read about in their local newspaper year after year. "We take back what we learn and share it with our co-workers."
Jason Neff said he doesn't mind foregoing shut-eye in exchange for witnessing — this is his fourth Berkshire meeting, what he called the "highlight of Omaha."
Said Neff: "Floor seats don't come cheap. You gotta invest the time."
With that, the group resumed chatting about how they'll race into the main auditorium to grab seats for them and a dozen other co-workers in first 10 rows.
Last year, Lowis said, she got shoved and this year was determined not to be pushed around.
"It's like running with the bulls," she said, "but with people, no horns."
Two people make a quick buck to stand in line; they aren't even shareholders
Some in line outside the Berkshire Hathaway annual meeting weren't even shareholders.
Omahans Josiah Arshad, 21, and Russel James, 19, were making a quick buck. They said a Berkshire shareholder paid the pair $200 to wait in line outside the Omaha CenturyLink Center. They found the gig on an app.
"No heavy-lifting, I just have to stand for a while," Arshad said of the easy work.
The pair arrived at 2:30 a.m. with blankets and were behind a few other groups. (Doors were scheduled to open at 7 a.m. Central time.)
Both were a bit perplexed by the commotion outside Saturday morning.
"I've never seen anything like this," Arshad said.
By 6:30 a.m. they were ready for naps, they said, and their associates were on their way to take their reserved spots in line.
McDonald's stops by Berkshire annual meeting, sort of
One of Berkshire Chairman Warren Buffett's favorite restaurants — McDonald's — also made an appearance outside the CenturyLink Center on Saturday morning.
Christian Rush and Jessica Teaford, University of Nebraska at Omaha students who are public relations interns at McDonald's, showed up with a cart stocked with coffee, creamer and sugar from the Cuming Street location.
They stood at the back of the line and were quickly swarmed by shareholders in need of a jolt of caffeine.
"Do you need cash?" Several people in line asked.
But the coffee was free, and much appreciated as the sun came up around 6:45 a.m.
Omaha gets high marks for hospitality, shareholders say
The welcoming nature of Omahans during Berkshire Hathaway weekend is right up there with notable southern hospitality.
Just take it from Matt McAllister and James Eddins of Fairhope, Alabama.
"The people in Omaha are so genuinely nice," McAllister said. "Even Southern hospitality doesn't really compare."
The two friends arrived at the CenturyLink center about 3:43 a.m. and were in line just several feet from the front door.
Eddins, who has attended the meeting three previous years, said he was eager to hear Buffett discuss his investment in Kraft Heinz.
"How is the company doing? Does he feel comfortable with the current company management?" Eddins said.
Both also hoped to hear more from probable future leaders of the company, vice chairmen Gregory Abel and Ajit Jain.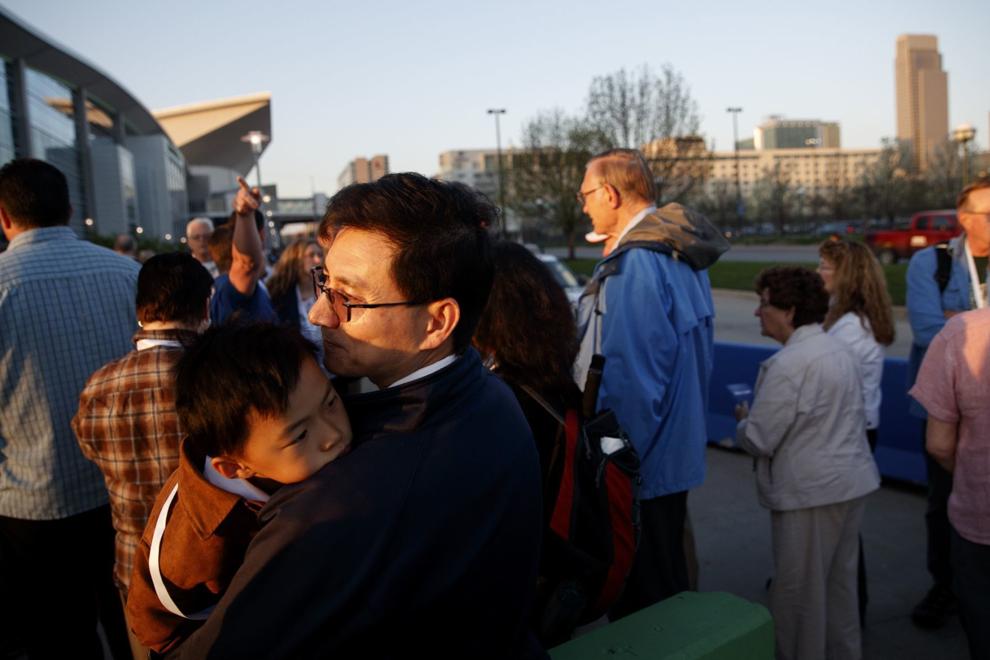 They've seen Warren in a cartoon, now in person
For some shareholders, the meeting is a family affair.
Colin Chhay , 6, caught some sleep on his dad's shoulder as his family waited in line outside the CenturyLink center.
"I think it's important for kids to learn about financial management early, to start saving early," said dad James Chhay, of Los Angeles.
Chhay said it's his first year at the meeting — "a dream come true" that he's been thinking about since he was in college. He was recently able to convert some of his retirement fund to Berkshire stock.
Chhay, a software engineer, said he was eager to hear more about Berkshire's succession plan, and to hear what other questions come up for Berkshire Hathaway Chairman Warren Buffett.
Kathy Lee of Milwaukee also brought her four kids — Silvia, 11; Kim, 9; Donald, 10; and Jordan, 12.
She brought them to spark and interest in investing early, Lee said.
"We've been showing them his cartoon," she said, referencing the animated series, Secret Millionaires Club.