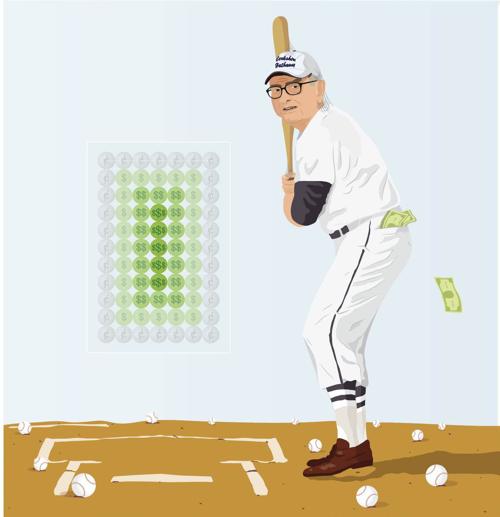 If there ever was a guy hoping to hit a home run, it's Warren Buffett.
"Just standing there, day after day, with my bat on my shoulder is not my idea of fun," he has said.
Buffett, the chairman and chief executive of Berkshire Hathaway Inc., is talking about investments, not baseball.
Instead of letting baseballs fly past him, Buffett is rejecting potential acquisitions that are too expensive, too small or not for sale or for some other reason just don't fit with Berkshire.
With only five multi-billion-dollar acquisitions since 2012 and just one last year — a $5 billion stake in Pilot Travel Centers — the money pouring into Berkshire's accounts has swollen Buffett's buyout-bat to $116 billion in cash and short-term U.S. Treasury bills at the end of 2017.
What's with the images of bats, baseballs and home runs?
Buffett has been using a baseball metaphor to explain his investing philosophy for decades, going back to his admiration of Hall of Fame hitter Ted Williams.
In "The Science of Hitting," Williams analyzed the interaction of a wooden stick and a horsehide sphere. He concluded that he would hit four out of 10 pitches — a feat few players match — if he swung only at balls in the "sweet spot," the middle of the strike zone.
Success is half as likely with balls in the edges and corners, Williams believed.
Buffett follows that concept in investing: Success is most likely if the potential purchase is exactly right, and strikeouts tend to happen at the margins.
But Williams played a game where umpires called strikes if he didn't swing at those corner-cutting pitches. "Unlike Ted, we can't be called out if we resist three pitches that are barely in the strike zone," Buffett wrote to Berkshire shareholders in 1997.
These days, center-of-plate pitches are rare, said Omaha investment banker James Zipursky, who helped arrange Berkshire's $455 million purchase of German motorcycle parts manufacturer Detlev Louis Motorradvertriebs in 2015.
Publicly traded and privately owned companies are highly valued, Zipursky said, and lots of other buyers are looking for deals, making it a seller's market. There's plenty of money, both in cash and loans.
"Indeed, price seemed almost irrelevant to an army of optimistic purchasers," he wrote.
Most CEOs, investment bankers and corporate directors seek purchases for the sake of fees and compensation, Buffett wrote. "If Wall Street analysts or board members urge that brand of CEO to consider possible acquisitions, it's a bit like telling your ripening teenager to be sure to have a normal sex life."
Because of Berkshire's size — $242 billion in revenue last year — its acquisitions must be large to make a difference, in the $5 billion to $20 billion range.
Zipursky said such deals are hard to find, but Berkshire can make purchases either by itself or with "trusted partners" such as 3G Capital of Brazil, which combined with Berkshire in 2013 to acquire Heinz for $23 billion and again in 2015 to buy Kraft, which it combined with Heinz, for $46 billion.
Berkshire-owned companies, such as the Marmon Group of industrial firms, also are actively buying up smaller related businesses, he said. Taken together, those businesses can add substantially to Berkshire's earnings.
In his letter Saturday, Buffett said acquisitions last year by subsidiaries Clayton Homes, Shaw Industries, HomeServices and Precision Castparts strengthened their businesses.
Even with those acquisitions, Berkshire added nearly $3 billion a month to its cash supply. Buffett maintains that he feels no pressure to buy something just because Berkshire has the money.
"The trick in investing is just to sit there and watch pitch after pitch go by and wait for the one right in your sweet spot," Buffett has said. "And if people are yelling, 'Swing, you bum!' ignore them."
If anybody is yelling, it likely would be shareholders who want Berkshire to use as much of its money as possible to earn profits.
"I'm not worried about it, but I hate to have it all sitting there uninvested," said Steve Randall of Northfield, New Hampshire, a retired stockbroker and Berkshire shareholder since 2008.
He noted that having billions in idle cash didn't stop Berkshire's stock price from gaining last year. "If he can have that much cash and still get that kind of price appreciation in the stock, I don't have a problem with that, either."
According to the annual letter, Berkshire's per-share market value rose 21.9 percent in 2017, compared to a gain of 21.8 percent in the broader market — the S&P 500 index of stocks, when including dividends.
Randall said he has good reason to agree with Buffett's patient home run-hitting philosophy. "When he does hit one of those, usually it turns out pretty good."
The Omaha World-Herald is owned by Berkshire Hathaway Inc.