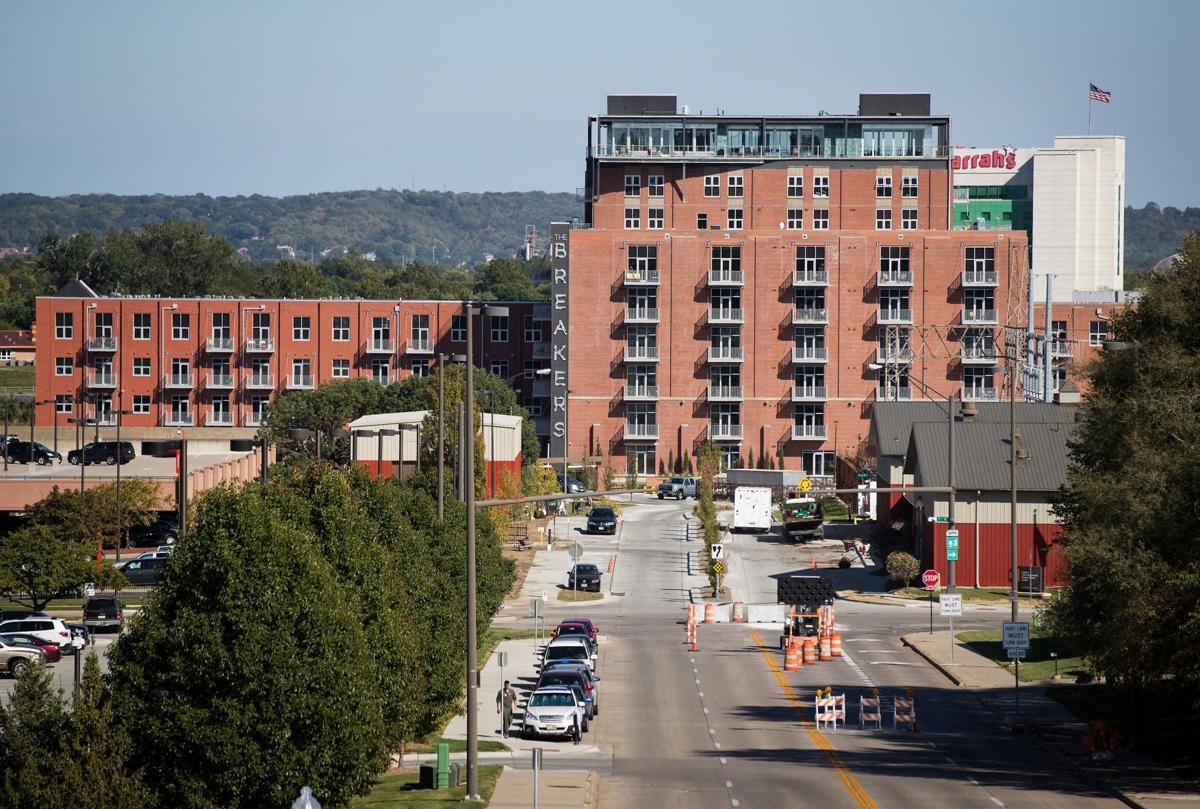 Omaha's nearly $40 million Breakers redevelopment not only has opened 217 more downtown housing options, it pulled back the blinds on a hefty and previously hidden chunk of the riverfront.
People living in the transformed complex have personal views of the Missouri River and sparkling casinos to the east.
Others traveling down Leavenworth also will notice a very different scene east of Seventh Street. A new pathway leads past a once-obscured police horse stable, around electrical equipment cordoned off by artsy gating, and up to the mammoth apartment building that in an earlier life was a power plant.
No longer blocking the way is a million-gallon fuel tank that stood 32 feet tall. It's been removed, along with other debris. And a nearby sister tank was shaved down to reveal the old Jones Street Station-turned-apartments.
Separated from the river by active railroad tracks, the Breakers complex at Fourth and Leavenworth Streets spans about four acres between Conagra buildings and Little Italy. To the south, NuStyle Development owns another eight acres — land that owners Todd and Mary Heistand hope someday will turn into a public park.
The Heistands envision the park connecting to a revamped bike and walking trail that would draw even more people to the riverfront.
"Nobody even realized this was here," said Todd Heistand. "It was one of those buildings that was just kind of buried down here — you didn't see it."
The apartments were shaped from the power station's three main structures: a 10-story boiler plant and a low-rise switchgear building and turbine hall. As renovated, the former Omaha Public Power District structure now spans 236,000 square feet, plus 82,000 square feet of indoor parking.
Among its residents are Laura and Michael Alley, who moved in last month. The couple hadn't been planning to move from their Dundee house at the time, Laura Alley said, but when they saw the conversion in progress, they called dibs on an upper southeast corner apartment.
Both work at Alley Poyner Macchietto Architecture (he's a founder), which has designed a sizable share of Omaha's urban core (including the Breakers). So they'd seen downtown from numerous vantage points.
But, Laura Alley said, the couple was struck by the Breakers' industrial setting, concrete floors, the river, the passing trains and the glass block wall and huge steel beams that run through their apartment.
"It's so ultimately creative," she said. "It just blew us away."
Todd Heistand said the Alleys reflect a demographic, baby boomer empty-nesters, that is more prevalent at the Breakers than at other downtown-area NuStyle apartments. The reasons, he said, could include the waterfront view, or that the downtown complex is still a ways from the thick of Old Market commercial and nightlife commotion. (Millennials still are a big proportion, just not as dominating a share as they are elsewhere.)
To date, Heistand said, about 76 percent of the Breakers is leased. Rents run from $875 to $2,000, with units varying in style. Some have decks overlooking the river; others have doorways to an open-air atrium or brick-lined hallways; and others face downtown's tourist and commercial areas.
While transformed with modern appliances and a rooftop pool, the complex is decorated with pieces that hearken to its industrial past, including a once-functional 275-ton crane that now serves as a creative focal point in an interior courtyard.
Dotting the wall off the lobby are photos showing the innards of the power plant that went offline three decades ago.
The Heistands said the project holds the distinction of being NuStyle's toughest, in part because it had no traditional floors (only a skeleton of iron grates that workers used to walk around on) so the team had to build from scratch the internal structure for individual apartments.
"This has been a long one — four years-plus to get it done," said Todd Heistand.
Mary Heistand said getting all the parts to fit was like a puzzle requiring know-how from a team of structural to geotech engineers. They dealt with surprises, including a hidden basement. "It turned out better than we imagined," she said.
There's more to come, beyond the apartments.
Looking off the rooftop deck area to the west bank of the river, the Heistands noted a bike trail that cuts off near the Breakers.
"Right now it just dead-ends," Todd Heistand said. "A bike path to nowhere."
The Heistands said they are working with city leaders to find a way to connect that quarter-mile section so bikers could ride unimpeded by that hiccup. They envision the future 17-mile riverfront loop (from the Bob Kerrey bridge to L Street and around to a path on the Bluffs side) linking to the roughly eight acres south of the Breakers that would become a public park.
Other property in the area is owned by OPPD and Union Pacific.
A possible alternative to a park could be a condominium structure, Heistand said, but he prefers to see a more public use to bring more action to the riverfront.
Be the first to know
Get local news delivered to your inbox!