It seemed — at first glance — that all had been righted in King Kong's neighborhood.
The big and familiar hamburger-toting gorilla that for years has advertised the King Kong restaurant along Dodge Street near 44th has been moved. That means the beast now is out of the shadow of the five-story hotel rising immediately to its west.
Kong now stands on the east side of the eatery at 4409 Dodge. And it's a slightly different ape — one that was brought out of storage from a defunct sibling store. The new gorilla has a bigger body but doesn't have the old base that spelled out what the restaurant has to offer: King Kong-sized burgers, phillies, gyros, steaks.
If you recall, the Kong icon had become rather invisible, emasculated if you may, and lost in construction of the Home2 Suites opening on the Dodge corridor. The restaurant's owner, lamenting that he was losing business, wanted his Kong monument sign moved to a more visible spot.
That relocation was approved by the City of Omaha, and today the ape again grabs the attention of passers-by — at least the eastbound drivers who can see his face and frontal view.
But restaurant owner Nick Triantafillou said something still is not right, noting that westbound traffic sees only the ape's behind. "He looks naked."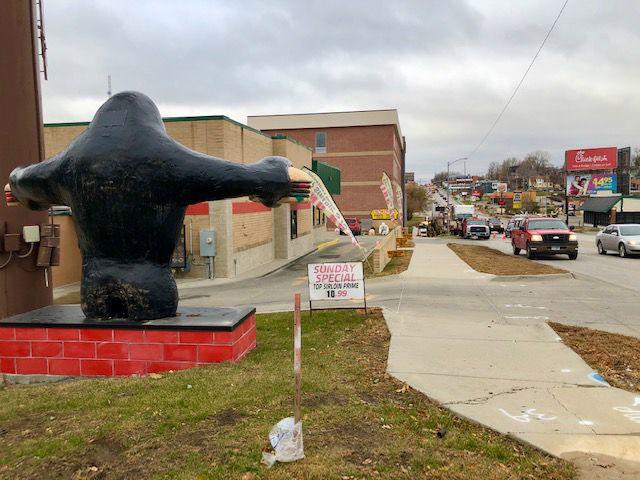 Triantafillou would like to dress up the gorilla with a lighted signage box under his feet that informs passers-by from both directions what the store sells.
Problem is, the City of Omaha has rules on signage along busy streets like Dodge. And the current Kong already has reached the 12-foot-high, 75-square-foot limit.
Triantafillou would have to receive special permission from the city to add more bulk. 
Anna Bespoyasny, Omaha building superintendent in charge of permits and inspections, said Friday that her staff has not received a request from the restaurant for a waiver of the rule. 
Triantafillou stressed that he is not against progress, and actually welcomes the burst of new commercial activity in the neighborhood but doesn't want Kong's presence or reign diminished.
He hasn't ruled out a legal battle.
Changing Omaha: More than 50 stories of local development projects in the works
An ongoing list of some our development stories from 2018-20, with the most-recent stories at the top. 
Be the first to know
Get local news delivered to your inbox!