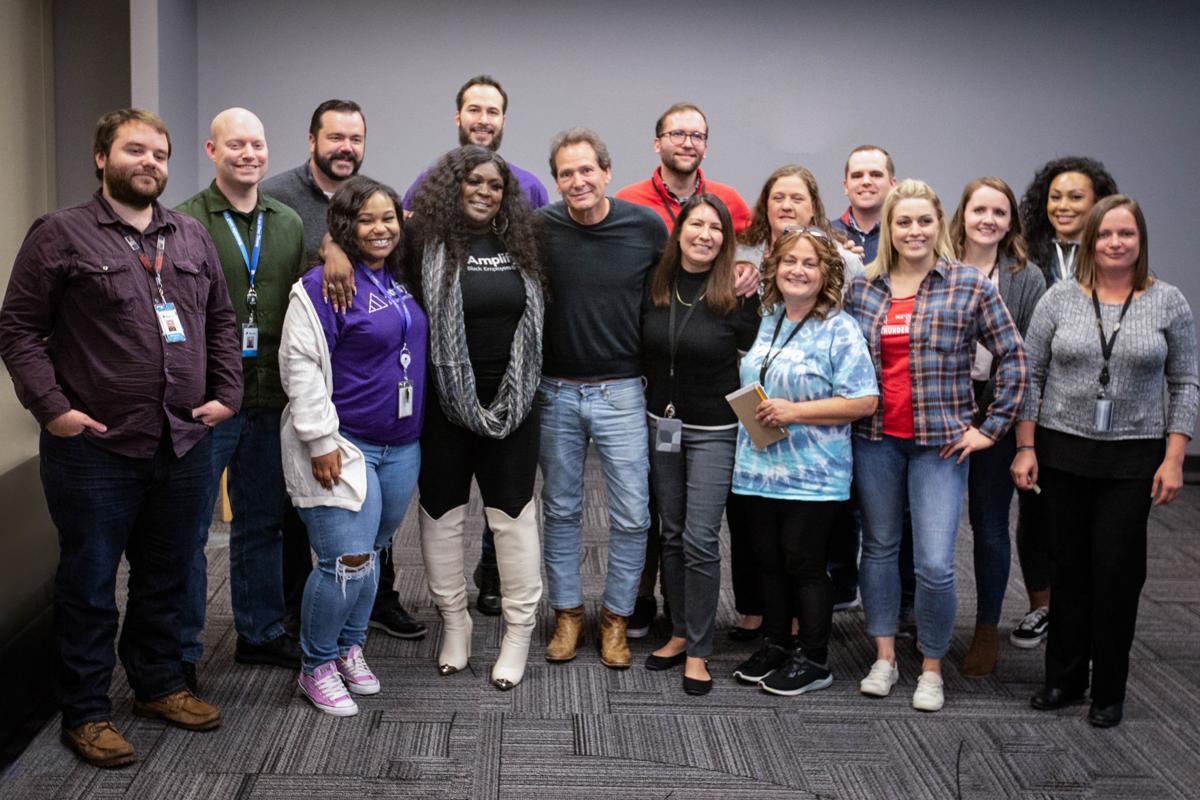 At a time when many employers in Nebraska and across the country are struggling to find the workers they need, PayPal recently made a unique, significant and noteworthy commitment to its roughly 2,000 workers in Omaha and thousands of others all over the globe.
PayPal boosted pay of customer service and hourly workers with an eye toward making sure the compensation not only meets local market rates, but also is enough to help employees actually get ahead.
The company slashed by more than half the costs those employees pay for benefits like health insurance.
And it made all employees shareholders in the company.
PayPal didn't make these changes because it was concerned about attracting and retaining workers, CEO Dan Schulman said. The firm did it because it was the right thing — not only for its employees, but for customers and shareholders, too.
"If we ever aspire to be a good company, we have to have passionate employees who believe in what our company mission is, believe in our values, and — really importantly — are financially secure," Schulman said in a recent interview in Omaha. "I think the amount of energy and pride this is going to release is going to make a real difference."
What Schulman and other PayPal leaders did is starting to catch notice beyond the online payment processor's corporate facilities.
The move was recently praised by Just Capital, a nonprofit co-founded by billionaire capitalist and philanthropist Paul Tudor Jones that seeks to get corporate America to act as a greater force for good.
"Oh my Lord, if every CEO did what PayPal did, I can promise you so many of the social issues we are dealing with today would be solved," Jones said after being briefed by Schulman on the plan before a joint appearance on CNBC.
Sign up for World-Herald news alerts
Be the first to know when news happens. Get the latest breaking headlines sent straight to your inbox.
And the move appears to fall in line with the August statement from the Business Roundtable, an association of CEOs from almost 200 of America's largest companies.
After more than two decades proclaiming the sole purpose of corporations is to make money for their shareholders, the influential group's new statement holds that corporations have an obligation to all their stakeholders, which also include customers, employees and the communities in which they operate.
Schulman was not part of the Business Roundtable but said he would certainly have signed on to its statement if given the opportunity. He believes a company's success should be shared with all of those stakeholders.
He also believes taking care of employees serves the interest of all those stakeholders. If employees are happy and passionate, that will deliver value for customers. And if satisfied customers become loyal customers, that produces shareholder value.
"It seems very straightforward to me," he told The World-Herald.
Schulman, who has led PayPal since it was spun off from eBay in 2015, was in town late last month to meet with Omaha-area employees and check out the company's operations center in La Vista, near Interstate 80 and Harrison Street. The Omaha metro has quietly become one of PayPal's largest employment centers worldwide, second only to its home base in San Jose, California.
Dressed casually in a blue sweatshirt, jeans and boots, Schulman spent time during his visit with roughly 15 PayPal employees discussing the "employee financial health package" the company had rolled out just weeks before.
Part of PayPal's stated mission is "democratizing" financial services: giving people an easy and affordable way to make payments and to improve their financial health.
But Schulman said the company realized it needed to live those values internally, too. Like nearly two-thirds of all Americans, many PayPal employees, particularly those paid hourly wages, have been living paycheck to paycheck, never really getting ahead financially.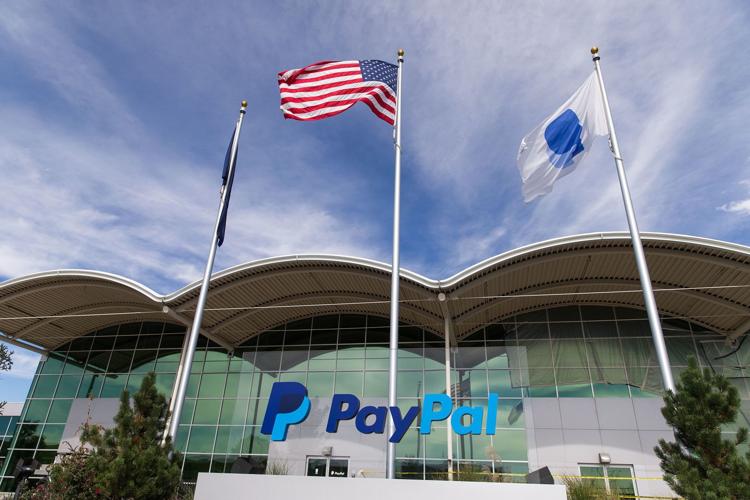 So company leaders conducted months of research and then came out with an all-new compensation package for workers paid hourly wages or who work in customer service centers.
While PayPal was already paying those workers what it considered market rates and above, pay was adjusted in each market to make sure it was also sufficient to cover essential family living expenses like housing, transportation, food and child care.
A key part of that compensation initiative included cutting the cost of health insurance and other benefits for those workers by an average of 58%.
Employees typically pay a share of those costs, with all employees charged the same rate, regardless of their income level. In effect, it makes those dollars deducted from employee paychecks much like a regressive tax, Schulman said, biting hardest at those who have the lowest incomes.
In response, some low-income workers were choosing lower levels of coverage, a decision which could additionally create income-based health disparities, Schulman said.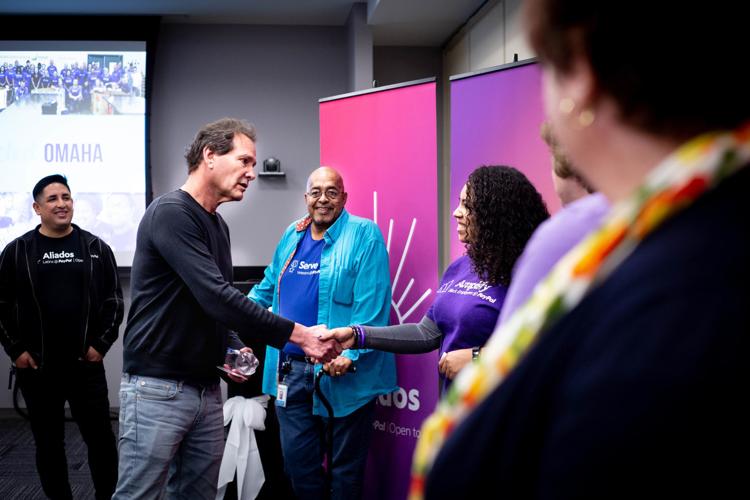 The company also granted PayPal stock to all workers who had not yet been given equity in the company. These weren't stock options. The employees were granted free shares based on their salary lines.
Schulman wouldn't say how much stock the employees received, but he called it "a meaningful amount." In addition, all employees going forward will be given the chance to receive performance-based stock grants.
The final piece of the package was a financial wellness education program to make sure employees will know how to manage and take advantage of their improved personal finances.
"I just think this makes us a company that lives our values," Schulman said. "I think that does make us more attractive to great employees who want to work here and want to be part of this family and what we are trying to do."
Less than a month after the new compensation package was rolled out, Schulman said his meeting with employees in Omaha showed it's already making a difference in people's lives.
One worker had calculated how the boost in pay and stock would help her save thousands annually for her two kids' college. Another told of how she recently had taken her sick child to the emergency room for needed care without fear of what it would cost her in copays.
Schulman said the intangible benefits the company is accruing were also on display during his visit.
He said one employee put it this way: "We feel like we are part of the company. We don't just work here."
---
How Omaha and Nebraska's Fortune 1000 list has changed since 2015
Be the first to know
Get local news delivered to your inbox!