It will be the 17th neighborhood he's developed in three decades, and Tom Falcone is taking a somewhat different route to help push Vistancia the distance in today's bumpy homebuilding market.
The Elkhorn-area subdivision will involve 25 builders and a wider variety of styles — including a batch of smaller villas offering less maintenance and expense — than Falcone's typical upscale project.
Similarly, longtime developer Gene Graves plans to offer his broadest assortment ever of housing types, price points and retail and recreational uses at the future 427-acre Oak Leaf subdivision in Sarpy County.
Faced with falling local sales in the new home construction business, Falcone, Graves and others in that industry are seeking ways to stand out and entice more buyers.
"We're trying to give people options," said Falcone, who's also planning his own Street of Dreams-type event to drum up exposure and to help a local charity. "I don't want to miss a buyer."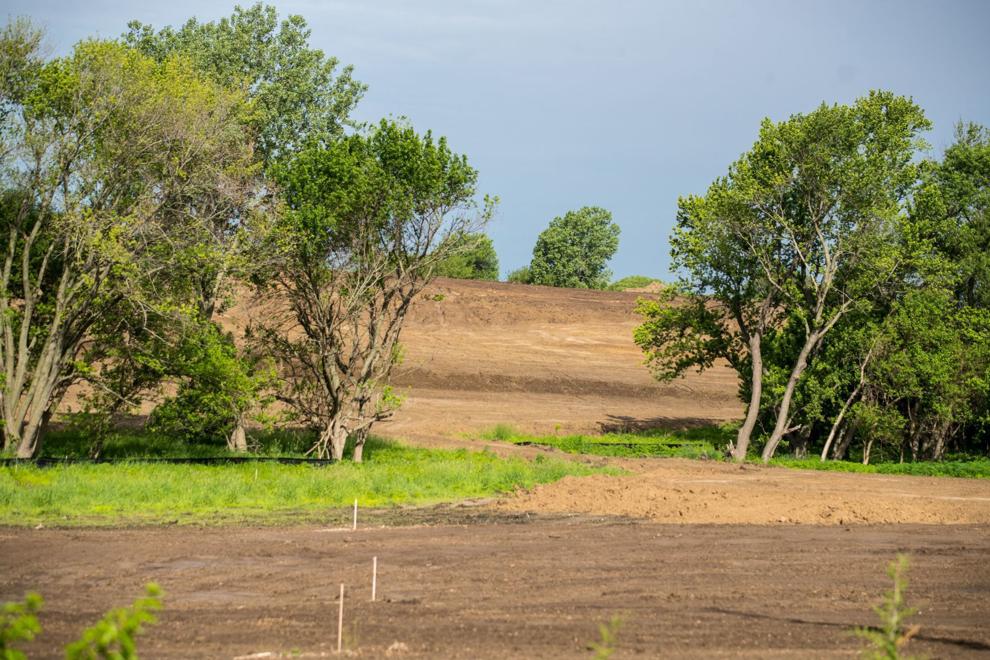 Here's the predicament for developers and builders: Escalating costs of utility installation, materials, labor and overall construction have in the past few years spurred them to produce more upscale homes to yield a profit. Yet experts say those higher price tags are pushing consumers away from buying brand-new.
That's a concern, as new construction not only is an indicator of a community's physical and economic growth, but also replenishes housing stock that helps attract and retain talent.
According to the National Association of Home Builders, for every 100 single-family houses built, a community during the first year on average gains an estimated $28.7 million in local income, $3.6 million in government tax and revenue and 394 jobs.
Herb Freeman of NP Dodge Real Estate sounded an alarm while talking recently to the Metro Omaha Builders Association, urging members to "watch out" for the affordability factor.
"Beware of increased new construction prices pricing more and more buyers out," he said.
Sign up for The World-Herald's afternoon updates
Receive a summary of the day's popular and trending stories from Omaha.com.
Longtime real estate appraiser Gregg Mitchell says something's got to give, as a brand-new house in the Omaha metro area is outside the reach of the typical first-time home buyer, who comprises a growing chunk of the market.
As a result, he expects Nebraskans might start seeing more new residences in the form of villas, row houses, condos — perhaps even prefabricated homes — that rise closer together and can create less sticker shock than a McMansion on a sprawling lawn.
"The experiment is whether or not the market in Omaha will embrace townhomes," Mitchell said, saying the style had been popular in the 1970s and still is in cities such as Des Moines and Denver.
Sales of newly constructed homes are down nearly 16 % so far this year in the Omaha area, compared with the same time period last year, according to the Great Plains Regional MLS.
Meanwhile, sales of previously owned residences are down 10 %, and Realtors see fierce bidding wars for houses under $200,000 as the short supply of existing houses persists.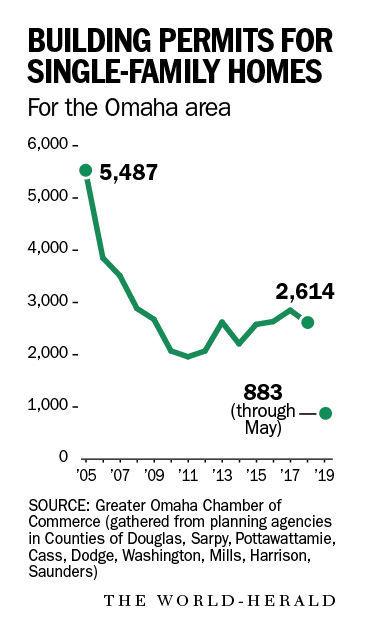 Building permits, a sign of future activity in the new construction arena, have declined as well. Permits issued for new single-family residences lagged about 25 % during the first five months of this year compared with the same time frame last year, according to the Greater Omaha Chamber of Commerce. That's on top of an 8 % dip in 2018 over 2017.
Even more stunning — and a wake-up call to the local home building industry, say Freeman, Mitchell and others — is the sales price differential between newly built homes in the Omaha area and those previously owned.
Compare what's happening nationally versus locally:
Across the country, the median sales price of newly constructed homes was $308,000 in May, compared with $277,700 for sold houses that had been lived in. That's a $30,300 difference.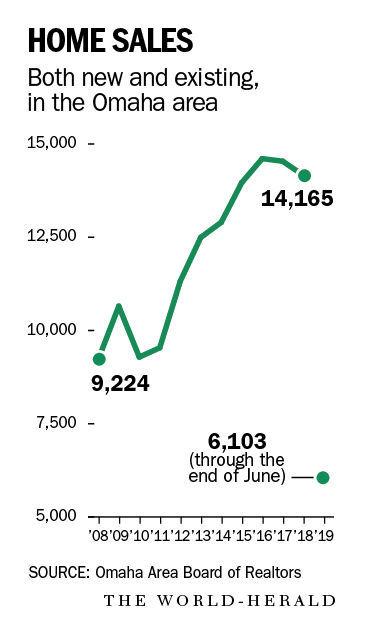 But Omaha's gap between new and used is much higher. The median price of newly constructed houses sold so far this year locally is $317,417, whereas for previously lived-in homes, the median sale price was $195,000. That's a $122,417 difference.
Lawrence Yun, chief economist with the National Association of Realtors, said that price differential and a look at who is moving to the area tells him that Omaha could use a change-up in the type of new homes it's building.
He pointed to an NAR analysis of factors including housing conditions and employment gains that identified Omaha as among the top -10 popular metros for millennials.
According to the study, about 67% of recent movers to Omaha were of the millennial era born between 1980 and 1998 (for the parameters of this study). Compare that with the lower 54% share of recent movers in the 100 biggest metros that were of that millennial age group.
The report said Omaha's incoming millennials earned a median salary of nearly $52,000, and can afford 21% of homes listed for sale locally.
"With the millennials moving in, certainly there is a solid demand for more entry-level housing," Yun told The World-Herald. "But it looks like in Omaha, they're just building on the upper end."
The good news, local real estate professionals say, is that compared with other big metro areas across the country, Omaha's for-sale housing remains within reach. And relative to the nation, previously owned homes in Omaha are a "bargain" buy, Freeman said.
RealtyHop's August report ranked Omaha among the 20 biggest 100 U.S. metros for attainable homebuying. That analysis took into account sales of existing and new houses, as well as such things as median household income and mortgage expenses.
Neither NAR nor RealtyHop delved into how much of the newcomer population is choosing to rent rather than buy, though landlords locally say they're astonished that occupancy has remained so high in the numerous trendy apartment buildings that have come on line. Apartment-dwellers attribute much of the lure to low-maintenance and amenity-rich living.
Omaha-area builders such as the Home Company are taking notice and pivoting to capture some of that demographic.
David Vogtman said his team later this year will bring a wave of what it calls brownstone-style homes to Bellevue. The 83 residences will be attached in clusters of three or four, with each home spanning roughly 1,700 square feet and selling for about $200,000.
The Home Company plans similar projects in northwest and southwest Omaha, offering an alternative to big and fenced-off yards. "You'll have that community cohesiveness," said Vogtman.
Others in the industry are less concerned about waning new construction sales, saying that wet weather was a major deterrent during the past year and that they foresee a rebound.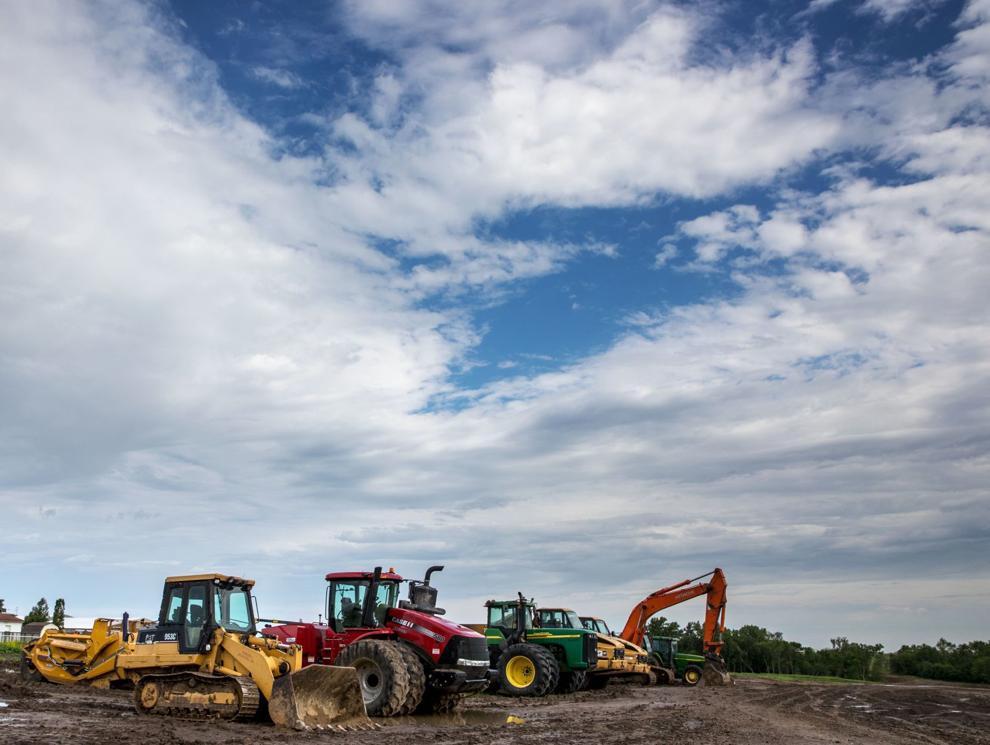 "We had more delays in construction (in the last year) than in the previous 12 years," Marc Stodola said of his Charleston Homes activity.
Stodola said demand has started to climb now that ground preparation and utility work have resumed, though he said activity is not as brisk in neighborhoods where homes sell on the upper end of the $250,000 to $400,000 range that Charleston specializes in.
Charleston, he said, also is starting villa projects in Bellevue and Gretna.
On the other hand, volume builder Celebrity Homes has enjoyed comparable sales to last year, spokesman Shawn McGuire said. Throughout 2018, Celebrity nabbed 22 % of the local market share, more than twice that of the No. 2 producer, Legacy Homes, according to Metro Omaha Builders Association and MarketGraphics of Nebraska.
The company still can build a new single-family stand-alone house with three bedrooms and a yard for under $200,000, McGuire said. He said that's a popular price point but at this time is available only in a few northwest Omaha neighborhoods.
Celebrity's just-opening subdivision Southern Pointe, near the developing and popular 370 corridor and 114th Street, will offer homes starting at $250,000, McGuire said.
Overall, he said, Celebrity customers seem to prefer special features such as cool lighting or flooring over square footage. "Size isn't so much the important thing — it's what's in the home."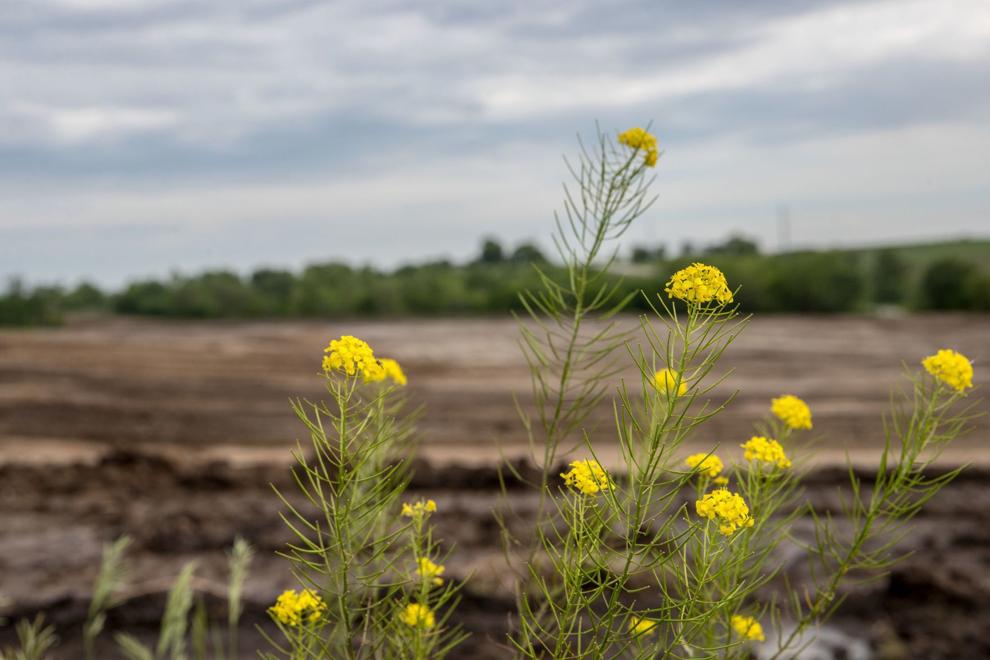 Graves, whose GDR company develops land to sell to home buyers and builders, said consumers also want convenience of nearby retail services and extras such as a lake or walking and biking paths. His next project, Oak Leaf near 72nd Street and Capehart Road, aims to stand out by offering lots of options.
He describes Oak Leaf as a network of different-style residential neighborhoods connected by a trail system. One pocket likely will focus on $250,000 smaller residences, another $1 million estates, another low-rise rentals. It will include an elementary school and retail services that families or singles could bike to and grab coffee, a sandwich or their dry cleaning order.
Graves expects Oak Leaf to have its first residents in three years and be the first subdivision within the boundaries of the new south Sarpy County waste water agency.
As for Falcone, he insists that location remains key and that buyers will pay a premium to live in areas such as near 204th and Fort Streets and the Elkhorn school district. That's where he and business partner Christian Kloster of Falcone Land Development are preparing ground for the nearly 300-lot Vistancia.
Still, he is hedging that bet by including a variety of builders that plan to produce homes starting at $300,000 on up to $1.5 million luxury estates.
Twin brothers Bryan and Ryan Hilderbrand of Hildy Homes will build the first round of Vistancia villas. Bryan, 43, said he understands the mindset of that consumer looking for lower prices and maintenance.
"Everybody is busier with life, kids, activities," he said. "This younger generation doesn't want to spend a lot of time mowing. And all generations hate snow, don't they?"
Changing Omaha: More than 50 stories of local development projects in the works
An ongoing list of some our development stories from 2018-20, with the most-recent stories at the top.